Top 10: Festive Cocktails You Need to Drink in London This WeekendBy Alicia Grimshaw
Christmas cocktails in London. Is there anything better? We're getting in the Christmas spirit (literally) by drinking all the spiced, fruity and chocolatey Christmas cocktails in London this weekend. Here are ten festive tipples you need to try this weekend – happy sipping, London:
Christmas Cocktails in London: For a Dessert Cocktail
1. The Queen Raffald at Mews of Mayfair
The Drink: The Queen Raffald (£10)
The Blend: Diplomatico Reserva Exclusiva, gingerbread liqueur and Ambrosia deluxe custard vanilla with clotted cream.
The Story: This daringly decadent cocktail was concocted for the Taste of London Winter Edition by James Williamson, bartender at Mews of Mayfair and self-confessed Ambrosia fan. The name is a nod to 18th century food author Elizabeth Raffald – who definitely enjoyed the sweeter things in life – being credited with the creation of the modern Eccles cake. The cocktail is the ideal indulgence for the beginning of the festive season: a delicious dark rum (the Reserva Exclusiva has been described itself as 'tiramisu in a glass' by rum expert Ian Burrell), gingerbread spices and a generous serving of custard. It even comes with a mini gingerbread man for dunking. Right on.
Where: Mews of Mayfair, 10 Lancashire Court, New Bond Street, London W1S 1EY
Christmas Cocktails in London: For a Sweet Cocktail
2. Buttered Rum at Six Storeys on Soho
The Drink: Buttered Rum (£9.50)
The Blend: Rum, unsalted butter, demerara sugar, spices, vanilla and liquorice root.
The Story: The hotly-anticipated opening of Six Storeys on Soho will have a soft launch during December inviting Christmas revellers to eat, drink and be merry. The team of talented mixologists have been tirelessly researching and experimenting to create some of London's most unique cocktails and each floor presents a new surprise. Expect homemade 72-hour Apple Pie Martinis or a savoury, Venison and Summer Truffle Gin Cup. There's  also a Burnt Toffee Scotch Old Fashioned, as well as rose and cocoa infused vodka and peanut butter rum. Try the Buttered Rum – a spiced concoction featuring rum, spices, sugar and butter. All the good stuff.
Where: 11 Soho Square, London W1D 3QE
Christmas Cocktails in London: For a Meaty Cocktail
3. Johnnie Walker Wrapped in Blanket at M Threadneedle Street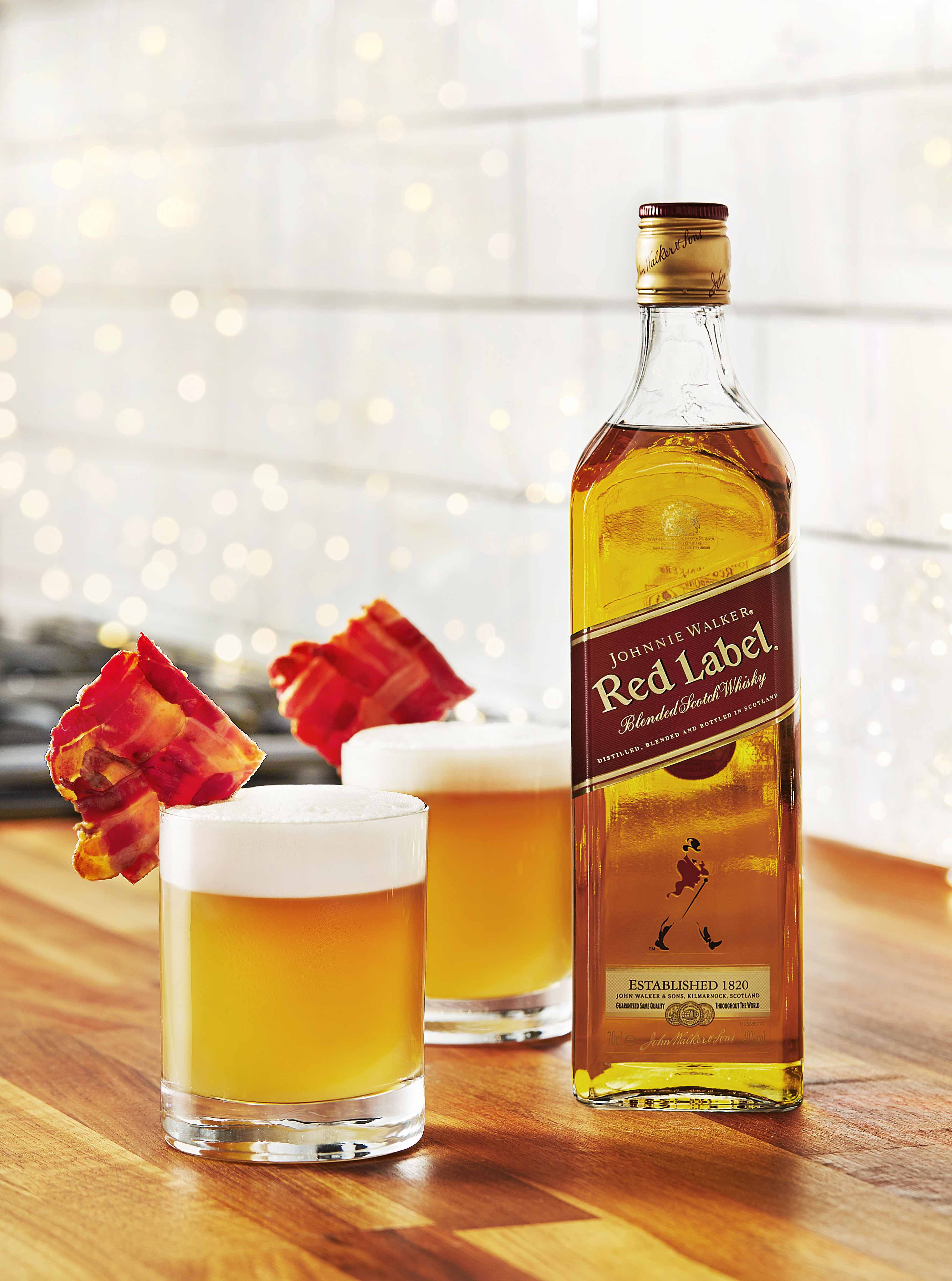 The Drink: Johnnie Walker Wrapped in Blanket (£9.50)
The Blend: Bacon-washed Johnnie Walker, lemon, orange, maple syrup and egg white.
The Story: Bored of mulled wine? Over eggnog? You're not alone. Food and drink taste innovators Smith & Sinclair have teamed with a variety of booze brands to give Christmas feasting a makeover. The visionaries have created wild and wonderful festive cocktails to accompany your turkey and trimmings. If your favourite part of a Christmas dinner is pigs in blankets, try the Johnnie Walker Wrapped in Blanket. A classic whisky sour with a smoky bacon twist to tantalise the taste buds. Or if you want to go the whole Christmas nine yards, opt for the Smirnoff Bloody Mary with all the trimmings – a boozy classic, served with a stuffing rim and turkey crisp. Oh baby.
Where: M Threadneedle Street, 2-3, 60 Threadneedle Walk, Threadneedle St, London EC2R 8HP
Festive Tipples in London: For a Sour Cocktail
4. The Cranberry and Cinnamon Sour at The Hari Hotel
The Drink: The Cranberry and Cinnamon Sour (£16)
The Blend: Bulleit Bourbon, cranberry and orange juice and syrup.
The Story: This yuletide season, head to The Hari in picturesque Belgravia for warm feelings of festiveness and a tipple or three. At the bar, The Hari's talented cocktail wizards have whipped up cocktails created with seasonal ingredients; aromatic spices, delicious liqueurs and playful flourishes. The Cranberry and Cinnamon Sour is a Bulleit Bourbon-based cocktail, with cranberry and orange juice and syrup, shaken with crushed ice. If you enjoy life on the sweeter side, the Pumpkin Pie Martini celebrates the humble American dessert – a medley of roasted pumpkin purée, Grand Marnier, Bulleit Bourbon and Drambuie is finished with star anise and a sprinkling of gold dust.
Where: 
20 Chesham Pl, Belgravia, London SW1X 8HQ
Christmas Cocktails in London: For a Quirky Cocktail
5. Yule Mule at Duck and Waffle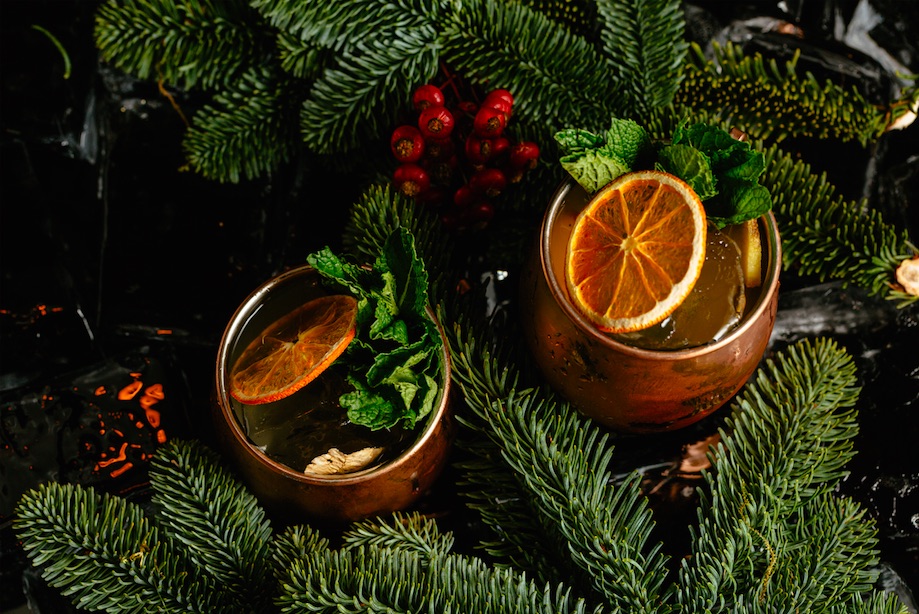 The Drink: Yule Mule (£14)
The Blend: Grey Goose vodka, ginger snap, lime and ginger beer
The Story: Duck & Waffle will be spreading the joy until the 31st December with the launch of their '12 Drinks of Christmas' cocktail menu. Renowned cocktail guru Rich Woods – Duck & Waffle's Head of Spirit and Cocktail Development – has captured the essence of Christmas with inventive, holiday cocktails. Highlights from the special holiday drink menu include the Winter Spiced Champagne Cocktail with Bombay Sapphire gin and champagne, which features a mince pie liqueur. There's also the Three Wise Men with Jack Daniel's, salted maple and hay infusion, which lives up to its name with a concoction of gold, frankincense and myrrh and Two Turtle Doves, two clarified milk punch libations designed to share.
Where: 110 Bishopsgate, Heron Tower, 110 Bishopsgate, 38th Floor, London EC2N 4AY
Christmas Cocktails in London: For a Warming Cocktail
The Drink: White Mulled Wine (£6.95)
The Blend: White wine, lemon, orange, honey, cinnamon, whole cloves and cinnamon sticks.
The Story: For a special twist on the traditional Christmas classic this year, Aubaine is serving its very own standout white mulled wine, as part of their new range of seasonal hot drinks. Providing a welcome twist on the spicy Christmas classic, the warming white blend showcases a specially curated blend of winter spices. If you like to stick to the classics, their Negroni doesn't disappoint, and the Raspberry and Violet Collins made with Diplôme Gin, Parfait d'Amour, Chambord, raspberries and soda is a lovely fizzy number.
Where: Locations here 
Festive Tipples in London: For a Spiced Cocktail
The Drink: Regret Less (£7.95)
The Blend: Four Roses bourbon, English breakfast tea, cinnamon and gingerbread syrup.
The Story: Rotunda Bar & Restaurant King's Cross have created three new festive cocktails available throughout December. The special cocktails include All that Jazz, a medley of Martell, Havanna Club, peach syrup and lemon juice, A Little Party, shaken Absolute Vanilla Vodka and Grand Marnier, with cranberry juice and ginger beer and the Regret Less, our favourite with Four Roses Bournon, English breakfast tea, cinnamon and gingerbread syrup. The cocktails will also be available from the Winter Bar on their canal side terrace – the perfect place to escape from the hustle and bustle of King's Cross.
Where: Kings Place, 90 York Way, Kings Cross, London N1 9AG
Christmas Cocktails in London: For a Fruity Cocktail
8. Plum Sour at No 32 The Old Town
The Drink: Plum Sour (£9)
The Blend: Bulleit Bourbon, lemon juice, homemade spiced plum syrup and egg white
The Story: No 32 The Old Town in Clapham take their alcoholic creations very seriously. Their cocktail menu focuses on classic cocktails injected with No.32 pizzaz featuring spirit infusions, house made syrups and sherbets. The Plum Sour is our pick from their latest festive lineup – a spiced fruity cocktail featuring plums caramelised in sugar and cinnamon, Bourbon for a sweet sticky combo, and lemon juice to balance the drink. Word of warning: once you've had one, you'll want to order another. Immediately.
Where: No 32 The Old Town: 32 The Pavement, London SW4 0JE. Also available at No 11 Pimlico Road, No 1 Duke Street and No 197 Chiswick Fire Station
Christmas Cocktails in London: For a Creamy Cocktail
9. Godfather Christmas at Temple and Sons 
The Drink: Godfather Christmas (£9)
The Blend: Whiskey, Amaretto, Cointreau and crème anglaise.
The Story: Temple and Sons is the latest restaurant and bar from Jason Atherton, in the heart of the City of London next to City Social. At the British grocery store-inspired bar, sip on the newly created Godfather Christmas. A seasonal twist on a classic Godfather cocktail, featuring a blend of whiskey and amaretto. Group Bar Executive of The Social Company, Jamie Jones has gone one step further and has added cointreau and crème anglaise for a firmly festive take on the original. It's rich. It's sweet. But it's mega tasty.
Where: 22 Old Broad St, London EC2N 1HQ
Christmas Cocktails in London: For a Twist on a Classic
10. Mandarin Eggnog at Seymour's Place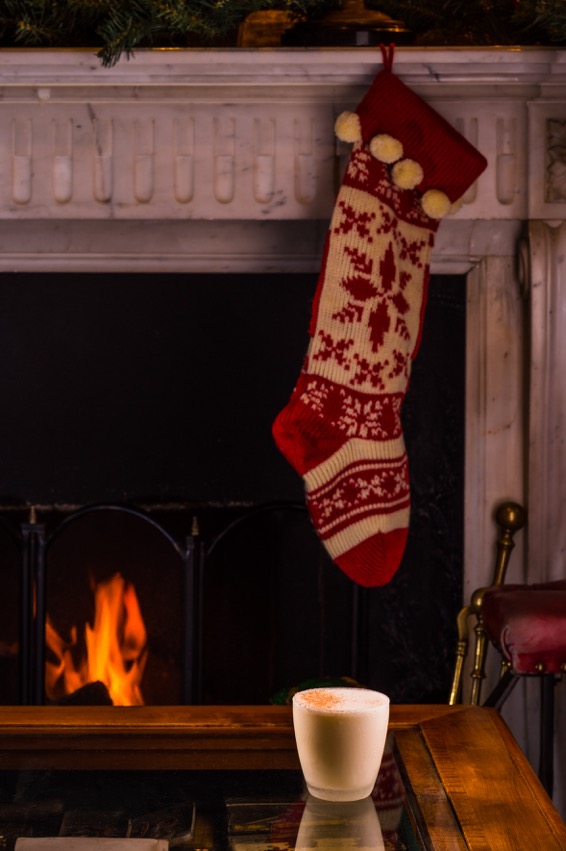 The Drink: Mandarin Eggnog (£11.50)
The Blend: Grand Marnier, single cream and mandarin milk.
The Story: The Zetter Townhouse Marylebone's open fire and rich, ecclectic interior make Seymour's Parlour the perfect winter bar. Tucked away just behind Oxford Street, Seymour's Parlour is also the ideal place for some respite for Christmas shoppers. The cocktail menu, designed by Zetter collaborator Tony Conigliaro contains festive treats such as the decadent Poire Noel, and their new cocktail, the Mandarin Eggnog. The new cocktail contains a decent glug of Grand Marnier, single cream and homemade mandarin milk (milk cooked with  orange peel and dried mandarin pieces to infuse the flavour). Nom.
Where:  28-30 Seymour St, Marylebone, London W1H 7JB