About Time You Tried: London's Best Digital DinnersBy Matthew Brown
If you're ordering from a touch-screen it no longer means you're in the Express lane at McDonald's. The next generation of tech-enabled restaurants use table-top technology to offer their customers better value, faster service and most importantly, more freedom. Whether you want a romantic meal unspoiled by intrusive waiting staff or a working lunch without a long wait for the bill, the tech in these restaurants will give you more choice over how you dine. Here's our 5 favourites in London:
1. Fresh Seafood at Rex & Mariano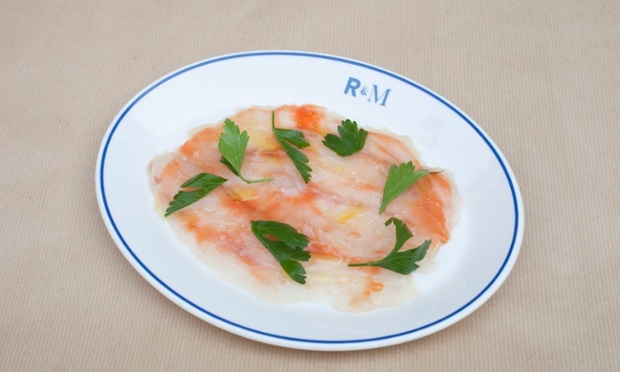 What: Rex and Mariano is the latest restaurant from the Goodman Group, and it is doing for the rest of the ocean what Burger & Lobster did for our favourite crustacean. As well as oysters, ceviche and carpaccio they offer beautiful Sicilian red prawns for just £10 a plate. They can do this because customers order from iPads, cutting staff costs and meaning that the service charge comes in at just 5%. Even better, the iPads allow you to order as much or as little as you want, and to keep the glasses of their fantastic prosecco (just £5 a glass!) coming without increasingly awkward conversations with your waiter.
Where: 2 St Anne's Court, London, W1F 0BN
How Much: Dishes are priced from £7-14. Dinner with wine should cost less than £30 a head.
2. Do-It-Yourself Drinking at The Thirsty Bear
What: It might be unassuming, but The Thirsty Bear call itselfs a 'pub revolutionised'. This revolution involves combining the best of old tech, a double-headed draught beer tap, with the best of new, an iPad for ordering everything else. These iPads can be used to design a customised burger and, when you get bored of the beers available at one table, to allocate yourself another. Even the music can be controlled from an iPad jukebox. You might not be able to see your friends over all of this technology, but at least The Thirsty Bear will save you from missing them whilst you spend half the night queuing for the bar.
Where: 62 Stamford Street, London SE1 9LX
How Much: As well as the chance to design your own, there's a choice of more than fifteen burgers, from £8-20. Drinks prices are standard, and you throw in the DIY service for free.
3. Visit the Future at Novotel Blackfriars
What: Think Novotel and you probably don't think upmarket luxury or cutting-edge technology. The Novotel Blackfriars is about to change that. From the moment you check-in (electronically, of course), you'll notice a Virtual Concierge recommending local events as well as an underground spa with an aquarium projected onto one wall. The best technology is saved for dinner, however. The Microsoft Surface table in the bar lets you plan your night, and an iPad dining table allows you to check Facebook. And for breakfast the next morning, there are booths with TVs and headphones, to allow you to savour the last moments of peace.
Where: 46 Blackfriars Road, London SE1 8NZ
How Much: Rooms, with spa access, start at £130 a night. Dinner is available for less than £25 per person.
4. Order from Your iPhone at Grillshack 
Grillshack doesn't only serve some of Soho's best burgers, it also takes technology to a whole new level by allowing customers to order and pay for everything from their iPhone. This fast-paced system is perfectly suited to the restaurant's all-day menu, which has everything covered from breakfast pancakes with maple syrup (£3.95) to a 10oz Ribeye steak (£16) and tequilas (£3.50). With everything paid for electronically before you eat, there is never an excuse not to visit this all-day and late-night Soho diner for a quick bite of something fast and American.
Where: 61-63 Beak Street, London, W1F 9SL
How Much: All of the burgers and most of the mains are under £10, fries are £2.50. So there's no reason to feel guilty about a meal here, no matter how brief.
5. Inamo: The Original Fast Fusion Restaurant
Inamo is London's original digital restaurant. Back in 2008, when most Maître D's were still grappling with their first iPads, Inamo opened with touchscreen tables allowing customers to order food, play video games and watch the chefs at work in the kitchen. 9 years later, Inamo's technology is still well ahead of everywhere else, and its Asian fusion food is available at branches in Soho and St James. The familiar dishes – from Nigiri to Thai Red Curry – haven't changed much, but these days Inamo's customers are way more likely to want change the lighting or order a cab using its interactive tables.
Where: Inamo St James, 4-12 Regent Street, London SW1Y 4PE and Inamo, 134-136 Wardour Street, London W1F 8ZP
How Much: Starters are from £5-8, main courses from £12-15. Dinner and drinks should be less than £30 per person.