About Time You Discovered: Dishoom's Bottled CocktailsBy Claudine Levy
Dishoom has recently launched the very first collection of bottled cocktails from the Permit Room, and boy, they're something special. If you're needing a last minute Christmas gift for a loved one, or fancy treating yourself, these trio of libations are sure to rock anyone's world.
Within every Dishoom there is a Permit Room bar, so named after the official term for all Bombay drinking establishments, in which, according to the Bombay Prohibition Act of 1949, only permit-holders may consume alcohol. Herein, liquor can be sold and imbibed, but only for the goodness of one's health.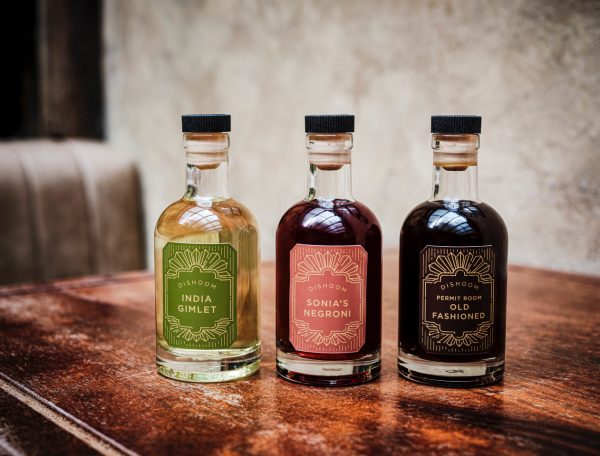 Now, Dishoom's daru-wallas invite everyone to enjoy a taste of these drinking dens wherever they are in the UK, with the launch of their first-ever bottled cocktail collection. The team have chosen three of the Permit Room's very best tipples – the India Gimlet, Sonia's Negroni, and the Old-Fashioned – all which can now be ordered individually, or as a beautifully packaged collection of three.
The Permit Room Old-Fashioned is a bottle-aged muddle of Woodford Reserve bourbon, bay leaf reduction, green tea and so on, best sipped at room temperature, neat or on the rocks while sitting in a large armchair. A garnish of a bay leaf and a black olive is recommended.
The India Gimlet is Dishoom's take on the favoured tipple of the high seas. The gimlet was initially devised to prevent scurvy when sailors, anxious to avoid death, mixed lime cordial with their gin, so creating one of the earliest cocktails. Dishoom's version sees London dry gin infused with fresh dill, then bottled with Rose's lime and a dash of celery bitters. Daru-walla recommends placing the bottle in the freezer, along with two coupe or martini glasses, for thirty minutes before serving, and garnishing with a sprig of fresh dill and a squeeze of fresh lime juice. Lovely easy-drinking.
Sonia's Negroni is a recreation of the famous Italian drink for the Italian-born, Indian politician. Dry citrus gin and bitter Campari are sweetened with Dishoom Chai Vermouth (macerated with cinnamon, fresh-cut ginger, cloves and vanilla), giving a more relaxed edge to the traditional robust Negroni. The drink is bottleaged for smooth, tawny intensity and is best served over ice with a twist of orange peel.
The 200ml bottles contain two generous serves and are priced at £14 each, or £38 for the set, and are available to purchase in the Dishoom Store.