There's no better time than the festive season to stock up the drinks cupboard. And if there was any year to go fancier with your booze choices, it's 2020. Of course, if you don't want to shell out, we've rounded up some drinkable stocking fillers for under twenty quid here. Happy sipping:
Drink Gift Ideas: Champagne and Wine
The Lowdown: Celebrate the yuletide season with the ever-reliable Taittinger Brut Prestige Rosé and a pair of bespoke flutes to sip it from, all packaged within a snazzy gift box. This classic Champagne is one of the region's thoroughbreds, renowned for its impeccable quality, high Chardonnay content (30%) and complexity, which comes from the 35 vineyards and various vintages that it's lovingly crafted from. The 15% still red wine from the best Pinot Noir plots in Montagne de Reims and Les Riceys adds that eye-popping colour and will require no filters if your festive knees-up ends up on the 'gram.
Ideal For: A festive aperitif.
Price: £50
Where: Buy here
The Lowdown: Laurent-Perrier La Cuvée is a champagne of great finesse and beautiful freshness obtained after a long ageing process. The gift set includes the world-renowned champagne accompanied with two special glasses – perfect for toasting merry festivities. A delicate balance between freshness and finesse, it's an excellent match for fine fish dishes, seafood, and your Christmas Turkey.
Ideal For: Toasting the end of 2020.
Price: £50
Where: The Champagne Company and Champagne Direct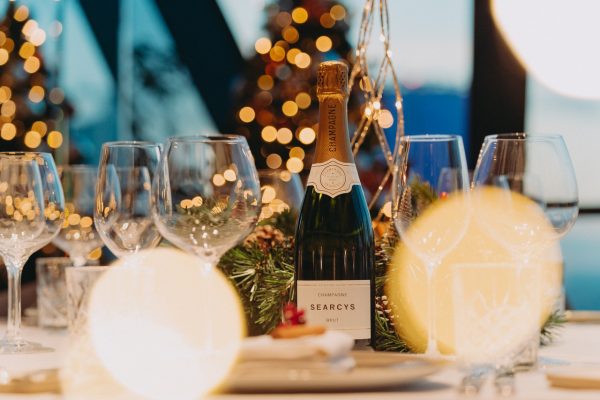 The Lowdown: For the first time this year, Searcys signature own Brut and Rosé Champagne is available for delivery nationwide. Popular across all Searcys venues, Searcys cuvées have been expertly developed by Champagne specialists and Searcys chefs to ensure a crisp and smooth taste in every sip. Bringing the celebration to your home, each bottle arrives in a bespoke white and gold box, with a choice from a Searcys Selected Cuvée Brut or a Rosé Champagne – complete with a personal message.
Ideal For: A luxe Christmas Day breakfast.
Price: From £39
Where: Buy online 
The Lowdown: Hattingley Valley's Classic Reserve, available in a stylish Union Jack giftbox, is arguably one of the most loved in the Hattingley range – and it's not hard to see why. Easy on the palette, and pale gold in colour with delicate and fine long-lasting bubbles, it's refreshing and perfect balanced. The beautifully complex bouquet combines aromas of green apples with creamy nougat, freshly baked brioche and delicate toasted notes from ageing in bottle. This is the ultimate aperitif or celebration drink – a flawless accompaniment to any festive party.
Ideal For: Drinking with Christmas canapés.
Price: £35
Where: Buy online 
Photo Credit: Electric Eye Photography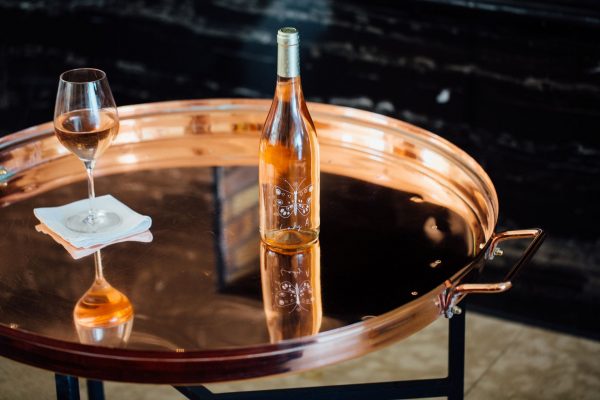 The Lowdown: Recreate the Soho House experience at home this yuletide season by sipping on their beloved Lady A Rosé Wine, available exclusively from premium online drinks retailer 31DOVER. Lady A is a collaboration between Soho House and the renowned Château La Coste. Pale in colour, it's light, crisp and zesty, offering flavours of citrus, pink grapefruit, peach and raspberry with a long and refreshing finish that is as delectable by itself as it is with food.
Ideal For: A New Year's Eve celebratory drink.
Price: £14.95
Where: Buy online 
Drink Gift Ideas: Whisky
The Lowdown: The GlenDronach Cask Strength Batch 8 is matured for ten years in both Pedro Ximènez and Oloroso sherry casks from Andalucìa. This expression offers connoisseurs a deep insight into the distillery's signature profile, by bottling the whisky at its natural cask strength of 61%, to bring the full depth of slow maturation in Spanish oak casks. Very chocolatey, jammy stuff – great for a festive sipper.
Ideal For: A late-night nightcap.
Price: £62.95
Where: Buy here 
The Lowdown: Smooth and elegant, Nc'nean Single Malt Whisky is produced in small batches, for an easy-going and delicious tipple, however it's served. Bottled in the industry's first-ever 100% recycled clear glass bottled and made in the 100% renewable energy distillery, Nc'nean is a pioneer of sustainable production.
Ideal For: Perfecting the Rob Roy cocktail, or try in a Scotch Sour.
Price: £49.95
Where: Available to purchase here
The Lowdown: The team at J&B Rare have created a limited-edition Seasonal Sours Collection cocktail kit, in collaboration with Cocktail Porter, just in time for Christmas. The kit is fantastic for mixing bar quality cocktails at home with three gloriously smooth, unexpected twists on the classic whisky sour serve, delivered to your door. Simply shake the ingredients with ice in a cocktail shaker and strain into a rocks glass, for an impressive tipple, perfect for a festive night in.
Ideal For: Bringing the bar vibes home.
Price: £41.95
Where: Buy online
Drink Gift Ideas: Rum
The Lowdown: Discarded Spirits Co is brilliant at turning waste into something tasty, and Banana Peel Rum is the sustainable spirit brand's latest brilliant creation. A Caribbean rum base has been matured in whisky casks and infused with banana peel for two weeks. The peel is sourced from a flavour house that uses the fruit but has no use for the skins, which would otherwise be thrown away.
Ideal For: As a base for a Rum Old Fashioned.
Price: £24.95
Where: Buy here
The Lowdown: Rosemullion Distillery's Cornish Spiced Rum bagged 'best rum' at the 2020 Great British Food Awards. The 100% single pot distilled rum is aged with a balance of spices to get you through those cold winter nights, and carries enough sweetness and spice to make it the best match in a Tiki Sazerac.
Ideal For: An accompaniment to a Boxing Day buffet.
Price: From £16
Where: Buy online