You don't need to travel out of the UK to get your hands on some incredible food. We recently visited Glasgow and ate our way around the city one dish at a time. We've compiled a list on the best restaurants you should be visiting. From fantastic Indian inspired breakfast dishes to traditional Scottish fare – we've got you covered.
Breakfast
Martha's is your go to for a healthy brekkie and there are no deep-fried Mars bars in sight. It's the first one of its kind in Glasgow and it's all about 'fast, natural food'.  Not all the food sold in Glasgow comes in battered form. Drop in for excellent juices blended to order, the C-more green smoothie is a green juice that doesn't taste like a salad bowl. Win.
There's one winning factor that gets our vote and it's the self service bar. Grab a porridge or yogurt from the fridge and top it with a many extras as you like. Throw as much flax seed, granola, goji berries, raisins and nuts as you so wish. Scotland is known for their rolled oats, but it's Martha's that makes smashing porridge.
Where: 142A St Vincent St, Glasgow, Glasgow City G2 5LQ
For the early-risers seeking breakfast with a side serving of spice, look no further than Babu Bombay Street Kitchen. This chai and roti shop bang out some superb Bombay street food from breakfast through to dinner. Nothing says rise and shine like a early morning chapati wrap. The restaurant is decked out with wooden crates on the walls and plastic tables to boot – you don't come here to marvel at the decor, you come here for the downright fantastic food being served.
Their morning menu has a variety of different dishes that would even please the pickiest of eaters. Think Punjabi channa massala, Bombay sandwiches and Bhurji pau (scrambled eggs, Indian style). The flavours here are punchy, vibrant and super fresh. Dig into their big boy chapati – eggs, bacon, ginger, onion and chilli all wrapped in chapati – it's an excellent fusion of spices and it'll keep you full for hours.
Where: 186 W Regent St, Glasgow, G2 4RU
Lunch
The Ox and Finch is a reminder that the food scene in Glasgow is firmly on the up. Recently opened, the kitchen is overseen by the former head chef of the McLaren Formula One team.  The menu here features seasonal dishes served tapas-style and there's also a dedicated veggie menu. The Ox and Finch is a trendy, high-ceilinged venue with a casual vibe that makes for ideal lunch spot with friends, you could easily while away a few hours here.
Dishes here are creative and inventive, combining ingredients that on paper, don't look like they would work – but really, really do. The confit duck with thai yellow curry and crispy rice is a marriage of flavours that taste sensational as is the spiced scallops served alongside chana dal, pickled cucumber and yoghurt. Our tip is to order a few meat, seafood and veggie dished and get stuck in.  From the meat selection, the buffalo mozzarella, fig, mint, prosciutto and eight-year-aged balsamic is an incredible light dish with the buffalo mozzarella a perfect companion to the prosciutto. If that doesn't sway you, the restaurant has just been awarded a Michelin Bib Gourmand.
Where: 920 Sauchiehall St, Glasgow G3 7TF
Dry Gate Brewery is the UK's first experimental brewery. Aside from the brewery, their onsite bar and restaurant is also worthy of a visit. Start off by sampling one of their 24 rotating beers or 200 bottles from around the globe – fresh from the tank and straight into your glass, beer doesn't get much better than this.
As well as creating some knock your socks beer, Drygate Brewery are also a dab hand at the food too. All of the produce is locally sourced and they're proud supporters of utilising the best Scottish ingredients on offer. The menu is an array of British modern dishes – from pan fried mackerel to fish and chips and spiced cauliflower salad, the menu is simple, honest grub with each dish executed in fine fashion. Round off your meal with the cheese board which features a selection of British cheeses alongside chutneys and fruit bread from the local organic bakery, Tapa found just around the corner (if you have time, make sure you visit Tapa, their sourdough loaves are sensational). There's no denying that Dry Gate Brewery is a restaurant you should be visiting – from your table you can enjoy panoramic view of the brewery and see the chefs at work in the open plan kitchen. The staff here are knowledgable about matching the right drink to your meal selection.
Where: 85 Drygate, Glasgow G4 0UT
Dinner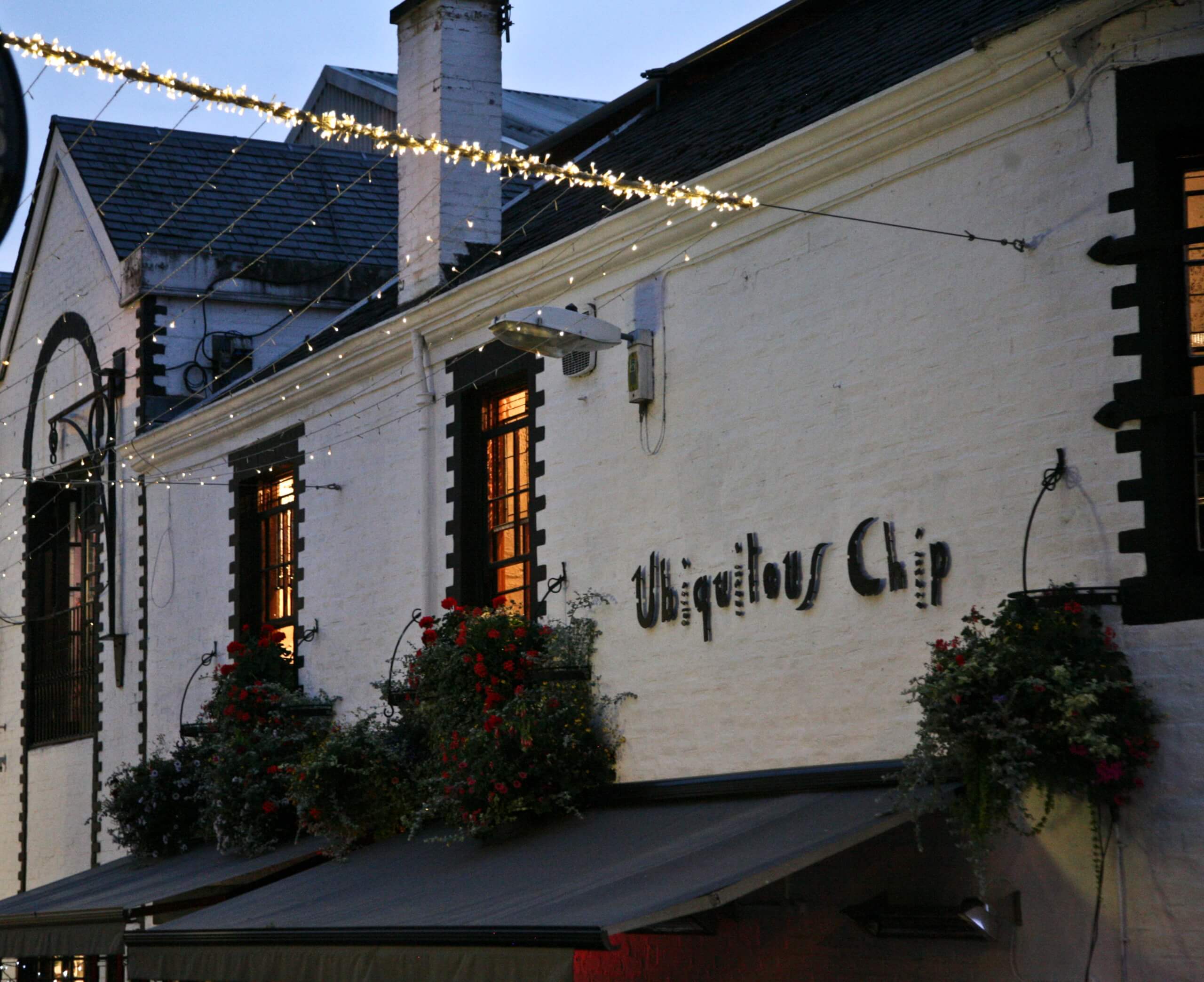 Ask anyone who has ever been to Glasgow where to go for dinner and the first place they will say is the Ubiquitous Chip – this restaurant stands head and shoulders above the rest. This isn't just a restaurant, but an institution. Forty years ago The Chip was the first Scottish restaurant to champion regional dishes and use locally sourced products.
The Chip have brought the outside in with their stylish courtyard dining room. It's all about the exposed brick, conservatory ceilings and ivy covered walls. The menu is typically Scottish and features a range of dishes that showcase the best of Scottish food and talent. You can't go to the Ubiquitous Chip and not order their venison haggis, our minds were firmly changed on haggis when we had a couple of mouthfuls. It's one of those dishes that you'll be talking about for weeks after –  rich, flavoursome and just fantastic. There's one dessert that you'll see regularly coming out of the kitchen and that's the Chip's  famous Caledonian oatmeal ice cream. It's nothing we've ever had before and would come back to The Chip specially for that dish. Come the weekend, the place is packed so prepare to wait or book ahead!
Where: 12 Ashton Ln, Glasgow, Lanarkshire G12 8SJ
There's a buzz in The Gannet that we really enjoy. It's small, cosy and always busy but that's The Gannet's charm and it really works. The food is exceptional, without the fuss, faff or pretentiousness that London establishments seem to be known for. It's dimly lit, boasts industrial style furnishings and is an excellent choice for your last meal in Glasgow. This independent restaurant is a place that Glasgow should be very proud of.
It's hard to pick from the menu as it all tastes damn good, but the lamb sweetbreads  for starter is well worthy of an order. The light, crisp breadcrumbs is complimented by the melt in the mouth lamb and caramelised onions. It's three ingredients – lamb, onions and crispy potatoes that paired together taste phenomenal. If you have room, there's only one dessert you should be ordering and that's the salted caramel fondant with tonka bean ice cream. Forget your full of the mill chocolate fondant, it's salted caramel time in the limelight. Dig your spoon into the centre and you're greeted with hot caramel molten lava. It's the stuff of dessert dreams – there's good reason why The Gannet won Restaurant of the Year in Glasgow this year.
Where: 1155 Argyle St, Glasgow G3 8TB
Where to stay
Grand Central Hotel 
To rest your weary legs (and stomach), the Grand Central Hotel located in the heart of Glasgow is an ideal pit spot. Having recently undergone a £20 million pound transformation, the 4 star hotel now boasts superior double bedrooms and junior suites all with swimming pool sized baths and high tech equipment. Winner of of 4 awards at the Scottish Hotel Awards 2015, the hotel is know for its art-deco furnishings with a contemporary twist.
With Glasgow right on your door step and the train station situated next door, the Grand Central Hotel is a must for anyone staying in the city. And, they put on an unbelievable breakfast spread.
Where: Glasgow Central Station, 99 Gordon St, Glasgow G1 3SF
Book here