Anguilla may be known for its sandy shores and clear waters, but it's the food that caught our attention. The island caters for all pockets and tastes. From fancy restaurants to street food shacks – this Caribbean island may be small, but it's certainly packs a punch in the foodie stakes. Here's are top ten edible highlights:
The Lowdown: da'vida's at Crocus Bay is a hideaway restaurant like no other. Forget your beach shanty shacks and wicker roofs; this restaurant is far more stylish. This laid-back eatery boasts a beachside bar, grill and restaurant, with the majority of the seating on the beach. The secret isn't out about da'vida just yet – it's tranquil, serene and isn't awash with tourists.
Eat: The choice of grub here is quite overwhelming, with the dishes inspired by both Asian and Caribbean cuisine. If you're coming for lunch, we recommend the Bayside grill menu. The seafood wrap is a game changer, a combination of mahi mahi, prawns and other fish they have caught earlier on in the day. The salads are by no means a couple of handfuls of limp lettuce. The portions are generous and the ingredients are super fresh. If you order a salad, make it the grilled chicken with mushrooms.
Where: Crocus Bay, Anguilla
The Lowdown: Chef and Owner, Dale took him upon himself to open Tasty's 17 years ago. Sick and tired of the island only home to high-end restaurants, Dale thought it was time for a restaurant to exist that catered for both tourists and locals. Tasty's is a local institution, and pays homage to Dale's passion and love for food. You can't miss this place set on the main drag – it's purple exterior is hard to miss, and the interior is reminiscent to your grandma's house with its mix matched seating and local newspaper cut outs adorning the walls.
Eat: If you're a fish fan, Tasty's will make all your seafood dreams come true. All of the seafood is locally caught and can differ from day to day, with tuna and snapper a regular fixture. Alongside their grilled 'catch of the day', the conch fritter is a must try for any holidaymaker new to the island. The meat is pulled from inside the seashell, and is cooked in a range of spices. Served with a spicy banana dip for an extra kick. We won't lie, it's an acquired taste, but something that's rather quite enjoyable.
Where: Main Road, Anguilla
3. For Street Food: Mabel Gumbs
The Lowdown: Wearing a wooly hat, along with donning a sort of dinner lady get up, 89 year old Mabel Gumbs is an island icon. Mable has been making her famous corn soups for years, and has recently past the soup-making baton down to her younger peers (although she still sits by the stall in the baking heat to oversea that business is running smoothly). The team rise at 4am and make the soup from the same recipe that Mable has been using for years, with the stall open from 9am.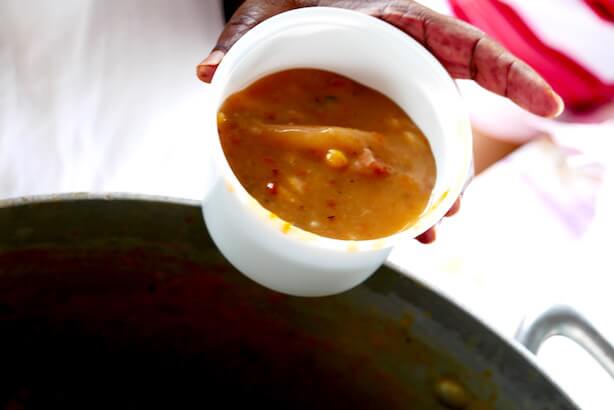 Eat: Corn soup, obviously. Although if you're willing to stray from the soupy path, there's also conch soup and chicken soup available – both are made using closely guarded recipes. And Mable also knows her stuff when it comes to the perfect soup companions. On offer are sugar cakes (a sort of doughnut-esque mini muffin), the Anguillan favourite of Johnny cakes, and salt cakes. That's not all – there's bagels, dumplings, and sweet potato cakes on offer too.
Where: The Valley, Anguilla
4. For Beachside Eats: Gwen's Reggae Grill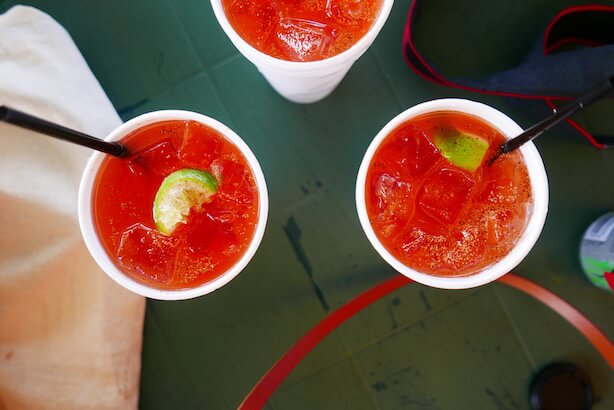 The Lowdown: Gwen's Reggae Grill is a beachside eatery that comes alive on warm summer days. It's not a restaurant as such, just a massive beach hut with a veranda and a smattering of chairs. We really like what Gwen has done with the place. There's a BBQ outdoors that cooks the majority of what's on the menu. At weekends there's a live band blasting out a variety of reggae hits and urban anthems. Wear your dancing shoes, the chaps will have you up out of your chair in no time.
Eat: Gina lives by one motto 'when it's gone, it's gone' – so get down early to avoid disappointment. They're known for their BBQ chicken and ribs, all cooked on their shanty barbecue on the beach. There's also chicken burgers, and cheese burgers, but they're pretty standard beach fare. The rum punch is served in a polystyrene cup, which is about the size of a pint glass. The punch is slightly sweet, and is sprinkled with a generous amount of spices and cinnamon for added umph.
Where: Shoal Bay, Anguilla
The Lowdown: Veya is an absolute triumph of a restaurant. Led by husband and wife duo Carrie and Jerry Bogar, who upped sticks from New York to Anguilla, opened Veya in 2007, receiving rave reviews ever since. The restaurant can only be described as an upmarket tree house. Try and grab a table on the outside terrace – it's quite magical to eat your dinner sat underneath the stars. The food here has been dubbed 'cuisine of the sun', and is a fusion of bold flavours and exotic ingredients from the four corners of the world.
Eat: Come here for all the fish goodness, including carpaccio of conch, traditional fish soup, butter poached lobster, and sautéed red snapper. If you're the indecisive type, Veya have done the hard work for you with their special menu: a five course tasting menu comprising of the chef's current favourite dishes. Word of warning; the bread basket is the finest selection of bread we've ever sampled – hot, freshly made Johnny cakes and banana bread all feature. Just don't go spoiling your dinner.
Where: North Hill Village, Anguilla
6. For a Laidback Lunch: Blanchard Beach Shack
The Lowdown: Giving the high-end establishments a run for their money, Blanchard Beach Shack opened in 2011 to cater for the cheap eats, but still damn good food crowd. The shack is found on Meads Bay Beach, and is the place where you can order your lobster roll and slink back to your sun lounger with. The menu is about as simple as the decor, but still packs a punch in the flavour department. They use locally grown, organic produce whenever possible. Enjoy a table on the beach with the sand beneath your toes, or ask for your order to go.
Eat: The coconut curry mussels are a must try. The salads are good, but they've totally nailed the jerk chicken tacos, which by the way, are so, so good. Their 'flat-dogs', a twist on the American hot dogs are pretty forgettable, so opt for the big bowls where you can pick and choose your fillings; blackened mahi, roasted shrimp and pulled pork to name but a few. There's also a whole menu dedicated to sweet treats, think hot caramel sundaes, fudge brownies, ice cream mix ins and frozen yogurt.
Where: Meads Bay, Anguilla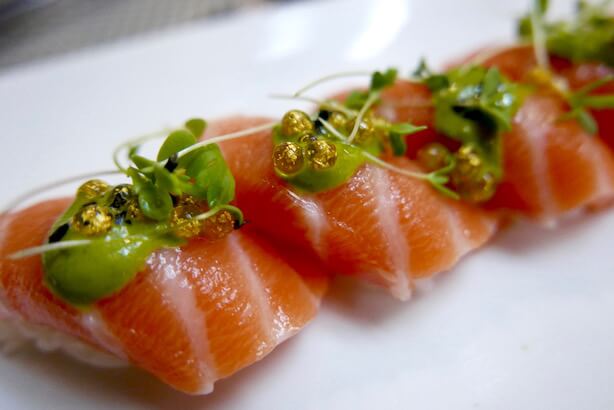 The Lowdown: When visiting a Caribbean island, you may think going for sushi seems like sacrilege, but it doesn't when it tastes this good. Tokyo Bay found within CuisinArt Golf Resort and Spa is a slice of japanese food served in Manhattan surroundings. The resort has its own hydrophonic farm, where they harvest their fruit and veg on a daily basis, and it tastes phenomenal. The team champion seasonal produce and buy their fish down at the market every morning.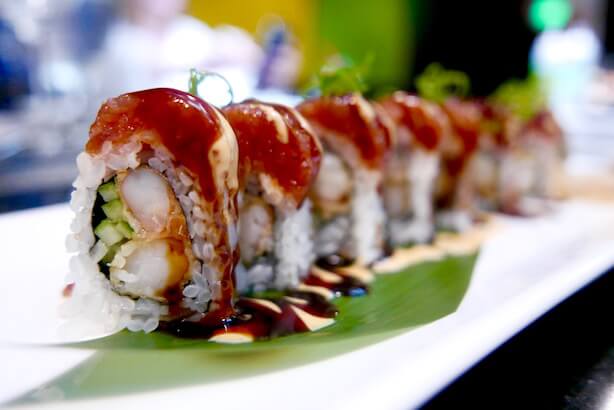 Eat: Everything. The menu showcases both traditional Japanese flavour, along with Head Chef Joe Richardson's own special dishes and twists on classics. There's a great selection of sushi and sashimi, including tuna sashimi with caramelized onions and truffled ponzu, habanero salmon rolls, California crab rolls, along with their teppayanki grill. Jendry Oroh is the teppanyaki wizard and puts on one hell of a theatrical show. Watch him throw eggs, flip rice, but most importantly cook up delicious salmon, prime rib of beef and tuna yellow fin.
Where: CuisinArt Golf Resort and Spa, Anguilla
8. For an Off Shore Lunch: Sandy Island Restaurant
The Lowdown: There's beachside restaurants, and then there's Sandy Island Restaurant. Take a short 10 minute boat trip from Anguilla to Sandy Island for peace, quiet and the best barbecued crayfish. Channel your inner Leo, circa the Beach and laze on the hammock, or lord the Anguillian sunshine, before making your way over to the restaurant (which is more of a beach hut). There's music, there's happy staff, but most of all – you're eating your lunch on an island in the middle of the Caribbean ocean – you can't get better than that, surely?
Eat: We won't sugarcoat this, the service isn't speedy, but its hard to complain when your sat on the beach looking out onto the ocean. There's some great shrimp dishes on offer such as the drunken coconut shrimp – a boozy blend of shrimp in coconut cream and a good splash of rum, and the fire coal shrimp with onion, peppers and ginger. For larger plates, there's shrimp kebabs, barbecued chicken, ribs, mahi mahi and that crayfish.
Where: Sandy Ground Beach, Anguilla
9. For Roadside Grub: Ken's Pork BBQ
The Lowdown: Ken's Pork BBQ, or simply known to the locals as Ken's, is a roadside grill with a barbecue, a few worn tables and chairs, and the man himself, Ken. Situated on one of the main drags in Anguilla,  Ken's sweet chicken scent wafts down the street – you can't help me pull over and get your protein fix. It's bargain prices, and you can easily fill yourself for less that 7 dollars.
Eat: Chicken and ribs, because there's nothing else. There's no sides and no salads – but the taste is fantastic. The ribs are melt-in-the-mouth divine, and the chicken is moist, seasoned well and cooked to perfection. People claim Ken's BBQ is the place best for chicken, and it's very hard to argue with that statement. Grab it to takeaway, throw some salad on a plate at you accommodation and you've made on hell of a dinner.
Where: The Valley, Anguilla
10. For Dancing and Dinner: The Pumphouse 
The Lowdown: When the Pumphouse is throwing down the tunes, this restaurant come bar turns into the party house. Not just a place to grab a dinner, there's karaoke, tunes and tequila. The restaurant is a mix of cuisines from Caribbean to their dedicated pizza menu and Mexican eats. There bar staff will whip you up a cocktail of your choice, whatever you choose – it'll taste like magic.
Eat: The Original 8oz Pumphouse Black Angus Beef Burger is mighty and as filling as it sounds – you can also customise your cheese and throw on some extra bacon. If beef doesn't tempt you, there's the Asian glazed tuna burger with wasabi mayonnaise, or the spicy jerk chicken burger. There's a pizza menu including a veggie, a classic margarita, or you can make you own. Don't fill yourself on the mains, as there's cheesecake for afters. Just sayin'.
Where: Sandy Ground, Anguilla
Photo Credit: The Pumphouse 
Unless credited, all images are by Poppy Loves London. Keep up-to-date with Poppy on Instagram and Twitter. 
For more information on Anguilla, visit their website here.