Anguilla is the Caribbean's secret love child. It doesn't draw the same amount of celebrity a-listers as St Barts, its port isn't dominated by large super yachts found in St Kitts, and the island isn't crowded with the tourist mob who tend to hit up Antigua for a fortnight in the sun. Anguilla is a small island which lies east of Puerto Rico, and is the most northern island in the Leeward Island chain.
Tourists have yet to put their sun creamed hands and cargo shorts all over Anguilla. Largely untouched, the island boasts sandy beaches, crystal clear water and an all-year tropical climate. If you're pining for a holiday in the sun, surrounded by the friendliest locals, we can't recommend Anguilla enough. Here's the lowdown on what's hot (quite literally) in Anguilla – and we'll give you a heads up now – you'll want to bottle the Anguillian spirit and bring it back in your suitcase.
Where to stay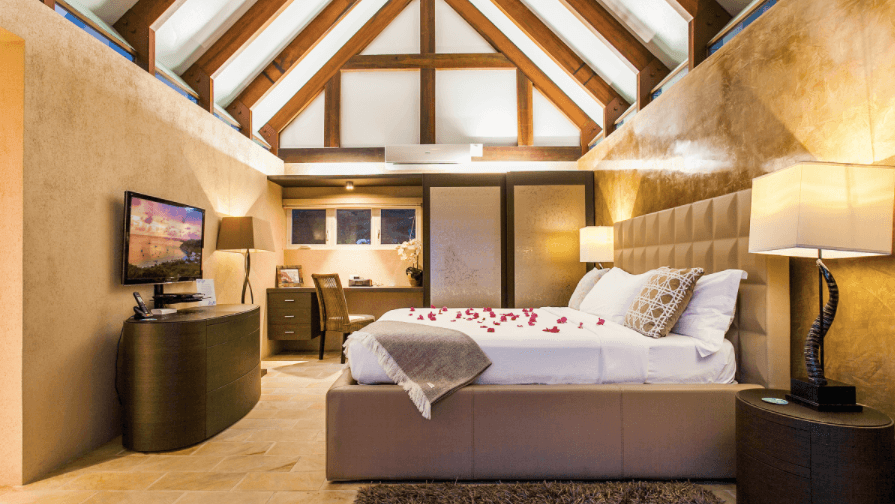 If you're really in the mood to switch off (and not just from social media), Ce Blue which overlooks peaceful Crocus Bay is the perfect escape. The hotel comprises of self-contained villas, each with their own pool, kitchen and terrace area. Ideal for both small groups and larger parties, the 5 bedroom villa is something you'd find on postcard. Each room boasts a king-size bed, and all come with the most cloud-like, comfortable mattresses. There's en-suites aplenty, a wine cellar and WIFI thoughout the villa (not that you'll need it).
All eight villas boast beachfront views, with the beach found a mere 10 paces from your front door. Each villa has been designed to the highest standard – luxury decor and Caribbean flare has been seamlessly blended with comfort and a real home away from home feel. And staying true to my mother's ethos that 'no one should have to cook on holiday', Ce Blue has a team of kitchen wizards, who, when instructed, will come and cook you a banquet of Caribbean delights. Not just villas, Ce Blue also has a gym, restaurant and a games room to keep the little ones entertained.
For Everything Under One Roof: CuisinArt Golf Resort and Spa
From the guy that brought you various kitchen appliances and gadgets, CuisinArt Golf Resort and Spa is his venture into the hospitality sector, and boy did he do a fantastic job. The resort is colossal, but still manages to maintain a sense of intimacy and character. Situated in Rendezvous Bay, the resort is home to 98 suite and private villas with pools. The rooms may not house the latest-mod cons, with the decor a little dated compared to its competitors, but the secret of this hotel lies far beyond a plasma TV. CuisinArt Golf Resort and Spa literally has everything under one roof, and there's no judgement if you contemplated not leaving the resort, because, if we're honest; you really don't need to. There's an 18 hole gold course, the award-wining Venus Spa featuring aquatherapy, massage and facial rooms, a relaxation room, and the Rusk Beauty Salon which offers full service hair and nail treatments.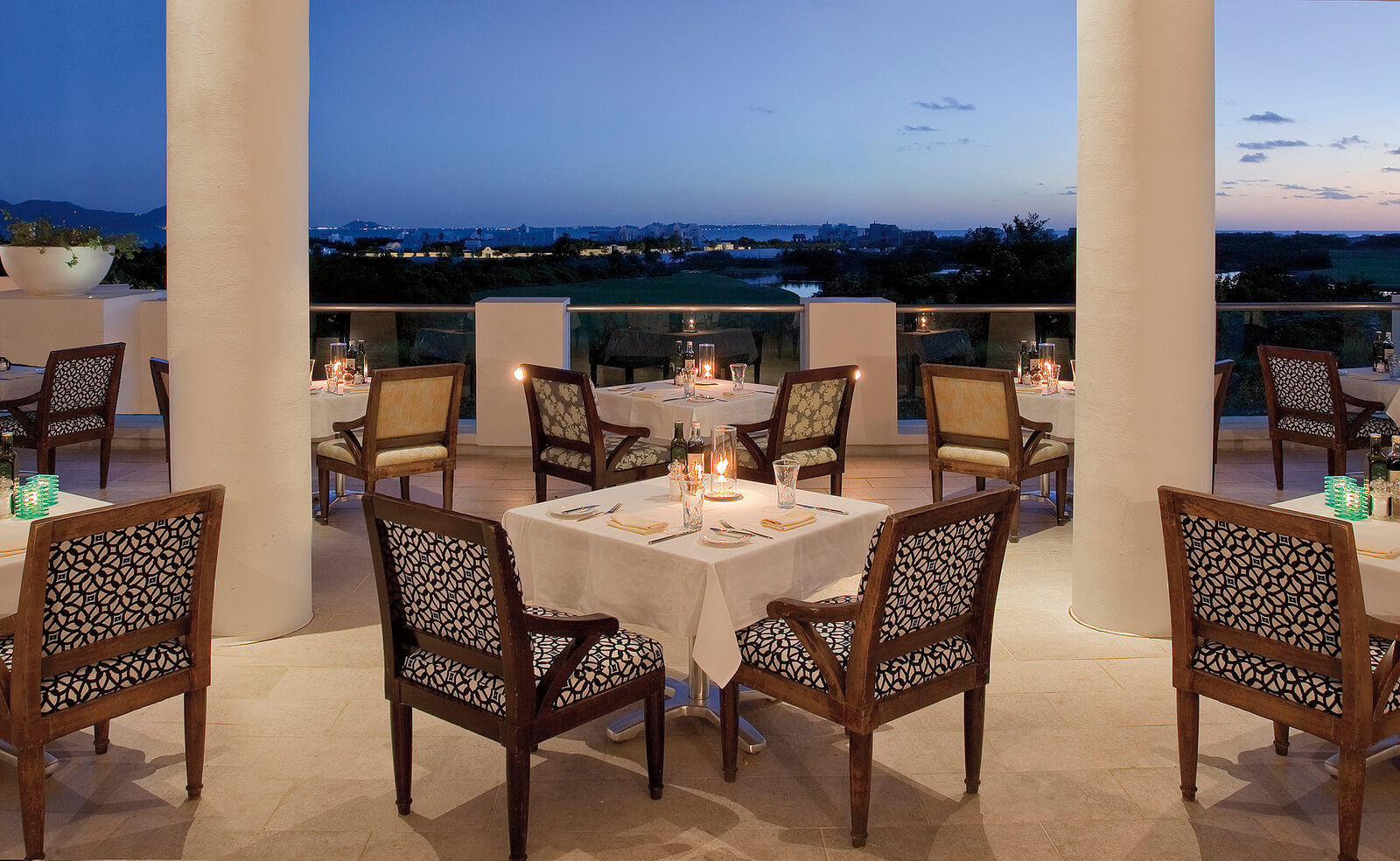 Avid chefs and wine fans can get their thrill down in the kitchen with the hotel's very own cooking classes. There's different classes to suit all tastes – maki making, pizza and cookie classes for children (or your inner big kid), and the art of making pastry. Wine tastings are held twice a week in the 3,600 wine strong cellar at Le Bistro. You'll leave knowing the difference between a Melbec and a Merlot in no time.
There's plenty more to get stuck into at CuisinArt Golf Resort and Spa. Rent a bike and peddle around the island, take part in early morning yoga, set sail for the high seas in a kayak, soak up the rays on the private beach, or simply lounge around the pool.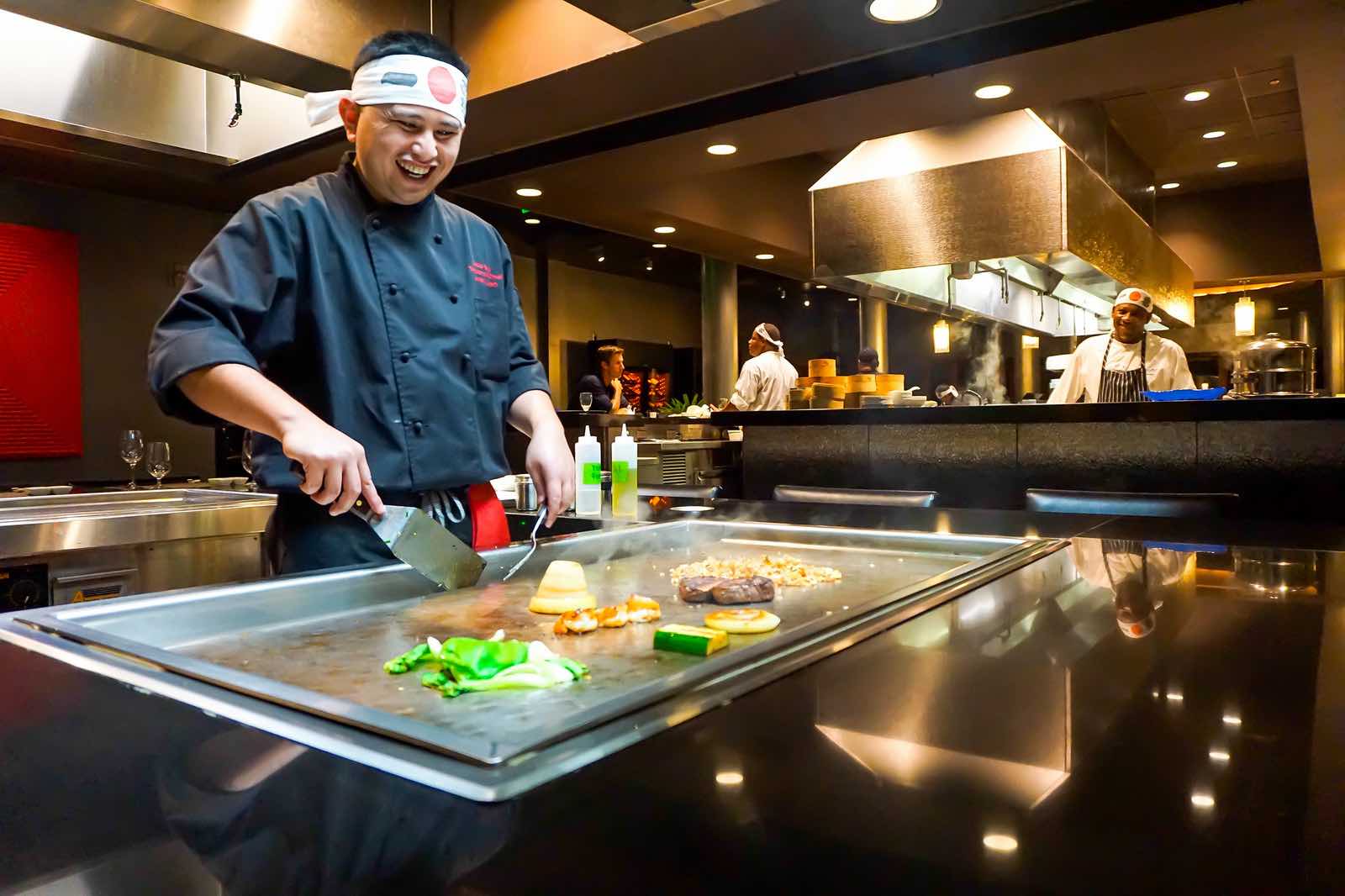 The food offering at CuisinArt Golf Resort and Spa is some of the best in the area, with an abundance of choice ranging from sushi and teppanyaki at Tokyo Bay to Anguilla's only AAA Four Diamond restaurant, Le Bistro for fine dining. Executive Chef Jasper Schneider and his team have created menus that capture both the flavours from the food being grown in the hotel's own hydrophonic farm, to the cleverly put together plates that encompass local and international fare.
The breakfast at Club Med is good reason to leave your room in the morning. A fine spread of not only pastries and cereals, but the freshest of fruit alongside omelettes and pancakes. If a runny yolk can't wake you from your slumber, the restaurant also bang out incredible stone baked pizzas for lunch. Using their own wood oven, the chefs are in the know when creating doughy delights.
What to Eat
Anguilla is the David, in the David v Goliath fight – small in size, but mighty (not only in choice, but also for the exceptional quality and fresh produce). Anguilla suits any pocket and palette – there's a number of great roadside huts that won't break the bank, but are still up to restaurant standard; to the eateries that have received global and critical acclaim. Causal dining, international sophistication and creative cuisine is here in its shed load.
BBQ'd meats is an Anguillan staple and a must try when visiting the sandy shores. But it's the island's fish that is worth all the recognition, and when on the menu – go for the fish option. The majority of restaurants will serve fish that have been caught earlier on that day, with the locals very proud of their crustacean friends. Veggies should not be worried about feeling left out, there's plenty of plant power dishes to go around. Here's a roundup of the best restaurants worth spending your sparkles on:
Veya is an absolute triumph of a restaurant. Led by husband and wife duo Carrie and Jerry Bogar, who upped sticks from New York to Anguilla, opened Veya in 2007, receiving rave reviews ever since. The restaurant can only be described as an upmarket tree house. Try and grab a table on the outside terrace – it's quite magical to eat your dinner sat underneath the stars. The food here has been dubbed 'cuisine of the sun', and is a fusion of bold flavours and exotic ingredients from the four corners of the world.
Come here for all the fish goodness, including carpaccio of conch, traditional fish soup, butter poached lobster, and sautéed red snapper. If you're the indecisive type, Veya have done the hard work for you with their special menu: a five course tasting menu comprising of the chef's current favourite dishes. Word of warning; the bread basket is the finest selection of bread we've ever sampled – hot, freshly made Johnny cakes (a sort of savoury doughnut) and banana bread all feature. Just don't go spoiling your dinner.
North Hill Village, Anguilla 
Tasty's is an institution, and a hit with locals and tourists alike. Head Chef and Owner, Dale Carty set up Tasty's back in 1999 when he noticed there was a gap in the market for a place that not only attracted the out of towners, but a restaurant suitable for island residents. And while the restaurant established its breakfast and lunch offering first, its dinner menu is far more varied, and far superior to its pre-noon eggy delights.
The conch fritters are legendary here, and is the restaurant's must try dish. Dale has perfected the art of conch cooking – undercook and you can barely get a knife through it, overcook the conch and you're presented with a chewy mess. Large parties are also welcome at Tasty's with a sharing style family feast up for grabs. Get your knife and fork into mahi mahi, a wide selection of barbecued meats, salads, and anything they've managed to pick up from the fish market earlier that day. Just save some space for dessert, Dale will insist on ending your meal on a sweet note, not that we're complaining.
The Valley, Anguilla 
For Beachside Eats: Blanchard Beach Shack 
Giving the high-end establishments a run for their money, Blanchard Beach Shack opened in 2011 to cater for the cheap eats, but still damn good food crowd. The shack is found on Meads Bay Beach, and is the place where you can order your lobster roll and slink back to your sun lounger with. The menu is about as simple as the decor, but still packs a punch in the flavour department. They use locally grown, organic produce whenever possible. Enjoy a table on the beach with the sand beneath your toes, or ask for your order to go.
The coconut curry mussels are a must try. The salads are good, but they've totally nailed the jerk chicken tacos, which by the way, are so, so good. Their 'flat-dogs', a twist on the American hot dogs are pretty forgettable, so opt for the big bowls where you can pick and choose your fillings; blackened mahi, roasted shrimp and pulled pork to name but a few. There's also a whole menu dedicated to sweet treats, think hot caramel sundaes, fudge brownies, ice cream mix ins and frozen yogurt.
Meads Bay, Anguilla
What to Do 
For Water Activities: Anguilla Watersports 
Surrounded by the Caribbean Sea, where the temperature feels like a lukewarm bath, Anguilla reigns supreme in the choice of waterspouts available. Pro or amateur, the guys at Anguilla Watersports will have you donning your sea legs in no time.
If you're up for a gentle mosey on the island's waterway, the glass bottom kayak is a great option, and is suitable for all ages and abilities. However, it's the paddle boarding that is by far the best experience. The certified SUP pros will guide you through your paddle boarding technique (it's fairly easy and you'll pick it up quickly), balance and building your core strength before taking you out on the water. Once you've mastered the art of sitting, you'll be up on your feet before you know it. If we can do it, anyone can.
For a Boat Trip: Tradition Sailing 
Nothing quite beats the wind in your hair, and a glass of Prosecco in hand while you watch the sunset over Anguilla. Tradition Sailing waves goodbye to 21st century technology, in favour of sails and sea power onboard their timeless boat, Tradition. Crafted on the beach in Carriacou, Grenada, with skills passed down the generations, Tradition worked the trade winds, carrying cargo until as recently as the 1990's.
The sunset sailing package is pretty magical, and a must on the list of things to do in Anguilla. The three hour boat trip sails along the Anguilla coastline as the sun begins to set, with a pit stop at Little Bay to enjoy gourmet snacks and nibbles under the stars. Don't worry if you think you're be parched – there's free flow Prosecco, Belinis and soft drinks to keep you going. That's our kind of boat trip.
What to See 
Photo Credit: Christine Gordon
If you're thinking of visiting Anguilla, the best time to go is in mid April. Not only is the weather balmy and you're missing the school holiday mob; the other draw is that of music festival, Moonsplash.  Dubbed the Western Hemisphere's full moon party, Moonsplash is world's away from international festival such as Coachella, where the relaxed and unpretreintous vibe attracts not only island residents, but international guests too.
Island icon and all round reggae hero, Bankie Banx is behind Moonsplash – a four day knees up that takes place at Bankie Banx's Dune Reserve, a large outdoor beachside bar made from drift wood and other materials – it's shabby chic but oozes island charm. The festival has played host to various artists, include the likes of Toots & Maytals, John Mayer and Nas, with a surprise performance from Justin Bieber last year.
And in true Anguillian island fashion, there's no end time, or start time for that matter – the party finishes when the last person has left. The rum punch flows freely, new friendships are made, and the music keeps on coming. It's relaxed, laid back, and shows the Brits how it's really done. The festival finishes on the Sunday with an all day beach party to wrap up proceedings.
Anguilla has it all: 33 pristine beaches, world class cuisine, and top class hotels. If you took away the fancy dinners and luxury accommodations, at the heart of Anguilla joviality and friendliness still remains.
We didn't just leave Anguilla with a few pictures and a pocketful of memories, we left with friends and people that made a lasting impression on us.