Looking for the best things to do in Aspen during the summer? From mountain-top yoga to fine dining experiences, arts festivals to hiking, this beautiful, vibrant town comes alive in the summer. Aspen is the perfect year-round destination; discover our 48-hour guide which includes the best places to stay, eat and explore in Aspen, Colorado:
Aspen's winter reputation precedes it, with the famous Aspen Snowmass resort offering some of the best skiing in the world, attracting ski-enthusiasts from all over the world every winter. Home of Aspen Mountain, locally known as Ajax, in winter this mountain town is flooded with visitors for its incredible ski and snowboarding experiences. But Aspen is so much more than a winter destination, and if you've never visited this incredibly scenic town in summer, you're in for a real treat. As locals say, you come for winter and end up staying for summer.
Lesser know is the town's great summer cultural scene, which embodies The Aspen Idea, a unique ethos of a town that strives for more. The Aspen Idea is a vision for community focused on mind, body and spirit, originally created by Walter and Elizabeth Paepcke in the 1940s during the town's cultural renaissance. Today, that spirit manifests as a summer jam-packed with holistic activities, cultural events and a real focus on community, arts and exploring the area's natural beauty. There's a sense of serenity and calm about Aspen in the summer that I've not experienced anywhere else in the world; don your Lulu Lemons and come explore what the town has to offer in summer for yourself.
Summer in Aspen offers a real chance of outdoor recreation and getting back to nature, with everything from rafting to hiking, fishing, golf, horseback riding, hot-air ballooning and rock-climbing. You name it, Aspen has it. Summer in Aspen also boasts a lively events calendar, with a diverse programme of events from Aspen's cultural and arts institution throughout the summer, pulling in an international audience. Read on to discover the very best Aspen has to offer in summer – and how to do it in style.
Aspen in the summer offers a great range of accommodation, to suit all budgets. If you want to stay in the heart of the town, here's our pick of 3 of the best:
For a Luxury Stay: The Jerome, Aspen
You can't miss The Jerome when staying in Aspen during the summer. One of the finest luxury hotels in Colorado, the newly renovated Jerome Hotel is the perfect retreat in Aspen, offering fine dining, elegant accommodation and a world-class spa under one roof. The oldest hotel in Aspen, The Jerome is a boutique spot, with a unique mountain aesthetic that feels so… Aspen. The accommodation, ranging deluxe rooms to luxury suites, is all newly renovated with custom furnishing, luxury bathrooms and 24-hour room service.
We loved the design of the hotel; stylish and contemporary, each of the hotel's bedrooms are individually designed and pay homage to the hotel's past. The Jerome is also a foodie's delight – it happens to offer up some of the best food in Aspen, with the Living Room, headed up by Executive Chef Rob Zack, showcasing ingredients from local farms. It's also the place to be seen during the summer – come here for a drink at the J-Bar, an Old Western-inspired Saloon, and sip down on the best Negronis in town.
For a Unique Location: The Little Nell
The Little Nell, a 5* luxury hotel in Aspen, has a unique location, with the city of Aspen at their front door, Aspen Mountain at their back door – the perfect spot for mountain activities, such as hiking, yoga and biking in summer. One of the finest luxury stays in Aspen, the facilities of this hotel are fantastic, with a heated outdoor pool and jacuzzi, 24-hour room service, ski concierge (in winter) and great restaurants. If you need a luxury base in Aspen, this is the one, as the hotel offers complimentary bicycles, transportation around town and an on-demand concierge team who can help curate your stay.
There's something distinctly local about this hotel; The Little Nell captures the spirit of Aspen with the feel of a luxury private home, with stunning suites, a spacious lobby, living room and their restaurant Ajax Tavern, all having an eye on design. The accommodation is fantastic; The Little Nell features 92 rooms, with 52 guest rooms, 26 premium guest rooms and eight suites, which were all renovated in 2017 with a modern, Aspen feel. We're talking private balconies, gas log fireplaces and plush interiors. Want a room with a view? All rooms overlook Aspen Mountain, the Red Mountain range or Continental Divide, Durant and Spring streets, or the courtyard and pool. We love. The Nell, their signature restaurant, opened to rave reviews, with unique design aspects such as glass wine wall, large artwork and bespoke lighting. This is one hotel you don't want to miss.
For a Modern Stay: Limelight Hotel
I really loved the vibe of Limelight Hotel in Aspen; it's a trendy, contemporary hotel, that's perfect for families and adventurers. For a start, the accommodation is great, with high ceilings, big windows, modern decor and king beds. Plus, there's all the modern essentials like super quick WiFi, flat screen TVs, coffee makers, iPads on request and luxury spa products in-room. There's a small resort fee with the room, which gets you some great perks, including airport transfers, in-town transport, daily ski shuttles and continental breakfast.
The food offering is solid; starting with continental breakfast, served community style in the lounge, then après food and drink specials and a full dinner menu. There's also live music throughout the week in the hotel, and specials such as Rosé Wednesdays ($6.50 a glass, bargain), whisky flights and Sangria evenings. They've got some great curated experiences in summer, including ready-made picnic hampers for day trips, which includes water, three homemade sandwiches with local produce, cookies and trail mix. Perfect.
There's some many great things to experience in this mountain town over the summer. From stand-up paddle boarding to hiking, here's our pick of the best things to do in Aspen this summer:
For Getting Outdoors: Hiking, Cycling, Fishing & More
There's so many great outdoorsy activities during summer in Aspen; whether it's hiking, mountain biking or just a gentle walk around town. There's bikes all over Aspen – the town is cycling mad! The Rio Grande offers up a lovely, mellow cycle on a paved path from Aspen to Glenwood Springs, and comes highly recommended by locals. If you're looking for something more adventurous, you can go off-road with a mountain bike and explore the nature beauty of Aspen.
Aspen is simply made for hiking; lace up your hiking boots and try one of the many trails around the town. One of the most challenging hikes is the Ute Trail – this steep trail, located on the southeast side of Aspen ascends 700 feet in just 0.9 miles. For something a bit more gentle, try the Rio Grande trail, which is popular with locals. Hiking is a great way to see Aspen in bloom, with all the beautiful mountain flowers blossoming this time of year.
There's also lots of great activities on water at the Roaring Fork River in summer, including guided rafting, kayaking and stand-up paddle boarding. If it's fishing you're after, the Gold Medal rivers offer up some great fishing of trout – perfect for fly fishing.
For Stunning Scenery: Maroon Bells
For good reason, The Maroon Bells are the most photographed peaks in all of Colorado. You've never seen such natural beauty; these red rock formations reach upward from Maroon Lake at over 14,000 feet. You can get the shuttle from Aspen Highlands to Maroon Lake to see the mountains – they are beautiful first thing, when you can watch the sun rising over the mountain and lake. There's lots of trails near the Bells, if you fancy a beautiful, nature-filled walk around the area.
For a Ride: Experience the Silver Queen Gondola
It's a must-do activity in Aspen; jump on the Silver Queen Gondola, which takes you up, up and away. You'll take breathtaking views of the Colorado mountains and vista, and be able to take some great photographs. From the Silver Queen, you can get to Sundeck restaurant, which has lots of free activities in summer, including yoga, hiking, meditation and more.
For a Cultural Fix: Art Galleries, Concerts and More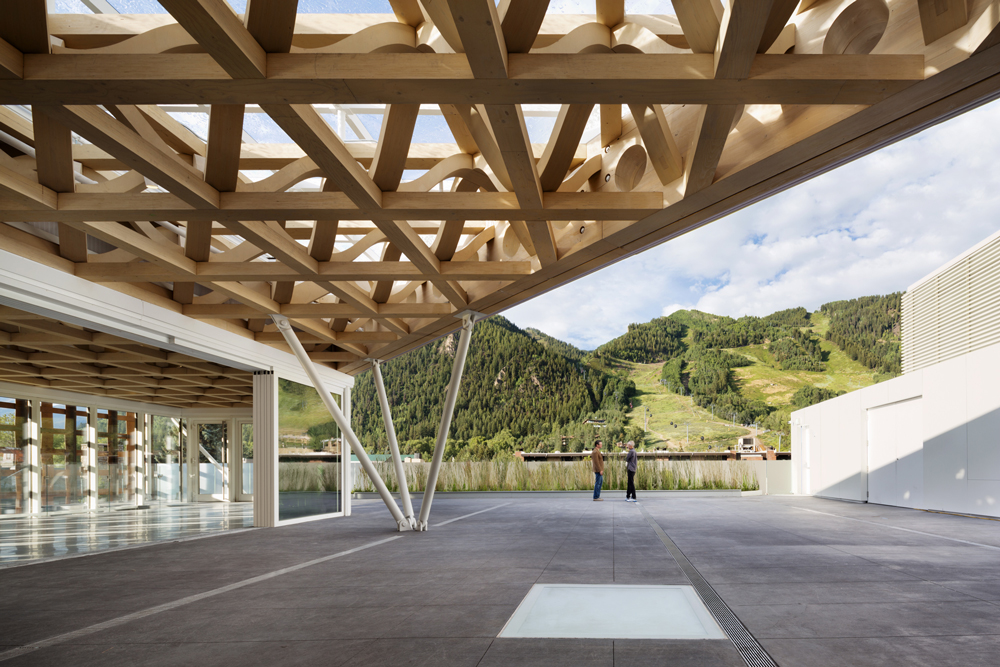 Aspen comes alive with cultural activities throughout the summer; from the Aspen Jazz Festival to the Aspen Ideas Festival, which both take place in June, attracting travellers from all around the world. For first-timers, the cultural hub of the town, Aspen Art Museum, is a must-visit. A real home of modern art, The Aspen Art Museum is a non-collecting institution presenting the newest, most important evolutions in international contemporary art. They have regularly changing exhibitions throughout the year, as well as special events, concerts and dinners at their rooftop restaurant (which is seriously delicious). Check out their latest exhibitions here and see their calendar of events here.
There's so many fantastic restaurants in Aspen in the summer; from quick al fresco bites to romantic restaurants, the Aspen foodie scene is something you *need* to discover. Here's some of our favourite Aspen restaurants:
For Brunch: Prospect Restaurant
Prospect Restaurant is the place to come for brunch in Aspen; a modern American bistro serving up delicious local dishes at the trendy Jerome Hotel. The brunch here is some of the best I've ever had – Executive Chef Rob Zack strikes balance between classic and contemporary cuisine and gets it just so right. Come here for all the brunch delights; we love the avocado toast with soft poached eggs, mushrooms and piquillo peppers on house-made multigrain and seed toast. You can't miss their house-made granola with fresh fruit, or the delicious blueberry pancakes with citrus butter and maple syrup. Now we're hungry.
For Mountain-Side Lunch: Ajax Tavern
Ajax Tavern is a glamorous and yet casual restaurant located at The Little Nell, which is perfect for lunch by the mountains. It's a great spot for people watching; you could spend hours here eating French fries and watching the world go by. Located right next to the Silver Queen Gondola, Ajax Tavern is the hub for Aspen locals to soak up the atmosphere over great food. We love the food at Ajax Tavern; try the truffle fries, they are out of this world, and the tasty kale and quinoa caesar with Manchego crisp. Local, hearty food doesn't get much better than this.
For Healthy Eats: Pyramid Bistro
Locally know as Aspen's most healthy restaurant, Pyramid Bistro is a quaint spot inside a bookshop that serves up healthy dishes with an Asian twist. Calling itself as a Nutritarian restaurant – meaning they cook food with a focus on nutritional benefits – there's loads of gluten-free, vegan and vegetarian dishes at this restaurant. The food is anything but boring; expect delicious dishes such as mango spring rolls, galangal curry bowl and kaffir lime marinated shrimp. Delicious stuff.
If you're in the mood for pasta, don't miss L'Hostaria for authentic Italian cuisine – expect great wine, food and a romantic atmosphere. Headed up by chef Tiziano Gortan, the restaurant brings a real taste of Italy to Aspen, with some classic dishes given a gourmet spin. Our personal favourites are the Caprese salad, melty Burrata, and handmade pastas – try the gnocchi with chopped tomatoes, basil pesto, parmesan and Tuscan extra virgin olive oil or the divine spinach & ricotta ravioli with brown butter and sage. Delicious.
For Cheese and Wine: Meat and Cheese Aspen
Meat & Cheese does exactly what it promises; great cheese, delicious meat, all in a vibey low-key atmosphere. Located on Restaurant Row in Aspen, Meat & Cheese Restaurant and Farm Shop is a hybrid specialty food store and restaurant in one – the perfect place to dine with friends, or pick up some gourmet treats to take home. Their cheese-centric menu is great; you can't miss their burrata salad with smoked cherry tomatoes, pickled fennel, croutons and pine nut pesto, it's a local favourite. If you're feeling nibbly, try their boards – our personal favourite is the meat and cheese board with a selection of three cured meats and three cheeses served with the perfect accoutrements. Heavens for cheese and meat lovers, we say.
For further information, visit Aspen Chamber here and Go Snowmass here. America As You Like It offer a 7 night holiday to Aspen and Snowmass from £1575 per person including return flights from London to Denver on Norwegian, car hire, 4 nights at the Hotel Jerome in Aspen and 3 nights at The Westin Snowmass Resort. Price is based on 2 people sharing. For more information, call 020 8742 8299 or visit here.