If you need a break from Netflix/London life/the morning commute – we've got just the feature. There's been a huge trend of UK's top spas distilling the outdoors lifestyle into a relaxing garden space that forms part of the spa experience. Featuring touches such as specially selected aromatic plants, fresh water pools, outdoor treatment rooms and outdoor relaxation decks, spa gardens are the ultimate way to revitalise the senses. With help from our friends over at Spabreaks.com – we've discovered the best spa gardens in the UK. And breathe:
1. For Complete Tranquility: Foxhills, Chertsey, Surrey
The Lowdown: This Surrey boutique country house hotel was the first in the UK to introduce a spa garden. The garden features a Finnish sauna, outdoor hot tub, hammocks, bean bags and loungers, but the pièce de résistance is its natural swimming pool, with chemical-free water purified by plants and minerals. This organic pool stimulates the circulation, energises the spirit and lowers the temperature. Guests to the spa can enjoy a range of relaxing treatments taken al fresco in eight hedged treatment cubicles, or relax with tai chai or core stability classes on the lawn of the spa garden.
Price: A one night half board spa break with 55 minute treatment and full use of spa facilities starts from £180 per person.
Where: Stonehill Rd, Lyne, Chertsey KT16 0EL
2. For Rest and Relaxation: Galgorm Resort and Spa, Ballymena, County Antrim, Northern Ireland
The Lowdown: The idyllic woodland location of the Galgorm spa, on the banks of the River Maine, was the inspiration of the beautiful 'indoors meets outdoors' space. As part of the spa's Thermal Village experience, guests are able to experience the natural forces of Fire, Air and Water as they relax outdoors around the sunken fire before enjoying a dip in the 12-man outdoor hot tub next to the river. This, in addition to its Celtic sauna and steam room, both featuring stunning river views, and the glass sided relaxation River House, sitting on stilts over the water provides the ultimate natural retreat.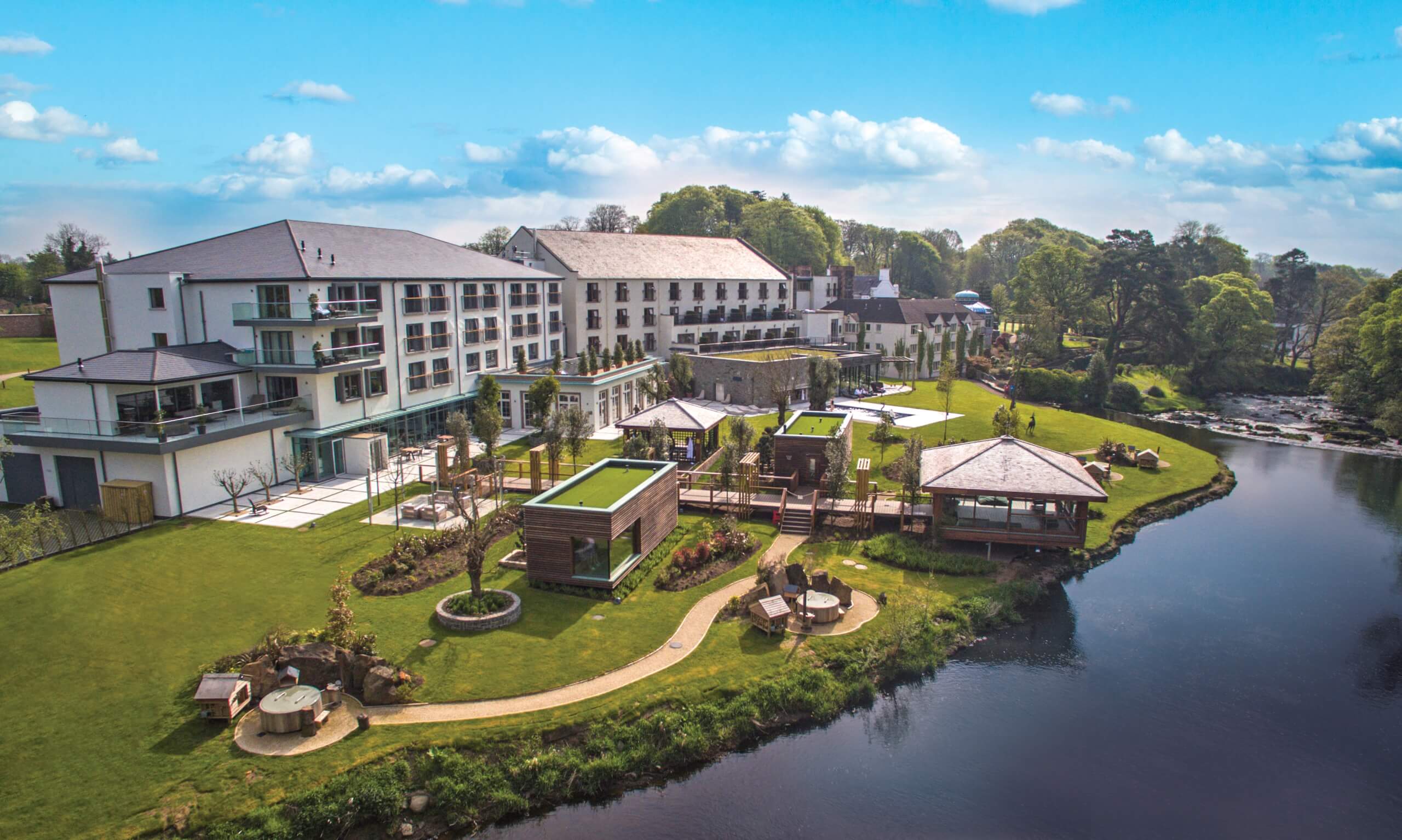 Price: A one night half board spa break including a 55 minute treatment and a Celtic Sauna Ritual, plus full use of the Thermal Spa Village facilities starts from £182.50 per person.
Where: 136 Fenaghy Rd, Ballymena BT42 1EA
3. For Getting Back to Nature: Grosvenor Pulford Hotel and Spa, Chester, Cheshire
The Lowdown: The Asian Sensory Garden at Grosvenor Pulford's Spa by Kasia is uniquely designed to invigorate the senses and reflect upon nature. It features many aquatic elements, including a koi carp pond, waterfall and calming water features, to promote relaxation; carefully selected plants with stimulating fragrances, and an Asian Tea House to relax in whilst overlooking the gardens.
Price: A one night spa break including bed and breakfast, 65 minute treatment and full use of the spa facilities on the day of treatment starts from £149.50.
Where: Wrexham Rd, Pulford, Chester CH4 9DG
4. For Aromatherapy Massages: Rockliffe Hall, Darlington, County Durham
The Lowdown: Launched in September 2015 as a £1 million enhancement to complement Rockcliffe Hall's award-winning spa experience, the spa garden includes two outdoor hot pools, one infinity edge hydrotherapy pool with massage features, and a separate warm Jacuzzi – plus under-floor heated decking and lounging areas. The garden features fragrant plants such as English lavender, sweet basil, jasmine, lemon, wild mint, white neroli, mimosa and chamomile. There is a separate spa garden treatment menu complimenting these herbs and using meditation, shiatsu, Thai massage and trigger-point and reflexology techniques.
Price: A one night half board spa break including a 60 minute treatment and full use of the spa facilities starts from £210 per person.
Where: Hurworth Place, Darlington DL2 2DU
5. For a Scandi Escape: Stoke Park, Stoke Poges, Buckinghamshire
The Lowdown: The brand new spa garden, opened in July 2016, overlooks Stoke Park's beautiful grounds and features an outdoor hot tub, Scandinavian sauna, luxurious day beds, double loungers and an incredible Manu Nest hanging from a Yew tree. Many of Stoke Park's guests come to escape the city, so the concept of the spa garden is to allow them to rediscover nature, ground and reenergize themselves, and breathe in the fresh air.
Price: A one night half board spa break, a 55 minute treatment and full use of the spa facilities starts from £245 per person.
Where: Stoke Park, Park Road, Stoke Poges, Buckinghamshire SL2 4PG
6. For Scenic Views: Fishmore Hall, Ludlow, Shropshire
The Lowdown: Complementing its SPAshell Spa, which uses floor to ceiling windows to bring the outside in and make the most of the breathtaking view, Fishmore Hall's spa garden awakens the senses to its stunning rural scenery. The garden encompasses an outdoor cedar wellness pool, oversized hammock, an outdoor bucket and monsoon drench shower and ample relaxation spaces.
Price: A spa day including a 25 minute treatment and full use of the spa facilities starts from £45.
Where: Fishmore Rd, Ludlow SY8 3DP
7. For Privacy: Appleby Manor Hotel and Garden Spa, Appleby, Cumbria
The Lowdown: Secreted away in a sheltered wall garden, the Appleby Manor spa garden is the ideal place to relax with nature, whatever the season, thanks to its large, cosy fire pit. The property offers two outdoor hot tubs, beautifully finished in pearlescent mosaics. One of these is in the walled garden, surrounded by candles and cushioned chairs, flowers and greenery, whilst the other is available for private hire and located in its own glass cube with 360 degree panoramic views.
Price: A one night half board spa break including full use of the spa facilities starts from £99 per person.
Where: Roman Rd, Appleby CA16 6JB