In the digital world we live in today, everything is instant and demands immediate attention. It can be difficult to find an escape. Luckily, there are still some corners of the earth that can provide solace from our western stresses.
The Yoga Barn – Ubud – Bali
The Yoga Barn is a wellness retreat in the heart of Bali. Surrounded by rolling hills, the spa offers nourishment of the body and wellness retreats. With daily dance, yoga, meditation and breathwork classes, you can be sure to leave here stress-free. There is also an on-site healing centre offering massage and acupuncture. If you still need to relax after all this, a walk in the surrounding Ubud region is enough to clear anyone's mind…
Provence, France
Ah Provence, the home of lavender, Savon de Marseille and Parfum de Grasse. This endearing coastal region has so much to offer. Stroll along the cobbled streets in Biot, Entrevaux and Eze, taking in the historic buildings and tranquillity as you go. If it's the sea air you crave, head for Pointe de l'Aguille in Théoule sur Mer or Le Rastel d'Agay. These viewpoints offer stunning seascapes, perfect to soak up the sun and bask in the serenity that is this coastline.
Bays of Islands – New Zealand
Full of natural wonders, New Zealand is an ideal escape from the stress of modern life. A 35 minute flight from Auckland, the Bay of Islands is made up of 144 islands between Cape Brett and the Purerua Peninsula. Urupukapuka Island is the largest, featuring walking trails, historical Maori pa sites, forests and beautiful beaches. If you're an animal lover, charter a yacht near Tapeka Point. Here you will find an abundance of wildlife including penguins, dolphins, marlin, whales, gannets and more! The Bay of Islands is the perfect place to be at one with nature.
The Maldives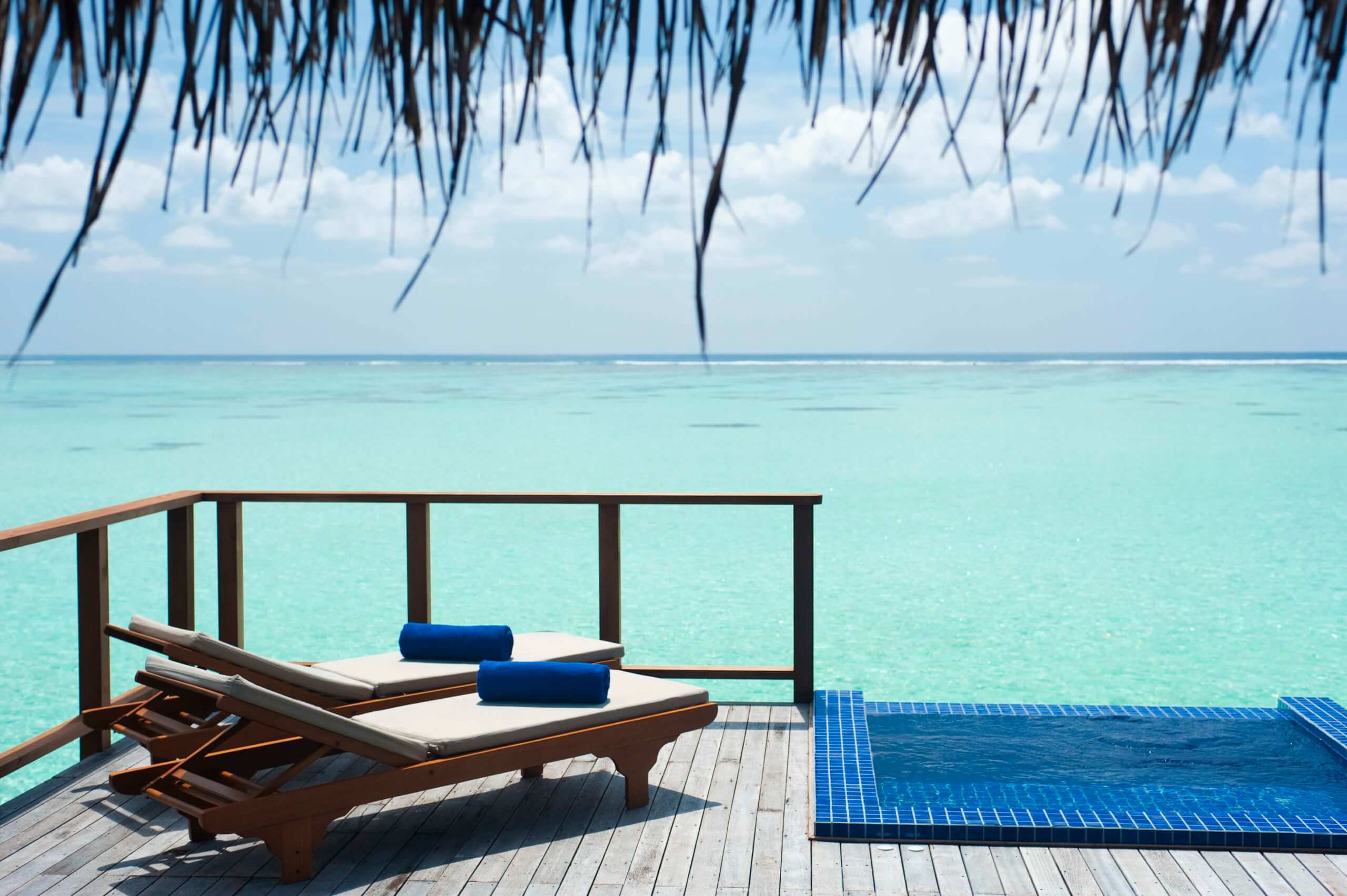 A place oozing serenity, the Maldives are home to white sands, calm azure seas and a level of peace difficult to find anywhere else. You can rent a hut out on the water and have your own piece of ocean to enjoy. The islands offer spas and dolphin watching to help free your mind. The mellow atmosphere created by the clear waters is one that is rarely found, float in this paradise and watch your worries melt away.
Lake Bled – Slovenia
Sitting in the shadow of the Julian Alps, Lake Bled is the ideal place to unwind. Holiday here in October or November to see this place at its calmest. Watch the sunset over the lake and absorb the stillness of this hidden gem. Take a trip to the Gothic church on the island, where you can learn about Ziva, the Slavic goddess of love, while gazing out onto the stunning landscape that surrounds you.