Have you ever wished that real-life was more like the movies? Ever found yourself dreaming of faraway lands and magical places that only exist in your imagination? Well, it turns out dreams can come true. We've found five of the best locations from film, books and TV that you can actually set foot in real life. From London to Scotland, Northern Ireland to New Zealand: here's to finding your happy ending.
1. Narnia, The Chronicles of Narnia

What: That fairytale world the other side of the wardrobe.
Where: Various locations, New Zealand
New Zealand director of The Lion, the Witch and the Wardrobe Andrew Adamson knew that only his home country would do when it came to creating a real-world Narnia. The jaw-dropping scenery of Flock Hill in the South Island set the scene for The Great Battle, while Oamaru provided the ancient rocks for Aslan's camp. Adventure seeking travellers can even mountain bike through the White Witch's Forest, if they dare.
Image credit: Tom Hall
2. Winterfell, Game of Thrones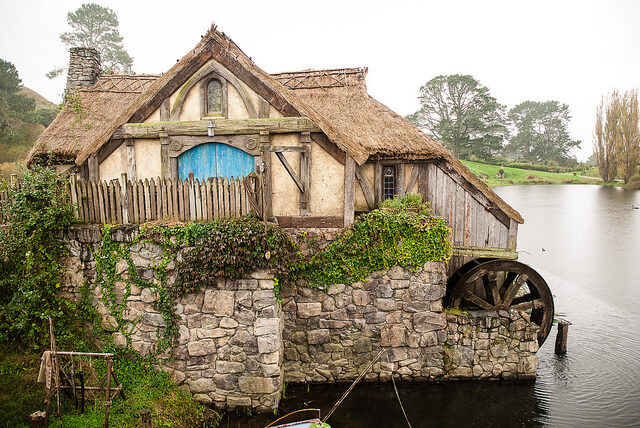 What: The familial home of George R. R. Martin's unluckiest characters, the Starks.
Where: Castle Ward in County Down, Northern Ireland
Found just 40 minutes outside Belfast, the final resting place of the Kings of the North is also a tourist hotspot – and the owners are making the most of their fantastical connection. A local adventure centre offers archery lessons and a chance to dress like everyone's favourite boy in black, Jon Snow. For those who couldn't care less that winter is coming, King's Landing can be found further afield in Dubrovnik, Croatia.

Image credit: Guiseppe Milo

3. Hogwarts, Harry Potter
What: The infamous school of witchcraft and wizardry.
Where: Warner Bros Studio Tour, Leavesden; Glen Coe, Scotland; Lacock Abbey, Wiltshire
There are actually heaps of locations around the UK that either inspired JK Rowling's magical institution or doubled for it in the films. The only place you can find the real Great Hall, Gryffindor Boys Dormitory, Gryffindor Common Room and Hagrid's Hut however is at the Warner Bros Studio Tour just outside London. All eight films were made here, and you can really walk down the middle of the house tables, ride a broomstick and drive a flying Ford Anglia like Harry, Ron and Hermione. Magic.

Image credit: Kingsley Huang
4. The Hundred Acre Wood, Winnie the Pooh
What: Where Christopher Robin plays.
Where: Ashdown Forest, East Sussex
Pooh's creator A. A. Milne lived just down the road from Ashdown Forest, so it can claim to be the inspiration for his endearing Hundred Acre Wood. Although you may not bump into Tigger, Piglet, Eeyore or the honey-loving bear himself, you can go on a Pooh Walk that will take you to the sites of some of their adventures. Make sure you find time for a game of Poohsticks, too.

Image credit: Kate Fisher
5. The Shire, The Lord of The Rings
What: The idyllic hillside home of hobbits.
Where: Matamata, New Zealand
We couldn't leave this one out, could we? More than 150 locations across the region were used to film The Lord of the Rings and The Hobbit Trilogy, and with ancient glaciers, snow-capped mountains and lush green valleys it's easy to see why. Air New Zealand are so proud of their country's movie-making credentials they incorporated Middle-earth into their in-flight safety video in 2014. If anywhere belongs on your travel bucket list, it's Hobbiton.

Image credit: Paul SouthWales