About Time: You Discovered San Diego's Best Vegan EatsBy Gerry Warren
Looking for the best vegan restaurants in San Diego? Look no further.
Disclaimer. Everything mentioned on this list is vegan. Putting quotes around everything so to let you know it's a mock-meat just seems kind of maddening.
There's something wonderful about knowing you're coming back to San Diego after time abroad. The beautiful weather; the countless outdoor activities; and the sheer joy and majesty of just being in Southern California. It's literally unlike any other place. But, for me, there is one thing that pretty much trumps all of the above – and it's definitely the food. Vegan food to be specific. San Diego is pretty much on every list, as far as vegan food goes, in the US – and worldwide. And being on a plane for 13 hours becomes a little easier when you know you'll be able to stuff your face with plenty of vegan goodness. So in honour of this great city, and hopefully getting you to some day visit, the team at Vegr decided to put together a list of 10 best places for you to visit – and what to eat when you're there. Here's our favourite vegan eats in San Diego:
Peace Pies
When you go to Peace Pies, you are 100% there for their fresh, delicious, and award-winning raw food. I personally really like their kale chips and wraps. And don't get me started on their brownies – those things are otherworldly. But the thing that I get the most when I'm there is their 'Luna Tuna Wrap.' It literally tastes so amazingly fresh and it really set off with a delicious honey mustard. But, all in all, the best thing about Peace Pies is just discovering new raw vegan dishes, because it's one of the only places around that focuses solely on raw food.
Photo courtesy of Peace Pies – Instagram
Evolution
I had just come off a 28-hour flight the last time I went to go to Evolution. I hadn't been back in San Diego for a while and was thinking about only Mexican food when I made my decision. As always, it was a great choice. I had their carne asada burrito – for about the hundredth time, 'cause if you know anything about San Diego, you know how much people enjoy their carne asada. But this one came with no cruelty. And let me tell you –  it's so delicious. So delicious, in fact, that the first time I had it I was questioning if it was really vegan. It just gets all the flavours and seasoning so right. Trust me, you'll understand for yourself when you try it.
Photo courtesy of Evolution – Instagram
Plant Power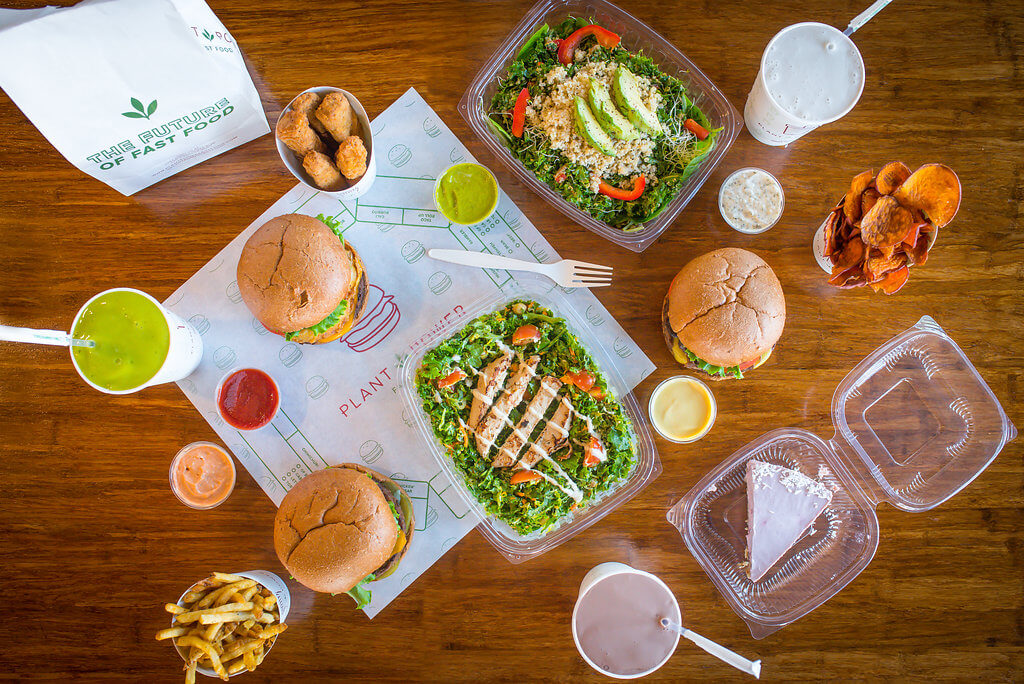 I woke up in Ocean beach after a long night hanging out with friends. My phone battery was dead, no one else was awake, and I was starving. So I set off on a journey to plunder and pillage food somewhere – hell, anywhere… as long as it was vegan. I ended up at Plant Power Fast Food. It was a bit of a stroll, but when I walked in and saw their massive food selection – all was right in the world again. I ordered chili-cheese fries, a 'big zac', a bacon cheeseburger, and a cheesecake, because it was the right thing to do. I got back to my friend's house, tore open my bag, and went to town. My friends were around, tongues dragging, and begging with their eyes – so I let then partake a bit too. And they couldn't believe how delicious it was – of course, because it was vegan. Everything was delicious, but the bacon cheeseburger there is always my go-to. Somehow they've mastered making a burger juicy and delicious, without it having to include animal products. It's definitely my favourite place to take my non-vegan friends. Mostly because I love seeing their disbelief that a vegan burger can taste so good.
Photo courtesy of Plant Power 
Purple Mint Vegetarian Bistro
It's really strange when I find out that many people haven't heard of Purple Mint. But then I think about where it's located (on a busy street, inside of a sort of food strip area in Mission Valley) and I get it. It looks quite innocuous and unassuming from the outside. Last time there I had just come from hiking and couldn't leave the are without going. The coy pond that greets you entering is always a nice touch. Anyways, we ended up ordering their tofu pho and salmon vermicelli soup – which are very tasty. But the thing you REALLY go for is their Vietnamese sandwiches. In particular, the lemongrass chicken. That mayo… my god that mayo. I literally have no idea how they do it, but just know your first and last bite will be equally as delicious. And my rule there is never leave there without grabbing an extra sandwich. Because, I promise you, you will want one that night or next day. You've been warned.
*Insider tip: next door is a vegan grocery store. So you can go to Purple Mint and get full, then go food shopping and get even fuller.
Vegan Restaurants in San Diego: Ultimate Guide
Civico 1845
Civico 1845 is located in the heart of Little Italy, and actually isn't a'vegan' restaurant. But they do offer an incredible entirely vegan menu; from the salad and appetizers, to main course to dessert. And their cappuccinos are closest to authentic Italian I've truly ever tasted. My advice while there: try the Ravioli Boscailoa. Being a huge ravioli fan, for me, it's hard to pass on when I visit. They're big, plump, and covered in a mushroom sauce that makes my mouth water just thinking about it. And you really do have to appreciate them catering to vegans. Something I wish more restaurants would do.
Photo courtesy of Civico 1845
Kindred
Kindred has become my brunch go-to these days. The thing I like that that the menu is short and sweet – which seems to work because every dish is delicious (yes, I've tried them all). The Rofu Benedict and scramble have been my go-to the past few times. As well as the caramelized banana pancakes, when I'm feeling extra hungry (greedy). And if you're around for dinner then the cauliflower steak is a must.
*Insider tip: Kindred is a good choice, even if you just want a few drinks. The bar staff is extremely friendly and capable and they offer a nice assortment of signature drinks. 
Photo courtesy of Kindred
Loving Hut
There are two Loving Hut's in San Diego, but the one in Mira Mesa has the bigger selection. They are mostly known for their Asian fusion flair (You have to try their special rolls – with their two tasty sauces), but my favourite thing there is the fish tacos. Simply put, they're amazing. Super flavourful and hardy, and big enough to satisfy even the hungriest people. Just trust me on this one.
Photo courtesy of Loving Hut
Native Foods cafe (Point Loma)
No matter if you're vegan or not, I can promise you that you'll enjoy the selection of tasty, guilt-free, plant-based food at Native Foods. Each plate is like a piece of artwork that's handmade to attract your appetite. One of my favourites is the Soul Bowl. It's topped with strips of Southern fried chicken and freshly baked cornbread. And another thing you have to try is Bangkok Curry Bowl. It has this incredibly subtle curry taste that perfectly flavours the brown rice and seared organic tofu steak that comes with it. I tried to pick just one here, but couldn't. Oh well. My indecision will be your triumph.. And all that matters.
Photo courtesy of Native Foods
Vegan Restaurants in San Diego: Ultimate Guide
Trilogy
Photo courtesy of Trilogy
I had never been to Trilogy, but had heard it was all about healthy food and atmosphere. It's located on the rooftop of a downtown La Jolla building, so it's kind of hard to spot as firs. But once you see the sign you figure out how to take the elevator to the top floor. Trilogy is decorated to the nines – reminiscent of a sanctuary, of sorts. Bright and beautiful plants all over the place – and an invigorating smell that stay with you when you leave.
I decided on the buckwheat pancakes, and I couldn't believe how good they were. Super creamy and flavourful, with an avocado and cheesy sauce. My friend had the breakfast crepes, and wouldn't stop talking about how delicious they were. I tried them and couldn't have agreed more. The good part was that because the portions were so big, she couldn't finish her crepes — so I was gifted them. Amazing! But overall they had a nice menu that I can't wait to try more of. And the staff was extremely friendly and welcoming. I'll definitely be going back there soon.
We enjoyed making this list. But we enjoyed eating the food even more. We hope this helps those living in San Diego, as well as those looking to visit. 
-Vegr