Brunch in Tel Aviv is a *big* thing. Cafes are home; locals love nothing more than hanging out in a coffee shop all day, sipping lattes and exploiting the free WiFi. The food in Tel Aviv is a real selling point; from fresh produce at Carmel Quarter, perfect for a picnic lunch on the beach, to high-end sushi, they have it all.
If you're looking to explore Israel, why not try one of Masa Israel's amazing internship programmes in Israel – discover more here. Here's what one of their recent participants said of the programme:
"I'm Michael – I'm 23-years old, and currently living in Tel Aviv as part of the WUJS Arts Track program, where I am interning at the Performance Art Platform of Israel. I have always been interested in Israeli art and wanted to gain hands-on experience working with Israeli artists. Israel is a great country where the people are friendly, the food is delicious and the land is rich in history for many cultures of the past and present. If I thought making the decision to come here was hard, the decision to return to the UK will be even harder"
– Michael Rosner, Masa partipant
Now, let's talk food. Here's our favourite brunches in Tel Aviv: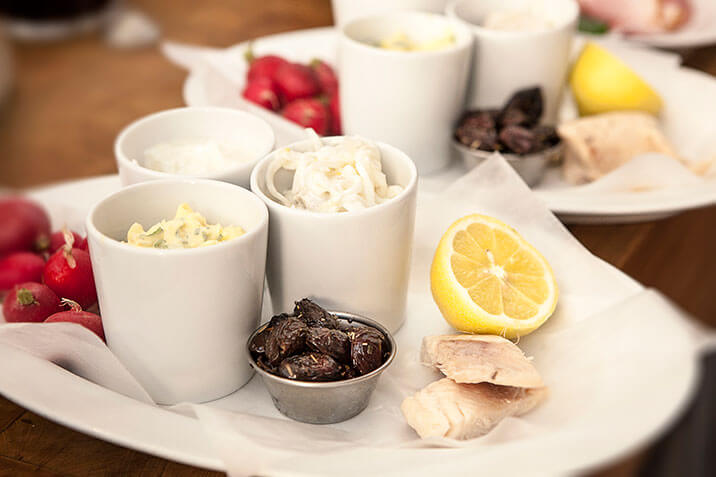 What: Delicatessen is all about quality; the deli offers the best quality products to eat on the premises or to take home, including top range oils, pasta and vegetables. Deli delicatessen is owned by R2M group, which has over 21 years experience in creating the best eateries in Tel Aviv, including Hotel Montefiore and Rothschild 12. Delicatessen is like nothing else in Tel Aviv; spread over two floors in a landmark building, the deli offers a fresh shopping experience, flawless hospitality and great restaurant.
Eat: The boker delicatessen experience is fantastic if you fancy a big, hearty brunch. It starts with the most delicious freshly squeezed juice – try orange or grapefruit juice – followed by a plate of smoked fish. There's also freshly baked bread, which is totally to die for, and a plate of cheese chosen especially from Israel's finest dairies. The eggs here are creamy and rich – and you'll find the classic omelette replaced with a fantastic fresh eggs dish.
Where: Delicatessen, 79 Yehuda Halevy St. Tel Aviv, Israel
For an Italian Breakfast: La Repubblica di Ronimotti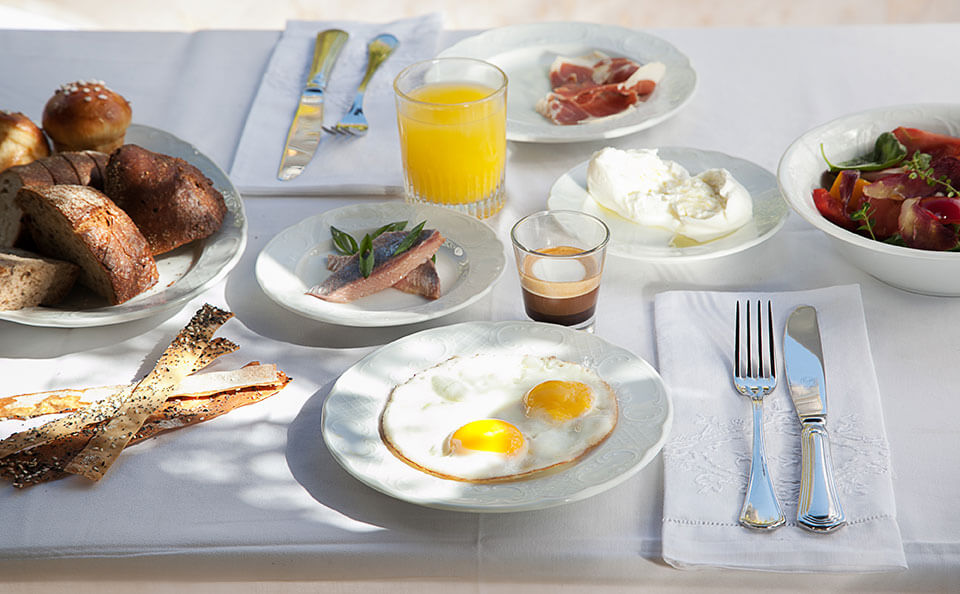 What: La Repubblica is an urban-italian restaurant, situated in "Lev Ha'ir" district, which serves an authentic Italian menu. Roni Belfer and Motti Sofer believe in local, seasonal and fresh food, and are always preserving the rich Italian culinary heritage. Alongside the displayed cheeses, cold cuts and famous antipasti, homemade pastas are served, fresh pizza is baked, meat and fish get the most of expertise care.
Eat: For breakfast, expect only the finest quality – they rely on their organic garden Il Jardino for fresh produce year round. Try the Repubblica Breakfast For Two, which features a selection of bread and pastries, frittata and eggs, olives, confiture, panzanella salad, herb salad, salumi, cured fish, cheese, small yogurt and granola. If that's not enough, it features a hot drink and fresh juice, too! For something sweet, there French toast with a golden brioche, served with creme fraiche and fresh fruits, is dreamy.
Where: La Repubblica, 3 Mazeh st, Tel Aviv
What: Lala Land Restaurant was launched in 2006 by Ori Shtark, Yaron Pri-Hadas, Shahar Manzur and Yossi Guri, four pioneers with immense experience in the field of luxury and nightlife in Tel Aviv – out of a fundamental belief that a beach is not just a beach, and led by the desire to upgrade Tel Aviv's beach culture. They believe that the beach can dictate a state of mind, which has developed into a concept of design, culinary and service, orchestrated by chef Eli Abukarat.
Eat: Israelis and tourists worldwide visit the restaurant on a daily basis for their amazing Israeli breakfast. The Personal Breakfast features two eggs of your choice, vegetable salad, cream cheese, feta salad, tuna salad, freshly bread and pastries, with butter and jam. Their almond croissants are absolutely amazing – you must try them. Finish with some fresh, in-season watermelon and an iced coffee for ultimate beach relaxation.
Where: La La Land, 131 Herbert Samuel St. Gordon – Beach Tel Aviv, Israel
For Healthy Brunch: Cafe Louise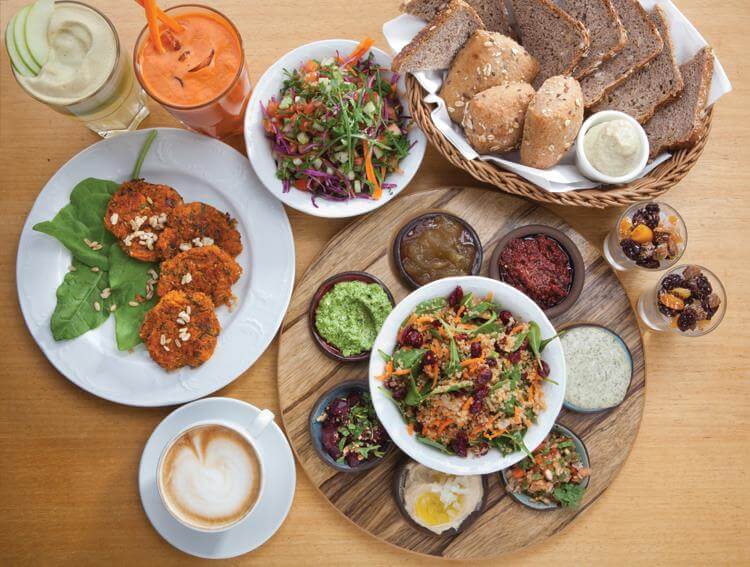 What: Café Louise first opened on Mount Carmel in Haifa in 2007, as a coffee shop restaurant offering a relaxing, healthy, natural culinary experience. The idea standing behind Café Louise is based on the premise that healthy food is tasty food. Now there's branches all over Israel! Café Louise believe in the values of quality, love, good health and nature, applying the belief in these values to their healthy, nutritious dishes made only with natural ingredients.
Eat: At Café Louise you can find a variety of vegetarian dishes, gluten-free dishes, vegan dishes and more. For a special vegan breakfast, Morning Vegan for Two, which includes tomato and beetroot salad, red and white quinoa, house salad, tahini, tofu, special spread selection and much, much more. For something quirky, try the Norwegian Morning, which includes a croissant, smoked salmon, poached egg, artichoke and a delicious hot drink.
Where: Cafe Louise, Harugei Malkhut St 11, Tel Aviv, Israel
For Weekend Brunch: Hotel Montefiore
What: Hotel Montefiore is an oasis of style. Hotel Montefiore embodies the essence of unparalleled luxury, intimacy and exquisite style in a picturesque, meticulously restored Eclectic architecture-style edifice in the heart of Tel Aviv, just steps from Rothschild Boulevard. Built in 1922, Hotel Montefiore first existed as a private residence before its three year restoration and transformation into its current design. It also happens to do killer weekend brunch!
Eat: Hotel Montefiore's restaurant is a mandatory culinary experience for travelers to Tel Aviv and locals alike. The hotel's renowned brunch affords innovative takes on culinary classics such as scrambled eggs and smoked salmon, pancakes with seasonal fruit and maple syrup, toasted challah Bread, jambon, gouda, roasted tomato and poached eggs, spinach, cream, sourdough bread.
Where: Hotel Montefiore, 36 Montefiore St., Tel Aiv, Israel
What: Café Xoho is a neighborhood café near the corner of Mapu and Ben Yehuda Street in Tel Aviv that serves locals, visitors and tourists. It's the perfect place for a laidback breakfast with friends and hitting the shops. The menu is short by sweet, with lots of New York favourites, and delicious sweet treats.
Eat: Sunny Side Up – two fried eggs, lots of toast, labneh, za'atar, and a hot drink. They also do a vegan benedict, with vegan hollandaise, tofu, roasted tomato and mixed baby greens. If you're looking for something seriously filling, try the bagel and a schmear – a special bagel every week!
Where: 17 Gordon St., Tel Aviv, Israel
For Brunch with a View: Manta Ray
What: For breakfast with a view, try Manta Ray, which is moments from the sea on Alba Beach. The view here is sensational – as are the breakfast dishes – think full Israeli breakfasts of eggs, Labneh, fresh salad and orange juice, all washed down with a sunrise.
Eat: Their kitchen, headed up by Ronen Skinezis, is unique for its special and creative Middle Eastern cuisine; all of Manta Ray's fish and seafood are cooked with a lot of love and passion. Their fish dishes are divine; try the seabass with gnocchi and eggplant or bream with Jerusalem artichoke, they are sensational. Don't miss the cocktails – their frozen lemon margarita is the one.
What: You can't come to Tel Aviv and not visit everyone's favourite: Benedict. Benedict believe that breakfast is a style of meal and not the hours we consume it. For that reason, Benedict's breakfast kitchen is open every day, all day. That's right 24-hours a day! Breakfast for dinner? Yes, please. The restaurant is named after Lemuel Benedict, a retired Wall Street stock broker, who invented the Eggs Benedict on a hangover in the 19th century.
Eat: The food at Tel Aviv's Benedict is a fusion of worldly goodness; the menu offers you classic traditional breakfasts, as well as unique ones. You can get everything from Eggs Royale with smoked salmon, Benedict Joe with beef, banana pancakes with condensed milk and coconut, and, of course, Israeli breakfast with fresh juice, coffee, three eggs of your choice, homemade spreads and freshly baked bread. Win.
For Homemade Food: Orna & Ella
What: If you want traditional Israeli food, Orna & Ella on buzzy Shenkin Street is famous for sweet potato pancakes! Orna and Ella is a favourite for the trendy Tel Aviv brunch crowd. Open since 1992, what began as a modest cafe on Sheinkin Street has become one of Tel Aviv's most-loved venues for breakfast.
Eat: It's all about homemade goodness here; every day they bake breads and pastries from scratch, as well as homemade pasta and desserts. It's great for veggies and vegans, too; they have scrambled tofu, vegan tofu shakshuka, as well as vegan granola with oat milk. Come here for all the bready goodness – the toasted croissant with feta, gouda and spicy red relish is divine, and you can't miss their homemade cheese and tomato omelette, which comes with homemade spreads, breads, vegetable salad and organic olives.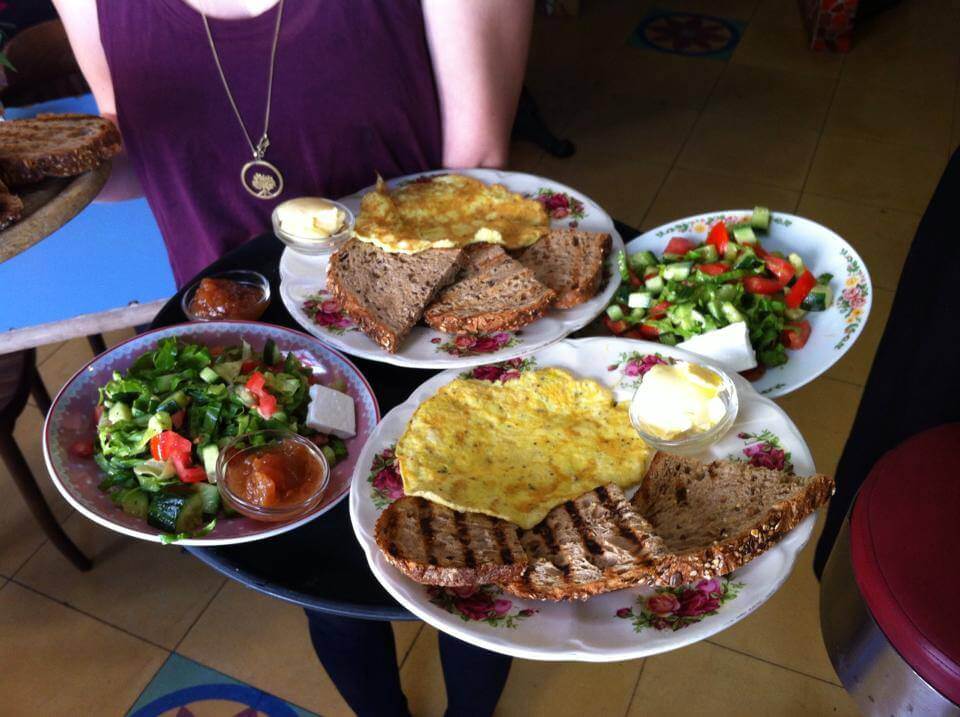 What: Café Bialik is the home of the arts. Founded in 1996, the cafe is located at the entrance to the Bialik Street – a gem of Tel Aviv's history, with cultural centers, such as the Museum Bialik, nearby. Over the years, this cafe has become a Tel Aviv institution for locals, where the neighbourhood, artists, singers and writers can meet.
Eat: Come here for culture; every night, there are different live performances by new singers and bands, and the gallery space is used for temporary exhibitions. They do a great Business Lunch menu; the Israeli Market Salad and tuna sandwich with horseradish is beautiful.
Sponsored post in assocation with Masa Israel as part of #MasaIsraelMonth