From fine-dining to frogs' porridge, the diversity of Singapore's foodie scene is staggering. While its old-school food markets remain popular, hot new restaurants and bars pop up so regularly that it's hard to keep track.
If you're only in the city for a short time, here's a suggested itinerary that your tastebuds will thank you for following…
For Breakfast: 
Kick things off by visiting Haji Lane. The colourful street with a Shoreditch vibe is nestled in Singapore's Arab Quarter, and the place to score a decent cup of coffee.
Stop in at Wonderland, a florist/event planning agency/café/hipster haven, with a ceiling sprouting upside-down dried roses and an eclectic array of lampshades. Order the Iced Popcorn Matcha Latte (S$8.50/£3.90) with a slice of the Gula Melaka cake – crafted from brown coconut sugar and topped off with squidgy icing dusted with coconut flakes and almonds.
Alternatively, there's an excellent hangover-buster at the Alexandra Village Food Centre (120 Bukit Merah Lane 1). Head past tables of local diners to Mr Avocado Exotic Fruit Juice (just look for stall with the big blue sign saying "Avocado").
In case you haven't guessed, the stall's avocado milkshake laced with cane sugar is what it's famous for. Served in a plastic pint-sized tankard, the icy, super-sweet mixture will set you up for the day – and is great value for S$2.50 (£1.15).
For Brunch:
If you're skipping breakfast, Dempsey Hill is the place for some top-notch brunch. The green district is brimming with stylish, good quality restaurants with a laid-back feel in the late morning.Open from midday, The White Rabbit is set in an converted chapel, beautifully refreshed with white, airy furnishings.
You can't go wrong with The White Rabbit's refined take on a traditional fry-up (S$26/£12), or, if you're feeling flash, there's the Lobster Eggmidor, with scrambled eggs and smoked cheese (S$48/ £22).
The restaurant also recently opened Singapore's first gin garden bar, The Rabbit Hole, in its lush back yard – but perhaps it's a bit early in the day…
For Lunch:
Set in Singapore's Central Business District, Sofitel So Singapore Hotel's Xperience restaurant is a chic spot for lunch, with its cosmopolitan buzz and refined international menu.
Carnivores will love the velvety foie gras and truffle siew mai dumplings followed up with braised short ribs, truffle gnocchi (the best bit) and arugula. Both of these are on Xperience's signature menu, with three courses for S$75/£35).
For something more authentic to Singapore – and under a fiver – China Town's Maxwell Road Food Centre on South Bridge Road is the place to try some local specialities, such as chicken rice (at Tian Tian Hainanese Chicken Rice stall), hot and sour soup (at Special Shanghai Tim Sum) or egg/fish/meat porridge (at Hoe Kee Porridge).
For Drinks: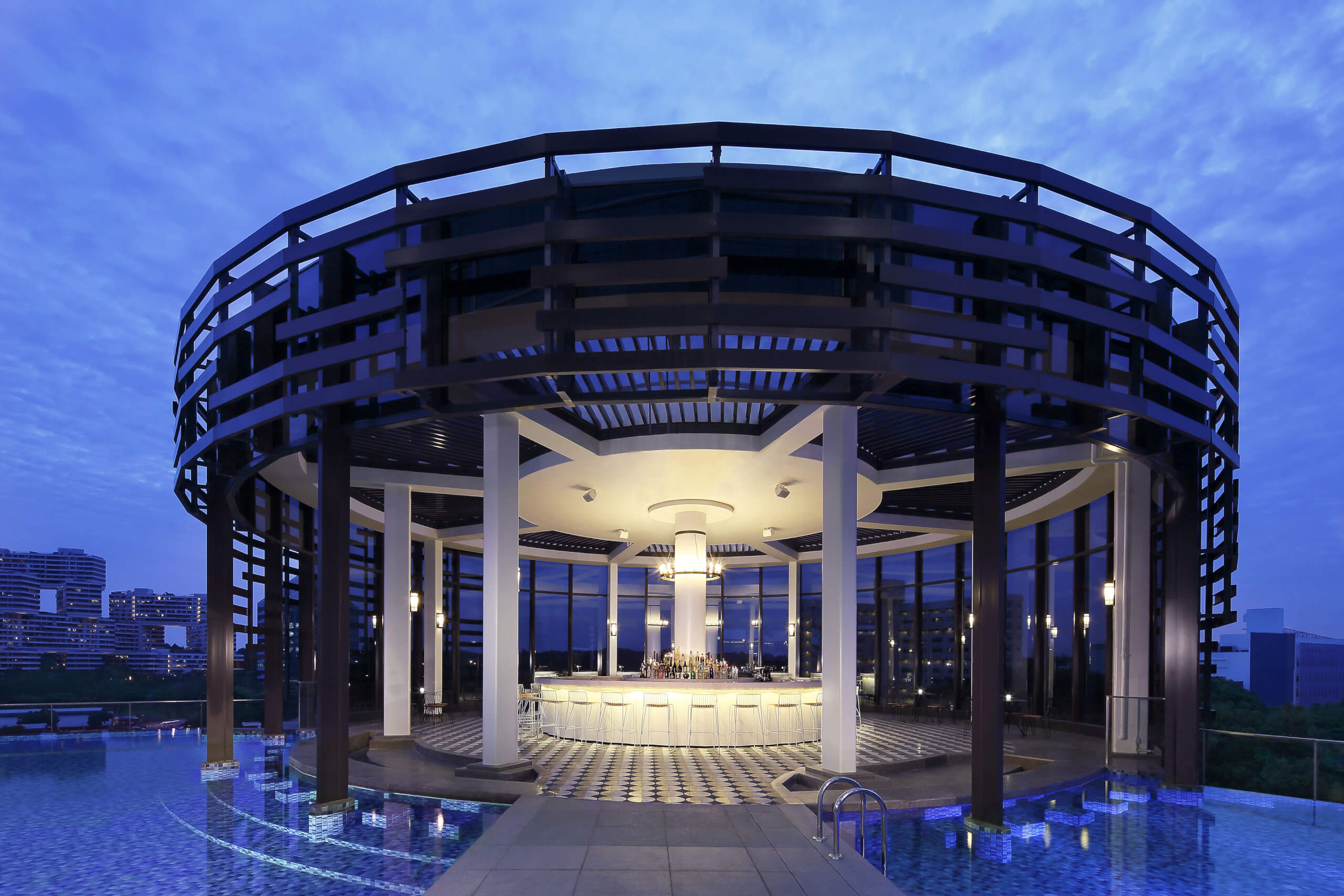 A trendy new spot for pre-dinner drinks is Aqua Luna bar at the ultra-sleek Park Hotel Alexandra  – jump in a taxi, tell the driver it's next to Ikea.
Head up the 7th floor for to take in Aqua Luna's 360-degree views as the sun sets and order a round of the signature "Hot Melons" cocktails (S$18/£8).The concoction of watermelon chunks and soursop sorbet, punctuated with black pepper and heat from the innocent-looking chilli on top really packs a punch.
For Dinner:
For a truly exclusive dining experience experience head to Kakure (29 Scotts Road)– a secretive sake bar that recently opened in a heritage colonial bungalow.
Featuring traditional Taisho-era Japanese decor the intimate bar is above high-end Japanese restaurant Ki-Sho, and head chef Kazuhiro Hamamoto prepares exquisite dishes to pair with each sake – including Charcoal grilled Nodoguro (a deliciously tender white fish imported from Japan) and Oden with daikon, konnyaku and atsu-age tofu (a hearty broth with surprisingly flavoursome radish). Set menus start from S$88(£40).
The passion of Hamamoto and the two sake sommeliers – including the lovely Makoto Iwabuchi, who ranks among Japan's top three sake experts – truly shines through.The guided sake pairing experience is a real education, with some sakes served cold in wine glasses, others heated and served in tiny metal bowls, depending on their properties. After sipping your way the limited edition sakes, your mind will be opened.
Singapore Airlines flies four times daily from London Heathrow and daily from Manchester International to Singapore. Fares start from £710 return per person in economy, or £1500pp in premium economy (terms and conditions apply).