The Resident Soho is a brand new hotel on the London scene. It's a member of the Resident Group, a collection of luxury 4-star boutique hotels that have opened across London and Liverpool. 
Formerly known as the Nadler, this hotel group has undergone a serious revamp with refurbishments carried out in all 379 bedrooms and public areas in its Soho, Covent Garden, Victoria, Kensington and Liverpool locations. 
After lockdown, I was lucky enough to be invited to stay at the Resident Soho. It had opened its doors in February 2020 only to be forced to close them from March until July. It's sadly just one example of a hard-hit industry where other businesses haven't fared much better. 
Now back and ready to welcome guests again, the Resident Soho offers a chance to relax, unwind and have a semblance of a normal mini-break away. Here's what it was like: 
The Resident Soho: What to Expect
For a hotel located in the middle of busy Central London, the Resident Soho is surprisingly quiet and secluded. Its grand townhouse-style building can be found on Carlisle Street which intersects Dean Street, setting it back from the crowds that wind up and down it. 
As you wander up to the building you'll notice a striking winged statue of the moon goddess Selene above the entrance. It cuts a dramatic image against the light-stone walls and it's well worth a photo stop if it takes your fancy. 
Once you're through the revolving doors you're bathed in the warm, inviting glow of the lobby. It's not a big space but the beautifully chosen furnishings and colour palette of forest green, cream and bursts of orange give it a fun retro vibe that oozes glamour. 
The Resident Group's new makeover incorporates the best of British industry throughout its interior aesthetics. In both the public areas and rooms, you'll find classy elements from top designers including Paul Smith and Tom Dixon as well as furnishings from the London-based Alter House and materials from Bute Fabrics in Scotland. 
The Resident Soho: The Accommodation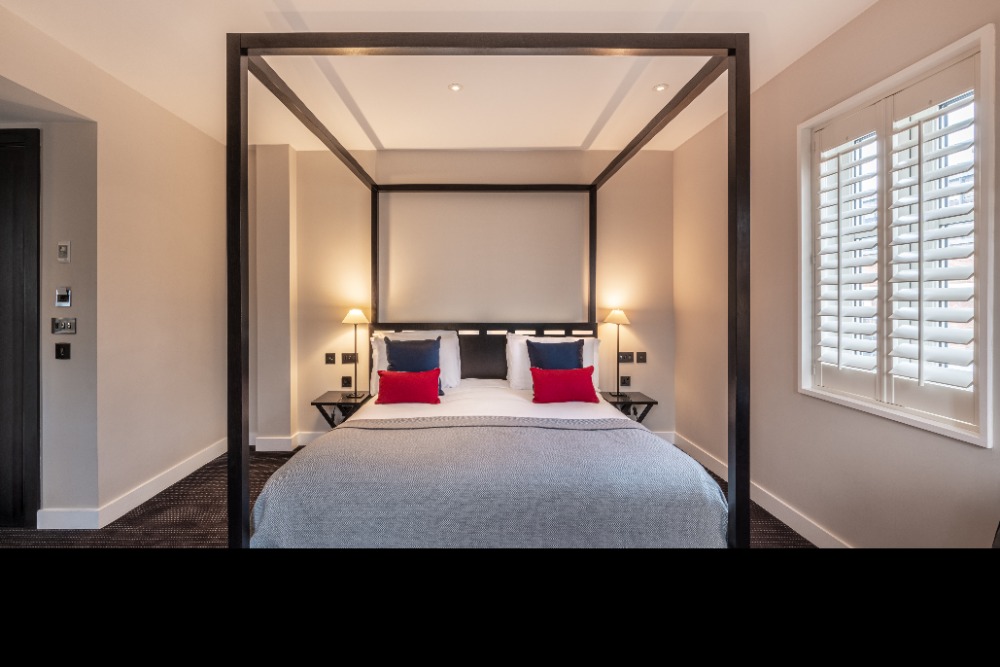 Our room was spacious, airy and quiet which was impressive considering we were in the roaring heart of Soho with Oxford Street just a stone's throw away. Some soft furnishings had been removed to maintain impeccable hygiene and ease of cleaning thanks to COVID. Despite this, the room was still comfortable with a small desk, chair and sofa in the corner. 
The showpiece of the room was, of course, the giant king-sized bed heaped with downy white pillows and an enticing cloud of a duvet. A large TV was mounted on the wall opposite which held the all-important details to access the complimentary WiFi. 
The room had an elegant ensuite bathroom complete with a bathtub and shower, beautifully soft warm lighting and fluffy white towels. The entire aesthetic gleamed of luxury and offered a welcome retreat to relax in if you had spent a busy day out in the city. 
The Resident Soho: Food and Drink
Since there wasn't an on-site restaurant at the Resident Soho, the room came equipped with a mini kitchen instead. It was tucked away neatly inside a cupboard for ease and convenience. There was a sink, microwave, mini-fridge and ample cutlery as well as a kettle and Nespresso machine. 
If you're feeling peckish, there is a handy supermarket about a minute's walk from the hotel otherwise you can request a small grocery shop that will be put in your room prior to your arrival. You can also order a selection of drinks and snacks from the hotel during your stay. 
The aim of the Resident Soho, like the Resident Group ethos as a whole, is to encourage guests to explore the bars and restaurants in the neighbourhood like, well, a resident. At any other time, this would be a huge perk but if you're worried about being too social in the midst of a pandemic you can order UberEats or Deliveroo to your room (we did). Don't worry, you're absolutely spoiled for choice when it comes to takeaways in the middle of London!
The Resident Soho: COVID Safety Measures
In keeping with the times, we can't talk about hotels without mentioning the COVID safety measures that have been put in place. Rest assured that the Resident Soho takes the safety of its guests and staff very seriously. 
Just some of their hygiene precautions include politely requesting that you wear a mask in all public areas and encouraging you to use the hand sanitiser stations before and after the lift. The reception desk has a protective shield across it, all keycards are rigorously sanitised and public areas are cleaned at least every 60 minutes. 
As you reach your room you'll notice a sticker between the door and doorframe. This lets you know that no one else has been in your room since the cleaner. If you're staying longer than one night you can request that the cleaner tidies your room, otherwise you can put a 'do not disturb' sign on the door.  
The Resident Soho: Nights On Us Initiative
The Resident Group is a proud partner of the non-profit Nights On Us, a nationwide initiative that provides complimentary two-night hotel stays to ICU nurses for the rest of 2020 to thank them for their services during the coronavirus pandemic. 
Over 6,000 nights have been pledged from more than 50 hotels across the country to support the re-opening of the UK's hotel industry as well as the promotion of domestic tourism. 
The Resident Soho: Our Verdict 
The Resident Soho offers an elegant mini-break in the heart of London's West End. Whether you're keen to spend time in the city, go on a relaxing retreat or just enjoy a bit of freedom after lockdown, the Resident Soho is the place you want to be. Its fantastic location, glamorous atmosphere and modern classic style make it a truly restful and pamper-worthy stay. 
For more information about the Resident Soho call 02036973697 or visit the website here.