About Time: You Discovered London's Sexiest Hotel Rooms for Valentine's DayBy Patrick Courtney
Blah blah Valentine's Day. We'll spare you the soppy introduction and get down to business. Bedroom business. Here's our guide to which hotel rooms will get the panties (and boxers!) dropping.
1. For Unadulterated Decadence: The Cardinal Suite at Blakes Hotel
The Run-Down: Blakes, a charming boutique hotel in Kensington, actually won an award for "Sexiest Hotel Room" in London for another of their rooms – The Corfu Suite. But that one is all cream and taupe. Sure, it might be sexy in its own romantic way, but for true OTT decadence it has to be the Cardinal Suite. Think of a room in which a King may have entertained a favourite mistress and you'll end up with something like this. Opulent to the extreme with antique fabric drapes, oil paintings, and a four poster bed, all done up in regal red and gold – hearts will aflutter.
Where: 33 Roland Gardens, Kensington, London SW7 3PF
2. For Skyline Views: Shangri La London
The Run-Down: The food may well be divine, and I've no doubt the hospitality is first class, but what it all boils down to at Shangri La London is that unbeatable skyline vista. Enjoyed from its enviable position in the Shard, Shangri La boasts views in every direction over our beloved capital. Whether you opt for the most humble room or the plushest of suites, all take advantage of their surroundings with floor-to-ceiling windows, which at night time makes for a sensual experience indeed.
Where: The Shard, 31 St Thomas St, London SE1 9QU
3. For Soaking Under the Stars: The Lucy Suite at Bermondsey Square Hotel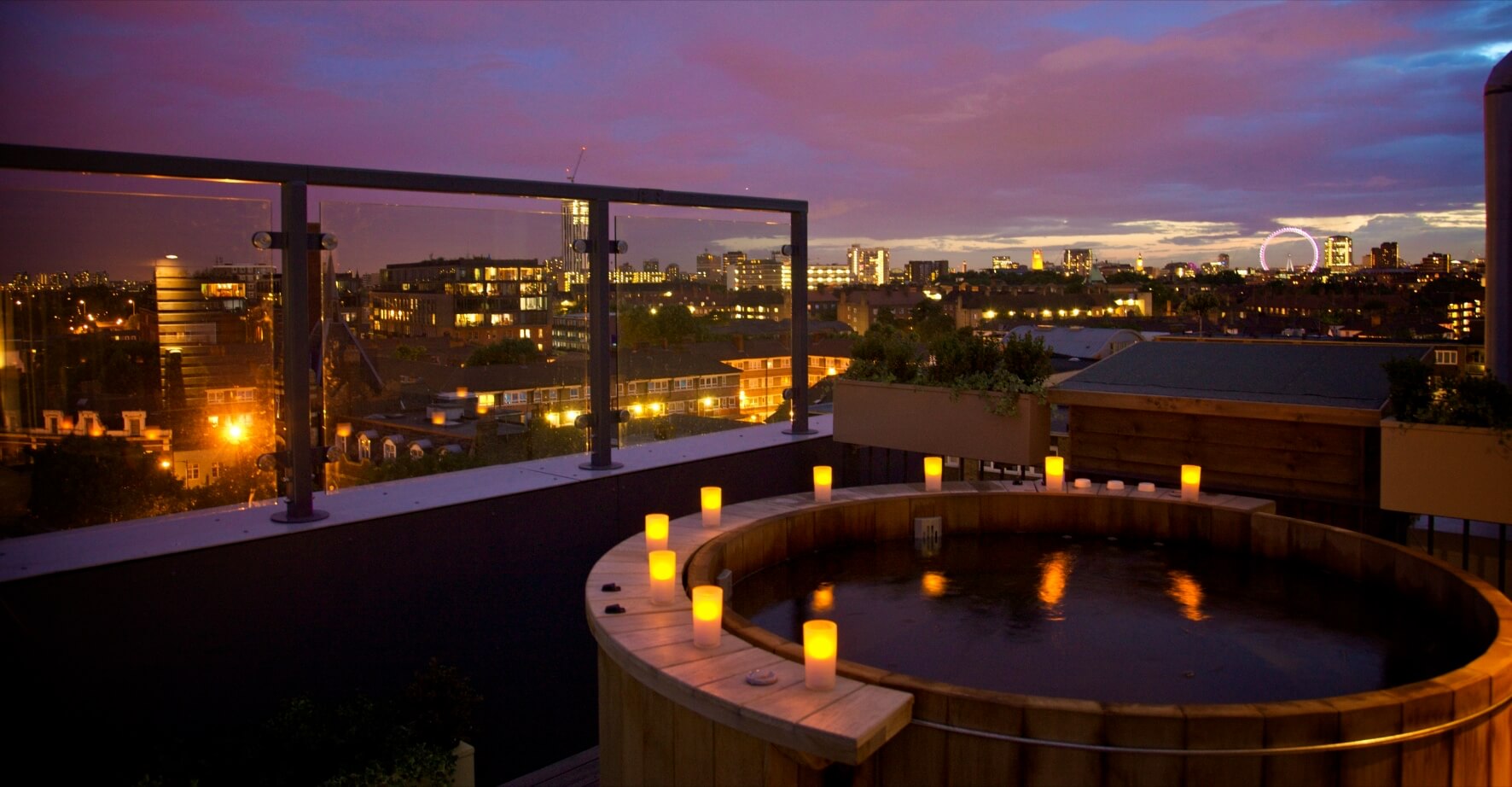 The Run-Down: What could be sexier than drinking champagne in a whirlpool bathtub under the night sky? While the rest of this hotel might be a little business-y, the Lucy in the Sky with Diamonds Suite is all pleasure. Incidentally, the outdoor tub seats up to eight. You know… just in case there's more than one special friend you'd like to celebrate St Valentine with.
Where: Tower Bridge Rd, Bermondsey Square, London SE1 3UN
4. For Something Unique: ROOM By Antony Gormley at The Beaumont
The Run-Down: If your valentine likes contemporary art, this suite might send them into a frenzy. The Beaumont hotel teamed up with prolific British artist Sir Antony Gormley to create an art-meets-hospitality experience like no other. Gormley is best known for his sculptures, and if you book the ROOM suite, you can stay inside one. Only the dark and brooding bedroom is located inside the sculpture – which has no windows – with the suite's sitting room and bathroom finished in the elegant art deco style of the rest of the luxury hotel.
Where: 8 Balderton St, Brown Hart Gardens, Mayfair, London W1K 6TF
5. For a Private Cinema: The Screening Suite at W London
The Run-Down: The possibilities for misbehaving at the W's Screening Suite are endless. It markets itself as a spa-meets-cinema experience, and indeed its bathroom has a private steam room in which to unwind. There's also the option to make use of complimentary in-room cocktails using the hotels "mega bar" service – the opposite to rubbish and overpriced mini bars. The main event though is a 3 metre wide cinema screen with ambient lighting, and something called an "in-bed movement system" which sounds naughtier than it probably is. Sweet natured couples will love the media hub and its access to a multitude of blockbuster films, while those with less PG-rated tastes can get straight on the unlimited, high speed Wi-Fi.
Where: 10 Wardour St, Leicester Square, London W1D 6QF
6. For Italian Sex Appeal: Bvlgari Suites at the Bvlgari Hotel
The Run-Down: The Bvlgari hotel is probably one of the sexiest addresses in London. Interiors are a riot of black glass and leather, oozing Italian masculinity and sex appeal. It's location in Knightsbridge also means you're moments away from a number of excellent restaurants, not that you'd need leave with an Alain Ducasse establishment on site. The bedrooms are like bachelor pads, radiating a Wolf of Wall Street style, cigar-smoke-and-braces sexiness.
Where: 171 Knightsbridge, London SW7 1DW
7. For Classic Meets Modern: The Signature Suites at Town Hall Hotel
The Run-Down: One for our East London readers, Town Hall Hotel is located five minutes from vibrant Bethnal Green. The building is an Edwardian town hall full of original art deco features converted into an extremely modern hotel. Millennials will appreciate the slightly strange, futuristic bed-pods installed in the hotel's signature suites. For those who can't decide if they like classic or contemporary – this is the answer.
Where: 8 Patriot Square, London E2 9NF
8. For Romance by the River: River View Balcony Suite at Mondrian London
The Run-Down: Okay, walking along the South Bank can often be the opposite of sexy, pretty awful and hectic actually. But gazing over it from the luxury of a suite at Mondrian? Much better. The balcony offers unparalleled views over the river, and the room is full of Tom Dixon's eccentric contemporary furniture. When the view has sunk in, you can slink back inside to the king size bed and free standing bath tub.
Where: 20 Upper Ground, London SE1 9PD
9. For Escaping Nearby: The Pennsylvania Suite at Stoke Park
The Run-Down: This is the infamous location of Bridget Jones and Daniel Cleaver's "must-mean-true-love" mini-break in the 2001 blockbuster hit. Ideal for busy Londoners like Bridge, Stoke Park's idyllic countryside setting belies the fact it is just 35 minutes in a car from central London. The Pennsylvania Suite features a four poster bed, working fireplace, and enormous bathroom. Best of all, you can forget about the stresses of work and focus on business, without any of the hassle of a complicated journey.
Where: Stoke Park, Park Rd, Stoke Poges, Slough SL2 4PG
One for out of town… 
10. For Escaping Completely: The Mezzanine Suites at Brimstone
The Run-Down: This one's a bit further away in the Lake District. But it's worth the slog up north. Aside from all that glorious countryside, a stay at Brimstone offers exceptional spa facilities and personal hosts on hand to pick you up from the train station, bring you breakfast in bed, or light the in-room fireplace. Mezzanine suites are split across two levels; fireplaces and sitting rooms downstairs, and bedrooms and bathrooms upstairs. The light switches even have pre-set mood options, one of which is "Sexy".We rest our case.
Where: Great Langdale, Ambleside LA22 9JD