Stay Here: Vila Vita Parc Resort and Spa, PortugalBy Oliver Malin
The Algarve has been colonised by the British, but that's old news and dates back to the days of dungeons and dragons. Now it's just the allure of endless golf courses, the favourable climate and perhaps the lack of time difference – so you can still phone Blighty or even get back to the UK pretty swiftly.
London to Faro (the airport serving The Algarve) offers direct flights at around 3 hours, so from my estimations one of the quickest destinations in Europe, where you can guarantee a warming glow from the sun, and temperatures that rarely dip below 10 degrees. If you fancy going further afield though, read this dedicated guide, a top 10 specifically on the topic. 
If you're going to venture to The Algarve to be pampered, take it easy and enjoy the finer things in life, I strongly advocate booking Vila Vita. If their top ranking on Trip Advisor wasn't enough to convince the naysayers, they also have a giant lake in the centre of main resort, which has about 5 pearly white swans floating around. I don't know any place on earth that has their own swans other than something connected to the Queen. Before I ramble further, here's all the important details to give this review structure and clarity. 
Vila Vita Parc Resort and Spa : The Lowdown
Vila Vita Parc Resort and Spa sprung into existence in 1992 founded by an enterprising Austrian professor, Prof. Dr. Reinfried Pohl, off the back of success found with establishing small hotels in Austria. Vila Vita proved to be an instant success, with the stylish, luxury resort, gaining membership of 'Leading Hotels of the World', and recently named runner-up in the category 'Best Beach Resort in Europe' by the renowned travel magazine, Geo Saison. It's had quite a few seals of approval. Sophistication without stuffiness might be a good tagline to describe it quickly. 
Located about 45 minutes from Faro Airport, Vila Vita has so many things going for it, that it was one of the hardest places to ever leave. Perhaps it's most magnetising quality was the incredible level of customer service and every member of staff made you feel like royalty. Their sunshine smiles and dispositions to match lifted your mood and enthusiasm for the day ahead, which in our case conjugated around the use of the impressive health club facilities and heated indoor and outdoor pools, which when the sun was fully shining, made you forget it was February and around 15 degrees but tricked you into thinking it was mid-summer – or perhaps that was all the wine I had consumed from Vila Vita's own vineyard in Alentejo.
One of the stand out aspects of Vila Vita, (no doubt its actual spa would be mentioned if it wasn't currently under renovation) and not forgetting there majestic swans, which populate the large fountains on the centre of the site, is the direct access to a secluded sandy white beach (locally known as Tremoços Beach), bordered by the dramatic rocky cliffs of the Atlantic Ocean. If this private oasis is not enough for you, the resort operates a second beach concession at Arte Náutica Beach Club in Armação de Pêra, located 3km from the resort by complimentary shuttle bus which is home to all water sports you can possibly think of. It's worth mentioning as well, a host of free classes are available to guests, such as yoga and meditation, which is a nice supplement to the great gym facilities.
Vila Vita Parc Resort and Spa: The Food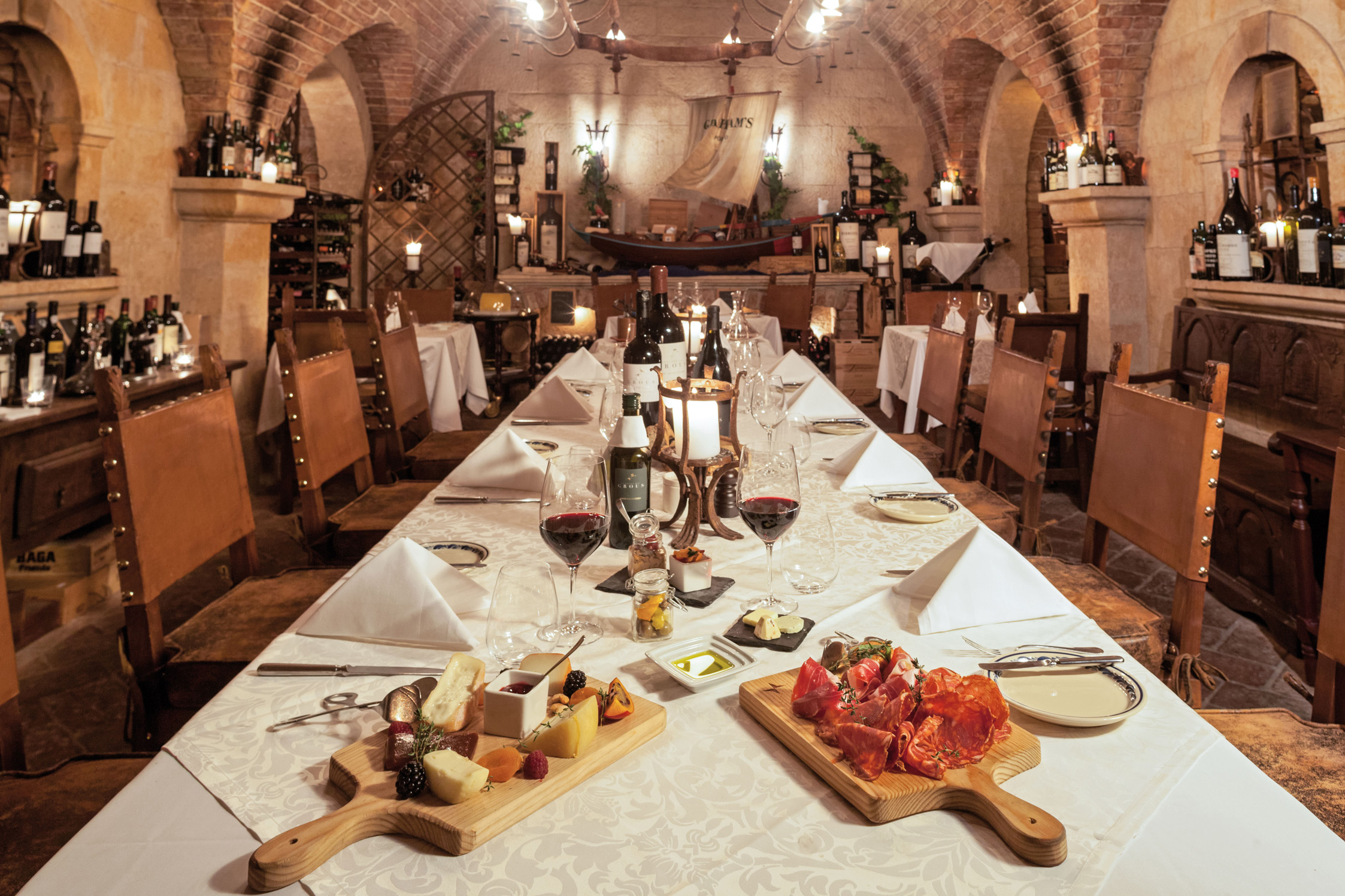 I can't remember another hotel where I purposefully went to bed early in order to get a prime spot at breakfast. And the breakfast spread rates in my top 5 breakfasts I've ever experienced in my lifetime. No mean feat. 
Expect an incredible range of fresh fruit and juices, more pastries then a decent branch of Paul and an impressive egg station so you can get a fix of Benedict, Florentine and much more. The resort boasts an equally impressive host of culinary choices for other times of the day including The Algarve's only 2 Michelin-starred restaurant, aptly named Ocean Restaurant, as you get breathtaking views of the Atlantic, whilst you tuck into the likes of lobster, octopus and steak. More traditional options are available and you can get your endless fix of piri-piriat the Adega Restaurant (very near the swans). At the Aladdin grill, Moroccan inspired dishes are served up fresh, whereas if you have sushi pangs, then the most recent addition, Mizu Teppanyaki, will fill you with Japanese sustenance till your heart is content.
Vila Vita Parc Resort and Spa: The Rooms
I know that I've stumbled into a hotel room that comes up to scratch when I instantly want to remodel my bedroom with a hope to mirror it. Whilst the majority of common areas, lounges and bars reflected an old-world European sensibility and sophistication, the rooms were grounded in modernism, sleek design and were effortlessly luxurious and housed incredible storage space options (living in London means you become obsessed with storage space solutions).
We were fortunate to have a room perched on the fourth floor of the main house, which I'd recommend nabbing as these rooms are close to breakfast. A sea view room is a must, and even the basic room type will seem ultra-luxurious compared to normal standards.
Vila Vita Parc Resort and Spa: The Verdict
Well, the goal was always to get some winter sun, but this 5-star resort serves up the best The Algarve has to offer, without really ever having to leave the confines of Vila Vita's elaborate gates.
No doubt booking for the heart of summer would still be superfluous, but you may have to wake up very early to reserve a tanning pitch, whereas one of our fellow guests pointed out that the nicest times to go is right at the start of the season (May) and end (September). Whatever time you plan to come, just book – you won't regret it. 
For more information, visit the website here. 
Rua Anneliese Pohl, Alporchinhos, 8400-450 Porches, Portugal