Picture this: you, a sun lounger, an infinity pool and a fresh mango smoothie. It's a nice vision isn't it. And with flights as little as £92 round trip, dreams really can come too. Summer is a great time to be visiting Portugal; with sunshine, seafood and surf, it's the perfect destination for sporty types. And those that like to laze by the pool, too. Stay at The Oitavos – the hotel is sexy and striking; modern, sleek, cool, it's the kind of place you boast to your friends at home about. Here's 5 reasons why we think you should visit:
#1 The Setting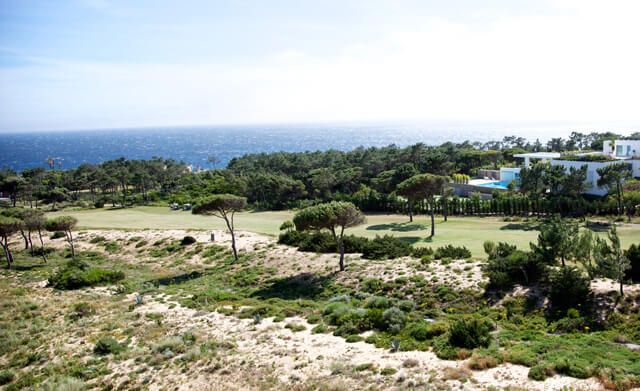 The Oitavos, only 20 minutes from Lisbon and the airport, is as beautiful as its surroundings. The hotel is modern in design; all sleek lines, simple interiors and bright colours. The beauty of the area can be enjoyed from all angles; there's a fantastic spa, an equestrian centre in Quinta da Marinha and their own Oitavos Dunes golf course. The hotel boats 3 restaurants, including a sushi bar, and hosts monthly music event The Oitavos Beats on their beautiful poolside terrace. Think strawberry Caipirinhas in the sunshine. With so much on offer, you might be tempted to never leave the hotel.
#2 A Room with a View
There's nothing worse than a fantastic, spacious hotel and a shoe-box bedroom. But at this hotel you are guaranteed a fantastic room, as all 140 rooms are suites. Yes, all of them. Each bedroom is state-of-the-art, and features huge baths, sofas on the balconies, widescreen TVs and iPod docks. The baths have an ocean view; you can enjoy a glass of wine whilst watching the sunset.
The suites are made by their stunning surroundings; facing the West Atlantic coast line, the hotel sits inside Sintra Cascais National Park. Each room faces green fields, looking out on the glittering ocean. It's truly heavenly.
#3 An Organic Spa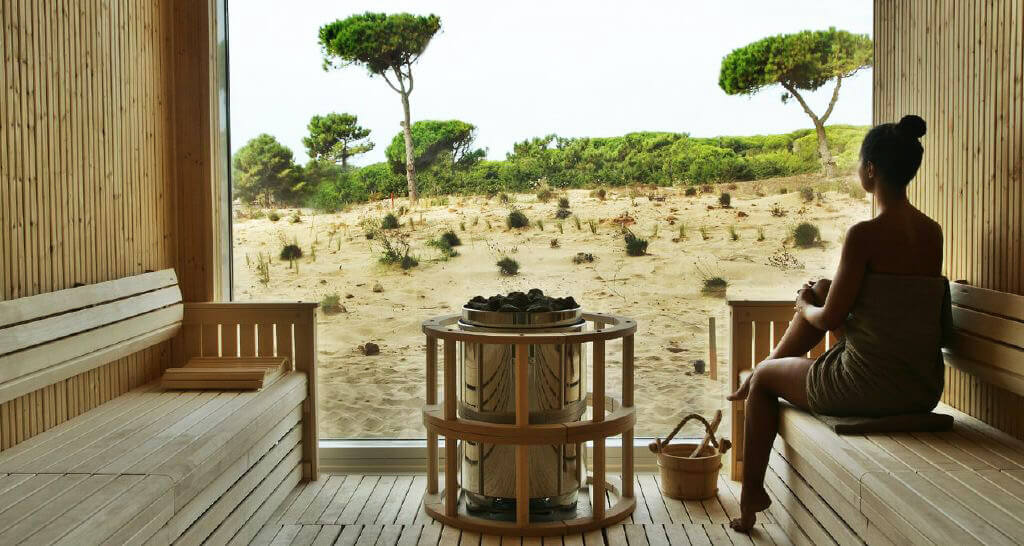 The spa pays homage to its natural surroundings; using organic brand VOYA, made from ingredients hand-harvested off Ireland's wild coast, and the theme of organic goodness runs through the spa. There's an organic seaweed treatment, an outdoor seawater pool, sauna and steam room with natural light and panoramic views of wildlife, trees and sand dunes. Try the Land to Sea experience; this includes a seaweed bath, massage and mineralising body wrap – a full 170 minutes of utter indulgence. For a full list of treatments on offer, see here.
#4 The Surfer's Paradise
One of the things that really sets the hotel apart is their packages; try the 'Surf into Shape' – it combines surf lessons, tailored workouts, VOYA spa treatments and healthy eating. The idea is to work towards the ultimate toned and lean 'surfer's body' – choose from yoga, pilates or body pump classes, followed by private surfing lesson at the Silver Coast with Ruben Gonzalez. After all that exercise, guests enjoy time at the pool and spa with a seaweed massage and hydrating facial. They've also got a fantastic golf package for all the keen golfers out there. 
Rates start at €729 single occupancy or €1208 double occupancy including taxes and services for the surfing package. 
#5 The Amazing Fish
Everyone knows Portugal is the place to come for amazing fresh fish, and the hotel is no exception. The 3 restaurants at the hotel all focus on simple flavours and fresh, quality produce. For a simply incredible aspect, you must dine at The Clubhouse – an open plan, beautiful space with floor-to-ceiling windows, distressed wooden boards and outside seating. The speciality here is clams served in a traditional Portugese style, octopus salad and their lime-infused ceviche, although anything from the sea is amazing. The Ipsylon restaurant, inside the main hotel, boats some wonderfully creative fish dishes; a crab 'cappuccino' included.
If you're looking for a health kick, the hotel breakfast is a riot of delicious healthy food; think plates of ripe mango, juicy watermelon and delicious fresh orange juice. You can dine outside, overlooking the dunes. Perfection.
The Oitavos is just fantastic. A hotel with all the amenities you need, allowing you to feel totally content in one place; the spa, golf course and stunning sea views really set it in a league of its own. The food is varied and exciting, and the spa's salt water infinity pool is enough to tempt you to stay all day long. If you're looking for a real treat, this one's for you.
The starting rate at The Oitavos is £133 for a superior room, with balcony and sea view. For reservations, please contact +351 21 486 0020 or visit www.theoitavos.com. Flights are available from London Heathrow or Gatwick to Lisbon with TAP Airlines, from 116€ round trip. For more information and to book, see here.