Having grown up just over the River Humber from Beverley, summer days were spent ambling around this quaint country market town on a Saturday. Located 25 minutes north of Hull, Beverley is what York would feel like on a smaller scale. It has stacks of character, from historical buildings to the awe-inspiring Minster, Beverley is a world away from the 9-5 city lifestyle. This small town has oodles of charms, and you can easily spend a few hours meandering down the cobbled streets. The thing is, Beverley can't be covered in the day. If you're after a weekend getaway or thinking of taking a trip past the Watford gap, we can't recommend The King's Head enough, and here's why:
The King's Head: The Lowdown 
Maybe I'm biased, or maybe because I've been coming to The King's Head every summer since I can remember for a spot of lunch, but this pub is what a weekend getaway is all about. I should probably stop calling The King's Head a pub, as it's so much more. The King's Head offers 10 beautifully appointed bedrooms alongside a stunning bar and restaurant serving sensational steak, wood-fired pizzas and roasts at the weekend. It's not like a country pub as you know it, there's no smoked stained curtains or a friendly local dog lazing in front of a fire – it's far more refined. It's tastefully decorated with modern wallpaper featuring animals and historic paintings and pictures of the pub hanging throughout the bar and restaurant. There's ample of seating – a mix match of leather arm chairs and brightly upholstered  sofas to fixed plush seating. As much as we love sinking a few glasses of chilled rose in the bar downstairs, it's the hotel upstairs that The King's Head comes into its own.
The King's Head: The Accommodation 
Ten modern, boutique bedrooms have been styled around three separate schemes, all eclectic in style but with a modern twist. The rooms range from Deluxe Doubles right up to their suite offering, all rooms have been individually deisgned – there's no generic magnolia wash walls or a modest white bathroom. Here, contemporary features have been fused with quirky extras. By this we mean the Superior King room has a bath at the end of the bed, there's a tartan carpet and a ladder that acts as a towel rail. All unconventional features that makes The King's Head a step above a bog standard hotel.
The accommodation is designed for luxury and comfort, with each room kitted out in bold patterned carpets, luxury headboards and soft toned walls as fabulously eclectic furnishings take centre stage, such as sleek glass dressing tables and Venetian mirrored furniture. We really like that regular bedside lamps have been swapped for wall hanging chandeliers. And it doesn't stop there, it ranges from room to room but you'll find unique ornaments like old polaroid cameras, vintage film spot lights and bulldog door stoppers. The beds are, just the comfiest, and I mean, the comfiest. Sleep on high-quality Egyptian linen and the fluffiest pillows – I guarantee you a solid sleep.
The beautiful rooms features flat-screen Smart TVs, Nespresso machines, complimentary Wi-Fi, fluffy bathrobes and luxury toiletries. With all that, you'll be challenged to leave the hotel. The bathrooms have been designed with a clear goal in mind: stylish modern layout, with hints of industrial chic. The bathrooms include a mix of reclaimed brick and white porcelain with feature mirrors and wet room showers.
The King's Head: The Food 
Last year, The King's Head underwent a massive £325,000 transformation, which also saw the menu revamped and revitalised.  The seasonal menu celebrates British comfort food, with the restaurant very proud of their steak selection. Their beef is sourced from Yorkshire farmer John Penny; purebred Limousin and Charolais meat is matured for a minimum of 28 days and grilled  in the charcoal Josper oven.
Before we get to the beef, there's a range of starters we recommend, and that are ideal for sharing. The tempura fish fingers and homemade tartare sauce, goat's cheese stuffed peppers, and chorizo, pork sausage rolls and brown sauce are all standout.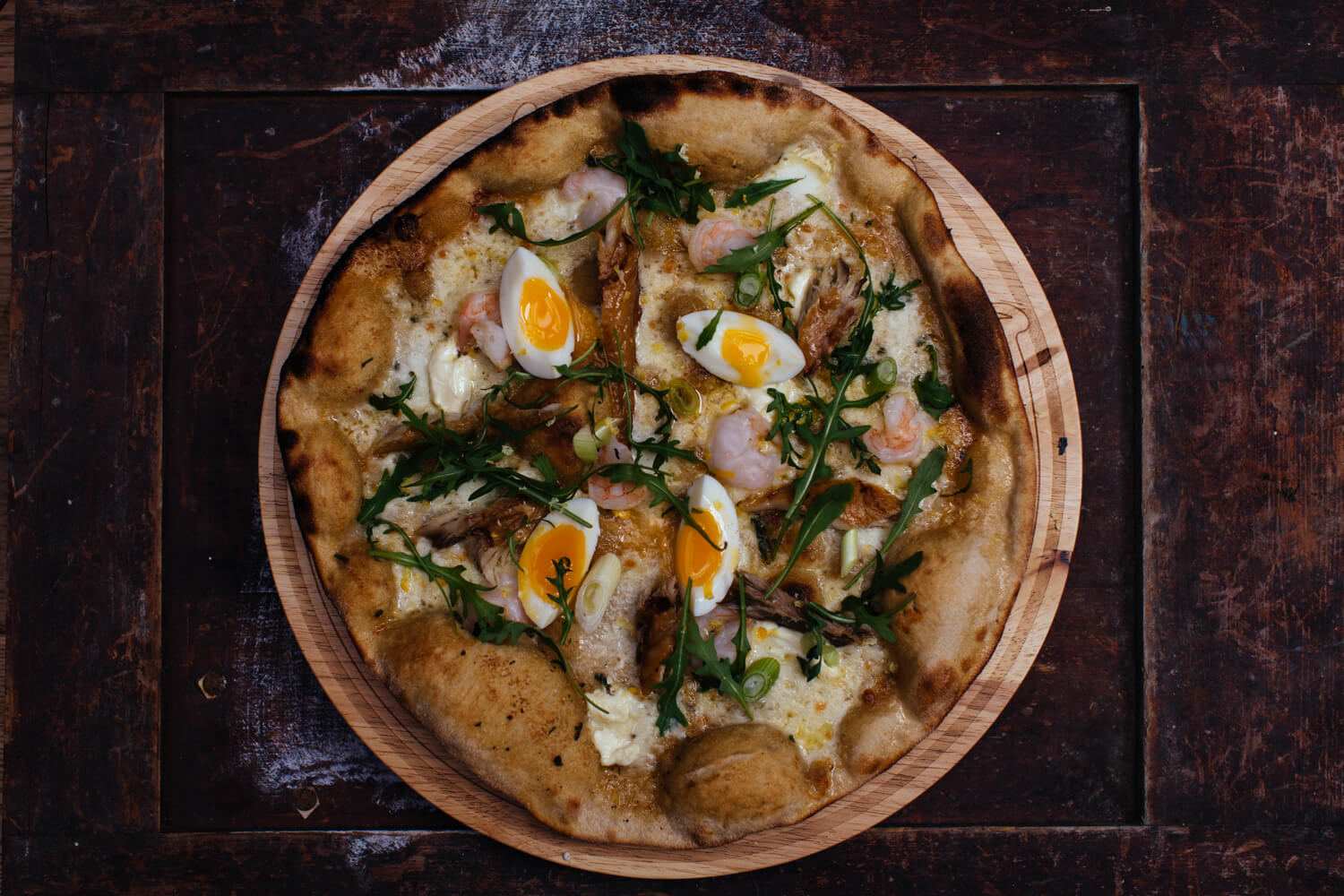 There's two dishes that The King's Head nail, and that's steak, as previously mentioned and their wood-oven pizzas. The chefs have created their own dough recipe and are covered in the finest toppings. The crispy sourdough pizzas are then transferred to the oven and cooked to around 350 degrees. If there's one pizza to order, opt for the chilli chicken with red onion, garlic, chilli, peppadew peppers and goat's cheese – it's bloody delicious. The pizza menu will please even the pickiest of eaters and features classics such as margarita, to their take on a meat feast with salami pepperoni, bolognese, chorizo and parma ham, and the fishy number which includes confit garlic butter, mozzarella, mascarpone, king prawns and smoked mackerel. It's certainly out there.
If you need to fill your protein quota for the day, the 10oz rib eye will help you with exactly that. A lovely cut of beef which is both tender and is packed with flavour thanks to the marbling. The steak is served with triple cut chips that are crispy on the outside, yet soft and squishy in the middle. You can't help but pick at them, even if you are bursting at the seams. The sweet potato fries are a delightful discovery – fat cut and fried to perfection.
The King's Head: The Verdict 
The King's Head has is all – friendly and attentive staff, spacious yet cozy rooms, top notch food and a breakfast buffet to boot. Beverley may not be on your radar, but it should be and The King's Head should be on top of that list. And, let's not forget their roasts on a Sunday. We'll take the slow cooked pork belly, please.