Want to discover a home-away-from-home in St. Lucia? Look no further than The Harbour Club, Curio Collection by Hilton, which offers all the luxury amenities with no frills in the heart of the island. Here's everything you need to know:
The brand-new Harbor Club in the beautiful Rodney Bay, offers a unique Caribbean resort experience with 5* service and amenities. Rodney Bay is home to some of St. Lucia's most popular entertainment and shopping with a vibrant energy on the doorstep of the hotel. You can spend the day here shopping at Bay Walk Shopping Mall and, after dark, the area turns into a late-night haven for tourists and locals alike, with lots of bars, nightlife and restaurants.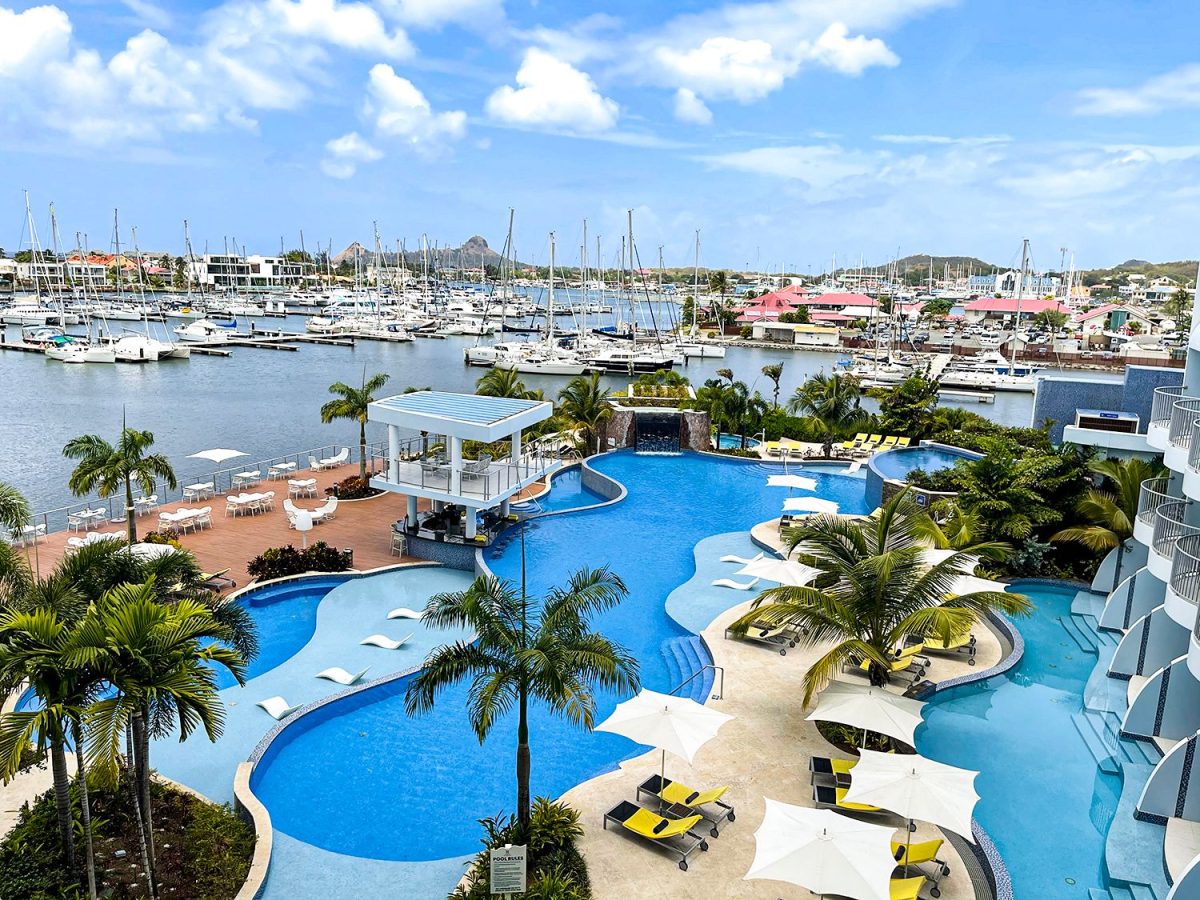 There's so much to do from the hotel, including a beautiful Luxury Sunset Cruise every Saturday evening, where you can sail through the clear blue waters of the Caribbean with unparalleled views of the majestic Pitons. Nearby, you can enjoy a day trip to Pigeon Island National Landmark – one of the most significant historical monuments in St. Lucia. Pigeon Island is home to stunning beaches, landmarks and scenic spots for photography. You can enjoy your own exclusive private beach getaway on Pigeon Island, only a 15-minute taxi from the hotel.
The Harbour Club has a great all-inclusive offering and the foodie options in the resort are really impressive. There's five eateries to choose from at The Harbor Club, each featuring a unique offering, from casual fire oven pizza to exquisite Asian-Caribbean Fusion cuisine. My personal favourite is there ocean-facing restaurant Market Street Sushi, which brings a taste of Japan to St. Lucia, with amazing spicy tuna, prawn tempura and jalapeno salmon sushi rolls. For dinner, you can enjoy a casual pizza meal at Dockside Pizza overlooking the marina or opt for their gourmet dinner restaurant 14º North, which does some of the best fish dishes on the island and truly *stand out* chicken wings with hot sauce.
The hotel is boutique in size, with 115 rooms and suites, carefully designed to offer the highest levels of comfort and elegance – the beds are incredibly comfortable and offer luxury bathroom amenities. Our bedroom was facing the marina with access to the pool, which made the whole experience so relaxed and easy. Whether you prefer marina or mountain views, a private patio, a private balcony, or your own swim-up pool, the Harbor Club has an accommodation offering for everyone. As a side note, the hotel also has one of the best gyms I've experienced abroad and is worth discovering if you're in the mood of working out whilst travelling!
The Harbor Club is the perfect base for experiencing Rodney Bay, Pigeon Island and the rest of St Lucia. There's also a great spa at the resort, which provides some fantastic bespoke treatments. It's a great hotel that takes care of all your needs and the food is exceptional, as are the views and amenities at the hotel. A must-visit!
The Harbor Club, Curio Collection by Hilton (www.theharborclub.com) offers a double bed island view room from just £300 per room per night, based on two adults sharing. Virgin Atlantic offers flights to St. Lucia, based on a 7-night return, flights start at £479. Prices are available to book on https://www.virginatlantic.com.  Terms and conditions apply. These prices vary depending on travel dates.​