If the pandemic has taught us anything, it's that sometimes the best weekends away are those a little closer to home. Sure, we're not ones to turn down a fortnight in a far-flung destination, but there's a lot to be said for things happening on our doorstep.
New restaurants, bars and hotels are opening in quick succession, and that includes The Gate, an aparthotel encompassing a unique array of 189 modern apartments which is handily located just minutes from Aldgate East tube station. Looking for a stay that feels homely but metropolitan and forward-thinking? Look no further.
The Gate: The Lowdown
Launched at the tail end of last year, The Gate was designed with functionality at its core but with interiors that look fresh from a Made.com showroom. Sleek, chic, and with statement lighting, the hotel pays homage to the bustling area that the 21-story building towers above, and has created a modern destination brimming with personality, providing guests with a home away from home complete with unmatched views of London's impressive skyline.
On the ground floor you'll find the reception, and open-plan bar area, with a mix of materials (read leather sofas, plush velvet armchairs, and parquet flooring), it gave us interior envy from the moment we set foot inside. A short lift ride up (5 floors up), is where you'll find the outdoor terrace – a botanical oasis filled with foliage and boasting a vista over the capital below.
Offering practicality with a luxury touch, the on-site state-of-the-art boutique gym provides the perfect space to workout, complete with the use of Peloton bikes, Techno gym equipment and The Gate's in-house PT service.
The Gate: The Rooms
Unlike a lot of its competition, The Gate has rooms to suit all budgets yet delightfully refuse to skimp on luxury. From skylight suites to minimalist doubles, each room is equipped with Nespresso machines, kitchen appliance essentials and the comfiest beds East London has to offer.
Rooms on the higher end of the scale have luxuries from washing machines to entire living rooms, but even the more 'basic' studios have everything you need for a home away from home. Thoughtfully designed with innovative use of space, each room has ample capacity for relaxing, working and sleeping, making it ideal for a one night stop for a weekend away or a work retreat. Most importantly, every room seems to have an envious view to boot, with stunning sights of the Olympic Park and other of the capital's delights straight from your bed, what could be better?
The Gate: The Food
Maple Street Eats, an offshoot of the widely popular Maple & Co, heads up the food offering at The Gate. Known for its joyful, colourful and vibrant dishes – all made using natural ingredients – the options available are far from your standard hotel fare. 
We're talking about wholesome, nourishing food comprising halloumi shakshuka, rice bowls, and signature salads (the Julius Cesar is a staple for good reason). Delivered to your hotel door or enjoyed on the outdoor terrace, the breakfast menu forgoes the buffet format in favour of fresh seasonal fruits, granola pots and avocado on toast, freshly-baked pastries and an unlimited amount of tea, coffee and orange juice.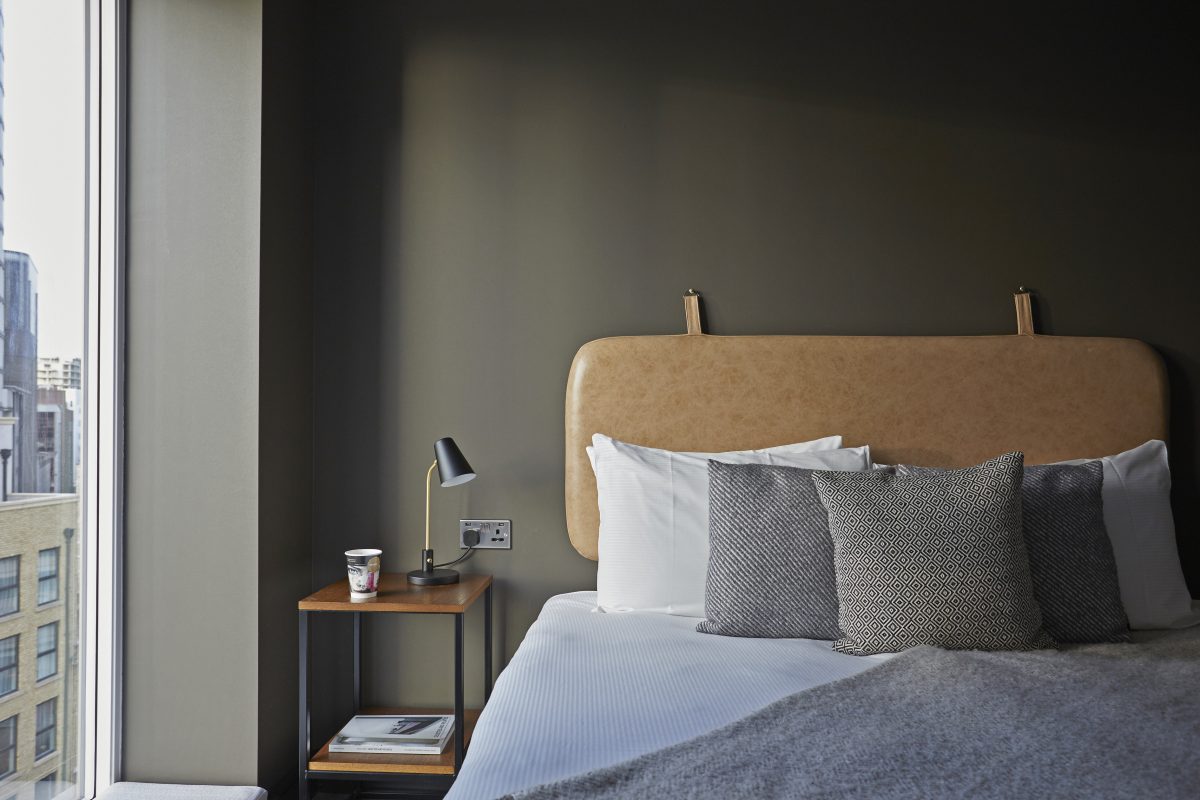 There's so much at The Gate that guests can take advantage of; Peloton bikes in rooms, dinner on the terrace, a workout in the gym, or just enjoying a glass of wine in the downstairs bar, you could spend most of the day here and feel just as rejuvenated as a week in a tropical destination.
From the moment we arrived to when we checked out, the staff were accommodating and welcoming without being overbearing. Book yourself in for a stay and leave London behind, even if it's just for a night.
For further information on The Gate Hotel, see here 
Address: 41 White Church Ln, London E1 7QR