Prior to this trip, when this About Time writer thought of Morocco, what always sprang to mine was Marrakesh; a busy bustling, sometimes stressful, hectic city break. Guaranteed to return with endless tea sets and a vast array of spice mixes, but perhaps not much relaxation and indeed, no beach.
I was so foolish. Morocco is a country with rolling beaches, coastal regions and empty expanses of desert (with the occasional camel). I headed to Tagazhout for a surf and yoga break, a region home to some of the best surfing in the world. Expert and beginners from all over the globe come to catch these rippling waves, and it's also home to the mastermind hotel operation, Surf Maroc. Founded by two English blokes who loved surfing so much they never left, Surf Maroc boast different options (only 45 mins from Agadir airport) to stay in; from self catering apartments to their newest in the family a luxurious boutique hotel, Amouage. Here's what you need to know:
Surf Maroc: The Lowdown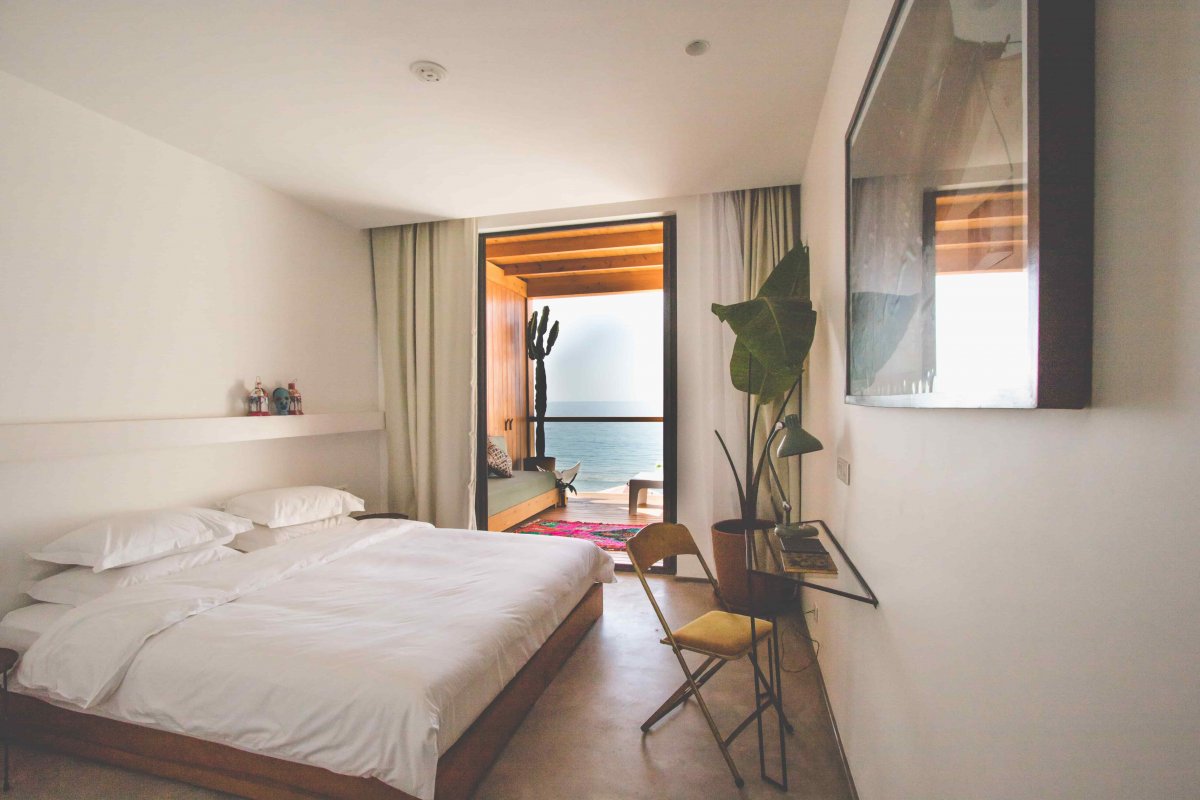 The idea of Surf Maroc is simple: they blend together the perfect combo of surfing, relaxing, yoga and delicious food so you return home bronzed, fitter and stronger, with some tagine in your belly. Amouage is the most exquisitely designed hotel I have ever stayed in – the owner's wife sources the interiors from souks, but rather than it looking like a dodgy Moroccan restaurant (my failed attempt in my living room) it's clean, trendy, fashionable and so so incredibly chic.
This place is insanely well organised and the staff are warm, friendly, but not intrusive. We recommend signing up for the all the inclusive one week surf and yoga package to kickstart your surfing career.
Surf Maroc: The Activities 
Your day starts in the yoga shala on the top floor, with some vigorous vinyasa practise to warm your body up for the day ahead of surfing and the class oh-so-conveniently coincides with the sunrise. There are no excuses, as your room whether it's an ocean double or one of the more budget friendly bunk beds, is only moments from the studio.
There is something hugely magical about sun salutations as the sun rises and lying in shivsana while listening to the crashing waves. After breakfast and the making of your packed lunch (more on that later) you set off in minibuses, with your group of similar abilities, with beginners like myself in Level 1, and the gnarlier, more experienced, 'dudes' in Level 5. The ocean isn't a skatepark, so every day is different, and your instructor will take you a different spot each day in tune with the conditions. Included in your package is hire of surfboard and wet suit. My instructor was Baseen, and we were in an intimate group with two other beginners. My surfing abilities were realistically low, but Baseen got me in the water after a short lesson, and miraculously I was up standing after half an hour. Lessons last two hours, and then after a pitstop for lunch, drying off in the sun, you can go back in the water on your own. Or as I did, took myself off for a charming amble around the seaside town. There was something hugely rewarding about the sheer vigorousness of surfing, using your body, not to plank staring into space in a gym, but to haul you up on the board to catch the next wave was special.
It's back to the hotel for 3ish, for tea and cake – and there's also options for massages and other spa treatments. At 6, it's time for sunset yoga, where you see the sun out in a more restorative, but equally stretching class to unwind your knots from the day.
Surf Maroc: The Food 
Breakfast, lunch and dinner are included in your surf packages, and each are faultless. Food is especially important in your day, as you feel like you're burning through your energy. Breakfast to be consumed immediately after yoga is hearty. The usual suspects of cereal and made to order omelettes were there, and I recommend going for the salty, tomatoey shashuka eggs served with freshly made Moroccan bread. The real revelation of the breakfast though from one almond butter obsessive, was the Moroccan take on almond paste which drizzled over dates was a treaty way to start the day.
While at breakfast, you make yourself a packed lunch from a specially assigned buffet table. If I could install one of these in my kitchen, I would; fresh cucumber tomato salad, big pots of couscous, squidgy bread, endless salad ingredients and a tangy harissa to help yourselves to. In a special pot, lots of local choccy bars to take for your afternoon treat. And at the risk of sounding like a character from the Famous Five, there is really nothing better than eating outside, with your Amouage pot, in your wetsuit mulling over the wrong moves you made on your board.
When you return from your surfing, you're greeted with piping hot cups of tea,  Moroccan sweet treats of the day and juicy oranges. It's really at dinner, that the joyously social nature of Moroccan food comes out, and the food here is impeccably prepared, with steaming pots of traditional stews and tagines, from local fish to tender lamb.
Thursday nights are big foodie nights, where residents from the other Surf Maroc properties come to join, with a big hearty buffet and a meal under the stars. Oh and not to forget movie nights on Wednesday, where votes are democratically taken to decide.
I would really like to add here that they are incredibly well prepared for any dietary requirements. When I leave the UK, other than the US, I am realistic in the knowledge that my fusspot needs (no gluten and dairy) will be a challenge. In the middle of Africa, I didn't expect gluten-free pasta, avocado cacao mousse and frothy soya cappuccinos. But Amouage did every little thing they could think of to make me feel at ease.
Surf Maroc: The Spa
Your body is really working for you on this trip – and included in the surf package is a hamman and a sixty minute massage. Hammans are an unique tradition, in which I discovered as a more shy teenager, being scrubbed half naked down a side street in Marrakesh by a bossy Moroccan and a half naked lady. Here, the lady wore a swimsuit, but it followed a similar trajectory of piping hot steam, a vigorous exfoliant, a hair wash (which felt weirdly comforting) and a clay face mask. The lady who administered my hamman, proudly showed me all my dead skin at the end. They offer manicures, which you have outside on a huge sofa. And if you just fancy a small prod, take advantage of a 15 minute head and neck massage.
Surf Maroc: The Verdict
This is truly a special trip. Being in tune with the sun, spending all the day in the ocean, and in touch with your body, while eating hearty, nutritious food, can't help but restore the mind. Morocco has the beauty of a short flight from London, but boast those elusive winter rays that European destinations lack. This was my first holiday alone, and I couldn't have chosen a better place. It's hugely social, dinners are communal, but equally there are plenty of quiet spots, my favourite the hammock, to have a ponder and a nap.
The staff could not have been warmer, and more helpful, the ever bright and smiling manager, Madani looked after everyone, with supreme hospitality as if we were a guest in his home.
To visit the website and book, click here. Easyjet and Royal Air Maroc fly regularly to Agadir, 45 minutes from Amouage. If you want to make your journey that little bit extra special, we recommend splashing out VIP assistance courtesy of Nas Maroc to swerve the hectic queues.