There are over 160 resorts in the Maldives, so choosing the right place to stay can be a difficult decision. Sun Siyam Resorts have gained a reputation in the archipelagic state, occupying 4 resorts in the Maldives. Sun Siyam Olhuveli is by far one of its most popular choices as it offers the luxury Maldivian experience without the painful price tag. Read on to see if it lived up to its reputation:
Sun Siyam Olhuveli: Getting There
The transfer process to the resort is seamless. Once we arrived at Velana International Airport, a member of Sun Siyam Olhuveli greeted us before guiding a group of guests to Sun Siyam's private boat which took us to the resort. We boarded the stylish speedboat and enjoyed light refreshments whilst riding the blue waves for 45 minutes. Once we arrived, the staff helped us off the boat and greeted us with flower garlands before checking us in.
Sun Siyam Olhuveli: The Lowdown
This all-inclusive 4-star resort is on the larger side which comes with many benefits. It boasts 2 spas, 7 restaurants, 4 bars and 427 rooms and villas, and is spread across three different connecting islands, all of which are accessible by foot or by buggy. The islands are: Romance Island, Main Island and Dream Island. Although the resort is family-friendly, those looking for a more peaceful intimate stay can enjoy Romance Island which is adults–only.
Sun Siyam Olhuveli: Food and Drink
The all-inclusive offering means there is plenty of ground to cover when it comes to eating and drinking. For all your buffet needs, head to Sunset Restaurant Malaafaiy which offers exciting rotating menus and live stations offering up fresh fish, pasta and continental delights.
If you prefer to stay in your swimming costume and nibble between pool and snorkelling sessions, Island Pizza is great for a quick on-the-go lunch. For surf and turf, there's Maghrib Grill which offers meats and seafood barbecued in the open air in a casual setting. The resort's casual dining options are great for laid back mealtimes that don't fall short in taste. However, the most exciting food offerings are by far at the hotel's exclusive restaurants Namaste and Siyam Orchid which serve up flavours of South Asia and East Asia in the form of an a la carte menu. When the sun has set and the stars are out, there is no better place to dine.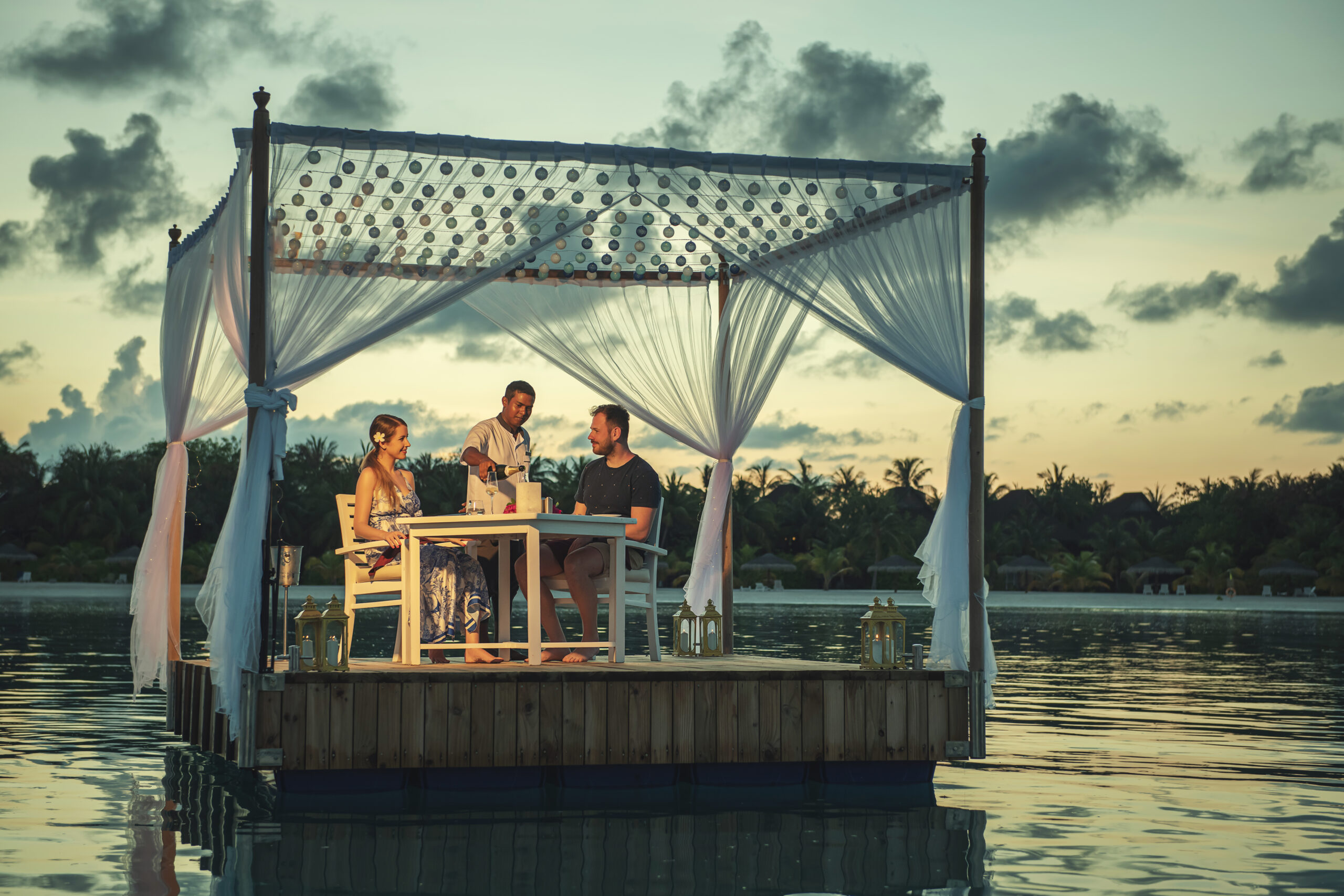 Sun Siyam resorts are known for offering unique experiences, and Olhuveli is no exception. If you're looking for a unique dining experience during your stay you can book in for a floating platform dinner experience. The dinner entails a boat ride into secluded waters, where a floating platform decorated with four vertical columns is anchored in the middle of the blue waters. Staff then proceed to serve you a multiple-course dinner, which is delivered in stages by boat. Once each food course is laid on your table, they drive back to shore, leaving you to enjoy your meal in private company. The experience is utterly unique and unforgettable. If you're lucky, you'll get to see a manta ray or two swimming around during your meal.
Sun Siyam Olhuveli: Activities and Wellness
Arguably the best activities at the resort come in the form of water exploration. With endless nature and clear blue waters, there is so much to discover. Guided snorkelling adventures run regularly throughout the day where you can see a variety of sealife including baby sharks and manta rays. There's also a hidden shipwreck which is a short boat ride away from the resort.
After a morning of snorkelling, we decided to indulge in some wellness and rejuvenation at the spa. Upon entering, we were served cold brewed tea with ingredients such as ginger, coconut and lemongrass whilst we browsed the menu. After choosing a 30-minute neck and shoulder massage, a therapist guided us to the outdoor area where massage beds were set up in front of a water feature. This provided a wonderful natural soundtrack to the experience and left us feeling fresh and relaxed for the rest of our trip.
When the sun sets at Olhuveli, the resort picks up momentum, especially at the Lagoon Bar. Local live bands take to the stage to entertain guests, and most nights end up with a full dancefloor with people dancing under the moonlight.
Sun Siyam Olhuveli: The Accommodation
With a variety of 5 different beach villas and 7 different water villas, there's accommodation to suit everyone's needs. With the most basic rooms boasting spacious sun decks and private balconies, you won't be disappointed if you're on a budget. If you're travelling with young children, it's wiser to opt for the beach villa as they offer more space and ground-level access. If you're after something more secluded, the water villa is the best option as you'll be able to enjoy panoramic views of the water and the ease of lagoon access with a fitted ladder into the water. Higher-end water villas are fitted with private pools and jacuzzis.
Each room is fitted with a flat-screen tv and streaming services with up-to-date films and tv shows. The bathrooms are kitted out with luxurious bathroom amenities and fluffy bath robes. If you don't want to leave your room, you don't need to. Sometimes an evening of room service and a long bath is all you need!
Sun Siyam Olhuveli: Our Verdict
The resort offers 5-star service at a 4-star price tag, meaning guests have access to all the natural beauty and wonders of the Maldives without breaking the bank. The span of three islands leaves you with endless pockets of nature and beauty to discover. The relaxed energy of this resort combined with its unique offering of excursions makes it a must-visit location if you're visiting the Maldives on holiday or honeymoon.
Room rates start from £248. For more information about rates and bookings, please see here.