I don't believe in magic, but there is a compelling argument that there is magic in the air in Ireland. Ever since a magical trip as a ten year old to the Ring of Kerry, I have been chomping on the bit to return to my memories of stunning scenery, fresh food and the kindest of people.
What I hadn't considered as a ten year old, is that I would now live in a world of Insta stories, notifications from endless apps and the constant glare of a selfie. Ireland, although of course has just as many social media monkeys as the next, makes you want to drop your phone. It feels like England 40 years ago (complete with General stores), a simpler time.  It feels incredibly safe, a new more essential concept in the world we live in perhaps, and an air that makes you not really desire the wifi available.
I suggest if you're looking for a magical digi-detox head to the rolling, peaceful landscape of neighbours across the sea, and more specifically head to Sheen Falls Lodge in Kenmare. It's really doable, without even taking a moment off work. Catch the late Ryanair flight on Friday night and be home Sunday night, and you don't even have to go through passport control.
Sheen Falls Lodge: The Lowdown
Sheen Falls is the don of all the country hotels, absolutely no question about it – set amidst 300 acres of rolling hills and rather aptly Sheen Falls, a cascading waterfall and lake. Although only built in the 1990's, it has a feel of a bygone era; a world of cosy fireplaces (even required in July), but with exceptional luxury.
Sheen Falls Lodge: The Accommodation
The accommodation is utterly splendid. I stayed in a suite, with a bedroom the size of a decent studio flat in London, with window seats offering unparalleled views of the falls and further. There is something so luxurious about a window seat which just invites you to curl up and read your book, turn off your phone and forget ever being on a tube. The rooms have Nespresso machines and shortbread biscuits, which makes one feel just that extra bit settled.
I wouldn't normally devote much time to a bed, but these beds were something else. Soft yet a bit firm, and duvets which make me want to move in. Welcoming us from our 1am arrival, they felt like a loving human holding me in a warm embrace, but thought it was best to pass judgement the second night, where once again they felt other-worldy.
The bathrooms have roll-top baths and power showers for both preferences, and Elemis products for every possible requirement. Never have I moisturised quite so frequently.
Sheen Falls Lodge: The Food
Irish breakfasts are legendary, with many Irish people involved in the farming community – the idea of a Weetabix after being out since 6am working just isn't very practical. Cooked breakfasts are seriously what the Irish know how to do. Breakfast is served in The Falls restaurant, an elegant and calm room, where guests can choose from the breakfast buffet of pastries, cereals (even those for the gluten-free) and fresh fruit. This is just the warm up act up though, for there's a choice of countless hot options; from buttermilk waffles to porridge with fruit compote to the full monty of eggs anyway, the usual suspects, and white and black pudding. Rather excitingly, this place may be old school traditional but they did have almond milk and plenty of allergy free options. So you can have your morning soya cap, followed by a bracing country walk as opposed to rushing to a meeting.
For at least one of your nights, we recommend eating dinner in the restaurant and become lulled into another era by the magical notes of the pianist. From our memory, the Irish are very into their bread and this didn't disappoint with a choice of three to begin your meal, from the more quirky treacle to the conventional olive. The menu changes frequently but we opted for oysters, which tasted as they had been caught on our way down to dinner, and a Waldorf salad with the crunchiest of apples. The description of food being 'fresh' is something that is bandied around left, right and centre from every new pop-up, but this food really is fresh. And where possible things are homegrown, caught and reared locally. We both opted for red meat for the main, where the beef and lamb were equally tender, flavourful, accompanied by fondant potatoes and green beans.
We collapsed on a sofa in the lounge for pudding, having homemade gingerbread ice cream and blackberry sorbet with a fresh mint tea, while listening to a woman poignantly sing Celine Dion.
Sheen Falls Lodge: The Facilities and Activities
This place has got facilities and a half. In addition to the rolling land with various walks of varying difficulties and lengths, there is one fabulous spa with a swimming pool, steam room, sauna and a gigantic jacuzzi. After being out and about in the often quite unfriendly Irish weather, there is nothing better than entering the greenhouse-like spa and having a dip. We recommend organising a massage for one point in your stay and spending a morning in the spa.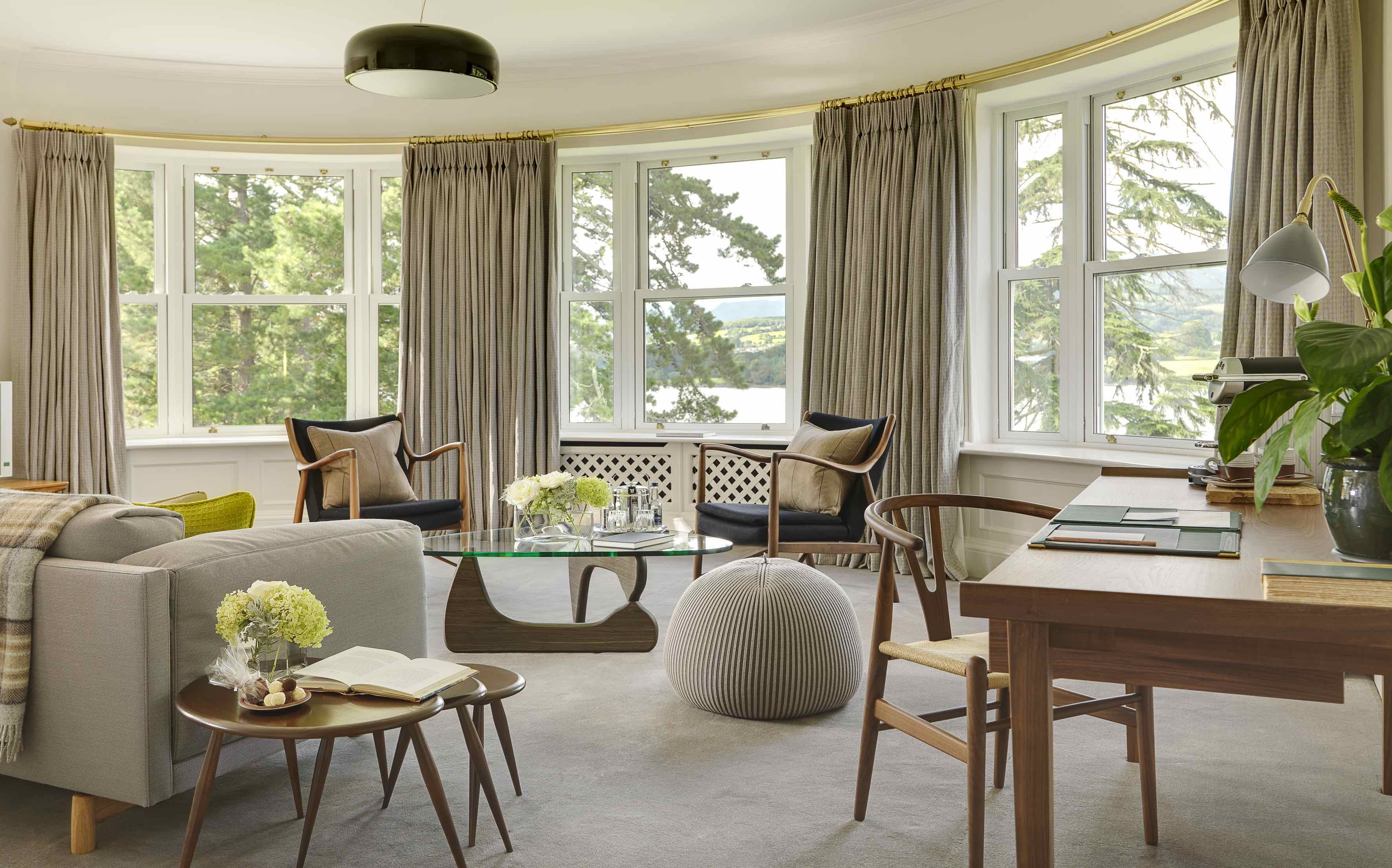 We are in the countryside though, so there are plenty of activities to be occupying yourself with, many of which felt exceptionally exciting to us city girls. Whether it's horse riding the gentle Ozzy on a hack round the local area, or trying your hand at clay pigeon shooting or indeed falconry – the hotel can easily arrange these.
Sheen Falls Lodge: Our Verdict
Truly the only negative thing about this hotel is you might do a bit less exploring of the local area than you might want to, as it's just so hard to leave. That sounds like a job interview, where you say 'yes my worst quality is I'm a perfectionist', but Sheen Falls has some special vibes. It goes without saying that this hotel is perfectly placed for the Ring of Kerry and Ring of Berea. If spending a lot of time in the car doesn't feel too relaxing, there are plenty of close by, lesser known landmarks. 2km from the hotel is the village of Kenmare, we recommend popping to pick up some Guinness chocolate from the local sweet shop and going for a walk at Glennachquin Falls which brings you to a working sheep farm.
To find out more and to stay at Sheen Falls, visit here. Throughout 2017, they are offering a new Pamper Me Package, priced from €605 based on 2 people sharing for 2, which includes a spa treatment, breakfast, a dinner and a bottle of Prosecco.