Imagine an island where lush hills and sheer mountain-tops roll into miles and miles of azure blue sea. A place where you can drink Aperol Spritz like it's water, and no-0ne will raise an eyebrow. And now imagine that not all of the Western hemisphere has yet cottoned on to the fact this place is like something out of a dream, and hence it remains, for now, gloriously tourist-free.
The beaches have been plucked from every lustful imagining you've ever had about paradise. Clusters of beaches are covered by blankets of crisp white sand and the boundless deep blue sea, each pocket of paradise cocooned by magnificent, brooding cliffs.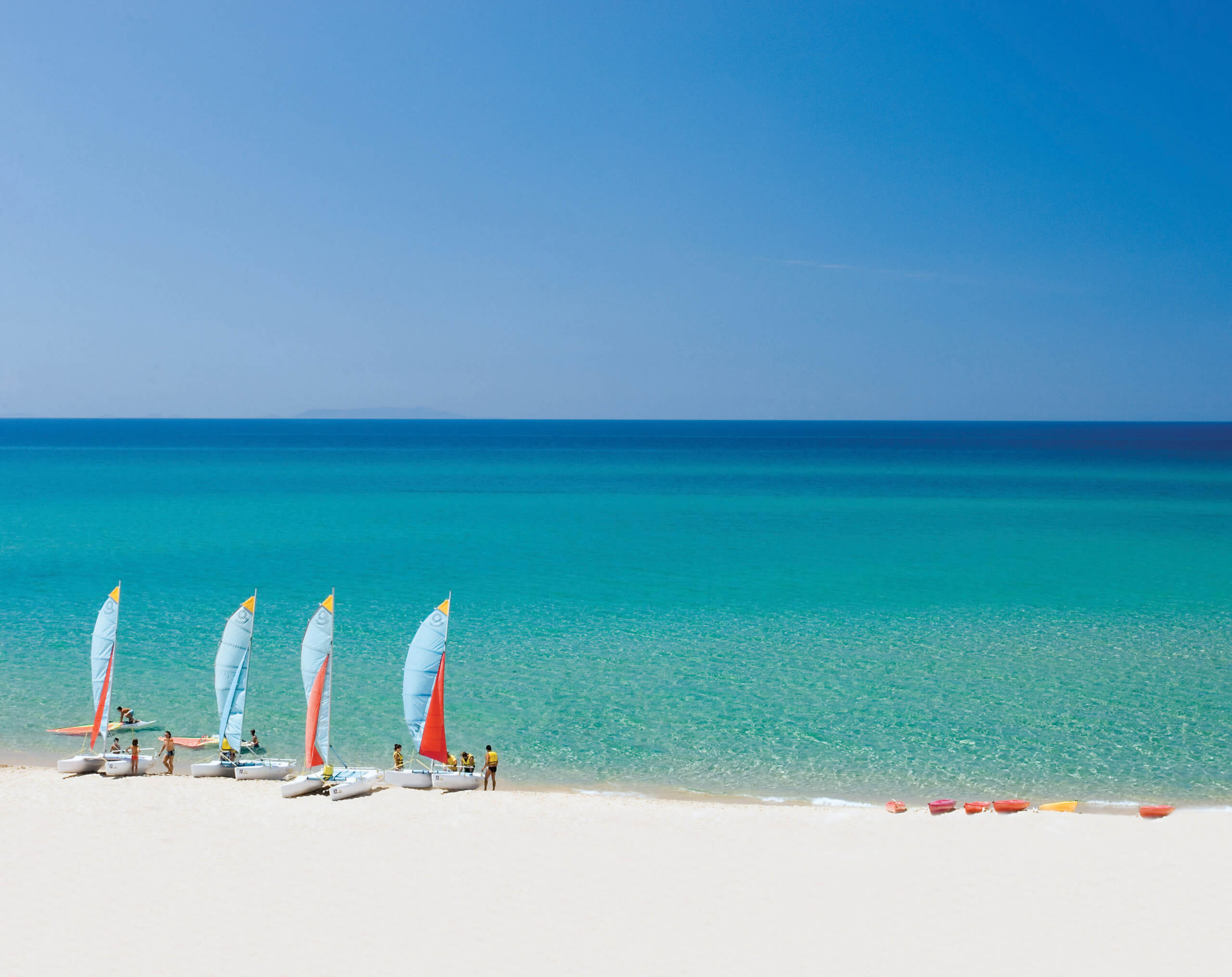 This place is king of contrasts. One moment you'll be swimming, the next you'll be ambling through forestlands and trying to keep count of the four million sheep roaming the little island. As DH Lawrence said: 'Sardinia is different'.
If you're looking for a hotel which offers all you could ever need, look no further than Resort & SPA Le Dune belonging to the Delphina Hotels & Resorts collection . Set in a private park overlooking the Golfo dell'Asinara, it looks out over the coast of Badesi Marina, against a backdrop of sand dunes and hilly slopes where scented junipers, Mediterranean maquis and vines grow.
Accommodation
Just a short walk from the beach, the rooms are hidden away in the privacy and seclusion of the surrounding gardens and tropical foliage. This village-esque enclave is made up of 5 distinctive hotels with almost 500 bedrooms, all furnished in classic airy Mediterranean style with a terrace or balcony. There's a huge choice of restaurants, bars and swimming pools, so we defy you to feel bored, and the beach has reserved deck-chairs for all resort guests. Dreamy.
Food
10 restaurants. Need I say more. From the romantic poolside setting of the aptly named 'Restaurant Romantico' to the  bustling family atmosphere of 'Restaurant Carrimbanca' with the softest pork known to this hungry About Time team, unlimited antipasti and the sweetest of macaroons suitable even for the dairy intolerant. Favouritism is problematic, but we did find our favourite, 'Restaurant Scorfano', where fish and seafood was the order of the day, the freshest of mussels, any kind of fish you so desire freshly cooked and the juiciest plumpest prawns fresh from the Sardinian sea. You won't get bored and the buffet style of the majority of the restaurants means you will indeed never go hungry.
Facilities
This place defines the word facilities. 6 swimming pools. La Sabine spa, free Baby, Mini, Junior and Teen Club, a private area of the beach. Need I go on….As we were travelling kinder free, we made the most use of the Le Sabine, although there were moments when I thought about checking my travelling companion into the Teen Club.
Le Sabine is the oasis we desired, 3 open-water swimming pools, turkish baths and copious amounts of that lemony spa water that really makes you feel you have arrived.