Stay Here: Regnum Carya Golf and Spa Resort, Belek-AntalyaBy Alicia Grimshaw
Turkey is probably not on the top of your holiday destination list right now, but don't write it off just yet. Due to political tension, a coup attempt and civil unrest; Turkey hasn't had the smoothest of rides recently. But let's not tarnish the whole country with the same brush – Turkey offers far more than the bustling city of Istanbul. The country is home to wonderful coastal towns and villages, amazing cuisine and stunning natural beauty.
Found on the Turkish Riviera, Antalya is the largest city on Turkey's Western Mediterranean coastline. An exciting mix of traditional Turkish buildings tinged with contemporary architecture; Antayla is a great choice for a long weekend or a lengthy stay in the sun.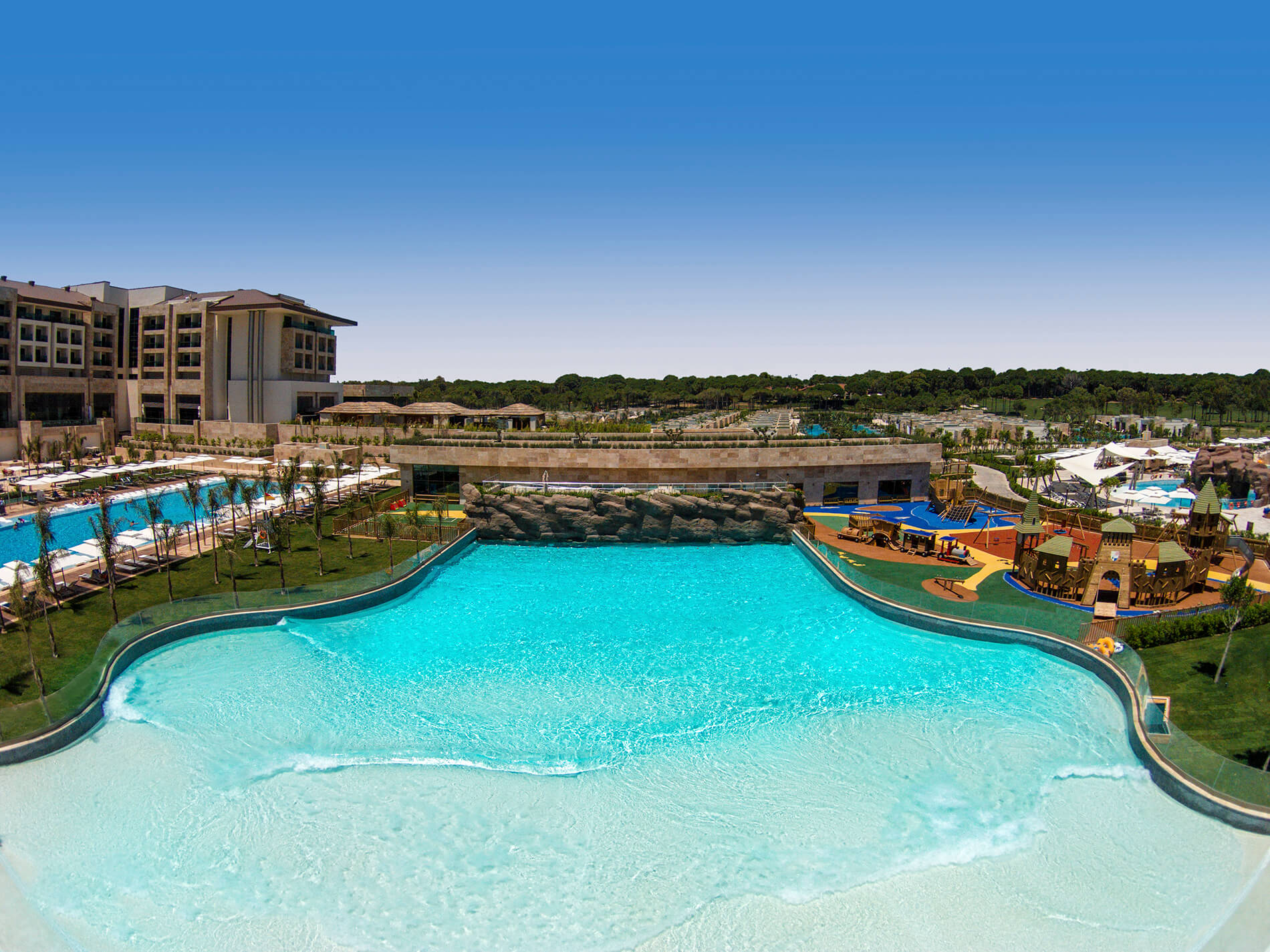 Sitting proudly on the Mediterranean Sea, Regnum Carya Golf and Spa Resort has everything you could want, and quite possibly more, all under one roof. Located in Belek-Antalya, this private resort paradise is an icon, with one-of-a-kind architecture and chic, minimal interior design to seduce you, and 5* facilities to match.
Need a sunshine getaway? Here's what you need to know:
Regnum Carya Golf and Spa Resort: The Lowdown 
Resorts have been notorious for attracting the beer swilling, white vest and tattoo brigade, who head to the sun loungers at an ungodly hour to seal the best spot in the house. But this isn't Benidorm. And Regnum Carya Golf and Spa Resort isn't like the resorts splashed across holiday brochures found in your local Thomas Cook. You see, Regnum Carya Golf and Spa Resort attracts a different clientele (and even the world's elite for the G-20 World Summit in 2015).
This five star all-inclusive resorts resort simply has it all; boasting a heated pool, a wave pool, an indoor pool, eight bars, state-of-the-art spa with a heated pool and and outdoor heat area, seven exquisite restaurants, tennis courts and a variety of water sport activities. You'll be hosted in the most incredible pool or golf-facing bedrooms; choose a villa with its own private pool, for the ultimate seclusion and privacy, and expect the holiday of a lifetime.
The words 'luxury' and 'all-inclusive' almost seem like an oxymoron. However, Regnum has nailed the high-end, all-inclusive holiday package. From the moment you arrive, till you leave – everything is included food and drink wise. Even down to the mini bar in your room, which usually costs you an arm and a leg for a gin and tonic.
Regnum Carya Golf and Spa Resort: The Accommodation
The Luxury Rooms (with a choice of golf, pool or sea views) have ample space, and a larger than average bathrooms with a rain shower, tub, his and her sinks, and a plethora of mini toiletries. The beds are quilted in crisp white linen, and the most cloud-like mattress. The custom furnishings, modern design and rich interplays of textures really adds to the understated and sophisticated tone of the room. The room is filled with all the latest mod-cons including cable tv, high-speed internet, iPod docking station, and a radio. And there's the fluffiest dressing gowns and bath towels too.
If you really want to get away from it all, The Cayra Villa can accommodate up to eight people and features  one bedroom with a French bed, a second bedroom with two single beds, a third bedroom with two single beds, a living room, a kitchen with dining area, shower, Jacuzzi, bathtub, working desk, dressing room and a 120-square-metre heated swimming pool. You can easily spend your whole holiday in this villa, and never face another hotel guest.
Regnum Carya Golf and Spa Resort: The Food
Amazing food is basically a given in Turkey, but who knew that Antalya was a melting pot for a variety of cuisines, home to some of the best local produce, fresh fish and grilled meats in the area. Regnum is a total foodies' haven, with a variety of fare on offer.
If it's choice you're after, the main restaurant serves a buffet spread like no other. Changing daily, the buffet showcases a variety of different eats, including Turkish mezze, a salad counter, hot food, pasta, fried chicken, pizza, and a dessert table. Don't be frightened of all-you-can eat buffets, the food here is not like the greasy MSG laden Chinese eats we're all too familiar with in London. The food here is top quality, and  there's plenty to go round.
The Ottoman Restaurant is where you'll find your hummus fix. Serving traditional Turkish munch, the restaurant knock together silky smooth baba ghanoush, incredible stuffed vine leaves and a vast selection of meat and kebabs. It's the dream.
And let's not forget about the most important meal of the day: breakfast. Breakfast buffets don't get better than Regum's incredible offering. The sprawling buffet is an assault course of delicious eats, including a live omelette station, Turkish breads and condiments, hot food, a variety of cereals, salads, cold cuts of meat, and anything else your heart desires. Custom-build your own smoothies and juices, and help yourself to the freshly made jam and preserves over by the toast counter.
But it's Patisserie Macaroon that's an absolute must. This charming French-style patisserie stocks homemade cakes, pastries and other homemade sweet bites. The pistachio baklava, chocolate brownie and cheesecakes should definitely be on your hit list.
Regnum Carya Golf and Spa Resort: The Activities
Where to begin. Where to begin. Well, the pier pavilion is a good place to start. Although it's an extra cost, it's totally worth the splurge. Built to echo the wooden buildings found in the Maldives, these beach huts are utterly divine, and a stark contrast to the … The huts offer unrivalled views across the sea, and a butler service for all your snacking and drinking needs.  Bring a good book, and wile away the hours under the beating Turkish sun.
If you're looking for something a bit more active, the resort has activities for all ages; from motorised to non-motorised water sports, to tennis, darts, fitness training, Zuma and pilates. There's also a full range of entertainment available, including belly dancing classes, one-on-one golf coaching, and day excursions. Of course, if you just want to chill by the pool with a margarita, that's totally cool too.
Green Door Spa and Wellness Centre is a haven for rest and relaxation. If you enjoy life in the slow lane, book in for a Thai massage or their hot stone massage. Both will leave you feeling refreshed and revived. Stop by the indoor pool for a dip, or practice your breast stroke in the heated outdoor pool.
Regnum Carya Golf and Spa Resort: Our Verdict
With prices that won't break the bank, and a mostly all-year round tropical climate; Regnum Carya Golf and Spa Resort really does have it all. Stella cocktails on tap, incredible beaches, an abundance of top quality food, and endless sunshine. What are you waiting for? Get booking.
Regnum Carya Golf & Spa Resort is located in Belek, just 25 minutes from Antalya airport. Rates start from £144 for a single Luxury Room with a golf view. For more information, visit their website here.