If you're into wildlife, Botswana is your nirvana. The country is home to a staggeringly rich and diverse array of animals, and as a result has a thriving safari industry, much of which is centred around the enormous Chobe National Park. The boutique Ngoma Safari Lodge is an oasis in the wilderness, offering great food, beautiful views and expert-led drives to help you discover Southern Africa's bounty of natural wonders.
Ngoma Safari Lodge: The Lowdown
It's rare for a hotel to genuinely take your breath away, but your first glimpse of the panoramic views from the Ngoma Safari Lodge will do just that. Located on the edge of the Chobe River and floodplain, you immediately get a sense of the vastness of the savannah, although on closer inspection, you'll often spot a herd of elephants or group of zebras wandering past.
Located less than an hour from Kasane airport, Ngoma Safari Lodge is easily accessible but offers that 'away from it all' feeling many of us crave. Enjoying a G&T on the terrace while buffalos and impalas stroll past below couldn't feel further away from the rat race of everyday life, and the last thing on your mind will be scrolling through Instagram when simply looking at the landscape around you is so rewarding.
Ngoma Safari Lodge: The Rooms
There are eight individual lodges at Ngoma, each with a sweeping curved window so you can admire the African sunrise from bed (if you're not already out on a safari drive, that is). Lodges are spacious and airy, with all the equipment you need, including a mosquito net covering the kingsize bed. There's even a horn you can blow if an elephant decides to come and take a drink from your private plunge pool at night…
As well as a pool, there are plenty of other options for wallowing; each room has a bathtub, and powerful indoor and outdoor showers for cleaning off after a long day's wildlife-spotting. There's also a free same-day laundry service (a big plus if this is part of a longer trip) and, even more excitingly, a free minibar stocked up with beer and soft drinks.
Ngoma Safari Lodge: What to Do
Obviously, it's all about the wildlife spotting in Chobe and this takes many forms; from early morning drives (wrap up warm and prepare for a 5.45am departure) to boats across the Chobe River, where you're likely to spot half-submerged hippos and crocodiles sunning themselves on the shores.
During the day, experienced rangers drive small groups round in Jeeps to admire the dizzying array of wildlife. First up, elephants – as home to the largest herds of elephants in the world, this national park is nicknamed Land of the Giants, with an estimated population of over 120,000. No matter how many elephants you see, watching these magnificent creatures is always a privilege. It's particularly enjoyable to see them splashing around in the water, or to watch the herd circle round a tiny baby elephant to protect the calf while it sleeps.
Chobe's giraffes are also not hard to spot – at five metres tall, they're pretty hopeless at hiding – and you're likely to come across numerous cape buffalo and seemingly never-ending supply of impalas, nicknamed 'the McDonalds of the bush' by rangers because so many animals prey on them.
The park's big cats play more hard-to-get, but once you do spot a pride of lions or a leopard lounging in a tree, it's a truly magical experience. And if that doesn't satisfy Lion King fans enough, you can also look out for actual Timon and Pumba (well, meerkats and warthogs) marching their way through the bush.
Ngoma Safari Lodge: Eat and Drink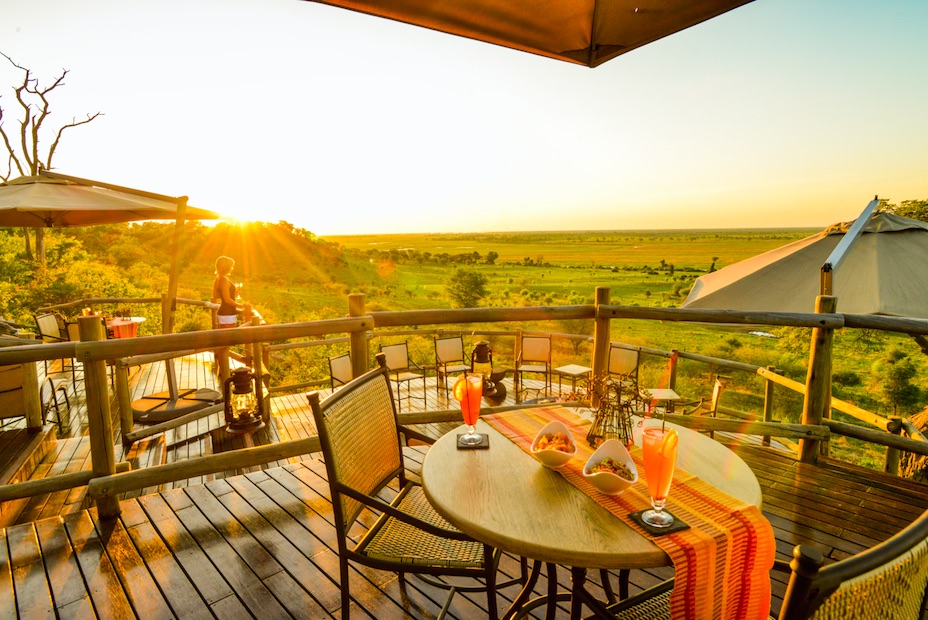 The food at Ngoma Safari Lodge is fantastic. After a crack-of-dawn drive, it's lovely to return to the Lodge at 9am for a delicious breakfast, with options including omelettes, breakfast stacks and scrambled eggs, as well as a full continental offering.
Lunch is either eaten on the terrace (we recommend the veggie burger) or as a picnic if you're out on safari, and the sundowner drinks enjoyed in the middle of the national park are a particular highlight. G&T and a stunning sunset – what's not to love? Just watch out for the baboons – these residents of Chobe look cute from afar, but as soon as you're trying to enjoy a bite to eat, they become the park's most pesky inhabitants!
As for dinner, guests are in for a treat, with tasty three-course meals served up under the stars every night. Expect local fish and game, creative vegetarian dishes and gorgeous deserts, all delivered with exceptional service (staff are employed from local villages as Ngoma is committed to making a sustainable difference to nearby communities).
Ngoma Safari Lodge: The Verdict
For most of us, an African safari is a once in a lifetime experience, and if you're going to do it anywhere, Ngoma Safari Lodge is the place.
Luxurious, eco-friendly rooms, excellent food and breathtaking views make this an outstanding place to stay, but perhaps what makes Ngoma truly exceptional is the staff. From the friendly waiting staff at dinner, to the safari guides whose years observing Botswana's flora and fauna is evident in their extensive knowledge, the team at Ngoma know how to offer up an incredible experience.
The last round of applause, however, must go to the animals. From elephants to lions, giraffes to hippos, they are an endless source of fascination for visitors, and you'll leave feeling truly lucky to have visited this place.
Nightly rates at Ngoma Safari Lodge start from US$565/ £404 per person in a Suite per night on a fully inclusive basis in Green Season 2018. Prices include all meals, non-premium brand beverages, up to four activities per day, National Park fees, Community Levies and return transfers from Kasane Airport or Kazungula Border. For more information visit here  or call +263 213 284 321 120.