There's something very magical about Kirchberg in Tirol, Austria. If you're looking for a night on the tiles, a boozy city break or a knees-up – you've certainly come to the wrong place. Kirchberg boasts rolling mountains as far as the eye can see, superb biking and hiking trails, lush greenery and some of the best Austrian food you will ever consume. Kirchberg is an ideal break for solo travellers, adrenaline junkies, families with young children and to be honest – anyone who wants a break from the city rat race. For bikes, read a review here. If you're looking for a weekend escape, we can't recommend Hotel Rosengarten enough and here's why: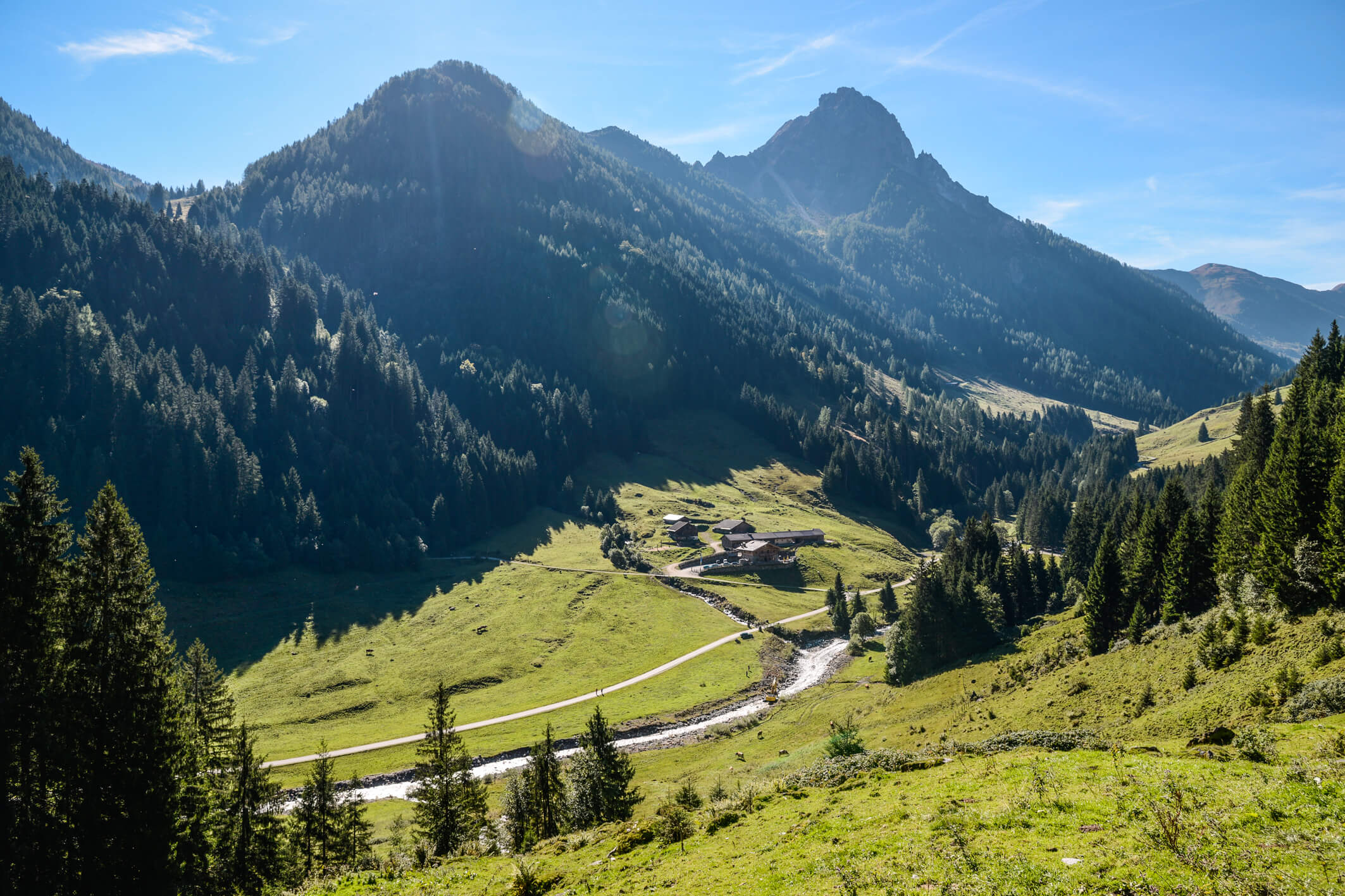 Expect: An calming oasis nestled into the hills of Kirchberg. While many holiday goers favour the metropolitan city of Vienna, Kirchberg is a top destination for its own reasons. The mountain range provides activities for all such as swimming, e-biking and both indoor and outdoor archery. Come autumn, the countryside is a sea of vibrant colours and when winter rolls around, the grass covered mountains turn into snow capped slides of fun. Kirchberg is a year round place that doesn't just attract the summer crowd – after you've yomped across some of the highest mountains above sea level (a casual 5,000 feet) you'll want a place to refuel and rest up and that's where the Hotel Rosengarten comes in.
The Hotel: From the outside, Hotel Rosengarten plays homage to traditional Austrian building features – exposed wood, white washed walls and no brash decor. It's an unassuming, totally un-pretentious hotel that could be easily overlooked. However, inside the furnishing are slick and contemporary, modern rooms, classic service blended with native hospitality, and integrated spa offerings. In the summer months the outdoor pool is open, while those wishing to stay warm the spa comprises of a sauna, steam room, private treatment rooms and a relaxation area with built-in water beds. The spa is a much needed sanctuary after a busy day on foot.
Accommodation:  There are 26 rooms in total with rooms ranging from Deluxe Double Rooms to Deluxe Suites. In the Deluxe Double Rooms, expect your own private balcony overlooking the famous Tirol mountain range (ask for the rooms at the back of the hotel for the best picture perfect landscape), an en suite bathroom and a radio, phone and SAT-TV – if you're really into watching Coronation Street, don't worry they have you covered. The Deluxe Suites are something very special, expect a large walk-in wardrobe with floor to ceiling shelves, a bathroom with a power shower and a bathtub the size of a community swimming pool, a lounge area along with all of the state of the art technology, bluetooth speakers, TV in the bathroom and surround sound. For luxury, the Deluxe Suites are the way to go. What's better the Deluxe Suites don't feel like a hotel, instead its resounding feature is the fact it truly does feel like a home away from home and that's the best bit.
Food: The Rosengarten may have the extravagant accommodation, but it's the dining that's the real winner. The Simon Taxacher Restaurant takes you on a culinary journey inspired by modern-European dishes that are innovative and forever increasing expectations. The Head Chef, Simon Taxacher is also owner of the Rosengarten, he was awarded 2 Michelin stars in 2009 at 33 and is the first and only restaurant in Tirol to be awarded this distinction. But it doesn't stop there, he was named Chef of the Year 2014 in the Der Grosse Restaurant and Hotel Guide and on top of that he is a member of the reputable Les Grandes Tables Du Monde.
Restaurant Simon Taxacher expresses the celebrity chef's personality – dim lights, stylish decor and a ban on dress codes. The menu is heavily influenced by regional and local Austrian cuisine using ingredients sourced from alpine growers and producers. The menu changes daily, but expect a seven course meal full of different textures and flavours. To start; duck liver with truffles, artichokes with caviar vegetables and olives. Main course is just as good as the starters, if not better – braised lamb shoulder with smoked cabbage or the liver of catfish served with bell pepper and sour cous cous. If you're feeling really peckish you can upgrade your mere seven courses to nine courses or even the hefty eleven courses. No meal is complete without wine and at Restaurant Simon Taxacher, the wine is deinfitely not an secondary after thought. Their expert sommelier will you on a world tour of wine and match your food choices to the right bottles.
Why Stay Here: Kirchberg has a huge amount to offer. If the stunning backdrop of the Kitzbühel alps wasn't enough, the surrounding areas have over 1,000km of well maintained trails. Stumble across traditional Tirolean food served in cosy mountain huts (makes ours a jammy pancake and a chicken schnitzel). Kirchberg takes pride in the fact that's peaceful, fresh and clean. People come back year on year for the exclusive golf courses, and Simon Taxachers gourmet festival where the hotels and restaurants in the area come together to show off what the region has to offer. Hotel Rosengarten is a place where you can feel at home whilst dining on michelin-starred food, sipping on the finest wine while looking out over the mountains. Don't take our word for it, just go.
For more information, see their website here.
Inghams (01483 791114; www.inghams.co.uk) offers seven nights at the five-star Relais & Chateaux Rosengarten in Kirchberg on half board from £1,014pp. Price includes return flights to Innsbruck and transfers. Regional flights are available from Bristol (+£69), Birmingham (+£49), Manchester (+£49), Leeds-Bradford (+£59) and Edinburgh (+£69).
For more information about Tirol visit here or on the Kitzbüheler Alps region visit here.