The first time you see Mt Fuji is something you'll find hard to forget. We were on the train passing through the hills at customary Japanese speed. As we appeared out of a tunnel, suddenly it was there: ten times larger and more imposing then you could ever imagine. We, of course, immediately performed the customary millennial reaction, our iPhones pressed up against the train window trying to capture something that in truth can never be digitalised.
It was the final day of our two-week trip, and we had saved what we hoped would be the best till last. Returning from Kyoto we decided to stay a night at the uber-luxurious HOSHINOYA Fuji Resort across the lake from Mt Fuji. HOSHINOYA is one of five equally amazing looking resorts run by Hoshino in Japan. They all seem to follow the same pattern; stylish architecture, immaculate interiors and incredible attention to detail. HOSHINOYA in Fuji proudly boasts to be the 'first glamping site in Japan'. Built into the National Park located by Lake Kawaguchi, it consists of 40 minimalist guest rooms each with private balconies and large mountain-facing windows.
Hoshinoya Fuji Resort: How to Get There
The journey to Mt Fuji is relatively simple from Tokyo but much less straightforward than other day trips. Your best to get to Shinjuku station where there's a one hour train to Otsuki (you can use your much recommended JR pass for this).
From there, a much slower train takes you to the town – you have to pay for a ticket and be sure to check the times first as the express trains get pretty busy (and take 45 minutes). Following that there's a taxi to the resort which takes about 15 minutes. All in all, we arrived fairly sweaty and sick of the sight of our wheelie bags. However, the moment you do arrive you know you've come to somewhere special. You're dropped off at an off-site reception where you're introduced to the resort and the lay of the land. You're then asked to choose from a variety of backpacks which contain your glamping essentials – a torch, some tools, etc – to be honest we never opened the bags again, but it's the thought that counts. The idea of this removed reception, I'm told, is to allow us to feel that we have truly escaped once we arrive at the resort itself. Our method of escape is a shiny jeep a fleet of which are parked outside ready to take the glampers to their cabins.
HOSHINOYA Fuji Resort: The Accommodation
These cabins are, without doubt, worth the journey alone (and possibly even the cost). It's pretty easy to say that our cabin was one of the most stunning rooms I have ever stayed in. They're designed shaped like a telescope, with a giant front window and simplistic fittings to allow all your focus to be on the main attraction: Mt Fuji. Framed front and centre across the lake is the perfect postcard view of Mt Fuji you could ever hope for. I spent the first hour just sat looking out in a Fuji-induced coma. Everything about this room has been thought through; be it the large mountain-facing shower and bath, the dimmable lights, the rugs, slippers, chairs and soft Japanese pyjamas. The real hero, however, is the balcony. Every cabin comes with its own balcony complete with what I can only describe as a heated sofa duvet device (bear in mind these are only for the cold months), meaning you can stay day and night outside watching one of the great wonders of the world.
HOSHINOYA Fuji Resort: The Amenities
Some guests may choose to do just that, and I'm sure would leave happy. However, there's plenty more on offer at HOSHINOYA Fuji. After waking up from our Fuji coma we walked up through the forest to the 'Cloud Terrace' perched on the hill surrounded by Japanese pines. On the way up I mustered what little outdoor skills I possess, and chopped some wood fairly convincingly (one of the free activities).
We arrived at the library just in time for tea. Tea is a rather brilliant combination of Japanese teas, English-style mini scones with cream, jam and basil pesto (?) as well as marshmallows, chocolates, and biscuits ready to make American S'mores on the fire. It's a multinational feast and plenty of fun too. The eating didn't end there, we were booked into a smoking class in the forest. No, not that kind, but the kind you might do on the British coast. This is an additional activity that involves smoking a variety of cheese, nuts, fish, and meat in your own mini smoking oven. We chose a whiskey smoke which gave the food a rich sweet flavour. For anyone who has eaten smoked food before, this isn't revolutionary stuff but it's nice all the same. That left us just in time before dinner to check out the final complimentary activity. Back at the Cloud Terrace marshmallows had been replaced with broad beans. Cooked on the fire until blackened on the outside the broad beans in the centre go perfectly with a glass of local wine.
HOSHINOYA Fuji Resort: The Food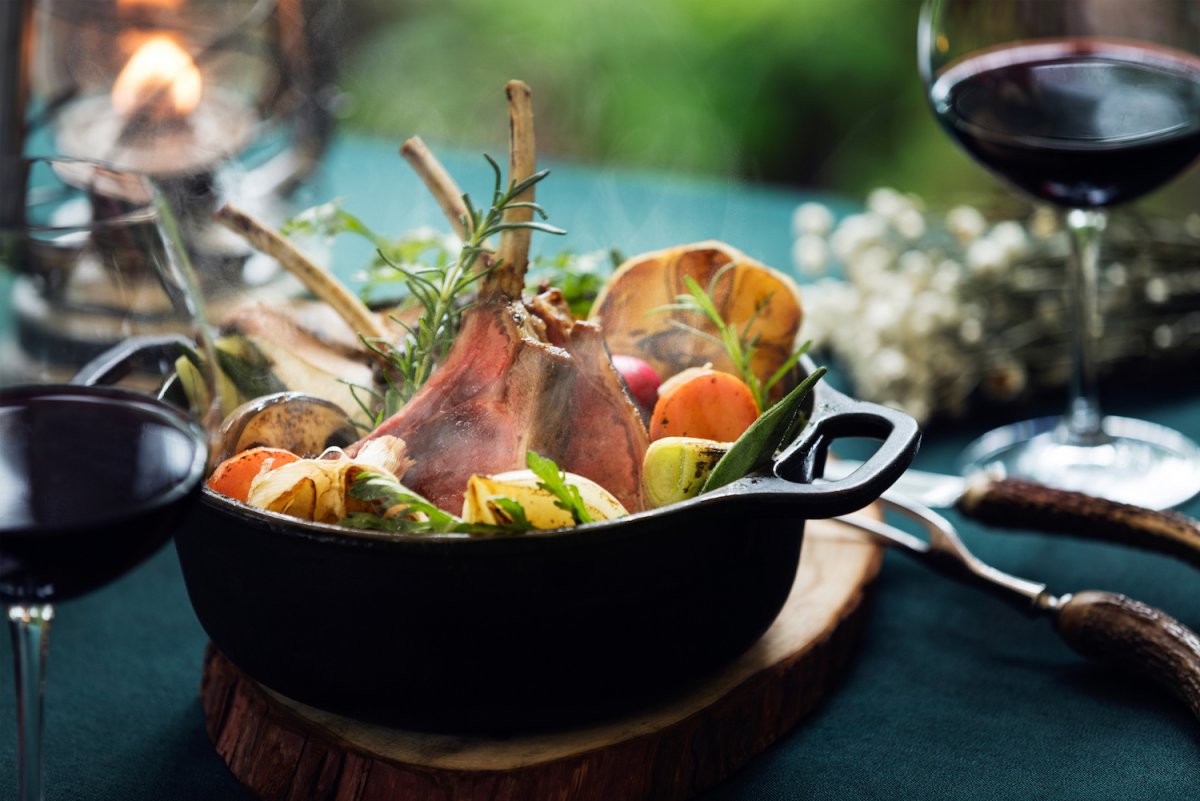 Dinner at the resort comes in two forms: there's the mountain restaurant complete with a grilling station where chefs prepare and cook selected meat in front of you, but as we were only there for one night and I only fancied eating one dinner, we tried their latest dining experience – the Forest Kitchen.
I can only describe the Forest Kitchen as a lavish five-course meal set amongst the red pines. You 'prepare your own food' in a dutch oven using wild game meat caught by local hunters. Eating outside in a forest has the potential to be cold but as expected, they've thought of everything. As well as wearing large coats (provided in the room) we were given rugs, a heater and, yep, the table was fitted with a duvet and heater for our legs. We were probably the warmest people in Japan.
Outside amongst the trees under Mt Fuji is hard to beat when it comes to restaurant settings and the food didn't disappoint either. The menu is a mixture of Japanese and Western flavours with dishes ranging from risotto to trout caught from the nearby lake. The extent we truly 'cooked' anything ourselves is debatable (the first course involved us spooning some parmesan onto a dish before it went on the flame), but if I could cook anything this well I'd be immensely proud. Every course was matched with a delicious, again local, wine (who knew there was such good rose in Japan?) and we were left with thinking that we'd consumed a truly once in a lifetime meal. We wandered back into the forest to listen to live music before heading back to our cabin.
HOSHINOYA Fuji Resort: Activities
One observation at the end of the first day: we were introduced to various 'Glamping Masters' who helped with all of these activities – I wondered whether the term 'glamping' had become slightly lost in translation. After all, how on earth do you even train to be a glamping master? From what I can tell the course might involve game meat searing, champagne popping with an additional masters in neat furniture arranging. It did at times 'glamp my style' with a sense that glamping had come to mean camping, but where everything is done for you or someone is there to tell you exactly how to do it. An example of this came during the afternoon session of marshmallow roasting where my companion was politely informed that she, in fact, wasn't holding her marshmallow at an optimum distance from the fire pit, and that risked burning it. This isn't to be critical of the staff who were all incredibly kind and warm and there's no doubt that many of the people who visit here not only like this level of service, they expect it. For more adventurous travelers just be aware; it's a five-star hotel, expect five-star levels of fuss.
No more was this the case in the following day's morning canoeing (another additional extra). The activity, which costs around £20 per person, kicks off at 6.50am. Normally that might be a pain, but waking up to that view in the morning (especially that early when the conditions are light and at their best) is about as painful as a tax rebate. The issue is most of us Brits have probably canoed at least once before. If not, I'm sure we could all pick it up in a few paddles. What should be an amazing experience is slightly crowded out with safety briefings, lessons on getting in, lessons on paddling and, importantly, lessons on getting out. All in all we spent probably thirty minutes of a two-hour activity actually on the lake. Yes, those were thirty-eye-popping-pinch-yourself-lake-next-to Mt Fuji minutes, but still part of me wanted to create a distraction and break free from the instructor and paddle vigorously into the distance. Was it worth it? The photo above hopefully answers that, I just wish we'd amped down the glamp on this one.
HOSHINOYA Fuji Resort: Breakfast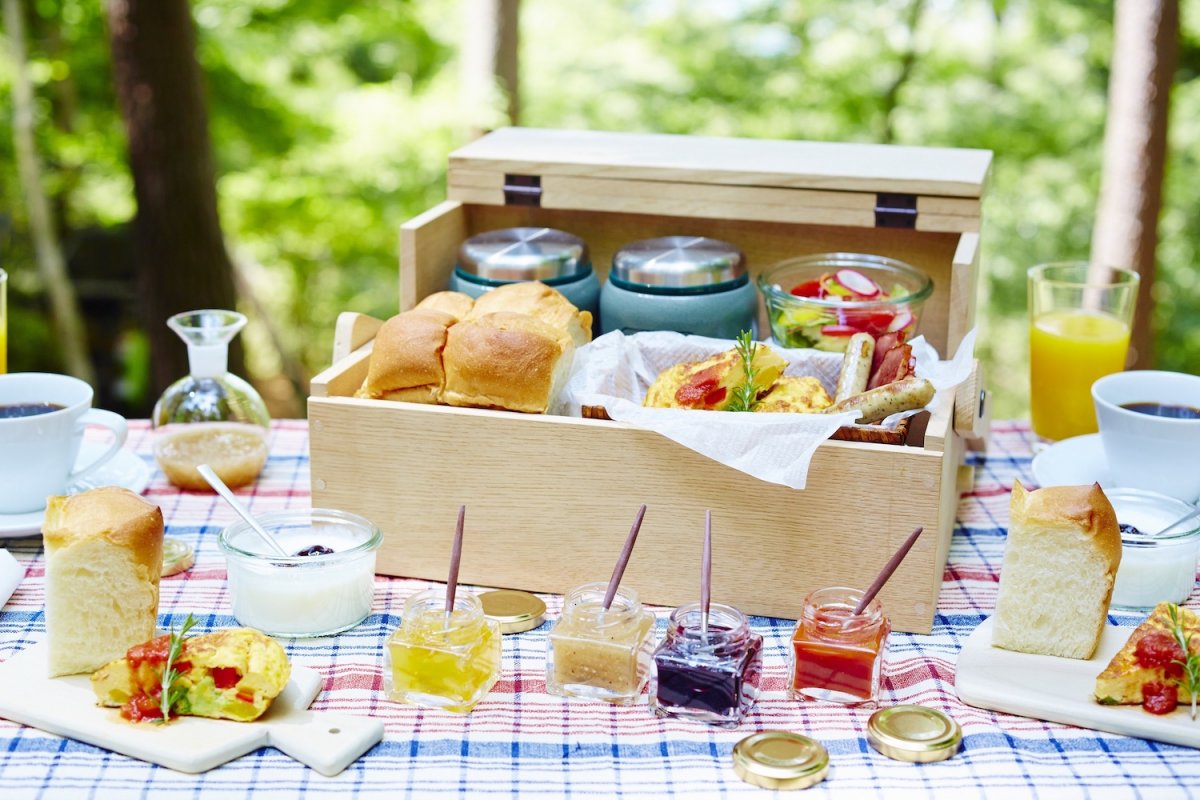 Our stay ended in the best way possible – a breakfast of warm bread, yogurts, jams, and soup all served on the world's warmest balcony with that never-gets-boring view of Mt Fuji. Reading the papers and sitting in the sun I wonder why anyone ever leaves their rooms. Overall I would definitely recommend a stay at Hosinoya in Fuji. The prices are steep, so stay for one night and for something truly special. If it does stretch your budget then I would suggest cutting out some of the additional activities, after all, looking out the window is free and there's no better place in the world to do that.
For more information on Hoshinoya Fuji Resort, visit the website here.