Warning: you might read this and think you've died and gone to heaven. We wouldn't blame you. Staring out at the azure blue of the sea in the Maldives, the perfect white beaches, the serene, quiet peace of their atolls, you'd be forgiven for thinking that you're on not earth at all. Anantara Kihavah is, without a doubt, one of the most peaceful places in the world to visit. We were lucky enough to experience a few days at the beautiful island, and we fell totally in love with it – if you're planning a holiday to the Maldives this year, here's what to expect:
Anantara Kihavah is, no shadow of a doubt, the most beautiful, perfectly located island on earth. The resort has a prime location in the Maldives' Baa Atoll island archipelago – it sits just Hanifaru Bay, a little island full of magic to explore, with beautiful diving spots and the clearest ocean. The resort sits on Kihavah Huravalhi – a beautiful, pristine island, which is only 30-minutes from Male, the capital of the Maldives, and the world's smallest city. Even the plane journey will excite and intrigue you – as you fly over the string of small, beautiful coral islands, atolls and crystal clear waters, the Maldives lights up in front you.
Anantara Kihavah: The Attraction
You come to Anantara Kihavah to totally switch off from the modern world. The rooms are all designed for luxury and seclusion – there are 79 spacious private pool villas, in a variety of styles. Some rooms are set on the water, with incredible ocean views, whereas other rooms are right on the beach, only a moment from the sand and turquoise waters. The resort is, of course, absolutely perfect for snorkelling and diving – here you can snorkel some of the world's most treasured reefs, within a UNESCO World Biosphere Reserve, and delight in the beauty of the Maldivian islands, looking out for eels, turtles, stunning coral and, hopefully, dolphins too.
After sunset, the resort becomes alive with activity and colour – there's a whole host of dining options, including the most stunning underwater dining experience. Because who doesn't want to dine whilst watching the sharks swim? It's truly a once-in-a-lifetime experience. And if up high is more to your tastes, they've got a fantastic rooftop bar for watching the sun set, cocktail in hand. Pure, total bliss.
Anantara Kihavah: The Accommodation
At the resort, there's a range of accommodation to suit everyone's needs, whether that's a family room, or a beautiful secluded room for couples on a romantic break. The accommodation varies from a Beach Pool Villa, to a Sunset Over Water Pool Villa, and their Four Bedroom Beach Pool Residence. The beach villas are sensational; it's as if you have your very own stretch of stunning white beach, each villa has its own private pool (for the ultimate secluded swim, clothes very much optional), complimentary WiFi (not that you'll need it) and a distinct Island feel to the room.
The Sunset Beach Pool Villa has possibly the best view on the whole island; the room lends itself perfectly to a stunning view of the setting sun on the island, and you can enjoy all the drama of the Maldivian sunset from the comfort of your own deck. What's more, in this room, the outdoor bathroom is one of the most visually stunning, exciting rooms you've ever seen – with an outdoor shower for a real tropical Island feel.
If you're more of a pool than a sea person, go for the Sunset Over Water Pool Villa. This villa is the perfect place to watch the sky go from blue to pink to red in the evening, in utter harmony. The villa itself has interiors to die for; the bathroom features a sunken glass-bottom bathtub, where you can see the sea below, only moments from your very own infinity pool. From here, you can watch the turtles and dolphins swimming, whilst soaking up the Island vibes.
The largest accommodation on the island is the Four Bedroom Beach Pool Residence, which features 3 king rooms and 1 twin room, as well as walk-in dressing rooms for him and her, two infinity pools, two dining pavilions and in-suite bars. Perfect for families, this villa also comes with a Villa Host, who will look after all your needs during the stay, 24-hours a day.
This room is visually stunning – it has a landscaped garden, indoor and outdoor living spaces, en-suite bathrooms, and a unique Maldivian charm. Think: covered verandas, expansive gardens leading to a lagoon, a BBQ station, jacuzzi, and the most beautiful outdoor terrace. Honestly, what else could you want in life?
Who doesn't come to the Maldives to relax? Truly, we don't know the meaning of the word in London – and the Maldives will help you rediscover a sense of pace, calm and serenity, so far removed from busy city life. But if you want to get active whilst on the island, there's lots of things to keep you busy, too!
For active types, there's everything from beach sports, such as table tennis and beach volleyball, to hitting their state-of-the-art gym, swimming at the Kihavah infinity pool, where complimentary massages are offered, and tennis courts for smashing a ball around. It's the little things here – if you ask, you can borrow one of the resort's iPods, which are filled with great music to relax to by the pool.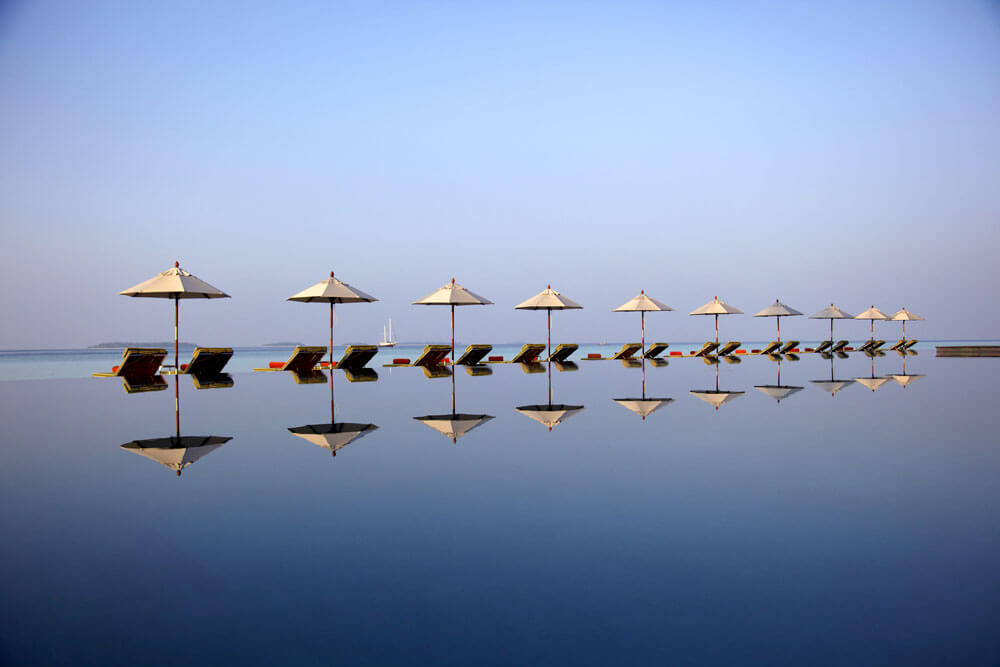 If you're a water baby, you can enjoy canoeing on the lagoon – and bring along a picnic basket for a private lunch on the beach, and a sunbathing session. The hotel is amazing for diving, too. Anantara's Dive Centre is suitable for any level – from a PADI certification course, to a custom dive for more experienced divers – where you will see the most beautiful marine life, such as whale sharks, tropical fish and coral gardens.
If you're a foodie, the resort also boasts great cookery classes – you can learn grill fresh fish you caught in the morning, or learn the secrets of the traditional Maldivian curries. The cookery classes are designed to your tastes, so you can expect a bespoke and personal experience here.
And for chilling out, you can't beat a spot of beach yoga. You can organise a personal one-on-one session of yoga, as well as guided meditation and breathing exercises, for a truly zen trip.
The resort has six over-water treatment suites, which have the most breathtaking setting. In this peaceful sanctuary, you can enjoy everything from manicures and pedicures, to plunge pools and the best facials around. There's a focus on natural goodness here; they use only natural ingredients, to detoxify and resote your sense of wellbeing. What's more the over-water relaxation deck is the perfect place to relax after a treatment – with a beautiful setting perfect for watching the sun go down.
Foodies won't go hungry here. The hotel has the most incredible selection of food on offer – you can dine amongst the fishes in their underwater restaurant at SEA, enjoy private dining or watch the sunset with cocktails at SKY.
The restaurants include SEA, which boasts the world's first underwater wine cellar, FIRE, a Teppanyaki Japanese lounge, SALT, an Asian-inspired restaurant with a salt sommelier, and SKY, which is great for light bites and tropical sunset cocktails. Breakfast at SEA is a must – you can dine like a king on Eggs Benedict, pancakes, smoothies and pastries, whilst watching the fishes skimming outside – a truly memorable Maldives experience.
For ultimate romantic seclusion, you can also choose Dining by Design, where a specially devised menu is prepared by a personal chef and served at a table for two, in a location of your choosing, such as on a sandbank in the Indian Ocean or the deck of a private yacht. Dinner on a sandbank? Dreamy.
This hotel needs to be seen to be believed. It's so much more than a hotel – a resort like none other, where your every whim is met, and the service is above and beyond, making you feel truly at home. For foodies, couples, sun lovers and divers, this is simply a must-visit. The resort will steal your heart; go and see the magic for yourself.
Prices from £2,999 per person based on 2 adults sharing a Beach pool Villa for 7 nights including daily breakfast return economy class flights with Emirates from London Heathrow and seaplane transfers. Anantara Kihavah Villas is currently offering stay 7 nights, pay for 5 – saving up to £800 per person. Valid for travel completed between 5 January – 27 December 2016. www.westernoriental.com – 020 3733 6700