Anantara Desaru Coast: The Lowdown
You've landed in Singapore. You've had a really great couple of days exploring the city, but it's getting a bit sticky and humid now and you are craving a beach destination, which crucially is not a flight or long drive away as most of Malaysia's classic spots are. Enter the area of Desaru and the Anantara Resort. A hidden coastal gem, not yet well known in Europe, on Malaysia's southeastern coastline, under two hours away. This place is an oasis of tranquility and sophistication, it offers total luxury but seamlessly intertwined with a simplicity for the real star- the raw unspoilt nature of this coastline.
Anantara Desaru Coast Hotel: The Rooms
The Anantara Hotel in Desaru weaves a tapestry of elegance and comfort into each of its thoughtfully designed rooms, ensuring an unforgettable stay for every guest. As you enter your private sanctuary, you'll be greeted by breathtaking vistas of either the lush tropical gardens or the vast expanse of the glistening sea. Our room had a sweeping balcony with a yoga mat to boot for the best place we have ever stretched and Namasted to.
The interiors are a symphony of chic modernity and local charm, featuring tasteful furnishings, soothing colour palettes, and subtle nods to regional artistry. The bathrooms are seriously indulgent, with rain showers and deep soaking tubs with a very well placed bath pillow.
In addition to the elegant rooms, the hotel also offers a selection of luxurious villas, each boasting a private pool and exclusive amenities. If you are looking for total seclusion and privacy, this is totally worth splashing out on.
Anantara Desaru Coast Hotel: The Food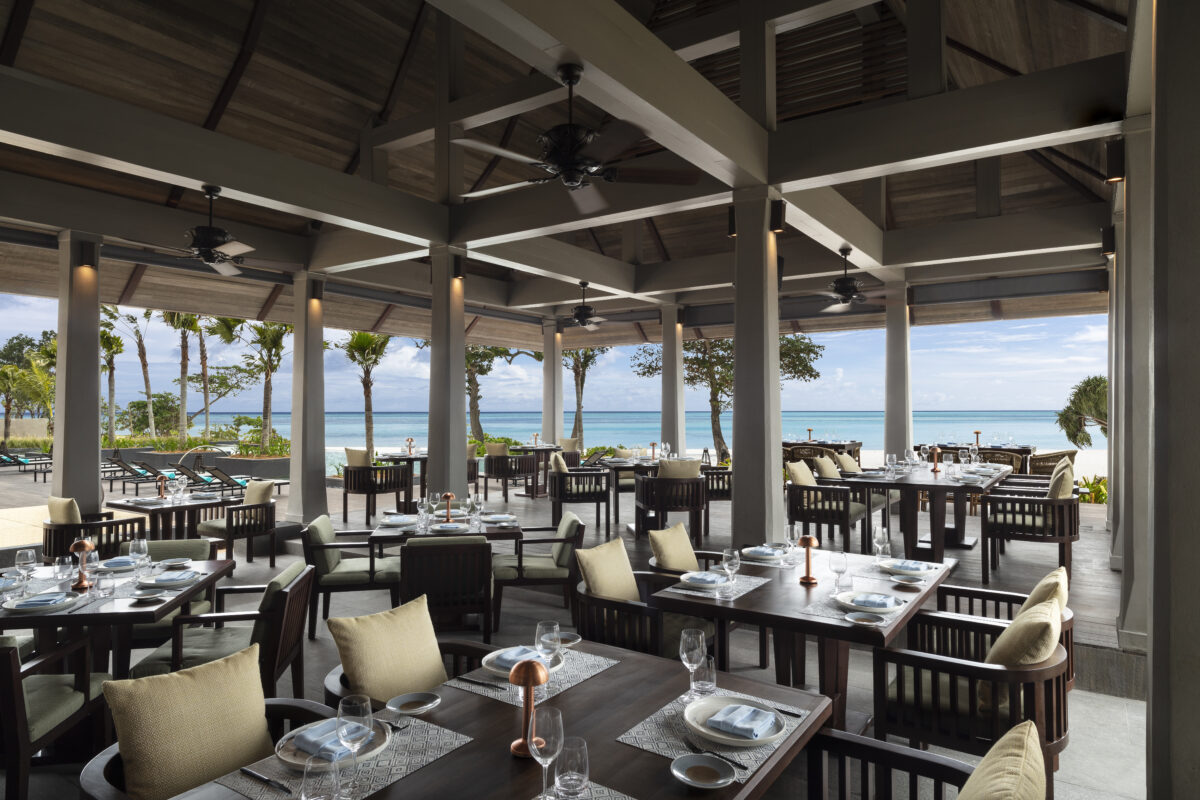 Start your day with a lavish breakfast at the main restaurant, where you'll find a delightful mix of international dishes and local flavours that'll make mornings extra special. Whether you want a traditional approach, like a beef rendang or more American breakfast, it was really one of the most magnificent breakfasts. The baked goods made in the property were so fresh and delicious. The gluten free corner was my favourite spot, usually even in five star hotels you are left with shop bought plastic tasting products, here the chefs made fresh moist loaves daily and small puddings that tasted as good I heard as their glutinous counterparts.
For lunch and dinner, the resort has some fantastic dining spots, each with its own unique vibe.  We adored Sea and Salt, the fancy surf and turf grill for the freshest catches from the nearby sea and the tenderest of Wagyu steaks.  Think every piece of seafood you can imagine on a Himalayan salt brick accompanied by the dreamiest steak. We also recommend heading to the Asian fusion restaurant, Tumeric where they have regular buffets. We sampled the Malaysian Thai night, start with chicken and beef satay whatever you do and finish with the chocolate fountain and the traditional cendol pudding.
When the sun sets, don't miss the Observatory Bar where gin and tonics are the speciality, where you can enjoy a stunning sunset while sipping cocktails on the most comfortable reclining sofas.  It's the perfect spot to chill and read your book.
Anantara Desaru Coast: The Facilities
This hotel offers an array of activities and amenities that cater to every inclination. If you are a pool person, there is a magnificent lagoon pool, if you are a sea person, dive into the infinity pool, which seemingly blends into the ocean it is mere steps from. For those seeking rejuvenation, the resort's signature spa promises a haven of relaxation, where skilled therapists can pamper you with  ancient healing techniques. Plus kids and teens clubs if you are travelling with children.
If you felt the itch to leave your sun lounger (we didn't) there is a plethora of watersports activities from kayaks and paddleboards to the motorized variety of jet skies to ride the waves of the sea.

If you are looking for a hotel with multiple restaurants and facilities, a luxury vibe and crucially a unspoilt beach close to Singapore, the Anantara Desaru Coast is just the ticket. Head there before everyone else finds out about it.
For more information, see here.