It is a truth universally acknowledged that it's impossible to have a bad holiday in Italy. Honestly: I challenge you to have a disappointing trip in a country where Aperol Spritz is cheaper than water. Tuscany, in particular, is my personal kryptonite. Tuscany in the summer serves up the ultimate recipe for a fail-safe break; delicious rustic cuisine, quaffable local wine and picture-perfect scenery. Basically: food, wine, views. You can't go wrong. If you're craving La Dolce Vita, it's about time you discovered the beautiful Renaissance Tuscany Il Ciocco:
Nestled in the Lucca countryside, the Renaissance Tuscany is a little hidden gem perched atop the lush, green scenery. Surrounded by 1,700 acres of gorgeously landscaped grounds, overlooking the pristine Serchio Valley, this hotel is scenic sanctuary for the soul. The hotel is secluded and serene; with all the natural Italian charm you could wish for, the hotel maintains a boutique feel, whilst boasting some impressive facilities. From the second we stepped into the hotel, I felt instantly at home – with warm, genuine service, the most beautiful terrace restaurant with views over the countryside, cozy accommodation and an enticing swimming pool, it's the kind of hotel you could happily spend a week, without stepping outside, and be totally content.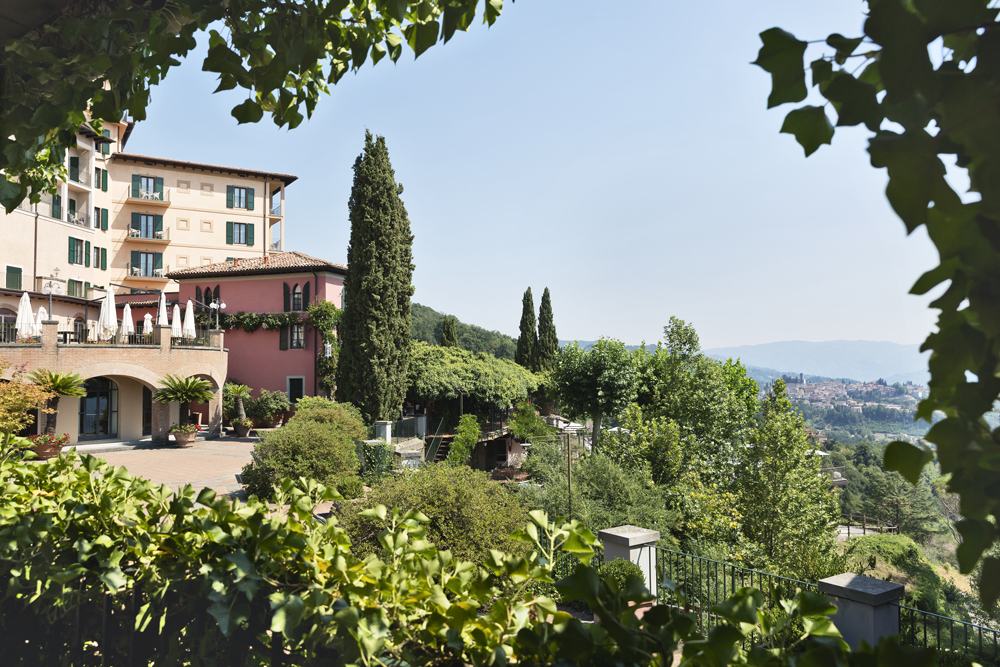 This is not like an ordinary hotel. It's a hotel where time seems to slow down – a magical place where life is put on hold – and you remember what it's like to just be. To relax. To breathe. To drink wine under the Tuscan sun and dip your toes into an ice-cold swimming pool by day. And, by night, sip Limoncello and devour plates of spaghetti pomodoro under the stars. Those are my favourite kind of holidays; the ones where you unlearn everything a city teaches you and re-connect with the slower pace of life. Because we're scared, aren't we? Of slowing down. Of stopping. We're scared of what might be waiting for us when we allow ourselves the time and space to just… be.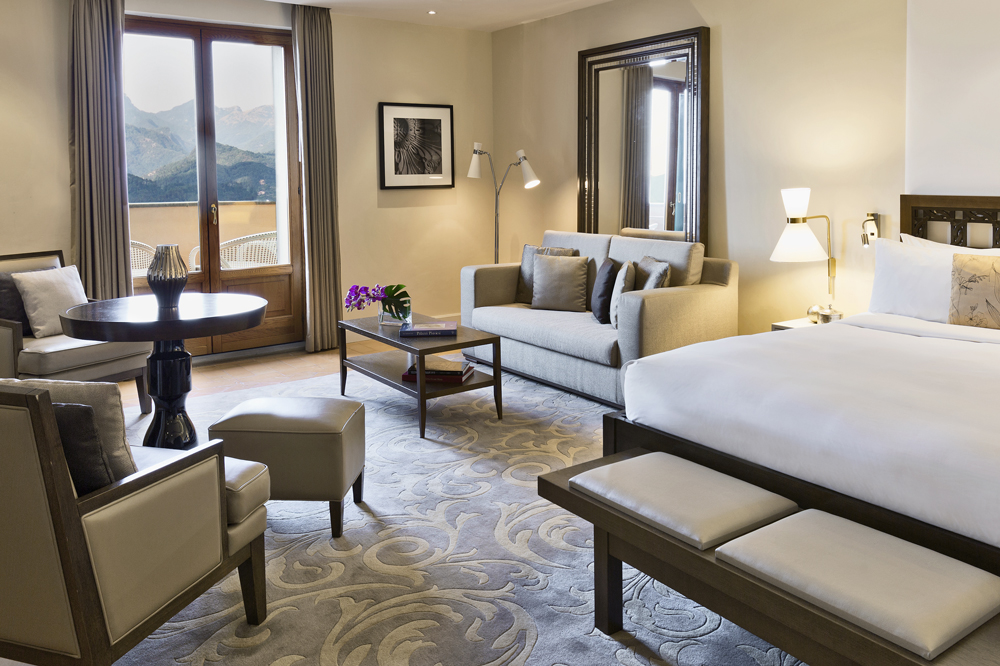 The accommodation is design-focused, stylish and inviting, with stunning views over the valley below. There's lovely touches to the bedrooms, from the elegant marble bathrooms to plush robes, luxury amenities and the comfiest beds. The rooms range from the Classic Room, with balcony, to a Bedroom Penthouse Suite, complete with its own outdoor terrace, conference room and luxury King bed. We stayed in Balcony King Deluxe, with its own private balcony for enjoying a glass of wine and watching the sunset at the end of the day.
The food! The food! The food here is really, really good. La Veranda is their main all-day restaurant, which features international cuisine in an inviting setting. It's the perfect spot for breakfast, where you'll enjoy a buffet of homemade pastries, fresh juices and made-to-order eggs, enjoyed on a picturesque terrace over the Tuscan hills. I loved their Italian restaurant Le Salette for all the traditional Italian fare; delicious pizzas, homemade pasta and divine desserts. There's special themed nights, too – if you're lucky enough to stay during pizza night, you'll be treated to an evening of freshly-made stone oven pizzas, and the most indulgent, delicious Nutella Calzone for dessert. If you'd like to get a taste of Italian cuisine yourself, you can take a hands-on approach to by start with a visit to the local market to select fresh ingredients and then enjoy a cooking class to prepare yourself a delectable meal.
You'll be spoilt for choice with things to do at the hotel, from relaxing in their luxury spa to river rafting, mountain biking and kayaking in the local area. We loved wine tasting in local winery Podere Còncori, where you can also enjoy a delicious lunch, and taking a cookery class in the hotel. The Renaissance Tuscany offers a range of different private cooking experiences – we took part in the classic culinary experience (170 euros per person) which includes a cookery class, three-course meal and accompanying wine.
The hotel is also the perfect base for a wellness-focused break, we spent our days kayaking along the spectacular Fiume Serchio with E20 Avventure, enjoying an outdoor Hatha yoga class with teacher Marzia Cavana, which boasts beautiful views of the valley below, and indulging in a soothing massage using fragrant local herbs. The resort makes the perfect break for the active holidaymaker, with its stunning outdoor pool, spa and thermal areas, gym and indoor pool with counter-current technology, plus lots of hiking trails, mountain biking runs, river rafting and yoga on offer a the hotel. Of course, if you want to sit back and eat gelato all day, that's totally fine too.
There is so much to love about the Renaissance Hotel. Perfectly positioned for exploring the best of Tuscany, the hotel lends itself well to a gourmet, fun-filled trip. Equally, if you're feeling world-weary and just want to kick back by the pool all day and drink rose, it's perfect for that, too. It's the kind of hotel that can shape-shift perfectly into the holiday you really need – personal, bespoke and guest-focused, this is a hotel designed with the guest experience at its core. The hotel gave me the break I didn't even know I needed, one away from the hustle and bustle of London, and, for that, the Renaissance Hotel Tuscany will always have a special place in my heart.