About Time x NYC: Five Lunches You Need to Eat in New YorkBy Angelica Malin
Fancy discovering some new places to eat in New York? You're in luck. The secret is out: we love New York. Earlier this year, we paid a visit stateside with La Compagnie Boutique Airline and ate everything in sight, all in the name of research. Thus, this week, we're running a special New York takeover on About Time, where we'll be discovering New York's best breakfasts, lunches, fitness trends and boutique hotels. New York lunches are simply unbeatable – here's 5 of our favourite lunches we tried in NYC:
Places to Eat in New York: For Sandwiches
1. Killer Sandwiches: Tiny's Giant Sandwich Shop
What to Order: Humongous Hummus – homemade hummus, roasted red peppers, lettuce, tomato, sprouts, shredded carrots, and honey mustard on 7-grain ($9)
What They Say: Inventive sandwich shop also serving light breakfasts and coffee in a small, bare-bones setting, Tiny's Giant is a fun spot for grabbing a bite with friends. They serve a range of hot and cold sandwiches, all of which can be added to – ideal for a DIY lunch.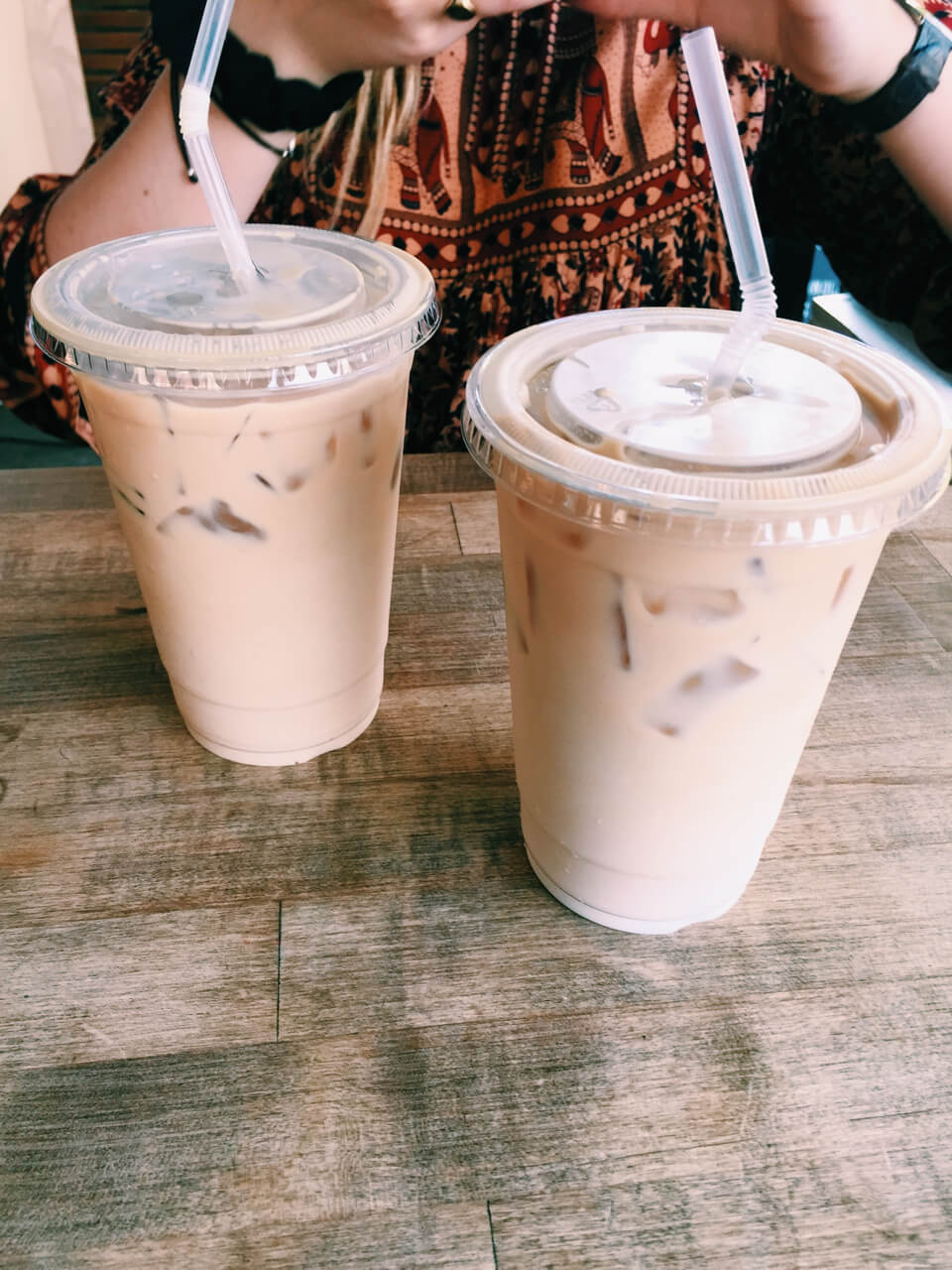 What We Say: One of our favourite places to eat in New York when you want something quick. A cute, unassuming coffee shop in the Lower East Side that just happens to do some seriously good sandwiches and iced coffees. The perfect place for a lunch pit-stop when you're out shopping, the food here is quick, tasty and inexpensive. Their sandwich menu is amazing; you won't want to miss the Club Sandwich, a triple decker piled high with bacon, lettuce, tomato, sprouts and carrots, plus turkey, avocado, swiss cheese or roast beef, on sliced 7-grain. For veggies, we loved the hummus sandwich with a delicious honey mustard dressing – add in some halloumi for a little something extra and order an iced latte. Also, free crisps. Just glorious.
Where: 129 Rivington St, New York, NY 10002, United States
Places to Eat in New York: For Fusions Food
2. Japanese Tacos: Takumi at Chelsea Market
What to Order: Spicy Tuna Tacos – sashimi grade big eye tuna, jicama, avocado, cucumber, spicy mayo, radish, sesame seeds, crispy gyoza shell ($5.74)
What They Say: Takumi NYC started life as a pop-up stand at Smorgasburg and Brooklyn Flea, and has expanded to various pop-up locations around Manhattan. Takumi was born from the love of two amazing cuisines; Japanese and Mexican. The food ventures was conceived by Marc Spitzer and Derek Kaye, as an extension of their creativity; it's the perfect place to stop for a quick, flavoursome lunch, for those on-the-go, create a burrito bowl and take it with you.
What We Say: Oh boy, you're in for a treat. These Japanese-Mexican creations are truly a thing of beauty. Our favourites are the tasty spicy tuna tacos and the Sapporo-braised short rib with cabbage, Japanese mustard, scallion, yuzu avocado crema, black sesame seeds and corn tortilla. They also do killer sides – which you can get if you order a Bento Box – including the Takumi Slaw – red cabbage, napa cabbage, edamame, carrot, jicama, radish, string beans, sesame seeds and sesame dressing, and the beautiful Charred Corn Salad with charred corn, shishito pepper, tomato, kale, edamame, brussels sprouts and miso vinaigrette. The fusion food of dreams. Eat a Japanese-Mexican picnic on the nearby Highline and thank me later.
Where: 75 9th Ave, New York, NY 10011, United States
Photos courtesy of the restaurant 
Places to Eat in New York: For Diner Vibes
3. Pierogi + Pancake Feast: Veselka NYC

What to Order: Pierogi – fillings include potato, cheese, meat, spinach and cream cheese, sauerkraut and mushroom, arugula and goat cheese ($7 choice of four)
What We Say: One of our favourite places to eat in New York  when you want something really special. Just amazing. A really easy, laid-back diner that serves such good, simple and honest food – the kind of food you want to eat again and again. The Ukrainian-style dumplings are handmade daily in their kitchen, served boiled or fried with sautéed onions, apple sauce and sour cream. You honestly won't find better Ukrainian dumplings in New York than here; served with delicious dipping sauces, eating here is a real experience. The food is cheap, too – a huge stack of blueberry pancakes will set you back around 10 bucks, and you'll struggle to finish them. They make around 3,000 pierogi every day, so they're doing something right. Also, the restaurant is open 24-hours, so you can't a pancake fix at any time. What a place.
Where: 144 2nd Ave, New York, NY 10003, United States
Places to Eat in New York: For Bagels
4. DIY Bagels: Murray's Bagels
What to Order: Roz's Reuben – New York-style corned beef, swiss cheese, sauerkraut, Russian dressing ($11.25)
What They Say: Since 1996 Murray's Bagels has been serving Greenwich Village the finest in traditional, NYC bagels. Their hand-crafted methods are what make a Murray's Bagel so delectable; their amazing selection of bagels are hand-rolled and made fresh everyday from just a few simple ingredients. Murray's Bagels offers a selection of signature sandwiches featuring authentic, fresh-sliced meats and cheeses from their deli as well as homemade salads, plus all sandwiches are made fresh to order.
What We Say: Oh man, these bagels. Fresh, sweet, delicious – these bagels are truly unbeatable. You can choose to make up your own bagel (choose from plain, onion, poppy seed, sweet cinnamon, rye or garlic) with a massive range of fillings, including New York style corned beef, homemade roast beef or roast turkey, natural smoked turkey, breaded chicken and so, so many more. If that's a little overwhelming, try one of their ready-to-go bagel options; we love Rivington Street with Nova Scotia salmon and sable, plain cream cheese, tomato and onion, and Red Hook Brooklyn with smoked turkey or homemade roast beef, Swiss cheese and roasted pepper. Truly, the bagels of dreams.
Where: See locations here
Places to Eat in New York: For Asian Deliciousness
5. Japanese Bento Bowls: Blue Ribbon Sushi at Brookfield Place
What to Order: Bento Bowl – rice or noodle with vegetable and fish ($16)
What They Say: Blue Ribbon Sushi Bar offers New York City's finest sushi to the Financial District, with a 16-seat sushi bar and to-go menu. The sushi spot is located inside trendy Brookfield Place – a fantastic shopping centre, with a winning food court, in the Battery Park City neighborhood of Manhattan. Blue Ribbon is a fantastic place to grab lunch on-the-go, to be enjoyed by the Hudson River just outside the centre. On warmer summer days, there's nothing finer than munching one of their Japanese bento bowls in the sunshine.
What We Say: One of our favourite places to eat in New York for Asian food. Bento bowls like you won't find anywhere else in New York, the description doesn't really do them justice. Here you can choose to customise your bowl with steamed white or brown rice, and them add in the most delicious selection of Japanese salads and vegetables, alongside beautifully light sushi-inspired fish, such as tuna poke or salmon sashimi. I got the salmon sashimi with sesame seaweed salad, smoked chilli tofu, mixed leaves and Japanese aubergine, on brown rice, and I can tell you it was very, very good news indeed. They also do a really rather lovely kale salad with quinoa, flax seeds and tahini miso dressing, and a great a la carte sushi menu, featuring blue crab, smoked sake, fatty tuna and spicy lobster sushi. For something wonderful try Tekka Don – a lovely Donburi bowl with Japanese-inspired tuna and avocado on sushi rice. Yes, please. 
Where: 225 Liberty Street, New York, NY 10281
La Compagnie operates twice daily flights from Paris CDG to New York from 700 euro return – see more here. For more information on New York, visit the official NYC Go website here.