Perfect Weekend: 48-Hours in the Cotswolds with Ford VignaleBy Angelica Malin
The Cotswolds is my happy place. When the hustle and bustle of London gets too much, I love nothing more than packing up a car, buying absurd amounts of travel snacks and escaping the big smoke to somewhere that serves a really decent cream tea and has open log fires. The quality of the air, the pace of life, the bountiful tea shops, for me, the Cotswolds is a place full of pure joy.
Thus, when Ford asked me if I'd like to escape for the weekend to the Cotswolds and give their Ford Vignale a whirl, I jumped at the chance. This really is the car for an adventure; a super slick ride, with an 8-inch touchscreen entertainment system, reduced road and engine noise, electrically adjustable driver's seat and the sexiest Vignale leather upholstery, hand stitched and quilted, for a luxury ride.
We loved playing around with the car for the weekend, and found so many great hidden gems in the Cotswolds during our adventure. If you're looking for a festive mini break, here's my perfect countryside weekend all mapped out:
The Cotswolds: What to Do
Visiting the chocolate box villages of the Cotswolds is a must. What we loved about the Ford Vignale is the touchscreen entertainment system, which is great for long journeys, as you can link up your Spotify account and all take it turns to be car DJ. What's more, the car can read out your text messages for you, which is great for safe, hands-free driving. If you're pressed for time, here's four of my favourite villages to visit in the area:
Bourton-on-the-Water
Known as the Venice of the Cotswolds, Bourton-on-the-Water is one of the prettiest villages to explore; divided by a canal, the village is full of adorable tea shops, local gift stores, fancy hotels and rural pubs. Stop by the Bakery on the Water for one of the best carrot cakes in town, and take it the beautiful scenery.
Stow-on-the-Wold
Another adorable village in the Cotswolds, Stow-on-the-Wold has such a lovely, warm atmosphere, with lots of cutesy tea rooms, traditional outfitters and delicious bakeries. You must pay a visit to Roly's Fudge Shop to see fudge being made – their Baileys Butter fudge is a thing of true beauty.
Woodstock
Woodstock is a must-visit in the Cotswolds. This adorable village is home to Blenheim Palace – one of the most lovely palaces in England – and has so many great spots to discover. Don't miss The Crown, a local gastropub which serves up the best Sunday roast in town and is the perfect spot to enjoy mulled wine by a roaring fire. Woodstock is everything you could want in the Cotswolds village and more.
Chipping Campden
Chipping Campden is a small market town in the Cotswolds, with a beautiful, elegant terraced high street, dating back to the 14th century. Come here to potter around the high street, taking it all the lovely cafes and stopping by the artisan food shops to stock up on homemade marmalade and locally made delights. Badgers Hall tea room is great for a traditional afternoon tea in the most warm setting.
We rented a cottage in the delightful village of Swerford through Kate and Tom's, and I couldn't recommend it more. The Old Cottage is Swerford was just fantastic – a grade II-listed property, with a small but perfectly formed garden, rural simplicity, relaxing private spaces, three bedrooms and the most perfect location, we loved our stay here. Having your own Cotswolds cottage really is the dream; this cottage has the most beautiful all-white interiors, cosy log fires, tons of books and DVDs and its own garden for BBQs.
Let's just say we stocked up on local cheeses, Malteasers, Lindor chocolate and nuts, made our own mulled wine and put on The Holiday. That's doing the Cotswolds in style, right there.
The Cotswolds: Where to Eat 
We basically ate our way through the entire Cotswolds. Here's where we loved:
For Fancy Pub Fare: The Kingham Plough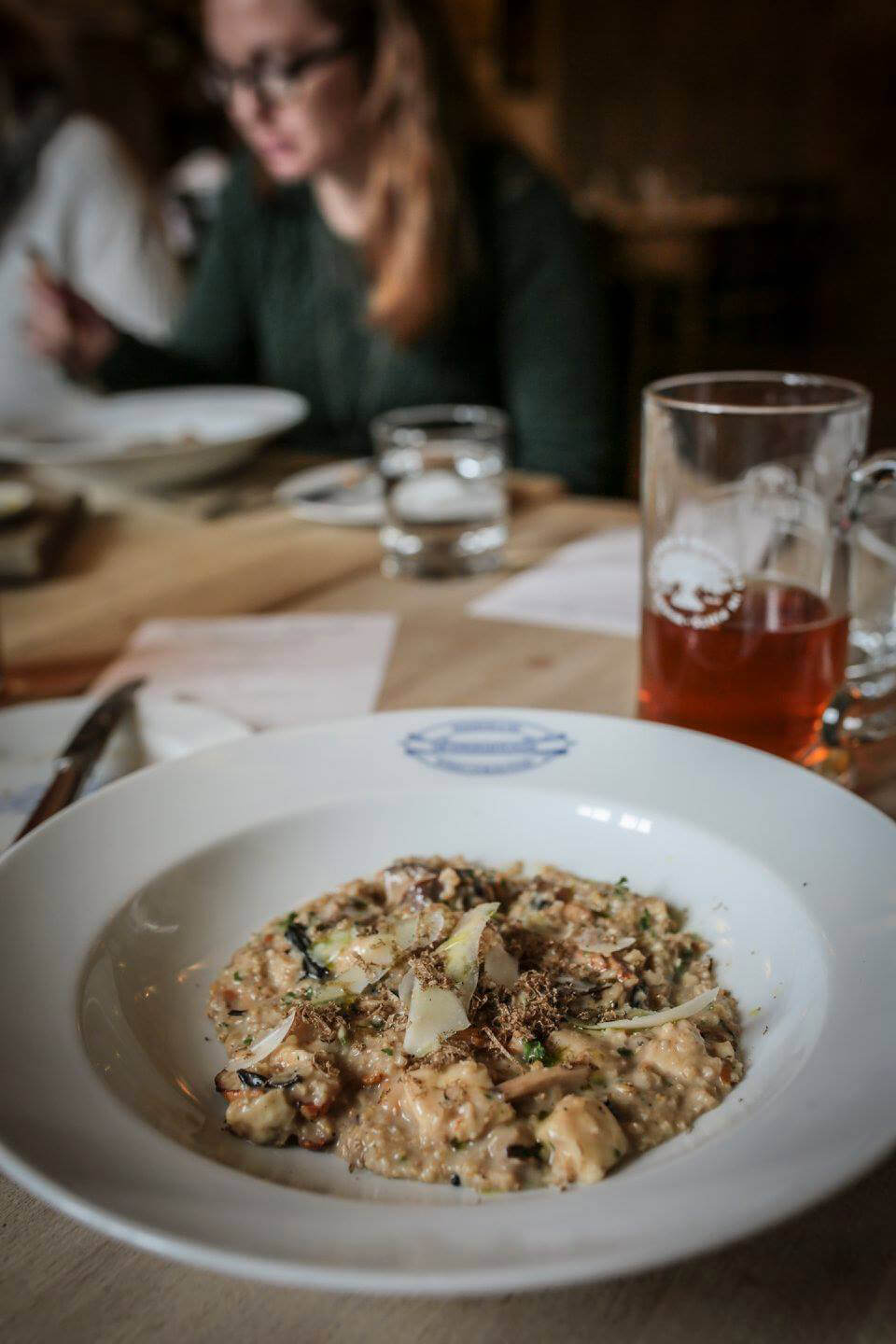 The Kingham Plough is an award-winning pub with rooms in the heart of the Cotswolds, run by husband and wife Emily Watkins and Miles Lampson. Expect really good local food, including Cotswolds cheeses, homemade pies and locally sourced vegetables. We enjoyed a feast of watercress soup, blue cheese and leek pie and the best homemade hot chocolate souffle with marshmallows. The food here is dreamy, and it has a lovely, homey atmosphere.
For Local Lunch: Vernes Restaurant
If you're looking for a local lunch in one of the lovely Cotswolds villages, Vernes is the one for you. They serve a range of homemade delights, including jacket potatoes, sandwiches, fish and chips, burgers and homemade quiches. The afternoon tea is really what people come for – expect delicious scones with clotted cream, homemade Millionare Shortbread, cakes and the best hot chocolate around.
For Private Dining: Bensons Catering
We treated ourselves to dinner cooked by a private chef in out cottage and it was the best decision ever. It meant we got to relax in front of the fire on Saturday night, with a glass of mulled wine, knowing we could sit down to a delicious meal in the evening. Bensons Catering provide catering and delivery services throughout Gloucestershire, the Cotswolds, and beyond. The company was established in 2006 by former Claridge's sous chef, James Benson – originally as Benson of Broadway – so you can enjoy fine foods in your own home. One of my friends is vegan and James whipped us up a vegan feast, including vegan potato gnocchi, vegan apple pie with cashew nut ice cream and even vegan sticky toffee pudding with dairy-free cream. I couldn't recommend it more!
About Time was a guest of Ford UK in the Cotswolds – for more information about the Ford Vignale, see here. To rent The Old Cottage in Swerford, see here.