In the water taxi from the airport into Venice, heady with nostalgia for the different periods of this magical city, imagining boats piled high with rugs, fruits, and burning incense during the days of the Silk Road, a whiff of an exotic scent wafts into the air and I imagine it must be a smell that has hung in the air here for years, for centuries!
Debating all the things it could be, my travelling companion and I see a plume of smoke rise from the driver and see him exhale a bubblegum perfumed puff. This is Venice. A terracotta hued lagoon city built on canals that are reconciling its place in antiquity with the modern-day. Of course, you must tick off the Venetian rites of passage: marvel at the Basilico San Marco in St Mark's Square and cross the Rialto Bridge for the obligatory selfie, however, make sure to put your map away and get lost in this labyrinthine city to find your own favourite spots.
Where to Stay: Hilton Molino Stucky Venice
A former flour mill and pasta factory on the island of Giudecca, one of Italy's most productive – at one point producing 50 tons per day operating 24/7 – fell into disrepair for 50 years following the death of its founder, Giovanni Stucky. Hilton Molino Stucky Venice has turned it into an astonishing hotel that pays homage to its industrial past.
In the bedrooms, heavy-duty original cast-iron structure supports beautiful heavy wooden beams, framed by ornate Venetian finishes such as glass chandeliers and statement lamps. Fill up on an extensive breakfast replete with continental and Italian fare before setting out to explore. In the evening check out Skyline, its rooftop bar for innovative cocktails with a serious view. The hotel offers a free waterboat service to Zattero and San Marco, two of the most well-connected locations to the tourist hotspots.
Where:  Hilton Molino Stucky Venice, Giudecca, 810, 30133
Price: Nightly rates start from 180€ on a B&B basis
Venice: What to Do and See
For an Art Lovers Dream: Peggy Guggenheim Collection
Peggy was an American heiress who lived out her last 20 years in the palazzo which now houses one of the most impressive collections of modern art in the world. Pollocks, Picassos, Modiglianis and Miró's all hang in close proximity to each other in a carefully curated portfolio of works by people that Peggy counted as friends. Stroll around the sculpture garden and see more contemporary works by the likes of Anish Kapoor, Jenny Holzer's thought-provoking words on marble and Peggy Guggenheim's final resting place laid next to her beloved pets.
Where: Peggy Guggenheim Collection Dorsoduro, 701-704, 30123
For Serious Stationery: Il Gufo Artigiano
There are many (more expensive) stationery and calligraphy shops in Venice. This is a real hidden gem, a small shop filled from floor to ceiling with hand-marbled books, wrapping papers, stamps and wax to seal your letters with. Who said the art of letter writing is dead? Whoever said that didn't have the right (or should that be write?) equipment.
Where: Il Gufo Artigiano, San Polo 1071
For a Gondola Full of Books: Libreria Acqua Alta
A cat languishing over postcards and a calendar of sexy priests are curious enough as you approach this bookshop which is stuffed from floor to ceiling with books in English and Italian, and also in gondolas in the middle of the bookshop. Cheeky and playful, this bookshop has been named one of the most beautiful in the world and it's easy to see why.
Where: Campiello Testori, Sestiere Castello, 5176, Venice 30122
For a Celebration of Unique Craftsmanship: Gianni Basso Stampatore
Although we have upped our stationery game over the last few years in the UK, nobody does it quite like the Italians. Gianni Basso is a stampatore, who has been handcrafting insignias and stamps for decades for a clientele residing in every corner of the world. Walking down a quiet street, you will be stopped in your tracks by some of his designs in the window. Step in to find a treasure trove of tools and a lost art that charming Gianni is upholding while creating exquisite stationery on every sort of setting you might dream of.
Where: Gianni Basso, Cannaregio, 5306, 30121
Photo credit: Litografiska Museet
Venice: Where to Eat
For the Best Bar with Snacks: La Palanca
Ciccette is Venice's version of tapas; slices of local bread piled high with fresh deliciousness from bacalao to prawns and vegetables. La Palanca on Giudecca is one of the best and is where the locals go. Eat with a Campari/Aperol Spritz in hand.
Where: La Palanca, Giudecca, 448, 30133
For a Local Hidden Gem: Ai Botti
Located on the water in Giudecca, a short vaporetto ride from St Mark's Square, is Ai Bottea where you arrive and are treated like a friend as soon as you walk in. Fresh pasta and seafood are on the menu. A father and son were eating something intriguing as we sat down. On enquiring what it was, the Chef said it wasn't on the menu but he had enough ingredients for one more: a rich, flavourful Venetian version of bouillabaisse. Followed by an order of meatballs (polpettine) – a must-have. It's a very special place.
Where: Ae Botti, Giudecca, 609, 30133
For a Special Treat: Aromi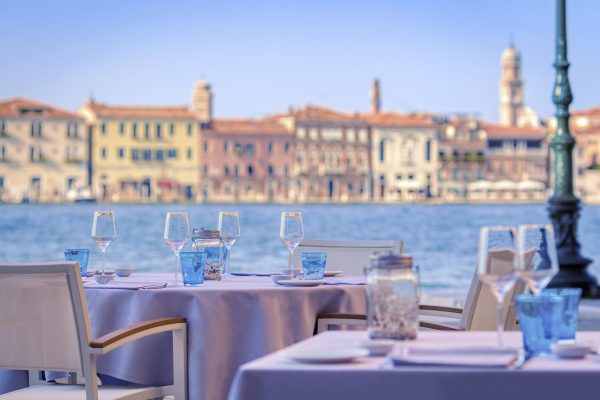 Chef Luca Nania has curated an exceptional tasting menu that showcases the best of Venice and Italian fare presented on a variety of stylish plates, dishes and marble accoutrements. Ingredients are surprising and infinitely break the stereotypes of pizza and pasta. Italian fine dining looks like cured amberjack a frothy red turnip purée or a buttery gnocchi that melts on your tongue in a spoonful that also includes mussels, slipper lobster and mullet beluga or seared prawns with Sicilian eggplant caponata. Aromi promises an interesting combination of flavours and textures for a memorable dinner overlooking the twinkling lights of mainland Venice.
Where: Sestiere Giudecca, 810, 30133