Think of Arizona, and you're met with images of its rugged mountain range, desert basin, and stunning natural beauty. Arizona has more parks and national monuments than any other state, more mountains than Switzerland, and more golf courses than Scotland. And while the majority of us Brits think of Phoenix when Arizona is thrown into conversation, it's super chic Scottsdale that's the luxury American destination  luring out-of-towners and travellers from across the pond.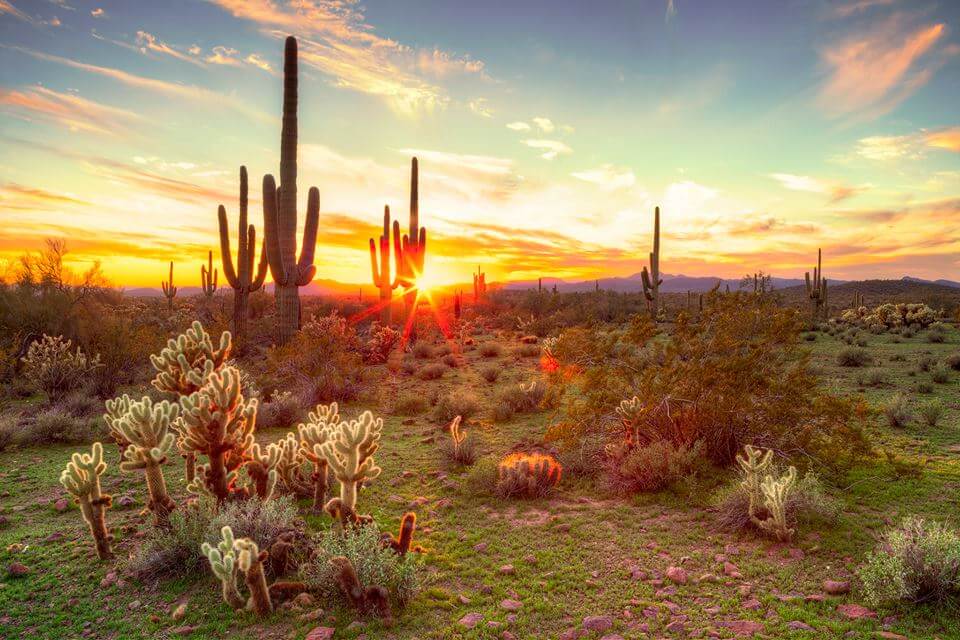 Nestled deep in the Sonoran Desert, Scottsdale is the definition of the word, juxtaposition. Sun-drenched mountains dominate the skyline, while toy-town shops are located nearby. But the beauty of this place is its diversity – you can hike up the famed Camelback Mountain in the morning (best to go before the afternoon sun hits), before sipping mimosas by the pool in the afternoon. It's a city that offers nature, a cosmopolitan feel, but most of all, tons of variety.
Although the landscape is a unique selling point, Scottsdale has become a cultural hotbed in recent years; the art scene is cultivating young talent, produce-led restaurants showcasing the finest Scottsdale ingredients are making serious waves in the foodie world, and the music scene is firmly on the up. Scottsdale has managed to successfully shake the image of only being a place to bring your clubs and play on the green; this city is alive and there's never been a better time to visit.
Scottsdale: Where to Stay
Andaz Scottsdale Resort & Spa is one of the latest properties to be added to Scottsdale's growing luxury portfolio. Opened last year, the hotel is more of an artistic haven than a night's stay, with Andaz decked in local artists work showcasing new and emerging talent. A love of art and literature courses through the veins of this place, from the thoughtful décor to the local artefacts that festoon the walls.
Andaz has been built with one theme in mind: community. Whether that's hanging out by the communal tables, pulling up a chair at the central bar or digging into sharing plates at Weft & Warp Art Bar + Kitchen, there's a real sense of belonging here. Weft & Warp Art Bar + Kitchen is a stunning space; modern features seamlessly blended with homely touches – there's everything from sleek tabletops to lavish upholstered chairs and sofas. And the abundance of floor-to-ceiling glass windows creates a vast open space, and you can easily spend hours hanging out in the various corners.
The outdoor pool lined with cabanas looks something plucked straight out of the Maldives. If fancy a day by the pool, with a cocktail in hand, that's totally doable here.
The rooms are each housed in separate bungalows, and is reminiscent of a subterranean bunker. The outside has been decorated with beige and terracotta colours, an homage to the Camelback Mountain backdrop. The hotel manages to meld an intimate and homely vibe with luxurious modernity. The decor is restrained, with a neutral palette throughout: think classy creams, bronzes and blacks. But the textiles are luxuriant and sensuous.
Scottsdale: Where to Eat
Scottsdale's culinary landscape is diverse and forever growing. There's everything from casual barbecue restaurants to independent eateries and everything in between. Here's out favourite neighbourhood gems:
What: With Mexico as Arizona's neighbours, it's no surprise that the Mexican grub in Scottsdale is knock your socks off fantastic. There's no better place to satisfy your guacamole and taco fix than The Misson;  a low-lit, ultra cool restaurant in Old Town Scottsdale. Upscale Latin cuisine and craft cocktails is the order of the night, and if you ever wondered where Scottsdale natives dine: it's here.
Eat and Drink: Tableside guacamole is a big thing at The Mission – chunks of avocado weaved with onion, fresh garlic, sea salt, lime and tomatoes. Pile the tortilla chips high and bask in all the healthy fats. The mains read like our favoured death row menu, and essentially includes everything we like. The pork shoulder, served with house made chorizo, rosemary, cotija, white bean puree and sweet garlic crema is the restaurant's crowning glory. Every mouthful better than the last. It's a simply stunning dish.
Where: 3815 N Brown Ave, Scottsdale, AZ 85251
What: If you want to see how Americans really do brunch – Hash Kitchen is your best bet. It's over the top, slightly on the gluttonous side, but it's a must if you're visiting Scottsdale. Let your imagination run wild at the DIY Bloody Mary bar (there's over 40 toppings to choose from), and make it as quirky or heady as you like. Top your Bloody Mary with everything from hotdogs to gherkins, pickled onions and other mystery meats.
Eat and Drink: Their brunch menu is a minefield of tasty eats, but be prepared to loosen your trousers, or take home a doggy bag. They don't scrimp on portion size here. The sweet apple pie pancakes is essentially dessert for breakfast, but it's super tasty. Other menu highlights include lump crap frittata with house potatoes, chicken and waffles with fried leeks, and steak and eggs. And we're never one to turn down a breakfast lasagne.
Where: The Shops Gainey Village, 8777 N Scottsdale Rd, Scottsdale, AZ 85253
What: If you're an avid fan of Diners, Drive-ins and Dives, you may recognise The Thumb. Presenter Guy Fieri dubbed this place as serving up 'competition style BBQ'. But there's something that also makes The Thumb pretty unique – there's also a gas station, car wax and wash service, a fresh market and coffee shop on site. Get your car washed while you chow down on some meat, and buy a fridge magnet for the road.
Eat and Drink: The beef brisket sandwich is iconic: melt-in-the-mouth brisket topped with a tangy garlic aioli and pickles, and sandwiched between Texas toast. Everything works. And for veggies, try the caprese sandwich featuring thick slabs of fresh mozzarella, juicy tomatoes and a dousing of pesto – it's lunchtime perfection. We've also got a lost of time for the breakfast tacos with creamy scrambled eggs, potatoes and cheese. The sweet potato fries are gloriously crispy, with a fluffy centre. Make sure you order a portion, or two.
Where: 9393 E Bell Rd, Scottsdale, AZ 85260
For BBQ: Bryan's Black Mountain Barbecue
What: Welcome to Bryan's Black Mountain Barbecue, a casual hangout dishing up barbecue favourites in large portions that could portably feed a whole village. Not a place you'd whisper sweet nothings over the table, but a place to ditch the cutlery, grab a handful of napkins and just get stuck in. If you're lucky enough to visit on a Friday, their serve their legendary fried frogs legs.
Eat and Drink: Wear something that has a lot of give, or prepare to stew for a good few hours after – the portions are colossal. The brisket is wonderfully juicy, and the ribs are slow-cooked, so the meat literally falls of the bone. The pulled chicken sandwich benefits from a punch barbecue sauce, and the meat is flavoursome and tender. If you like meat, you're in for a good time. Probably best to leave your veggie pals at home, although their vegetarian pulled sqaush ain't too bad. You can order pints of sides. We say, order the coleslaw and cowboy beans – they're too good to miss.
Where: 6130 E Cave Creek Rd, Cave Creek, AZ 85331 
Scottsdale: What to Do
The best things to do in Scottsdale is essentially your bucket list. Take a flight over the Grand Canyon, enjoy a hot air balloon, or hike up Camelback Mountain. Here's what you need to know:
Fly and Hike Tour of the Grand Canyon 
The Lowdown: There's no words to describe the Grand Canyon in all its natural beauty. As cliche as it sounds, it's simply breath taking, awe inspiring – there's not enough adjectives. Pictures really don't do this place justice – you can't comprehend the sheer scale of the Canyon until you're there. West Wind Air Service offer an incredible package – a scenic, narrated flight over Sedona, Coconino Plateau and overflight of the Grand Canyon, followed by a 3 mile roundtrip hike in the canyon itself. An experience you simply can't miss, and one that you'll talk about for years to come.
Watch the Rodeo at the Buffalo Chip Saloon
The Lowdown: Us Brits like to go down to the local pub on a Friday night, Scottsdale natives like to hang out at Buffalo Chip. Rodeos are still a popular activity in Arizona, and at Buffalo Chip anyone can take part. Pay forty dollars, don some spurs, and try and sit on a bull for as long as possible. People with extreme motion sickness need not apply. The atmosphere here is electric – the crowd, the music – it's an all encompassing venue that's a guaranteed good time. When the rodeo finishes, everyone heads inside for the toe-tapping, head shaking live band.
The Lowdown: One of the best ways to soak in the Scottsdale landscape is by air, and the hot air balloon ride by Hot Air Expeditions is another bucket list must. Before you reach for your health insurance package, don't fret – you travel at speeds of five to six miles per hour, and there's virtually no sensation of motion because you're flying with the wind. Your pilot will explore a variety of altitudes, up to 3,000 feet in the air for a marvelous overview of the valley, to just under 400 feet from the ground where you are able to see the sights and sounds of desert life. And there's a post-flight breakfast thrown in too.
The Lowdown: Camelback Mountain (named because the shape resembles the hump and head of a kneeling camel) is regularly listed at one of the nation's top hiking destinations for the avid explorer. It isn't the easiest of hikes (prepare to crawl, or hold tight on the hand rail for the first part of the hike), but it's all worth it. The summit of Camelback Mountain boasts sensational views of Scottsdale below, and it's totally worth the early start. Stick it on your Scottsdale to do list, immediately.