A bastion of movers, makers and musicians, Portland is one of the most happening cities in the North West of America. With a population of 600,000 and the capital of Oregon, Portland is finding its stride with a flourishing foodie landscape and an even bigger scene when it comes to home-made goods. And the rumours are true; there's bearded men and Patagonia tees, coffee houses at every turn, a lively craft beer culture and clusters of street food carts.
But to sell Portland on their caffeine and microbreweries alone would be selling this place short. It's unashamedly hip, and yet it's halfway between edgy, boutique city, and eco-friendly utopia. Portland will seduce you with its charm, and so will the people. Here's our favourites spots in Oregon's most happening city.
Photo Credit: Torsten Kjellstrand
Portland Guide: Where to Stay
The Rundown: A former motor lodge turned boutique digs, The Jupiter Hotel is located on Portland's east side, rich with doers, drinkers, culinary creators, clothiers and dancers. The 81 room hotel does what it says on the tin: a central location. Check. A more than fully equipped room. Check. And prices that won't swallow your holiday fund.
The Rooms: Rooms range from the classic double room to the more spacious suites. Paying homage to the hotel's on-site gallery, custom murals are emblazoned on the room's walls, and each room has its own unique style and personality. The classic double rooms are decked out in mid century modern-style furnishings, along with all the mod cons such as free wifi and a flat screen TV.
Where: 800 E Burnside St, Portland, OR 97214, USA
Portland Guide: What to Do
The Lowdown: Portland offers the best of both worlds; a city with all the bars and eateries you could wish for and, on the flip side, miles upon miles of unspoilt scenery and natural wonders in the city's back garden. We say, rent a car for the day, pack your camera and prepare to be surprised.
Don't Miss: A leisurely drive on the Historic Columbia River Highway is a popular way to experience The Columbia River Gorge. Offering 292,500 acres of unparalleled scenery and outdoor recreation options, the Women's Forum and Crown Point is one of the most iconic places to take photographs of the Columbia Gorge. Located approximately 15 miles east of Portland, Crown Point provides panoramic views of the Historic Columbia River Highway.
Continue along the Historic Columbia River passing several waterfalls and take the short walk to Latourell Falls. A tall single-plunge waterfall of 224 feet spills over the lip of an undercut amphitheater of tall pillars of columnar basalt. If you're short on time – just make sure you visit this waterfall. And for another waterfall, Multnomah Falls is the second highest year-round waterfall in the United States.
Photo Credit Second Image: Ron Reiring 
The Lowdown: Portland is positively overflowing with movers and makers who create everything from clothes to craft beer, soaps to shoes, and kombucha to kitchenware. Portlanders are proud to house such a creative mix of shops and businesses – and you can pick up one-off pieces and knick knacks wherever you turn.
Don't Miss: Wildfang is one of Portland's biggest success stories. Founded by Emma Mcilroy and Julia Parsley who first met at Nike, the duo set up Wildfang, a feminist clothing brand which seeks "to liberate menswear one bowtie at a time" with stylish blazers, button-downs, cardigans, and more for women. Their stores are stocked with power suits, their iconic 'Wild Feminist' tees and collabs with other brands of the moment. Stop by Maak Lab for soaps and fragrances made on-site, and if you're interested, the team also run fragrance workshops where you can try your hand at making your own scent. Don't miss world famous Danner Boots for the trendiest and most practical footwear in town, and Lark Press for special prints and cute graphics.
The Lowdown: Dubbed one of the most authentic Japanese gardens outside of Japan, the Portland Japanese Garden underwent a $33.5 million cultural village expansion project back in 2017, and now sprawls 5.5 acres offering five separate garden styles, an authentic Japanese teahouse (demonstrations only), meandering streams, intimate walkways and an unsurpassed view (weather permitting) of Mount Hood.
Don't Miss: Make a day of it and start at the Umami Cafe for matcha treats and Japanese tea inside the Cultural Village. Much lauded architect Kengo Kuma, along with curator and third-generation Japanese gardener, Sadafumi Uchiyama are the brains behind the newly designed Cultural Village which shines a spotlight on traditional Japanese arts and culture. Within the Cultural Village there's an authentic medieval castle wall built using traditional hand tools and techniques under the watchful eye of Suminori Awata, a 15th-generation Japanese master stone mason.
Photo Credit: Roman Johnston | Mike Centioli
Portland Guide: Where to Drink
The Lowdown: Like with all Ace Hotels found throughout America and beyond, you know its going to be filled with kooky art, chic furniture and that Ace Hotel vibe that so many hotels try to mimic, but never quite get right. Clyde Common located within the Ace Hotel is a European-style tavern knocking up world class cocktails by mixologist legend, Jeff Morganthaler (the guy fashioning that dashing apron in the picture above).
Eat and Drink: You may have never heard the name Jeff Morganthaler, but if you're a cocktail connoisseur, he was the bright spark who decided to barrel-aged cocktails. He's a pioneer of the liquids, and not afraid to push the boundaries when it comes to imaginative tipples. Taste cocktail innovation with Jeff's barrel-aged Negroni; here it's the real deal.
Photo Credit: Alan Weiner Photos
The Lowdown: Not a fan of cocktails? No biggie, Ecliptic Brewery has your back. The brewery-cum-restaurant is a mecca of beer. John Harris, an Oregon craft brewing icon, is the man behind it all. Their philosophy is to push the limits of creativity in the brewhouse, and create a sense of place in both the restaurant and the beer they build. 'Ecliptic' refers to the yearly path around the sun, and they celebrate the changes in seasons through their beer and food.
Eat and Drink: Taste the beer-y rainbow with a beer flight which includes four half pints of rotating specials. Beer includes the likes of the Carina Peach Sour Ale, Starburst IPA, Capella Porter, and Orbitera IPA. And for eats, there's everything from burgers to salad, oysters and fried fare.
Portland Guide: Where to Eat
The Lowdown: Located on a quiet street on the north side of Mt. Tabor, Coquine's rustic, farm to fork menu has been sending people into overdrive since opening in 2015. The French inspired home-style cooking has been lauded by critics, Portlanders and anyone else who cares to listen. Their dinner is fab, but breakfast is a must.
Order: Salty, smoky and chocolatey all in one bite: the chocolate chip cookie with smoked almonds is not a breakfast dish, but it's imperative you pack one in your bag for an afternoon treat. The egg and bacon brioche bun is fried with a ton of butter, and it's stick to your ribs, wonderful. There's also plenty of veggie and vegan options and for a dairy-free milk, their homemade almond hazelnut milk is divine.
Where: 6839 SE Belmont St, Portland, OR 97215, USA
Photo Credit: Carly Diaz 
The Lowdown: The West Coast has In-N-Out Burger, but Portland has Little Big Burger and that knocks all the meaty competitors out the water, mainly because their burgers are made from organic, sustainable beef that is both tender and juicy. Everything is made fresh to order, and you can really taste the quality of ingredients here.
Order: As the name suggests, the burgers are smaller than your regular patty, but we think they're just the right size. The cheeseburger is an undisputed classic and for under three dollars, their truffle fries are utterly moreish. They have regularly rotating specials, and if you've been blessed by the burger gods – hopefully The Ringer Burger is on the menu. The flavours are relentless – crispy bacon, melted Cheddar cheese and a healthy heap of caramelised onions.
Where: Locations here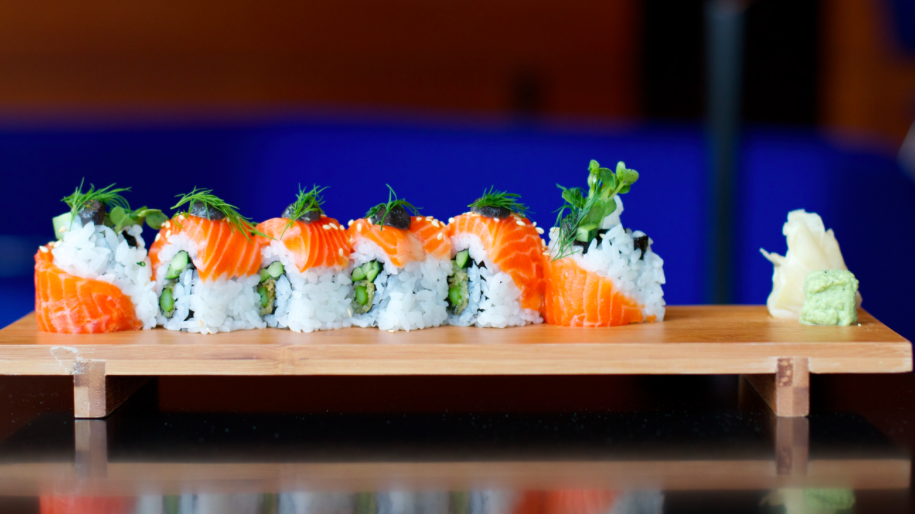 The Lowdown: If Departure was a person, we'd make love to it. Daily. This upscale eatery in Downtown Portland is a cacophony of tastes, with the Asian fusion menu bringing together flavours from South Asia and beyond. It's bold, it's shouty, it's boisterous – and good grief, that's why we urge you all to visit.
Order: We like to think of ourselves as wing connoisseurs, and the chicken wings at Departure are unlike any white poultry finger food we've ever consumed before. For more meaty thrills, the steak sushi is unspeakably delicious and the beef steamed buns are everything you could want from a fluffy bao bite. We could go on, we really could. If the holiday budget allows, just order as much as your stomach can handle – everything is excellent. And they're great for accommodating dietary requirements.
Where: 525 SW Morrison St, Portland, OR 97204, USA
Delta's nonstop flight from London Heathrow to Portland International Airport operates four times a week until Saturday 6 October 2018, Delta offers Wi-Fi access, plus free mobile messaging, in-seat entertainment, complimentary prosecco and more. Fares start from £497, including taxes. For more information on Travel Portland, visit the website here.