As a student, I lived for three years across different areas of Paris in the 9th and 10th arrondissements. Over the last decade, I have visited Paris at least once a year drawn back to la vie parisienne, the croissants, the afternoons drinking wine on an outdoor terrace and yes, even the brashness of the Parisians.
Following a three-year hiatus because of the pandemic and returning to the city again, the lights twinkled that much brighter, the utter gorgeousness of the Hausmannien architecture was still as breathtaking and a new swathe of exciting hotel, restaurant and bar openings are proving why Paris really is always a good idea.
Paris Guide: Where to Stay
The Lowdown: Once the home of James Joyce, Pavillon Faubourg Saint Germain is the latest hotel from the Chevalier group, and is the chicest enclave for any writer (or anybody) looking for a serene space to be inspired. The sweeping edges of the historic building have been brought back to life with a contemporary edge by French interior designer, Didier Benderli, with a clever use of colour and chic muted tones. A light-filled atrium feels summery when the sun shines and cosy with an open fire during the winter months. The house is a homage to Joyce with an immaculate library and a James Joyce Bar where the finest cocktails are mixed to perfection by the clever mixology team.
Amenities are by uber cool French label, Codage, in pipette style bottles. There is a serene spa in the underground cave complete with yoga shala. Start the day with a steam in the steam room to purify from the sins of the night before and bubble away over the jets in the cooling plunge pool before enjoying a delicious buffet breakfast in the hotel's restaurant, Les Parisiens. It's also just around the corner from Musée d'Orsay.
Price: Nightly rates from £300 on a B&B basis.
Where: 5 Rue du Pré aux Clercs, 75007 Paris, France
The Lowdown: The brainchild of graffiti artist and creative extraordinaire, André Saraiva, Hotel Grand Amour is the sister property to the original Hotel Amour in the 9th arrondissement. Both hotels encompass all that is important about staying in a hotel – sumptuous beds with chic bed linen, good food, great coffee, friendly staff – and elevates it to the sort of Parisian hotel experience you dream of: sexy, fun, shameless and astonishingly good value. Best enjoyed with a lover or a friend.
Price: Nightly rates from £100 on a room-only basis.
Where: 18 Rue de la Fidélité, 75010 Paris, France
Paris Guide: Where to Eat and Drink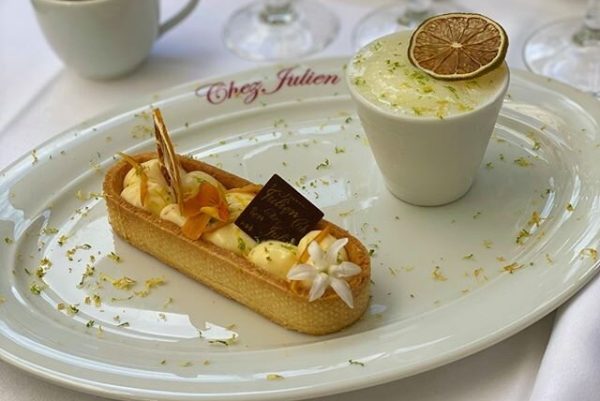 The Lowdown: A Paris institution founded in 1780 and a favourite of the fashion crowd, Chez Julien has ingeniously maintained the character and charm of its former days with its stained-glass ceilings, velvet curtains and flickering candlelight ambience and revved it up for a discerning crowd with a vibey playlist and seasonal menu. Truffle dominated in the August menu, but was never overpowering. Try the tomato and ceviche to start and Ravioles aux 5 fromages and lamb chops with truffled mash with a glass of whatever wine is recommended for a quintessential Parisian dîner.
Where: 1 Rue du Pont Louis-Philippe, 75004 Paris, France
The Lowdown: Whatever the weather, the Parisian canal is where many a flâneur will end up for an afternoon's beer or coffee at Chez Prune, a much loved unpretentious neighbourhood café, to sit and watch the world go by.
Where: 36 Rue Beaurepaire, 75010 Paris, France
Photo credit: Chez Prune
The Lowdown: Rue du Faubourg Saint-Denis has been transformed over the last decade from a place that exuded dilapidated charm to a thriving hipster scene. Before the chic bistros and zeitgeist joints, there was always Bouillon Julien. Impressive but unassuming from the outside with its heavy wooden façade, step inside for an impressionist's paradise with a hypnotising stained-glass ceiling and wall-to-wall booths. The menu features traditional French fare and its signature Bouillon Julien (beef broth). Though the food isn't the star of the show here (exceptions can be made for the salted caramel rice pudding), it doesn't really matter because the atmosphere is electric, and it feels like going back in time to the original roaring 20s.
Where: 16 Rue du Faubourg Saint-Denis, 75010 Paris, France
Photo credit: Bouillon Julien
The Lowdown: Chic bistro by day and buzzing bar and restaurant by night, Chez Jeannette is another of rue du Faubourg Saint-Denis' original pioneers and a 10th arrondissement local favourite.
Where: 47 Rue du Faubourg Saint-Denis, 75010 Paris, France
The Lowdown: Though the brand has expanded throughout Paris, Europe and New York, this is the original restaurant where you will rub shoulders with nobility and students alike for everyone knows that if you want a perfect steak frites, then you'll find it here. The special sauce is quite literally it's special sauce, a secret 60-year-old recipe that will have you reaching out for an extra bit of baguette to mop up every last drop. A steak frites with salad and a glass of wine will set you back at about €30, so a slap-up feast without the price tag.
Where: 20 Rue Saint-Benoît, 75006 PARIS
The Lowdown: Just off the Champs-Elysées is one of the city's most opulent palaces and the former abode of Napoleon Bonaparte that has kept the Versaille-esque ballrooms and fireplaces (themselves now listed as historic artefacts), and fused it with the immaculate Asian hospitality of the Shangri-La group. If you don't fancy the price tag of one of the rooms, pop into the exotic Le Bar Botaniste for their innovative take on delicious cocktails. Try the Straight Outta Louisville and Moonshine.
10 Av. d'Iéna, 75116 Paris, France
Photo credit: Skiss 
The Lowdown: Immaculately designed with a well-stocked bar and a team of dashing mixologists, come here to feel the creative spirit of James Joyce and the continued literary legacy of the Parisian Left Bank. The cocktail menu is sublime and it attracts an interesting and varied crowd. While we were there, a well-known author was propped up at the bar finishing her 51st novel with cocktail firmly in hand. Try the signature cocktail, Pré No. 5.
Where: 5 Rue du Pré aux Clercs, 75007 Paris, France
The Lowdown: Two stalwarts of the Left Bank, though they are overpriced and very much part of the tourist trail, they are because they are hallowed spaces that counted the literary greats as regulars; everyone from Hemingway to de Beauvoir, Picasso to Camus. Set on the corner of the eponymous Boulevard Saint Germain about 200 yards away from each other, choose either one to sit and have a coffee or wine and watch the world go sitting in the rattan chairs of giants.
Where: Café de Flore: 172 Bd Saint-Germain, 75006 Paris, France and Les Deux Magots: 6 Pl. Saint-Germain des Prés, 75006 Paris, France
Paris Guide: What to See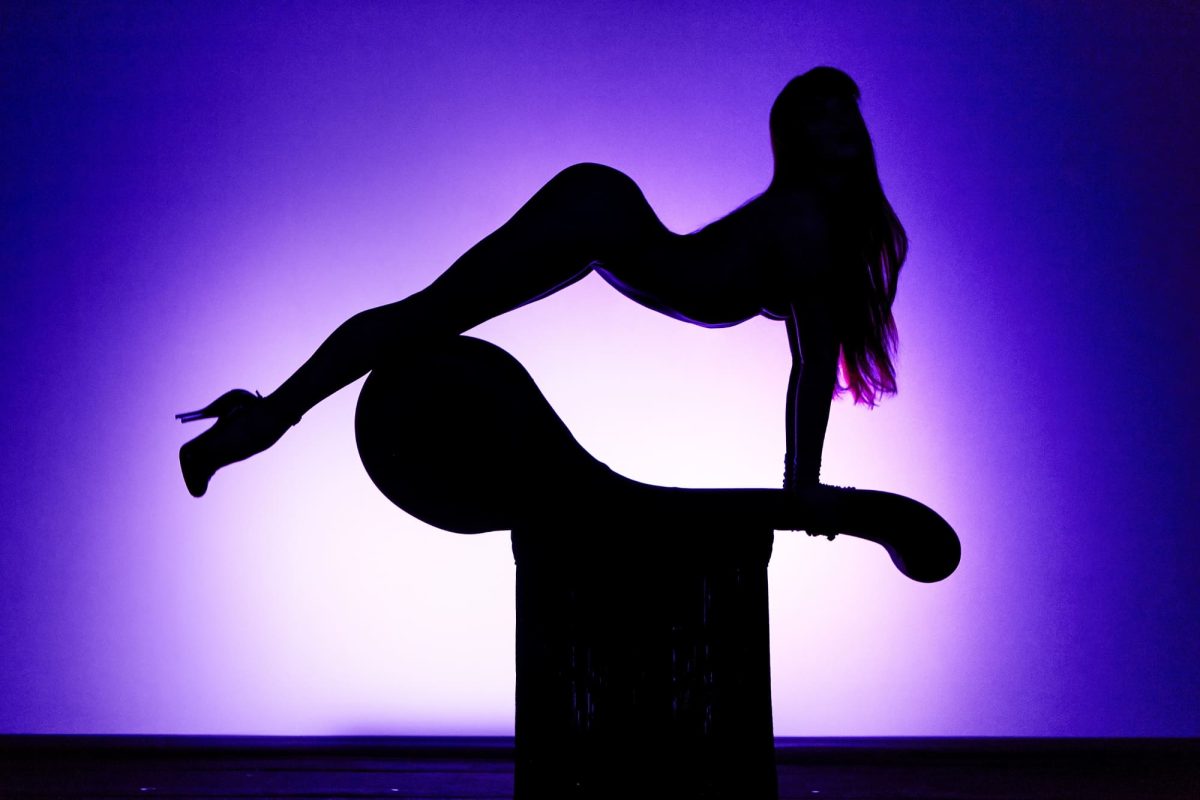 The Lowdown: Of all the different cabarets in Paris, Crazy Horse is the chicest and (personally, I think) the best. Step into the mirrored atrium and descend the steps into the intimate saloon where plush chairs look out to the stage on which the most outrageously talented performers showcase their skills to a tantalised audience. In an age of woke-ism, Crazy Horse reclaims the power of femininity and sexuality from a female gaze with creativity, mischief and fun. Going since 1951, the spectacle has been overseen by female Chief Creative Office, Andrée Deissenberg, since 2006, who has brought a series of Guest Stars and Creators to the show such as Dita Von Teese and Christian Louboutin.
Price: Tickets from € 90
Where: 12 Av. George V, 75008 Paris, France
Photo credit: Crazy Horse 
The Lowdown: You can count on this modern art museum for curating thought-provoking, gob-smackingly brilliant exhibitions. When we were there Réclamer La Terre (Reclaim the Earth) was an exploration of how we can connect with the planet in our own individual ways for the best chances of giving it a better future. Check out its museum shop – one of the best in town.
Where: 13 Av. du Président Wilson, 75116 Paris, France
Photo credit: Palais de Tokyo 
The Lowdown: Flea market lovers and vintage hunters beware, the flea markets (or les puces) on the outskirts of Paris will steal your heart and empty your purses. Stumble upon a store selling rails of vintage Yves Saint Laurent, swoon at the interior design inspiration at some of the more established stores and snake up and down les rues and alleyways like a magpie looking for trinkets and talisman to take home. Marché Paul Bert is the most eclectic where there are some real bargains to be had. Work up a hunger and head to Au Roi du Café for a croque monsieur to rest traipsing feet.
Where: 110 Rue des Rosiers, 93400 Saint-Ouen, France and Au Roi du Café: 32 Rue Paul Bert, 93400 Saint-Ouen, France
Paris Guide: What to Buy
The Lowdown: An emporium of fragrances, pillowcases and clothes made of the softest cotton with French and Parisian-inspired designs. There are a handful of shops around the city full of sweet items for a loved one or for yourself.
Where: 196 Bd Saint-Germain, 75007 Paris, France
The Lowdown: One of Paris' most refined examples of Art Deco architecture, this riverfront department store was bought by the luxury powerhouse, LVMH, and is now an achingly chic designer boutique complete with a high-end hotel and roof terrace.
Where: 9 R. de la Monnaie, 75001 Paris, France
For a gritty and raw artistic experience, a far cry from the polished grandeur of the nearby Louvre, AfterSquat 59 is a former retail space turned sprawling artist residence where 30 artists have their studio space. Climb the graffitied staircase to support an emerging artist's scene.
59 Rue de Rivoli, 75001 Paris, France
The Lowdown: A sustainable concept store with clothes, homeware and garden gear all made by ethical producers.
Where: Various locations across the city.
The Eurostar is the easiest and often the cheapest way with one-way tickets available in advance for £39. See more information here.