Slovenia is one of the world's most eco-friendly countries with Ljubljana earning its reputation as 'the green capital' of Europe in the last 3 years. Electric taxis and free public bikes are scattered across the city, and its residents beam happiness when commuting unlike the miserable inhabitants found on London's tube. Slovenia's rising tourism is due to its remarkable features and friendly community; its land bares endless lakes, castles and mountains, making it incredibly scenic and enticing to anyone looking to escape busy city life and enjoy the depths of nature.
Nestled between holiday hotspots Croatia, Austria and Italy, Slovenia formerly stood as the northern part of Yugoslavia. Given its history behind the Iron Curtain, you'd expect Ljubljana to look dark and brutal however its cityscape is quite the opposite: its streets flourish with a myriad of architectural styles which all reflect off the Ljubljana River.
Having been overlooked by the everyday tourist, it's now Ljubljana's time to shine as its romantic fairytale-like qualities are one-of-a-kind and utterly breaktaking.
Ljubljana Guide: The Lowdown
With 70 percent of Slovenia standing as forest and greenery, it's safe to say that the municipality of Ljubljana is a prime spot for nature lovers as beauty is everywhere. Whether you're visiting alone, with friends or a partner, Ljubljana has something for everyone as its streets are filled with cute hangouts by the river and great places to eat and drink. And the food scene ranges from street food to fine dining and everything in between.
Wandering around is incredibly easy as the city centre is completely car-free. After walking around the city, you'll ask where the time went as everything is so easy to see by foot and you're bound to find a few gems along the way.
Photo Credit: Ronnie Macdonald
Ljubljana Guide: What to See
The fairytale-like Lake Bled is a mere 45 minute drive from Ljubljana's bustling centre and is essential sightseeing on a trip to Slovenia. Its waters lay sparkling between hilly peaks and its beauty is best admired from the famous Bled Castle which stands 100 meters above the glistening water. In the middle of Bled lies the quaint Bled Island which bares its own church and cafe with jaw-dropping views of the surrounding water. In order to get to the island, visitors must board a traditional Slovenian wooden row boat where they will be rowed by staff. Bled Island's outstanding beauty makes it a romantic hotspot as couples often visit on their honeymoon and sometimes get married in the chapel inside the church. When visiting the chapel, it's considered good luck to ring the huge bell which hangs high from the freestanding bell tower. The wishing bell is considered to honour Virgin Mary meaning whoever rings it will be granted their wish!
Ljubljana Guide: Where to Eat
For High-End Fare: Strelec Restaurant
Situated at the top of a spiral staircase at Ljubljana Castle (there's a lift for those who are scared of heights), Strelec has panoramic views of the city. Large windows allows diners to look over the city whilst enjoying their meal in Ljubljana's most historic landmark. The menu offers fine dining worked around tradition Slovenian cuisine, and the menu caters for vegetarians and vegans which is a huge plus. The wine selection boasts Slovenia's finest crisp whites and juicy reds which go perfectly alongside the hearty elements of Slovenian food. Fresh vegetables such as beetroot and potatoes play an important part in the cuisine and food lovers are in for a treat as the restaurant offers a wonderful 6 courses which explore the popular foods of Slovenia whilst being elegantly presented.
Where: Grajska planota 1, 1000 Ljubljana, Slovenia
In addition to all the great restaurants in the city, Ljubljana's street food market which runs every Friday, attracts the attention of every hungry person in the city. Odprta Kuhna which translates to 'Open Kitchen' does quite literally what its name suggests; a variety of international and local foods are served in individual stands in the market square, many of which represent already famous eateries in the city. A variety of sausage wurst stalls battle it out in the market while people queue for fresh pasta and pizza.
Ljubljana Guide: Where to Stay
For a Modern Stay: Four Points by Sheraton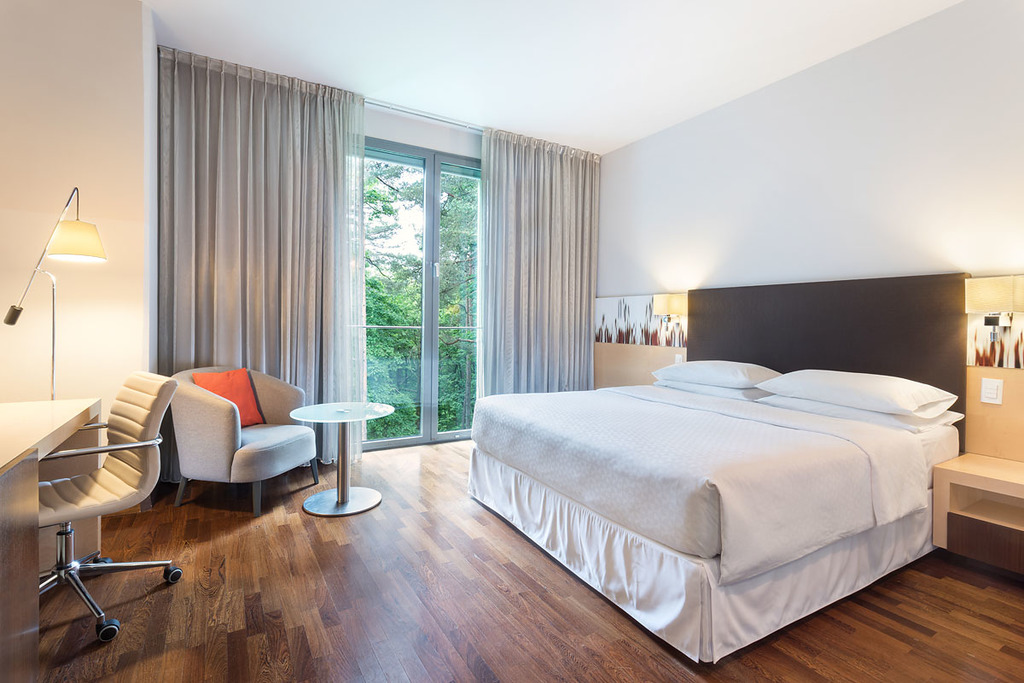 Merging the roles of a business and relaxation, Four Points is, by nature, a place for working business travellers however its laid-back and friendly approach makes this hotel the perfect place to stay for holiday goers as well. Unlike a conventional hotel, the first thing you see after walking through the Four Points doors is the hotel bar which is the first to greet guests.
Its open plan layout sits next to the lobby and a selection of fine Slovenian beers and spirits are a tempting offer when returning after a busy day of sightseeing. The hotel is a short 15 minute drive into the city's heart: you can get from bed to the centre of town without stressing about setting the alarm too early. The hotel's onsite restaurant, Atrium, is a brilliant introduction to Slovenian cuisine as its chefs are internationally trained and passionate about their national foods.
Where: Pot za Brdom 4, 1000 Ljubljana, Slovenia
Photo Credit: Jost Gantar
Ljubljana Guide: What to Do
For Discovering the Lively Beer Scene: Union Brewery and Carniola Brewery
Beer is a recurring theme in Slovenia as it's home to the famous Union Brewery alongside a handful of growing independent microbreweries. After the rising popularity of craft beer, Slovenia now boasts over 100 breweries so if you're a beer enthusiast, beer tourism should be your top priority as many of these breweries are spread across the city. Despite being a fairly small country, Slovenia are the 4th biggest producer of hops in the world.
For a Taste of Slovenia: Union Brewery
A night out in Ljubljana will often commence in drinking the much loved Union beer which is brewed in city. And there's no better place to drink the beer than at the official brewery pub. The pub serves all the variations of Union Beer and guests can enjoy a tour of the beer museum which explains the origins of the beer and its progression over time. For the full brewery experience, book a table and enjoy dinner alongside the beer as they often provide musical entertainment at dinner time which normally ends with Slovenian men opening up their lungs to sing along to traditional songs.
Where: Pivovarniška ulica 2, 1000 Ljubljana, Slovenia
For a Local Spot: Carniola Brewery
Situated down a country road, Carniola Brewery looks out of place as it stands behind Slovenia's fine greenery mimicking something out of Lord of the Rings. In contrast to Union Brewery, Carniola is an example of Slovenia's newer and smaller brewers that focus on creative crafts such as their citrusy IPAs and chocolate-esque stouts. They offer paddle flight boards which allows you to try their full selection of brews, and the staff are helpful and friendly when it comes to questions and details about the beer. If you're lucky, one of them might give you a quick behind-the-scenes tour of their mash tuns at the back.
Where: Moste 117, 4274 Žirovnica, Slovenia
For a a Boat Tour: River Cruises 
With a winding river flowing through the heart of the city, water activities are a must. Rowing, canoeing and paddle boarding are popular amongst the Slovenians, however if sport isn't your cup of tea then a boat ride is an essential activity if you want to see the city from a different perspective. You'll be on eye level with some of Slovenia's river wildlife such as the large otters which regularly make an appearance as they swim around leisurely along with the ducks and fish that grace the water.
Photo Credit: Jorge Franganillo