Havana ooh na na…. a song that has presided over summer playlists this year was stuck in my head in the run up to my Cuba trip. A 'moment' occurred when it came on in a secret music den in Havana after watching a secret rumba jam session with some of the city's best musicians after too many mojitos. Nights in Havana are exactly how you would imagine them to be. And then some.
This island country which is 10,000 square metres smaller than England has one of the most eventful modern histories on the planet with the climax being Fidel Castro's inauguration as President in the 1960's, with his comrade Che Guevara by his side. Both Fidel and Che's faces are still hung up in houses, plastered across billboards, posters and souvenirs across the city, a constant reminder of the revolutionary spirit that still reigns today – love it or lump it.
One thing is for certain: Havana is unlike anywhere else on the planet. Stuck in time in some senses, the city is lined with devastatingly beautiful colourful colonial houses, many of which are crumbling into ruins, and 50's American cars dazzle on the pot-hole riddled roads on the Maleçon, the iconic road that runs along the coastline.
Havana is beautiful; it's passionate and its pulsing heart beats through every doorway. The city is safe and the local habaneros are proud of their city and will want to help you explore it. The rhythm of salsa music hangs in the air throughout the city, so contagious you will be swaying your hips from calle to calle.
Cuba: Where to Stay
There are many (mediocre) grande dame hotels, however for a local experience and to get some of the best where to go and what to do advice, stay in a casa particular (homestay).
For Rooftop Views: Economia 156
Economia 156 run by theatre supremos Stephen and Jazz who have access to tours with some of the most interesting creatives in the city, offer the most elegant of accommodations in the city after a three-and-a-half-year refurbishment. Two charming rooms are housed in this impressive townhouse complete with rooftop and tasty breakfast of whatever is seasonal. If you're lucky, you'll be there during avocado season – the avocados are the size of your head and utterly delicious!
Where: Economia, La Habana, Cuba
For a Local Stay: Habana 19
Habana 19 is run by heavenly Yessy, the perfect hostess in this charming casa located conveniently right next to the Museo de la Revolución. There are two spacious bedrooms and a breakfast room/sitting room area that overlooks a bustling street, Calle Habana, and gives easy access to Havana Vieja (Old Havana). Delicious breakfasts prepare you for the day.
Where: La Habana, Cuba 
Havana: What to Do
For Exploring by Foot: Walking Tour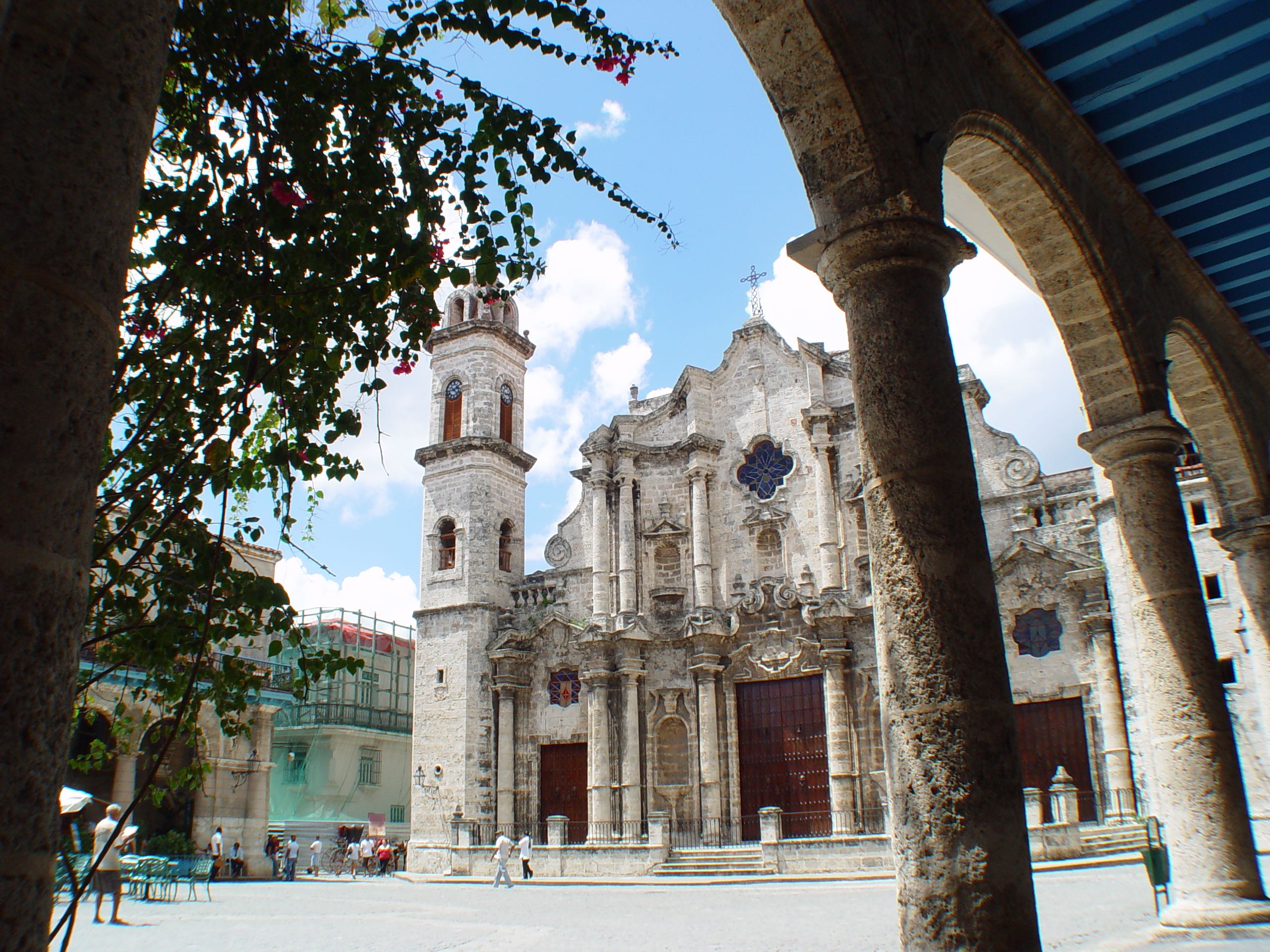 Take part tour the day that you arrive to get your bearings and understand the context better of this fascinating city. I recommend getting in touch with Lester Suarez, a young intellectual habanero who will tell all sorts of stories walking through Old Havana, followed by an introduction to its surrounding areas in an old classic car.
Where: Contact Lester on lsboffil@gmail.com
For a History Lesson: Museo de la Revolución
Modern Cuba wouldn't be without the Revolución, when Cubans throughout the land made a vow with Castro to 'patria o muerte' – death or the homeland. A must-see museum if you're interested in the political history of the island (even if it feels a bit like propaganda at times).
Where: Avenida Bélgica, La Habana, Cuba
For Performances: Gran Teatro de la Habana
This is the stage where the famous Cuban National Ballet perform, with all performances overseen by former prima ballerina Alicia Alonso. Pop in here on arrival in Havana to see if there is anything playing during your stay. Production info is not online and you might just be in for a treat. Have a drink at the Gran El Louvre next door afterwards.
Where: 458 Paseo de Martí, La Habana 10600, Cuba
For a Gallery Vist: Casa de Carmen Montilla Tinoco
The eccentric former home of the Argentinian artist is a perfect pit stop to sit and reflect in the garden and if you're lucky you might spot some hummingbirds in the trees as well as befriend the resident 'perritos de la costa'.
Where: Calle Oficios e/ Amargura y Churruca. Old Havana
For an Intriguing Insight: Partagas Cigar Factory Tour
One of Cuba's biggest exports, did you know most of the famous cigar brands (Cohiba, Romeo y Julieta, H.Upmann) are all produced under the same roof? An incredible insight into how cigars are made.
Where: Calle Industria 520, Havana, Cuba
Photo Credit: Pascal Hassenforder
Spend the afternoon at the beach – if you're just visiting Havana and have time, hire a driver for an afternoon to take you to Santa Maria del Mar, 45 mins from town to get a beach fix and swim in the crystal clear Caribbean waters. Not worth doing if you're heading to a beach town post Havana.
Havana: Where to Eat and Drink
Before my trip to Cuba, I was told by numerous sources that the food wasn't great. Readers, this just isn't true! There are many brilliant places to eat across the city to suit all budgets. Here are some suggestions and go with your gut as you explore the city as there are gems hidden everywhere. Walking around is the best way to find them.
For a special treat, try Ivan Justo, a treasure trove little restaurant which serves up some of the most interesting dishes in the city from duck ceviche to mouthwatering suckling pig and fish tacos.
For a Roopftop Bar: El del Frente
Walk past too quickly and you might miss it, climb up to this rooftop bar and restaurant to eat delicious food and watch the world go by. Cool art collection and lovely team running it.
Where: O'Reilly, La Habana, Cuba
For Iconic Cocktails: La Floridita
A must-do, have a daiquiri at the bar made famous by Ernest Hemingway, where he still sits in bronze form today greeting bar flies.
Where: Obispo, La Habana, Cuba
For a Local Hangout: Fábrica Del Arte
One of Havana's hottest night spots where there is always something different going on bringing art, music, food and drinking into one beautiful warehouse space. It's closed in January, May and September so save yourself the journey to Vedado (the other side of town from Old Havana) if you're visiting in those months.
Where: Calle 26, La Habana, Cuba
For a Secret Spot: 303 Aguiar
A secret location where Havana's beautiful creatives come together to listen to live music and dance salsa into the early hours. It doesn't officially have a name, look out for the shining head outside.
Where: Habana and Aguiar, Havana, Cuba
Havana: Know Before You Go
Cuba is a cash country so you won't be able to use your credit cards here and won't be able to exchange money for local CUC until you get to Cuba as it's a closed currency. There are ATMs in town to withdraw cash too. On a budget, you could do Havana on £50 per day, not including accommodation.
Havana: To Book
Cuba Direct is the UK's leading Cuba tour operator who can help book every element of your trip including airport transfers, accommodation and experiences. Their friendly, incredibly knowledgeable team will help you book your perfect trip completely tailored to your interests and needs. Visit here or call 0333 4551 691
Flights: Virgin Atlantic flies direct from London Gatwick to Cuba from £426.