When the immigration officier at Toronto Airport asked me where I was heading, I told him I was off to visit Blue Mountain for a few days.
His response, 'Why would you want to go there in the summer? It's where people go in winter.' And he's right: Blue Mountain is very much a winter destination. The alpine ski resort in Ontario is the third-busiest ski resort in Canada, and is blessed with the best weather conditions for winter activities; thick snow blankets the mountain range, and there's different slopes suitable for every ability.
However, contrary to David's opinion (the welcoming immigration officer), Blue Mountain is very much a year-round resort. Come summer, Blue Mountain is home to a variety of outdoor activities for thrill-seekers, adventurers, and   those who'd rather look after the bags.
Blue Mountain Village is relatively new: built in 2000, the cobblestoned pedestrian village is reminiscent of a whimsical toy town (a bit like Disneyland, with more alcohol and better food), and is tinged with Ontario architecture and European influences. There's everything here; activities for all ages, restaurants and bars aplenty, hotels, shops, clothing stores and supermarkets. You could rock up here for a couple of days, and be happily entertained without the need to leave. We say, if you're planning on visiting Toronto, leave a couple of days and travel (it takes around 2 hours) to Blue Mountain and immerse yourself in idilic countryside and culinary delights.
Blue Mountain Guide: Where to Stay
The Run-Down: Mosaic is a condo-hotel offering apartment-style rooms with top hotel service. Located within Blue Mountain Village, Mosaic may not set your Instagram alight, but the rooms are clean, spacious and comfy.
The Rooms: Mosaic offers 163 suites to choose from ranging in size from deluxe to 3 bedrooms, with all suites completely furnished with kitchenettes or full kitchens (two bedrooms and up), queen sized pull out sofa in the living room, flat screen tv, and the world's most powerful air conditioning unit – which is a real bonus in the summer heat.
Where: 190 Jozo Weider Blvd, The Blue Mountains, ON L9Y 0P7, Canada
Blue Mountain Guide: Where to Eat
For Comfort Food: Northwinds Brewhouse and Kitchen
The Run-Down: Locally owned and operated, Northwinds Brewhouse and Kitchen is a brewery-cum-restaurant that is heavy on the hops and even heavier on the carbs. After a full day's worth of activities this is the place to come to wolf down pale ales and Canadian comfort food. Don't be shy on the side orders either.
Eat and Drink: The eclectic local beer menu is forever changing, but if you're lucky their famed Kingpin lager will be available (the flavours bounce between caramel and biscuit malts, and the dry evergreen bitterness of the hops leave a satisfying flavour on the tongue). And how could we forget about the food: it's plentiful here. Northwinds is proud of their farm to fork philosophy, with all meat sourced from farms nearby. The cheese and bacon burger stacked high with homemade condiments and salad is exceedingly good.
Where: 180 Jozo Weider Blvd, Blue Mountain, Ontario
For Butter Tarts: Blackbird Pie Company
The Run-Down: Blackbird Pie Company is a family affair; owned and operated by Paul Linklater and Michele Lachance along with their two daughters, Emma and Rylee, Blackbird Pie Company is notorious for being the purveyors of the best butter tarts in the area (if not the whole province). The lady buying a week's worth of butter tarts proclaimed that 'Blackbird's butter tarts are the best in Ontario', and she ain't wrong.
Eat and Drink: There are many pies. Pies upon pies (sweet AND savoury). Let's cut to the chase: it's the butter tarts that are out of this world. The caramel-butter mixture is squished neatly into a wee short crust pastry pie, and they're nothing short of an edible art form. The butter tarts are available in three flavours – pecan, raisin, plain – and they all taste good.
Where: 108 Main St, Heathcote, ON N0H 1N0, Canada
For Pizza and Vino: Bruce Wine Bar
The Run-Down: Inspired by several favourite West Coast wine bars, founders Jennifer and partner Steven set out to recreate a similar venue in downtown Thornbury. The result: a hidden gem, specialising in local and global wines, Neopolitan pizzas cooked in their custom build oven, and small plates.
Eat and Drink: Chef Shaun oversees the menu development and kitchen team, and over the years has forged strong relationships with local farmers, sourcing out the freshest seasonal produce and organic ingredients. And it shows. The salads are excellent, as are the pizzas, with their squishy, crunchy crusts and stone-baked bases.
Where: 8 Bruce St S, Thornbury, ON N0H 2P0, Canada
Blue Mountain Guide: What to Do
For Peace and Quiet: Scandinave Spa 
The Run-Down: Situated on 25 acres of natural Ontario birch, Canadian maple and pine trees, the Scandinave Spa allows you to switch off from the noisy world outside, and relax and find inner peace. Silence is golden at the spa, and no talking is actively encouraged. The spa houses Scandinavian baths and hydrotherapy pools; it's said that warming your muscles up before taking the plunge into frozen climes helps to both energize and rest the body, improving blood circulation and activating the lymphatic system to help detoxification.
What to Expect: Scandinave Spa has combined age-old thermal tradition with cutting-edge facilities, and the site features a myriad of saunas and steam rooms all housed in state-of-the-art wooden buildings, varying pools of sizes and temperatures, and indoor quiet areas. There's also a number of hammocks and seats, ideal for quiet contemplation or to read a book.
Where: 152 Grey County Rd 21, The Blue Mountains, ON L9Y 0K8, Canada
For a Paddle Downstream: Free Spirit Tours
The Run-Down: Free Spirit Tours spend more time in the water than on land. This year-round activity outfit (located within one minute of Blackbird Pie Company..handy), run guided tours on the Beaver River and the Nottawasaga River. The team operate various water-based activities including canoeing, kayaking, paddle boarding and paddling.
What to Expect: Kayaking is not just for children on an adventure school holiday. The two hour guided kayaking tours are fun for everybody (even people like us who had, before the trip, little experience on navigating a kayak). You can go at your own pace, and the tour guides will share facts and information about the river and nearby wildlife and will help you when you kayak gets caught in fallen logs (in our case, this happened quite a lot).
Where:236720 Grey Rd, 13 Heathcote ON
For Cider Tasting: Thornbury Village Cidery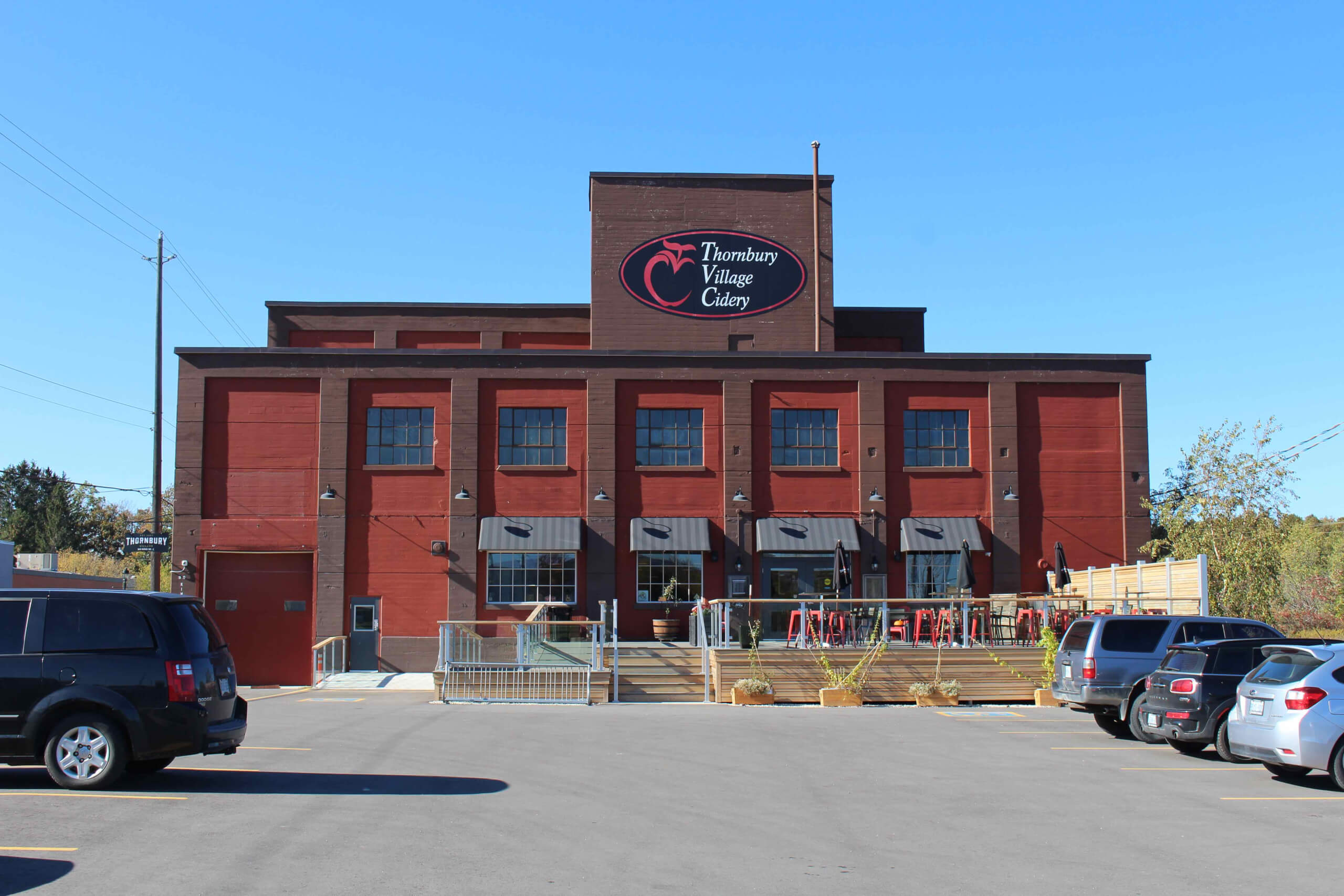 The Run-Down: Since 2006, Thornbury Village Cider House and Brewery, nestled in the famous Blue Mountains, brew the best premium quality ciders in the area. Set in the midst of 7,500 acres of apple orchards, Thornbury are known on the circuit for producing easy drinking, light, crisp and refreshing cider.
What to Expect: Their new cider house not only sells their homemade cider by the can, growler and bottle, but it's also home to their cider on draught. Taste all of their ciders – ranging from the dry to the sickly sweet – with one of their cider flights, and head out onto their patio to enjoy the bubbles alfresco.
Where: 90 King St E, Thornbury, ON N0H 2P0, Canada
Air Canada lead-in return Economy fare London Heathrow to Toronto is currently GBP461.91 (incl taxes).
A room in the Blue Mountain Mosaic Suites starts from $139 (£79) (per night). Open-Air Gondola: Tickets to go up and down are $13 (£7)  Youth, $16 (£9) Adult / Tickets to just go down (some choose to hike up and ride down) are $6.50 (£4) Youth, $8 (£5) Adult. For more information on Blue Mountain, visit the website here.