I've been lucky enough to visit Barcelona twice this year: the first time on the tourist trail with a friend over from New Zealand, who wanted to see everything: Gaudi's Sagrada Familia and Parc Guell, the Picasso museum, Salvador Dali's theatre (a two-hour train ride out of town) and the city's famous 13th century Gothic cathedral. We even ate paella on La Rambla, something it's unlikely any local would do.
While Barcelona teems with tourists all year round, it's easy to forget that you can get away from the crowds. On a second visit over the summer I was determined to find a different side to the Catalan capital. Here's how to enjoy Barcelona, the local way:
Where to Stay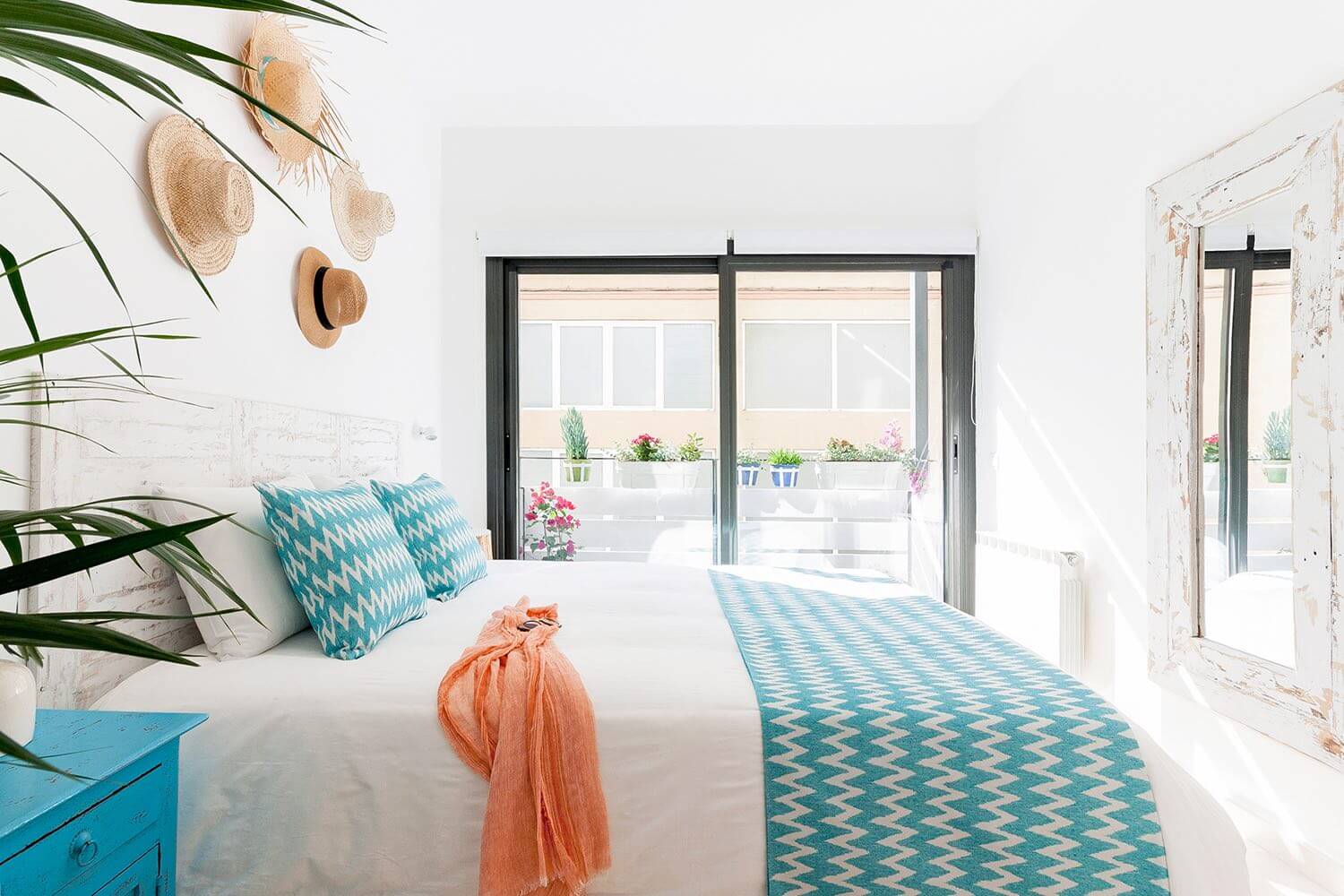 Poblenou is an area of the city few visitors get to. On the coast a little way north of the Olympic port, it's definitely a local haunt. A former industrial area which produced textiles and metals, it's now a chilled place to be when you want to escape.
Its own Rambla del Poblenou boasts family-run restaurants, hip cafes and independent shops, and the area mixes 19th century former wool factory buildings with a Jean Nouvel-designed park and a museum of contemporary art. The beaches – Bogatell and Mar Bella – have been popular since the Olympic Games were held in Barcelona in 1992, and nude bathing is accepted.
I stayed in an Airbnb loft tucked away opposite Poblenou's food market where there were no other tourists to be seen. For something nearer the beach, Homecelona Apartments has a light-filled two-bedroom apartment with balcony, overlooking a square a couple of blocks back from the sea.
You can't miss the glass and steel structure that makes up the striking 44-storey Hotel Arts, right on the beach overlooking the Olympic Port. While the outside can feel stark and modern, the interior is warmer, and there are views all down the coast and across the city. I opted for a cocktail in Franks bar, an easy stroll from the pool and gardens.
Where to Eat and Drink 
For a Local Favourite: Food Lovers' Company
Usually the word 'tour' puts me off, but this is a must-do for anyone who wants to try true Catalan food and eat in tiny, secret restaurants that won't often find their way onto Instagram. This is foodie heaven and really made me fall in love with Barcelona.
Run by friends Nuria and Margherita, the tour (there were just three of us) met near the market in Barceloneta, a 'new' town built in the 1700s. Our first stop was a tiny, buzzing (and secret) café, where there was no sign above the door and no printed menu. Plates piled with secas con butifarra (a traditional sausage and bean dish), pan con tomate (bread spread with tomato) and various types of grilled seafood with garlic came out of the kitchen, as well as home-made and surprisingly delicious Vermouth.
Then we stopped for coffee at pretty, blue-tiled La Plata, down a side street near the Gothic quarter, before tasting blue cheese ice cream at Formgateria La Seu and trying the natural wine at bar El Pla.
Not only was all the food delicious and varied, but Nuria also showed us one of the best places to get views across the city, to the hills and beyond: the bell tower at St Just cathedral.
For Great Value Sushi and Ramen: The Tatami Room
The lantern-decorated Tatami Room is run by an Englishman, Hugo, and a Scot, Jason, and is in the bohemian district of El Poble-sec. It's a great spot for lunch before the steep walk up Montjuic to the castle and I opted for the €15 Sushi Especial: four nigiris, four makis and two pieces of sashimi, with a beautiful seaweed salad.
For Almond Cappuccinos: Onna coffee 
Onna Coffee is in Gracia, an area of closely-packed streets and small squares, and makes a great coffee or lunch stop. It offers plenty of non-dairy milks and does a great almond cappuccino and vegan carrot cake. I met expat Rob there for a few tips on the city – his website Homage to BCN details all you need to know about Barcelona including favourite local haunts.
For Gluten-Free Treats: Gula Sana
Gluten free café Gula Sana has an amazing range of homemade cakes and treats, and is just off the Passeig de Saint Joan near Tetuan Metro station.
For Burgers, and Gin & Tonics: La Royale
Chef Paco Pérez has five Michelin stars across three restaurants and started gourmet burger restaurant La Royale in Sarrià-Sant Gervasi in 2011. Gourmet burgers made from Wagyu beef, veal or free range chicken are complemented by a long list of gin and tonics, including several small British brands.
What to See 
For the Wow Factor: The Sagrada Familia
If you do one touristy thing in Barcelona (and I could happily potter on its beaches and in cafes for a week or more without doing any of the sights), go to Gaudi's unfinished Sagrada Familia cathedral. I found it ugly and intimidating from the outside, but inside it's a huge and stunning wonder of rainbow colours, beautiful tree-like concrete branches and endless details. Book in advance as it's probably the most popular thing to see.
For Magnificent Architecture: Sant Pau
Many people don't get this far up the Avenida de Gaudi, the street that starts at the Sagrada Familia and runs north, but it's worth the walk to Sant Pau, a vast Art Nouveau building and former hospital that sits above a network of underground tunnels leading to gardens and pavilions.
For Front Crawl with a View: Olympic Swimming Pool
On a hot day, head up the hill at Montjuic to the outdoor Olympic pool which has great views over Poble Sec and beyond. (There's another outdoor Olympic pool on Montjuic – the Piscinas Bernat Picorell – which has a sauna and steam room, but no views.)
For Contemporary Art: Museo Europa D'art Modern
Blogger Céline Mülich recommends this small, modern museum, which opened in 2011. Unlike the blockbuster Picasso Museum, you won't queue here, and you'll get to see some up-and-coming artists. Celine has collected her favourite museums together on her website.
For a Trip Out of Town: Cycle up the Coast
It's an easy bike ride up the coast from Barcelona. I hired a bike from Barcelona Rent A Bike near the Arc de Triompf and headed off towards the path along the beach, stopping off for sunbathing and drinks in several of the small downs which dot the coast going north.
Blacklane provides professional ground transportation at the lowest rates across the globe, and it's especially popular in Barcelona. There are no hidden surprises with Blacklane – your affordable all-inclusive rate – confirmed before you book – includes all taxes, tolls, fees and gratuities. It's great if your trip is not too planned, as cancellations are free up to 1 hour before one-way rides or 24 hours before hourly bookings. Glorious.