Never have we fallen in love with a place so quickly, and so deeply than we did when we visited Barbados. The island is a melting pot of culture, World Heritage sites, vibrancy, food, art, traditions… we could go on. It's all too easy to sell the island on the activities and festivals alone, but one of the main draws of this island is the local people. The Barbadians are some of the most friendliest people we have ever had the pleasure of meeting; always happy to share their antidotes with us over a shot (or two) of rum at a local rum bar, or keen to share their knowledge of restaurants and eateries in the area.
Whether you want to chill by the pool, soak up the sunshine, immerse yourself in the locals' way of life, or explore the beaches (trust us, there are many), Barbados is alive and there's never better time to visit. Here' what to do, where to eat, and where to say in the jewel of the West Indies:
Barbados: The Lowdown
Barbados is an island of vast contrast; the sands and beauty of the West Coast are stunning, and you can while away hours or days here, but a short journey to the East Coasts is entirely different. The East Coast offers rugged landscapes, lush, green vegetation, and it almost feels like you have the place to yourself.
With a length of 34 kilometres (21 miles), and up to 23 km (14 mi) in width, covering an area of 432 km2 (167 sq mi), travelling around Barbados is fairly simple and straightforward. The island draws on its English, African and West Indian roots, but also has a distinct identity of it own. Its customs, traditions and values are evident throughout the island, through the colonial buildings, festival and arts, food, and their proud history of being the birthplace of rum.
Guaranteed sun is given almost all-year round, but December to April is the best time to visit due to the clear blue skies, warm, dry temperature and long days of sunshine. Barbados is an island of juxtaposition; colonial buildings sit beside large hotels, and world class food is balanced with road-side eateries and rum shacks. High-end restaurants are on the up, but independent eateries have also made their mark. Barbados is a fantastic place, and encompasses so much more than what's been printed in holiday brochures – and is suitable for all travellers.
Barbados: Where to Stay
The Lowdown: Sandals Barbados is one of the premium resorts found on the island. With a private stretch of beach, numerous outdoor pools, cocktails on tap, and clean and spacious rooms – Sandals has all the amenities of a mega resort, but somehow manages to feel quiet and intimate. The hotel is home to an impressive 11 restaurants, 6 bars and range of different suites and rooms to suit every price point.
The Rooms: The rooms here are next-level. And we're not just talking about the mini bar selection. There's rooms with their own private pool for the upmost seclusion, to suites with a private butler service. The ocean-front rooms have been decked out to the highest standard – think four poster beds, Egyptian cotton sheets, HD smart TV, and a private patio or balcony showcasing serene views of the resort's beautifully landscaped gardens. These are sort of rooms which are so plush, you kind of just want to leave 0 but the sight of the pizza made pool-side will have you running.
The Food: The food. Man, the food. People wake up early to snag a sun lounger, we wake up to take down the breakfast buffet, which at Sandals, is impressive. There's a live omelette cooking station, breads, more pastries than Pret, yogurt, you name it – it's on the breakfast buffet.
You can literally eat around the world and not have to leave the resort; take a trip to Portofino's for Italian plates, fill your boots with steak at Butch's Chophouse or feast on local dishes at Spices.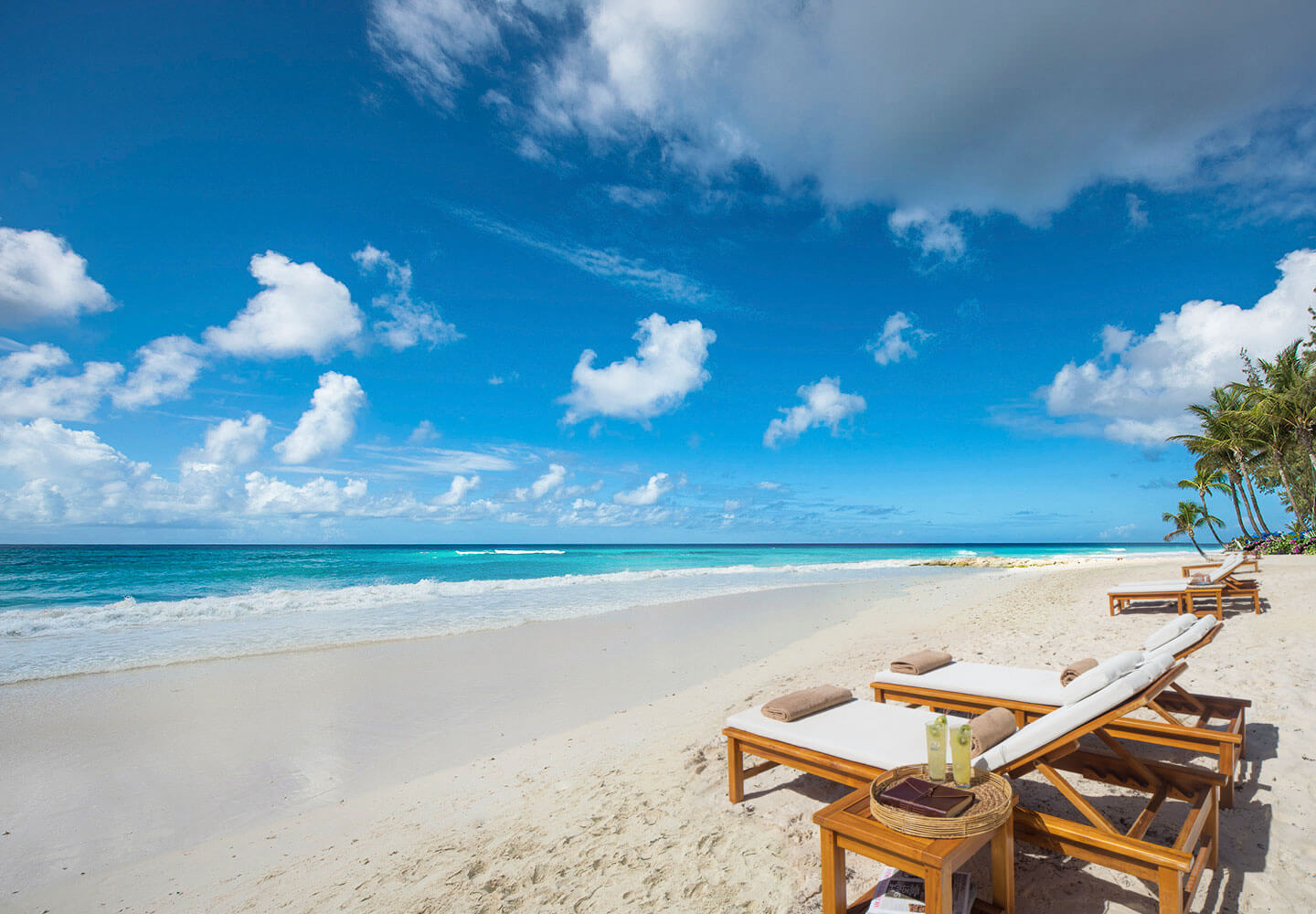 The Amenities: The all-inclusive resort is a mecca for water sports, snorkelling, scuba diving, and pool-side activities. Practice yoga, pilates or work up a sweat at the state-of-the-art fitness centre, or hit the beach for a volleyball game. Of course, there's always the option of lazing by the pool, cocktails on tap.
Barbados: Where to Do
The Lowdown: Dubbed the most colourful festival in the Caribbean, Crop Over Festival celebrates a 200 year-old tradition that honours the end of the sugar cane season. Barbadians don't do parties by halves, and the six week festival includes day to night parties, breakfast knees up, parades, concerts and culinary-centric events. The final week is the big one, culminating in a parade full of life, culture and plenty of colourful costumes.
What to Expect: Don't miss the Foreday Morning Jam, taking place on the last week of the festival. A night party which finishes in the early hours of the morning, the street party invites thousands of revellers to jump and party behind music trucks which weave their way around the island from dusk till dawn. It's an amazing energy where people are covered in paint, and supping rum punch from tankards. Whatever you do, don't miss this celebration. And for more party times, the Grand Kadooment marks the end of Crop Over with an almighty parade where Masquerade Bands make their way to Spring Garden highway. Catch a glimpse of sequins costume, and bathe in all the glitz, rum, and magic.
Photo Credit: Visit Barbados 
The Lowdown: Not to be confused with the safari where you spy wild animals in their natural habitat, Island Safari offers something slightly different (and way more high octane). The Island Safari team run Jeep safari 4×4 tours around the island which can be tailored for different group sizes. They'll pick you up from your hotel/villa and they'll whizz you around the island hitting up all the hot spots.
What to Expect: Forget your stuffy tour guides and general slogging around – Island Safari is entertaining. For the tailored tours you can pick or choose the amount of time, and there's plenty of other options too (adventure tour, swimming tour, etc). The guides are full of fun, and throw away the usual guide spiel, instead driving off the beaten track and into the unspoilt scenery of Barbados. You don't realise how much Barbados has to offer until you hop on the back off a Jeep, seriously.
The Lowdown: It would just be wrong not to experience some sort of water-based activity whilst holidaying in Barbados. After all, their crystal clear blue waters is one of the many things the island is known for. For an all-day party set to a killer soundtrack, all while sailing around Barbados – Jammin' Catamaran Cruises is your ticket to party town.
What to Expect: The twilight cruise is the one. Experience the warmth of the Barbadian sun on the wide open waters, and then soak up the dazzling sunset with a cocktail in hand. The four hour cruise includes free-flowing booze (their special punch tastes like liquid gold), and they knock up a lunch buffet including Barbados' famed dish, mac n' cheese pie. Dancing under the stars with a bunch strangers? Count us in.
Photo Credit: Jammin' Cataman Cruises 
Barbados: Where to Eat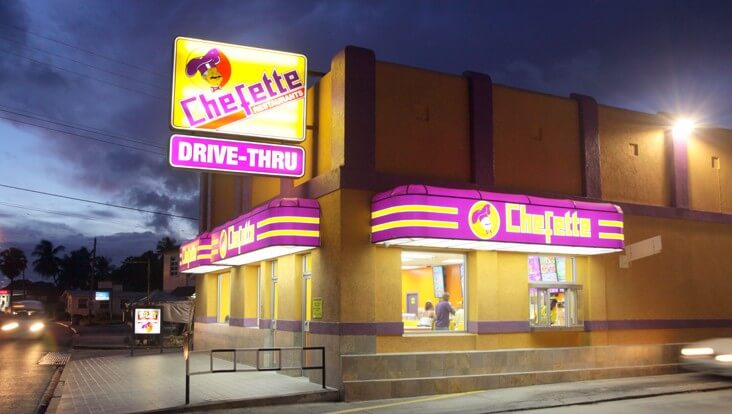 The Lowdown: Yes, Chefette is a fast food establishment – but this place is a Barbados institution. It's more iconic than David Beckham's left foot. The yellow and purple signage is seen all over the island, and the queues don't lie: people love Chefette. The menu isn't just the regular fried fare – there's roti wraps, pizza, sandwiches, a breakfast menu, salads and an ice cream bar.
Must Eat: The menu is complex, and you can easily get drawn down the pizza path (the slices aren't half bad). But all the fried chicken sandwich will flood your mouth with zingy mayo, crispy, fresh fried chicken and shredded lettuce. Don't leave your veggie mates at the hotel, their soya burger is something the UK needs to take note of: a meat-like patty is topped with cheese and salad all nestled in a sesame bun.
Where: Various locations, see here.
The Lowdown: Located on the South Coast, Champers not only oozes sass, but the restaurant put together plates of sunshine food. Embracing Caribbean flavours with a touch of global influence, Champers focuses on fresh, quality and local ingredients, with serious beach views to boot.
Must Eat: For something quintessentially Caribbean, the Bajan fried fish with caper dressing, mixed lettuce salad and lime vinaigrette is super.  There's plenty of veggie options such as the baked camembert, spinach and ricotta tortellini among other more traditional eats. And for dessert the brioche bread and butter pudding soaked in a ton of rum is just what the doctor ordered.
Where: Skeetes Hill, Bridgetown, Barbados
The Lowdown: Sushi and Barbados is probably not two words you'd usually put together, but at Nishi it somehow works. Head Sushi Chefs Sandy and Tomy have been preparing Sushi for the past 15 years and have worked in some of the top sushi restaurants in Miami and New York and also at Shangri-La Hotel In Indonesia. They know their maki rolls, and the Japanese spread that this restaurant puts on will make your tastebuds dance.
Must Eat: For sushi, our top picks would be the California rolls with crabmeat, cucumber, avocado and tobiko, the Nemo with salmon and cream cheese with avocado, and the veggie roll with avocado, cucumber, asparagus, carrot and seaweed salad. Divine. The rolls are perfectly balanced and well thought out, with a real focus on flavour.
Where: 2nd Street, Holetown, Barbados
Seven nights staying at Sandals Barbados staying in a Caribbean Village Grande Luxe Room costs from £2,335 per person. Price includes Luxury Included® (all-inclusive) accommodation, return economy flights from London Gatwick with British Airways and resort transfers. The price is based on a 3rd August 2018 departure. Subject to availability. Price is correct at time of print. To book or for more information about Sandals Barbados visit www.sandals.co.uk, call 0800 597 0002 or pop into the Sandals Luxury Travel Store at 135 Fulham Road, London.