Planning a trip to Florence? Read my Florence travel guide to discover places to sleep, eat and visit in this incredible Florence. 48-hours simply isn't enough in Florence, but if you're pressed for time, here's how to get the most (and by that I mean pasta, ice cream and chocolate) out of this beautiful city:
Florence Travel Guide: Where to Eat
For Coffee and Croissants: La Menagere
Who knew Italy did concept stores? We did. This coffee shop stroke florist stroke interiors store is a Pinterest-worthy dream, bringing with fresh flowers, beautiful items for the home, the best fresh pastries and delicious coffee.
It's got the feel of a co-working space, with lots of locals sipping espressos whilst typing away on their laptops, and the cafe's interiors will steal your heart. Order one of their chocolate croissants (warm, please) and a latte: you won't regret it. In the evening, there's live music and they serve up delicious modern Italian food from the open kitchen. Trendy AF.
For Tuscan Cuisine: Trattoria Marione
This trattoria is about as local and rustic as they come, tucked away in a side street, always full to the brim with hungry visitors. Trattoria Marione is the place to come for authentic Tuscan cuisine; they make killer pasta, pizza and secondi, all washed down with great local wine. Try the goat's cheese salad with honey, followed by the truffle spaghetti, and vegetarian aubergine pasta – they are too good. For dessert, enjoy the local amaretti biscuits with a small glass of dessert wine for the full local experience.
For Sandwiches: All'Antico Vinaio
About as local as they come, this hole-in-the-wall sandwich shop is the perfect place for a grab and go lunch. Popular with locals and tourists alike, a huge panini will set you back about €5 and will keep you going all day. Favourite sandwiches include the proscuitto with truffle cream and rocket, and aubergine, dried tomato and ham, but you'll be totally spoilt for choice by their extensive menu.
Photo credit: sophieggore
For All the Food: Mercato Centrale
Hands down, my favourite place we visited in Florence for food. Think: a huge covered food market, with stalls selling fresh fruit, vegetables, fish and meat, and, upstairs, a canteen full of Italian street food, serving everything from arancini to cured meats, ice cream to homemade pasta. Speaking of pasta, probably the best pasta we ate in Florence was at Mercato Centrale: a hot, rich bowl of truffle spaghetti, in the most delicious sauce.
Other highlights are the local cheese board with Italian tomatoes and olive oil, spinach and ricotta ravioli and deep-fried polenta chips, all of which we sampled on our two (!) visits in the weekend. Don't miss their Aperol Spritzes, they are delicious and super cheap.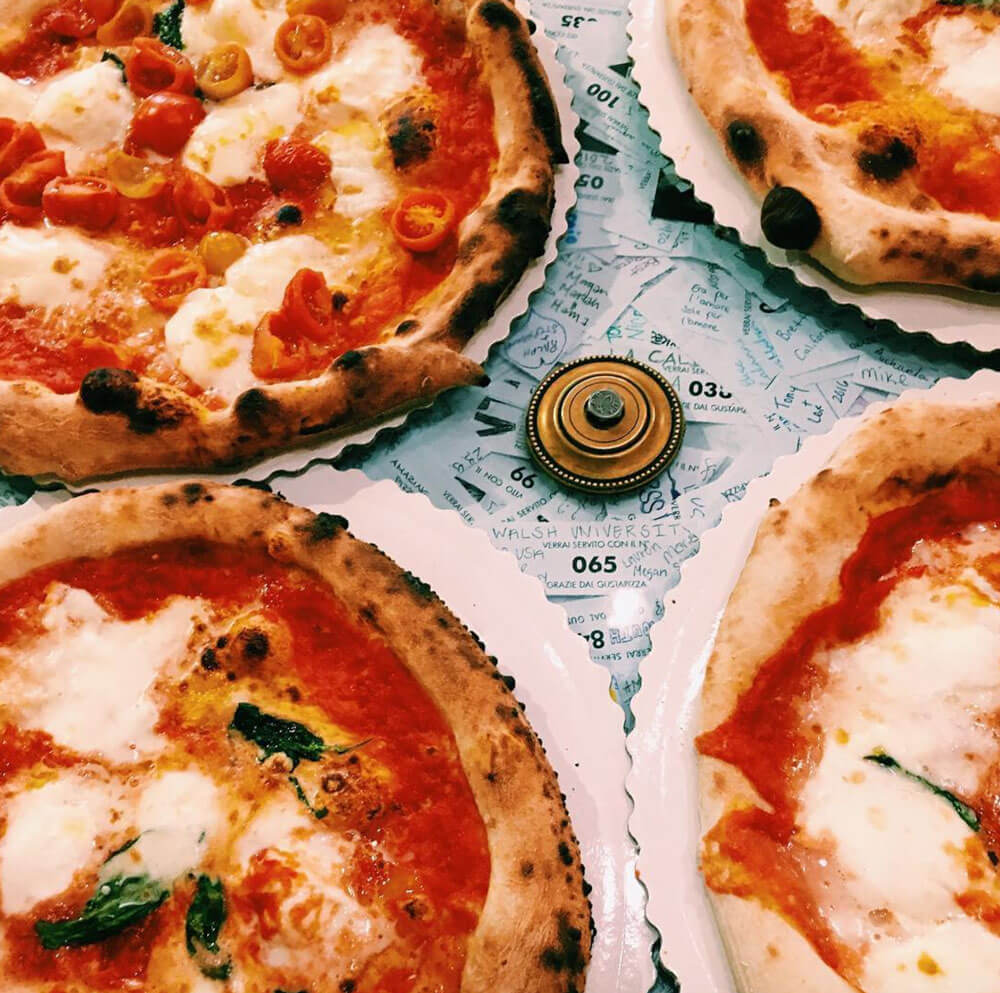 The place to come for pizza in Florence. There's a couple of branches of Gusta Pizza in Florence, although the Santa Spirito one was our personal favourite. Gusta Pizza is everything you could want out of an Italian pizzeria and more; rustic, local, casual, and, ultimately delicious. The pizza has the perfect thin base, divine melting cheese and wonderful toppings, such as Italian artichoke, aubergine, sundried tomatoes and olives. Pizza of dreams, I say.
Photo credit: chidzzzbosah
Photo credit: brookemure
Surely one of Florence's most romantic restaurants; the candle-lit ambience and fairy lights here will transport you somewhere magic. What's more, La Giostra happens to serve some of the best food in all of Florence. Start with a plate of complimentary antipasti and a glass of fizz, followed by the most incredible small plates.
Try the stracciatella, which is deliciously creamy and rich, served with fresh grapefruit, nuts and honey. Next, try their homemade pastas; the pear ravioli with ricotta is what people flock here for, and you can taste why. Their rigatoni with fresh tomato sauce and aubergine is equally delicious, and finish with homemade vanilla ice cream with fresh strawberries. Heaven.
For Chocolate Heaven: Lindt Chocolate World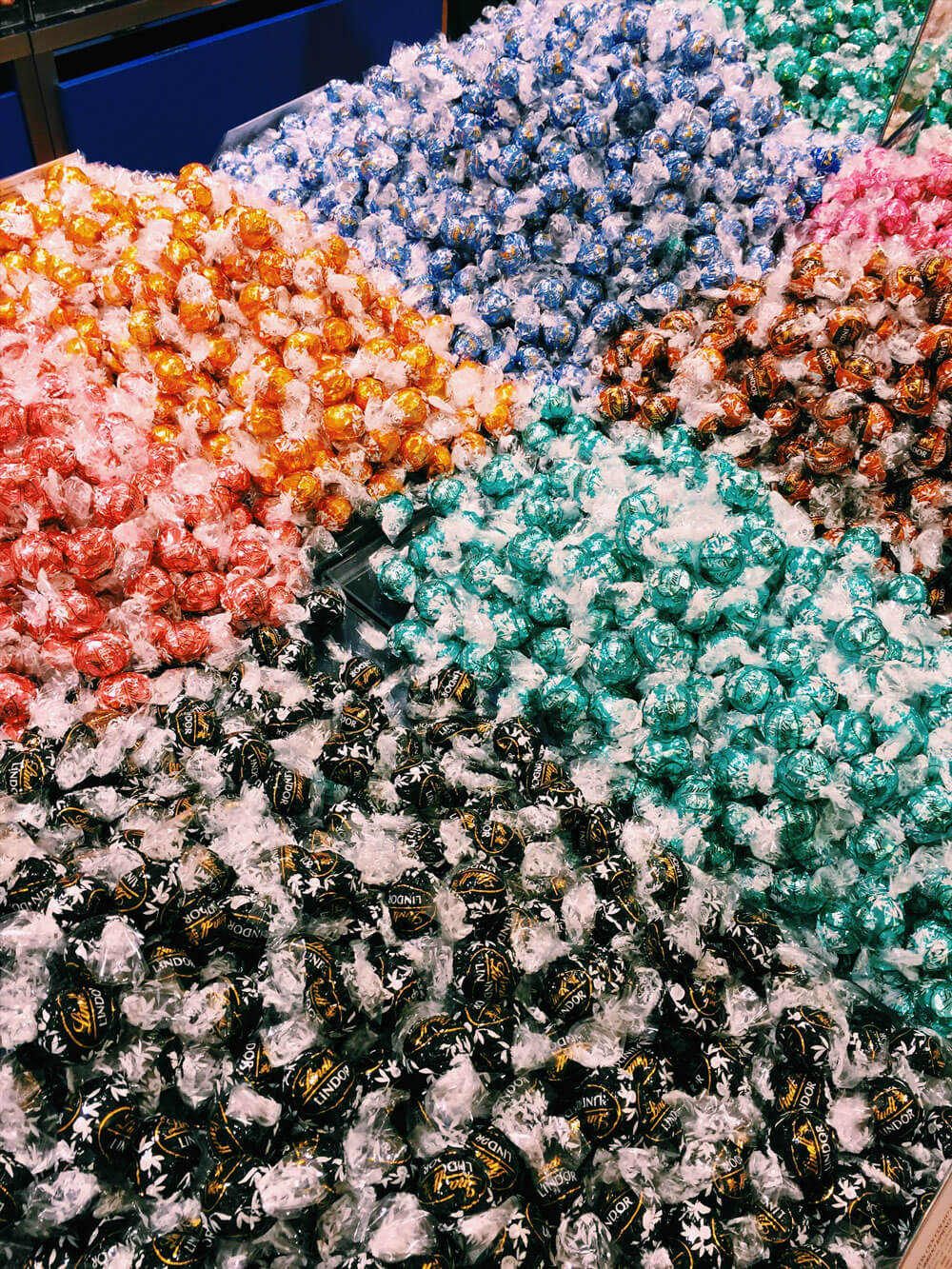 Am I allowed to put a Lindt shop in this guide? It's my guide, I'll do what I want. I unashamedly visited the Lindt shop every day in Florence, choosing a different chocolate each day to enjoy with my afternoon coffee. It's a chocolate-lovers dream, with lots of unusual flavours to choose from and specialist hot chocolate. Sure, it's not Italian. It's not independent, or local, but, boy, are they delicious.
If you're an ice cream lover, you must try La Carraia for the best ice cream in Florence. Their flavours are totally amazing, but the white chocolate is my personal favourite. One of the best foodie spots in Florence, for sure.
Photo credit: marielloganp
Florence Travel Guide: Where to Stay
For Location: Grand Amore Hotel and Spa
This luxury hotel is perfect if you need somewhere in the heart of the city, only moments way from the famous Duomo (and the Lindt shop, have I mentioned that?). The Grand Amore Hotel and Spa is slick in design, friendly in service and super convenient in location – the ideal place for exploring the city. It's got a lovely, boutique feel, with only 11 guest rooms, each unique in their design; we loved our room overlooking the paved streets of Florence.
The Grand Amore is very Italian in design, everything from the Italian marble baths to the artisan handcrafted furniture has a truly luxe, Italian feel. The perfect place to get up and go, the hotel offers room service breakfast, as well as snacks and refreshments in their stylish lounge bar – perfect for unwinding after a busy day of sight-seeing. What's more, the hotel boasts its own spa with a jacuzzi and Turkish hammam, so you have no excuse not to relax.
For Style: Antica Torre di Via Tornabuoni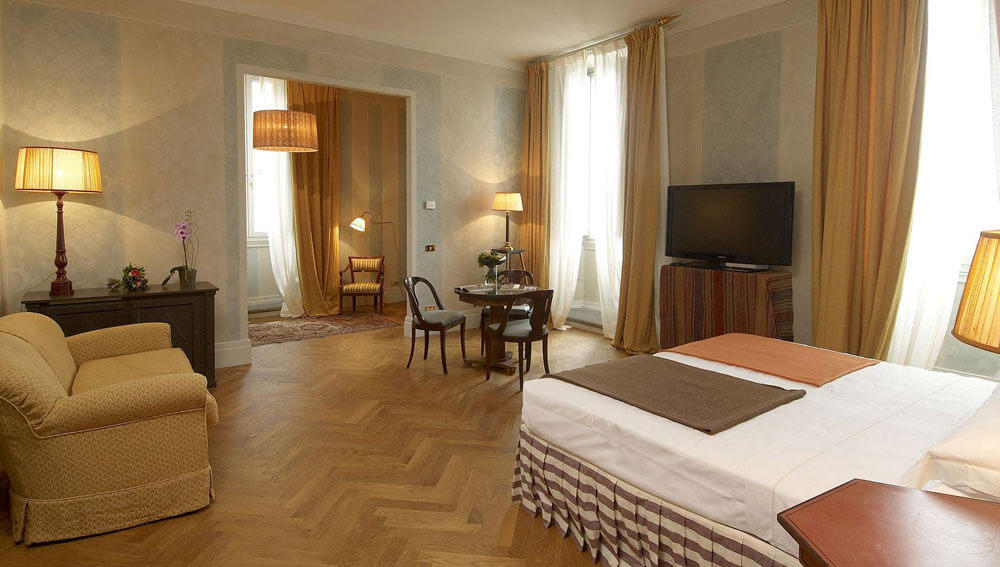 If you're looking for a hotel in the heart of the city's shopping area, this one's for you. Antica Torre di Via Tornabuoni is located in Florence's high-end, designer boutique shopping district, only moments away from the likes of Prada, Fendi and Chanel. The hotel has a 5* service to match the luxury price tag of the area, and you can expect the most amazing views of the river from their beautifully designed suites.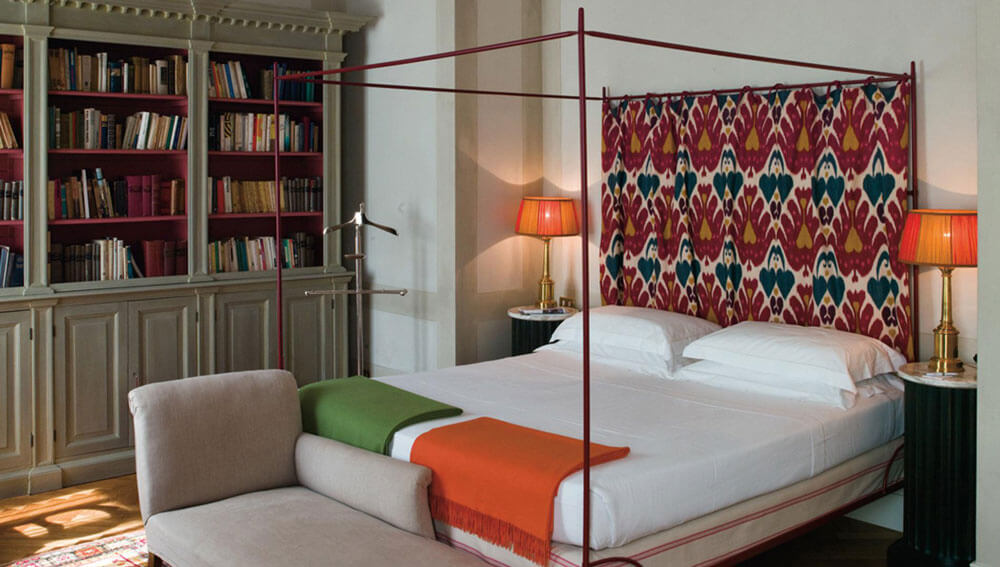 We stayed in a Romantic Junior Suite, which has three large windows overlooking the Arno River and Palazzo Feroni Spini – the best introduction to the city. Perfect for waking up with sunset views, the suite also boasts a panoramic hot tub and shower, marble bathroom, oak floors and incredible cityscape views. If you want to splash out, the hotel also has a Hammam Suite, complete with a chromotherapy system, double jacuzzi, turkish bath for two and sun loungers, for ultimate relaxation. A must visit.
For a trendy design hotel, you simply can't miss AdAstra – it's like nowhere I've ever stayed in before. Overlooking the largest private garden in Europe, AdAstra is located on the first floor of the ancestral family mansion, surrounded by a magnificent terrace overlooking the garden. The most unusual hotel we visited, AdAstra is a designed-focused boutique hotel, with only a handful of rooms, on the south side of the city, away from the hustle and bustle of tourists.
The design of AdAsta will blow you away; each room is unique in its design, each personalised in its own way. Think: a combination of original Italian pieces from the '50s, '60s and '70s with touches of Florentine style, plus items from distant travels, lighting and local craftsmen, and a sprinkling of Anglo-American pop. Each bedroom has a stand-alone roll top bath, for relaxing at the end of the day.
What's more, the hotel has its own common room for guests, complete with an honesty bar, tea and coffee, snacks, TV, books and free cake, with a great terrace for enjoying the summer months. Breakfast is included in your stay, and this can be enjoyed on the terrace for a real Italian experience. Truly, a hotel of dreams.
Florence Travel Guide: What to Do
Of course, you can't visit Florence without enjoying some of the city's famous art galleries and exhibitions. There's tons to see in Florence, but my personal favourites was the Uffizi, located adjacent to the Piazza della Signoria, which is home to some of the most important art work of the Renaissance. Here you can see artwork by famous painters such as Botticelli, Raffaello and Tiziano, and they've also got a really trendy cafe for when you need a cake refuel. Another unmissable sight is visiting the original statue of David at the Accademia Gallery – one of the must-visit sights in the city.
For Romance: Ponte Vecchio Bridge
Sure, it's a little cliche, but we're talking Florence after all. Ponte Vecchio is one of the most famous bridges in the city for its amazing views of the river. It's a hotspot with tourists, armed with cameras, but one of those bucket list experiences for the city. Expect a lot of high-end jewellery shops on the bridge itself, and be warned that someone will try to sell you a selfie stick.
If you're looking to splash the cash, Florence is a retail lovers dream – the city is simply full of good shops! Via Tornabuoni is one of the most famous shopping areas in the city; with tons of high-end fashion boutiques, such as Gucci, Salvatore Ferragamo, Enrico Coveri, Roberto Cavalli, Emilio Pucci and others. There's also lots of lovely coffee shops and restaurants in the area, so pay a visit, even if you leave without a new pair of Chanel shoes.
Photo credit: Julio César Mesa
For History: Farmacia Santa Maria Novella
We loved exploring this old-school pharmacy, which is tucked away on Via della Scalla, away from the main piazza. Established is 1612, this is one of the oldest pharmacies in the world. The pharmacy was started by Dominican friars who use to make these remedies and run by his family up to this day. The pharmacy is absolutely beautiful, with incredible frescos on the ceiling and amazing tiled floors – it's free to visit and great for perfume gifts to take home, so pop it on your list.
Palazzo Pitti is a huge, mainly Renaissance, palace in Florence, situated on the south side of the River Arno. It's a short walk from the Ponte Vecchio and has lots of lovely street-side cafes and restaurants to enjoy. The palace is wonderful to discover, with a modern art gallery, royal apartments and a costume gallery all located within the palace. You could spend hours in, so factor in enough time!
For Sunset Views: Piazzale Michelangelo
An incredible place to visit for sunset views of the city, Piazzale Michelangelo will simply steal your heart. Tourists and locals alike flock here for panoramic views of the beautiful city, and you can also see a bronze replica of Michelangelo's David here. Simply amazing at sunset, you must visit.