One of England's most historic counties, Essex is a county of incredible diversity. Colchester is the country's oldest recorded town, and was the capital city of the Romans during their long occupation.  Beautiful countryside and historic houses abound. Epping Forest is a short journey from London; it is London's largest open space covering over 2,400 hectares. In the centre of the forest, you can discover Queen Elizabeth's Hunting Lodge – a unique example of a surviving timber framed house built on the orders of Henry VIII in 1543.
Essex Travel Guide: Copped Hall House and Gardens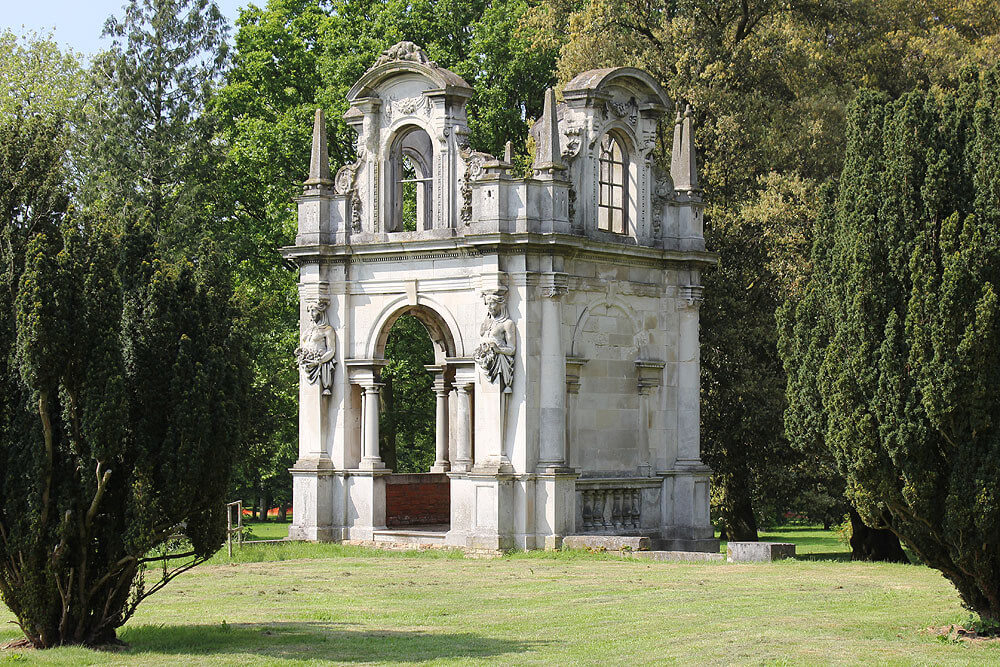 Close to Epping Forest you can visit Copped Hall House and Gardens, now the subject of painstaking research and restoration by the Copped Hall Trust, who acquired the freehold of the house in 1995.  This is a fine example of a Georgian Mansion with elements dating back to the 12th century. Queen Elizabeth stayed here herself in 1568. Importantly William Shakespeare's 'A Midsummer Night's Dream' was performed here for the very first time in 1594, as it had been written in celebration of the marriage of Sir Thomas and the Countess of Southampton who lived here.
Photo Credit: by Rictor Norton & David Allen
Essex Travel Guide: The Gibberd Garden
Among the numerous gardens to visit in Essex is The Gibberd Garden in Harlow created by Sir Frederick Gibberd, a wonderful series of outdoor 'rooms' housing over 80 magnificent sculptures.  This is a wonderful day out for the whole family who can wander in the extensive garden and view some significant art in an unusual garden setting. Gibberd was the planner of Harlow New Town and it is due to him that Harlow now has an important Sculpture Trail that includes works by Henry Moore, Elisabeth Frink and Lynn Chadwick.
Essex Travel Guide: Easton Lodge
Also not to be missed are the Gardens of Easton Lodge in Great Dunmow, now being restored to their former glory by a series of very dedicated volunteers. The gardens, grounds and the whole estate date back to Tudor times. In 1865 a very colourful character Frances 'Daisy' Maynard inherited the estate and grew up to be a great beauty and socialite. She married Lord Brooke at Westminster Abbey after which they settled at Easton Lodge – where during her long marriage she embarked on a love affair with Edward Prince of Wales. She hired Harold Peto to radically change the gardens. He bought to Easton Lodge a passion for Italianate and French design that he wove innovatively into the setting of the English countryside. These notable designs are now in process of restoration.
Essex Travel Guide: Ingatesone Hall
Another gem in the Essex countryside is Ingatestone Hall just outside Chelmsford.  This is a beautiful Grade 1 listed 16th century manor house built by Sir William Petre whose descendants inhabit the house to this day. This Tudor mansion was once visited by Queen Elizabeth on her royal progress in 1561. The house has been used for several television programmes including Bleak House, Lovejoy and Lady Audley's Secret. If you go, you may well be shown around by the present Lord Petre who will regale you with the tale of the two priest holes, one real and one fake!
Photo Credit by John D F
Essex Travel Guide: Hyde Hall
Another garden worthy of special mention is the Royal Horticultural Society's Hyde Hall near Chelmsford.  Created in 2001 it demonstrates dry gardening techniques using drought tolerant plants. Hyde Hall comprises a 24 acres site donated to the RHS in 1993 and is one of four gardens operated by them. Beside the Dry Garden there is a more informal area laid out around a small lake.  There is also a bog garden and a woodland area. The RHS team are in the process of creating additional innovative new gardens including a Winter Garden, Global Growth gardens and a Big Sky Meadow project. The gardens are planted to encourage wildlife, birds and butterflies all of which makes for a wonderful family day out!  Go and explore for yourselves and discover this wildlife gem!
Essex Travel Guide: Marks Hall Gardens and Arboretum
Finally do not miss Marks Hall Gardens and Arboretum.  This is a fascinating geographically landscaped garden with an arboretum, lakes and extensive woodland walks.  Thomas Phillips Price who died in 1932 left Marks Hall estate to the nation in the interest of agriculture, arboriculture and forestry.  During the Second World War Earls Colne Airfield was built on the edge of the deer park and the property was requisitioned for use as the headquarters for a number of local airfields.  By 1949 the mansion was neglected and demolished in 1950.  Visitors from all over the world still come to visit the disused Airfield in memory of their loved ones.
Essex Travel Guide: Where to Stay
Stay at the wonderful Marygreen Manor Hotel dating back to the 16th century in Brentwood.  You can choose to stay in the historic old wing with rooms with evocative names such as Ann of Cleves and Catherine Howard or stay in the very comfortable new wing.  This half-timbered Tudor hotel is home to the award winning Tudor's Restaurant popular with tourists and locals alike. Marygreen Manor is a fine example of early sixteenth century architecture and was initially the home of Henry Roper, gentleman servant to Catherine of Aragon.
Essex Travel Guide: Where to Eat
Dine close to Brentwood at Navestock in the superb Alec's Bar Restaurant and Grill. This is a buzzing venue with a beguiling choice of contemporary dishes.  Choose from a menu of absolutely gorgeous seafood with a wide choice of lobster, crab, prawn and turbot, all beautifully cooked and served. The site of the restaurant was originally the Green Man pub and is now owned and run by Alec Smith.  A wonderful choice for a memorable lunch or dinner. Highly recommended.