The Amalfi Coast will steal your heart; it is the most beautiful place I have ever travelled to. This stretch of Italy's coast is full of adventures – incredible panoramic views, quaint towns to explore and sensational food – and I would spend a year here if I could. Let's be honest, you want more than 48-hours in the Amalfi Coast. But if you're pushed for time, you could easily cover a highlights tour of the Amalfi Coast in two days – for this sake, I have decided to compress the area's cute little towns into one guide, although don't be afraid of spending two or three nights in each stop, if you've got the holiday days. From the hidden coves of Sorrento to the stunning heights of Ravello, here's how to do the Amalfi Coast in style:
Amalfi Coast: How to Travel
If you want to do the Amalfi Coast the Italian way, you're going to need a car. Preferably one with a convertible roof for enjoying the warm, sunny days, such as the amazing sports cars offered by Europe Luxury Car Hire. Planning is key here; be warned of high prices when you try to rent a car at the airport. It's much cheaper to pre-book online, where you'll get a special advance price – we learnt this the hard way. We opted for a lovely white Fiat Cinquecento  with Maggiore, who were fantastic – which came to 299 Euros for 5 days – which ain't too shabby. If you don't drive, there's lots of bus operators which do tours of the Amalfi Coast. We've heard good things about travelling with City Sightseeing Sorrento & Amalfi, who do open-top bus tours starting as little as 12 Euros per person. Win.
Amalfi Coast: Where to Visit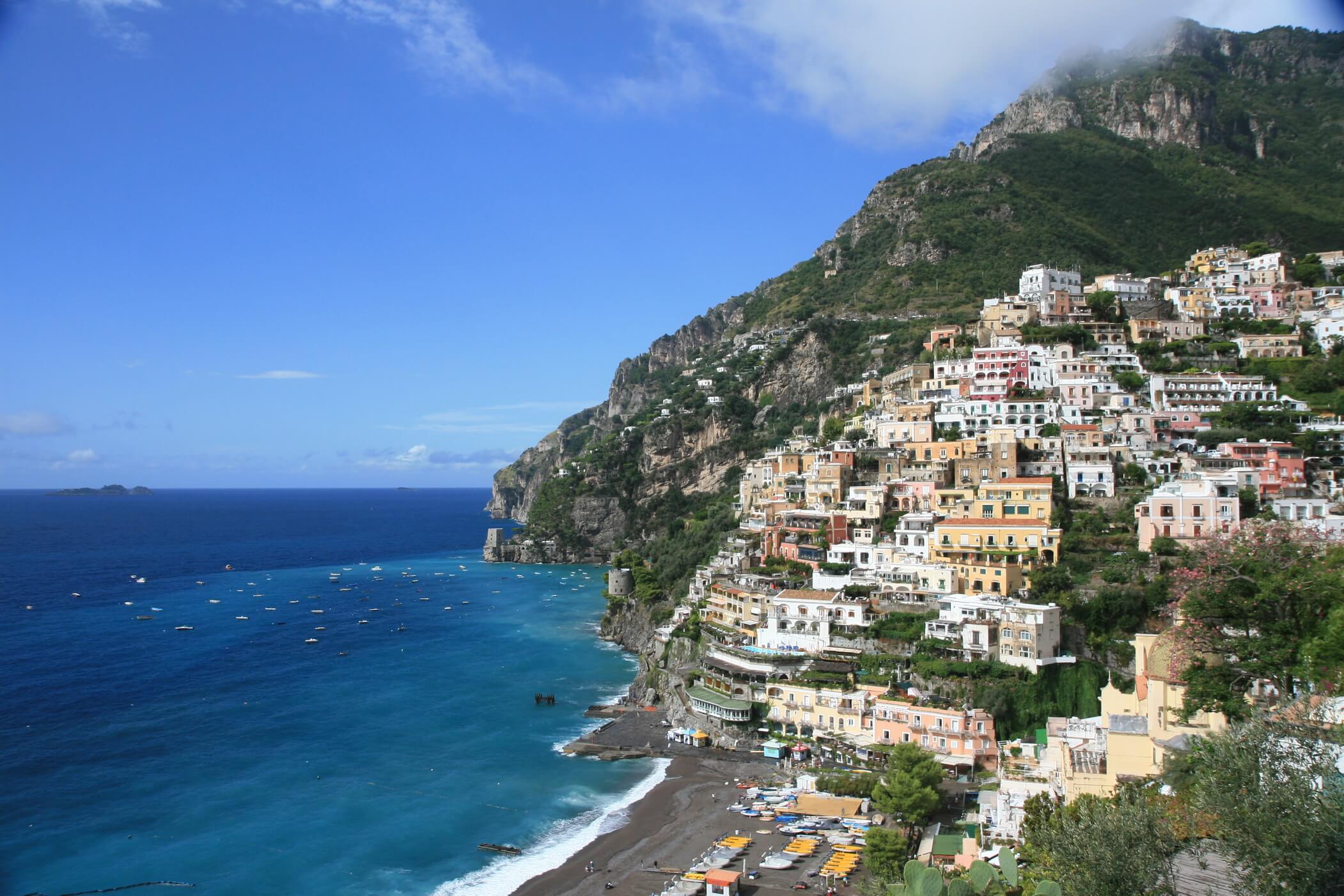 To get to the Amalfi Coast, your best bet is to fly to Naples with Monarch. Naples is a mere hours' drive from Sorrento, your starting point – and you can take an indulgent day in Naples to eat all the pizza, too. The coast is an amazing panorama for driving – start your trip in Naples and drive from Naples to Sorrento, then all the way along the beautiful coast, to hilly Ravello, making sure to stop off in Positano, Praiano and Amalfi along the way. During your trip, take a day trip to Capri by boat – the island of Capri is absolutely beautiful, and well worth a visit.
Amalfi Coast: Where to Stay
Take a day in Naples before you start your Amalfi adventure to soak in the fun, manic atmosphere of Naples – the home of pizza and ice cream. Be warned: the traffic here is crazy, and you have to have your wits about you. Romeo Hotel is a luxury, 5* gem in the heart of Naples, facing the enchanting Bay of Naples, Mount Vesuvius, Capri and Ischia. The hotel boasts world class dining, luxury accommodation, an amazing rooftop pool, and a beautiful spa for unwinding after a mad day in Naples. The hotel is super trendy in design, created by famous Japanese architect Kenzo Tange & Associates – you'll notice the luxe touches in their world-class sushi bar and slick cigar lounge.
Perfectly located for exploring Naples, the hotel is a short walk from San Carlo Theater and Piazza del Plebiscito, the city's centre. The hotel is also conveniently located next to Molo Beverello harbour, making it easy for you to hop on a ferry for the perfect day trip to Capri and Ischia. This is the hotel in Naples to come to for views – they have a panoramic Beluga Skybar & Restaurant on the 9th floor, and Michelin-starred gourmet restaurant Il Comandante on the 10th floor, which both offer stunning views over Naples and the bay. Foodie heaven.
Romeo Hotel is at Via Cristoforo Colombo, 45, 80133 Napoli, Italy
Sorrento: Maison La Minervetta
Your first stop in the Amalfi Coast needs to be Sorrento; don't be afraid of the crowds, this beautiful town is full of liveliness and colour, and well worth battling a thousand other tourists to explore. It's also a bit of a retail haven, with lots of luxury shops and cute boutiques. Once you need a break from the busyness of Sorrento, retire to family-run Maison La Minervetta, potentially one of the most beautiful hotels in the entire Amalfi Coast.
Maison La Minervetta will, quite simply, take your breath away. The nautical-themed hotel, perched on the hilltop overlooking Sorrento, simply oozes style, character and charm, with the most incredible bedrooms with panoramic views over the coast. Every room is sea facing; you'll fall asleep looking at the glittery night lights of Sorrento, and awake to the most sensational sun rise over the coast – it's an experience that cannot be missed.
You can take Mediterranean breakfast, which is a feast of Italian cheese, traditional buttery cake, and omelettes made-to-order, on their lovely terrace overlooking the Sorrento Coast. As well as its own plunge pool and sun loungers, the hotel has private access to the beach from the hotel – climb down 300 steps and you'll find yourself in Marina Grande, a cute fisherman's port, full of charming local restaurants and little sail boats. The hotel may be 4*, but it deserves 5* – please, please stay here.
Maison La Minervetta is at Via Capo, 25, Sorrento NA, Italy
We chose not to stay in Positano. I know, controversial. Don't get me wrong – I loved the place – it had all the cute, pastel perfection that I'd seen in photos, but, for me, Positano knew its own beauty. Full of shops and tourist hot spots, it felt a little too "discovered" for my liking, and I enjoy feeling like an adventurer, not a tourist. So, instead, we opted to stay in cute, totally un self-aware Praiano, only a ten-minute drive from Positano – so we could easily day-trip there – which has a charming sleepiness to it, which will lure you in.
If you decide to do the same, Casa Angelina is the place for you. This modern, all-white hotel in Praiano is actually designed by the same architect as La Maison Minervetta – step inside, and you'll can see the similarity in style instantly. Trendy, cool, modern, the hotel is a truly 5* experience; perched on the cliff, with its own private drive, you'll feel like a movie star here. At Casa Angelina, slick service, luxury accommodation and gourmet cuisine, is blended together for a truly faultless hotel stay.
Perched above the azure tranquillity of the Mediterranean, the hotel is home to 39 exquisite rooms and suites, including the ultra-exclusive Eaudesa rooms, almost at sea level. Come to Casa Angelina for top notch food; we had the best breakfast in the whole Amalfi Coast here. Their gourmet restaurant, Un Piano nel Cielo, will delight you with seasonal, locally sourced Mediterranean treats, and there's also poolside dining, with easy, healthy salads and pastas. The hotel boasts some impressive facilities – dip into their heated indoor or outdoor pools, and bask in the summer sun on the poolside deck, relaxing while life goes on elsewhere. Take a relaxed day whilst staying here – you can pamper yourself in the spa, wander down to the local beach for a drink from the seaside bar or a trip on one of Casa Angelina's private boats. Heaven.
Casa Angelina is at Via Gennaro Capriglione, 147, 84010 Praiano SA, Italy
Amalfi poached my heart. I wasn't looking, and it simply took it from me. I didn't expect to love Amalfi as much as I did, but as soon as I stepped foot in the town, I could see why the whole coast drive is named after the place. It's small – you can explore the whole of Amalfi on foot within an hour – but simply charming, with a cute port, great beachside restaurants, and some of the yummiest ice cream in all of the coast. Take half a day to explore Amalfi, and make sure you have lunch at one of the beach restaurants – they are a little bit expensive, but totally worth it for the sake of eating lunch by the lapping water with a great view. Oh, Amalfi, you dream boat.
If you wish to stay in Amalfi, Santa Caterina is the place to be. This 5* hotel has the most sensational location, perched just overlooking the sea, with stunning gardens and a sexy swimming pool by the sea. A late 19th century liberty style villa, immersed in the beautiful scenery of the Amalfi Coast, the hotel is an elegant seaside residence, surrounded by the perennial blue of the Mediterranean, luscious bougainvillea and lovingly cultivated olive groves and fruit orchards.
The hotel's rooms have classic Italian interiors; the rooms are spacious and filled with light, with floors in antique hand painted majolica, marble bathrooms with brass fixtures, and balconies with view over the sea of Amalfi. There are thirty six bedrooms in total, as well as thirteen suites and a handful of secluded garden suites, which are amazing. Hotel Santa Caterina has two restaurants, Restaurant Santa Caterina in the hotel and Restaurant Al Mare on sea level, which are both a delight for the senses with the freshest, most beautiful food. Take our word for it: just go.
Hotel Santa Caterina is at Via Mauro Comite, 9, 84011 Amalfi SA, Italy
Your last stop on the Amalfi Coast adventure needs to be Ravello. It's totally different from anywhere else you'll stay in the coast – it's not on the sea, but in fact, is in the mountains and you may well find yourself sleeping in a cloud up here (which, I now know, is my not very good for one's frizzy hair). The hill-side town of Ravello is charming, with a beautiful piazza, lovely little cobbled streets and a gorgeous cathedral to explore, and it's well-worth a visit for the incredible views of the coast from up here. To be honest, it's one of the most panoramic spots of the Amalfi Coast, and you can't miss it.
When staying in Ravello, Hotel Bonadies is a 4* hotel, with lovely little rooms, and a great terrace for catching the summer rays. Since 1880, Hotel Bonadies has been providing wonderful hospitality in Ravello, with comfortable rooms, a warm welcoming vibe and good food. Hotel Bonadies is located in the city center of Ravello, just 500 meters from the main square and Villa Rufolo and Cimbrone, which is perfect for exploring the town. Hotel Bonadies offers an outdoor swimming pool with jacuzzi area, where you can enjoy the beautiful sea view, as well as Shiatsu and relaxing massages. Yes, please.
Hotel Bonadies is at Piazza Fontana Moresca, 5, 84010 Ravello SA, Italy
Amalfi Coast: What to Do
My boyfriend forced this one on me, but I surprised myself by actually quite liking it. I'm not one for historical sites, normally I'd always choose an ice cream over a tour, but Pompeii is one of the "must visits" in the area, and it's worth it for a Facebook status along the lines of "we got ruined" which I enjoyed. Try to buy your ticket to visit the Pompeii ruins in advance online (it's slightly more expensive, but worth it), because the queues are super long, and it's worth buying a guided tour, otherwise you might have to rely on your other half for tourist advice, like I did, and you'll end up with a very potted knowledge of Roman history. Don't forget to bring your ID – if you're under 25, you pay half price for entry, kids.
This is a must. You can get a ferry to Capri for around 35 euros per person return from most towns in the Amalfi Coast, although we chose to day trip from Sorrento, as the journey only takes 25 minutes. Word of warning: the queues for purchasing a ferry ticket can be astronomically long, so get here well before your departure time or book online here. Word of advice: you can actually buy a ferry ticket from a small kiosk adjacent to the main ticket office, which didn't have a queue at all when we went, for the same price. Cheeky.
If you'd rather do a guided tour of Capri, make a whole day out of it. Amalfi Boat Excursion have been doing excursions on the beautiful Italian sea for more than 12 years. They offer reasonably priced day trips; their Capri day trip costs 99 Euros per person for a semi-private (around 8 people) full day trip. You can ask for special pick-up from Positano, Praiano, Ravello and Minori if needed. You will travel from Amalfi and sail past seaside villages of Castiglione and Atrani, and the terraced vineyards of Amalfi, stopping at the Blue Grotto, the Faraglioni rock formation and white and green grottos. The boat stops at Capri, where you have three hours to explore for lunch, and you can swim in the Mediterranean depths, before sailing past the romantic islands of Li Galli and finishing back in Amalfi at sun down. Trust me, it's totally dreamy. To book, email amalfiboatexcursion@live.it and say About Time sent you.
Get used to eating lemons in Amalfi. You'll see lemons everywhere – from road-side vendors selling fresh lemon juice, to Limoncello shops in every town, and every lemon pasta for dinner. If you'd like to learn more about the history of Amalfi lemons, then head on the Amalfi Lemon Experience. The tour costs starts from Piazza Duomo in Amalfi at 10.30 in the morning. You'll explore the main street of the old town, Arch of Faenza, Museum of the Paper and Mills Valley and learn about the sfusato amalfitano", the most famous Amalfi lemon. You'll be able to see beautiful Amalfi lemon gardens, before stopping to taste the fruit in citrus salad, sweet lemon, lemonade and cookies, and finally visiting a Limoncello maker to discover the process of creating Limoncello before a private tasting. Lemony fresh.
Amalfi Coast: Where to Eat 
Let's talk food. Amalfi is the place to bring your comfiest clothes, because you are going to eat A LOT. Rigatoni, ravioli, spaghetti, pizza, you name it, we ate it. In fact, I ate some of the best food of my life – full of flavour, freshness and the taste of Italy, the food in this part of the world, is truly first class. Here's where to get your Caprese fix in the Amalfi Coast:
Don't be scared of the fancy-looking restaurants in Sorrento – if I've learnt one thing from this trip, it's that Italy CAN pull off a tasting menu with flair and style. L'Antica Trattoria is the kind of place you want to spend hours drinking wine and soaking in the traditional Italian trattoria atmosphere. They offer a tasting menu at 80 Euros per person, which is well worth the money – you'll dine on Italian delights, with a modern flair, such as deep-fried pumpkin flowers filled with ricotta, local beetroot risotto with blue cheese, Amalfi lemon angel hair pasta, local fish with seasonal vegetables and the best cannoli filled with sweet orange cream in down. Expect traditional live music through dinner, and don't be surprised when someone starts serenading you with a mandolin.
L'Antica Trattoria is at Via Padre Reginaldo Giuliani, 33, 80067 Sorrento NA, Italy
Sorrento: Grand Hotel La Medusa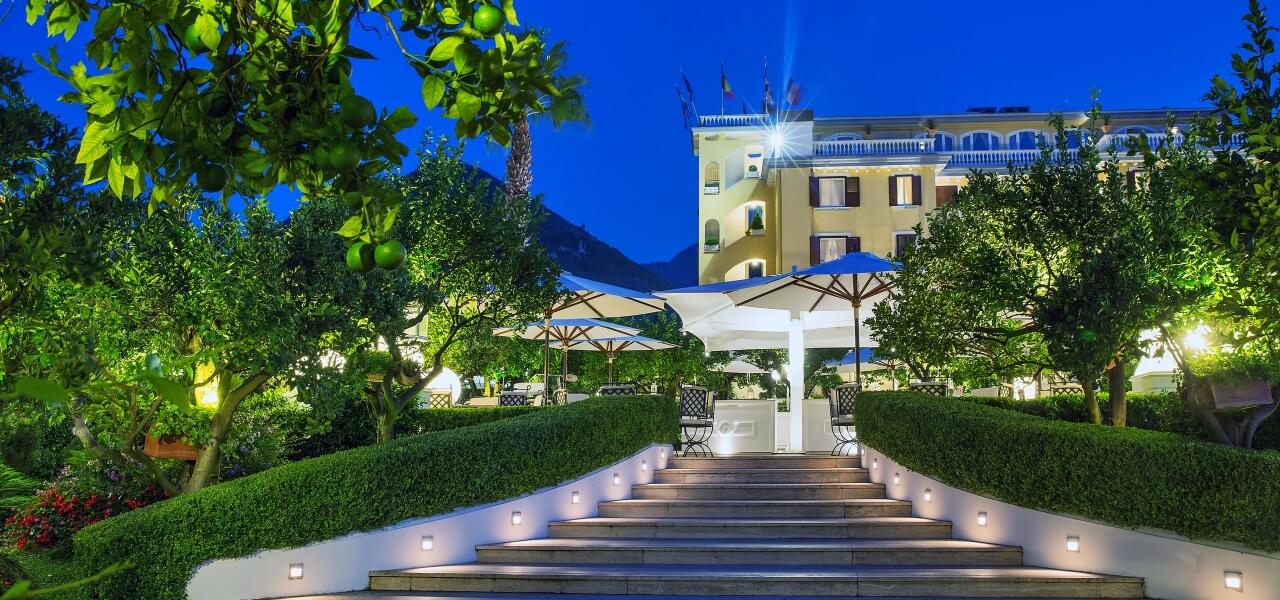 If you want to splash out on a special lunch, try Grand Hotel La Medusa, which is located in between Sorrento and Pompeii. The striking four-star hotel is a romantic turn-of-the-century villa made up of 49 rooms – a unique, charming place made of beautiful old trees and surrounded by green surfaces that complement the spectacular Bay of Naples and Mount Vesuvius. Their restaurant offers traditional dishes based on three fundamental principles: absolute quality of food, respect of Mediterranean cuisine scents and tastes, and innovation and restoration of traditional dishes. Come here to feast on daily specials, such as mozzarella with basil, Caprese ravioli with pea puree, cod dish with local vegetables and daily-made desserts, such as rich hazelnut mousse with wild strawberries, by their executive pastry chef. Don't forget to explore their gardens – they are absolutely beautiful.
We spent a small fortune to dine here, but it was worth every. single. penny. Seriously, I will remember this meal for the rest of my life, and what's 140 euros for two people, when you've made lifetime memories, people?
The best Caprese salad, homemade pasta, fish and Aperol spritzes in all of Italy can be found at this panoramic restaurant in Capri, which has incredible views of the sea from their al fresco dining spot. You must order: Caprese salad (you're in Capri, after all), Spaghetti alla Nerano (with zucchini), homemade rigatoni with smoked mozzarella with basil and tomatoes, cod with black olive puree and, of course, Italian wine. Spend those sparkles people, it's totally worth it.
Da Gemma is at Via fra Gerardo Sasso, 11, 84011 Amalfi SA, Italy
Positano: Ristorante Le Tre Sorelle
If you're dining in Positano, it would be wrong to eat anywhere but the beach. It's full of life, colour and atmosphere, and it's worth spending a little extra to get a really good Positano experience. There's a couple of restaurants to choose from – Chez Black is the famous one, which has been knocking about since – but we choose Le Tre Sorelle. I'm going to be honest, we only chose it because they had free tables outside and momma's face needs to see some sunshine. We were delighted with the food – great, lemony anchovies, beautiful Fior di Latte mozzarella with Sorrento tomatoes, pumpkin ravioli with rich tomato sauce, and, of course, the compulsory rigatoni with aubergine. Delicious, fresh food, and the perfect location for a beach kip afterwards.
Le Tre Sorelle is at Via del Brigantino, 27/29, 84017 Positano SA, Italy
Praiano: Trattoria Da Armandino
Second best meal in Amalfi Coast. So simple, but so very good. This adorable family-run restaurant can be found in the fisherman's cove in Praiano, a little drive down from the coast. You'll find yourself in  quiet, secluded Marina de Praia (which is great for a stroll afterwards), with a handful of unassuming local restaurants, which happen to serve up some of the best food in all the Amalfi Coast.
But, of course, the restaurants are literally moments from the water, and whatever fish they are dishing up, has been caught only seconds before – my boyfriend was even confronted with a live lobster, you can't get fresher than that. When dining here, you simply have to order the Spaghetti Al Olio – it's the most garlicky, delicious thing you'll ever try, and they take al dente pasta to a new level. Try the seared tuna, too, it's heavenly. Finish with the traditional Caprese torte – it's a rich chocolate cake, made with almonds, which they serve warm and literally melts in the mouth. Heaven.
Trattoria Da Armandino is at Via Praia, 1, 84010 Marina di Praia, Praiano SA, Italy
Amalfi: Ristorante Marina Grande
I fell in love with the beach side restaurants in Amalfi, and we demanded we dine in one. We chose Marina Grande, which is perched just by the water, and serves up traditional Italian dishes with modern twists. It's great for fish lovers – we loved the tuna "prosciutto" which is served on crostini with fresh asparagus and punchy rocket, and the beautiful Caprese salad. Their pasta is punchy, too – our rigatoni obsession continued, with a fantastic rigatoni served with a yellow tomato sauce, sundried tomatoes and roasted tomatoes, and another beautiful zucchini spaghetti.
Seeing a theme here, eh? Don't leave Amalfi without getting an ice cream – the pistachio and ricotta and pear gelato from Pasticceria Savoia is divine.
Ristorante Marina Grande is at Viale della Regione, 4, 84011 Amalfi SA, Italy
Maiori: Ristorante Torre Normanna
Your final night in the Amalfi Coast needs something truly, truly special. And what can be more special than dining in a watch tower, eh? This needs to be seen to be believed. Torre Normanna is a restaurant within a 13th century Norman tower, perched above a promontory which is surrounded on three sides by the Mediterranean Sea, run by the four Proto brothers – Gino, Daniele, Ivano and Massimo. The restaurant is truly magical – but it's not just the restaurant's location that is world-class, their food, too, is divine.
Their cuisine is steeped in local tradition, yet Gino and Massimo are always creating new and exciting dishes that take advantage of the regional, seasonal offerings. We dined on a feast of Caprese salad, prepared at the table, potato soup, Amalfi lemon ravioli, potato gnocchi with smoked mozzarella and tomatoes, and the most delicious Amalfi lemon meringue pie. You will dine in a little hidden cove, with a window to the sea, lit only by flickering candle light. It's the most romantic restaurant on earth, and the perfect place to end your Amalfi Coast adventure. Thanks for staying with me peeps, it's been real.
Ristorante Torre Normanna is at Via Diego Taiani, 4, 84010 Maiori SA, Italy
Convinced it's time for a holiday now? Flights to Naples with Monarch start as little as £39 per person in April, from London Luton, Manchester and Leeds – for more information and to book, see their website here.