About Time: You Went on a Luxury Oceania Riviera CruiseBy Angelica Malin
You heard it here first: cruising is cool. Really, really cool in fact. Data from a recent Cruise Industry Report shows that cruising is cooler than ever before; the cruise industry revenue worldwide amounted to nearly $19 billion – an increase on the last two years. And more young people are cruising than ever before – it's a relaxing, stress-free way to see the world and visit exciting destinations on one trip.
Earlier this year, I was lucky enough to experience a 10-day Caribbean cruise on Oceania Riviera by Oceania Cruises – one of the world's leading cruise operators – and boy, was it special.
If you're thinking about booking a cruise, look no further than Oceania. From food to offshore experiences, here's everything you need to know about setting sail on a luxury Oceania Riviera cruise for a once-in-a-lifetime trip:

Oceania Riviera is not your standard cruise.
Their cruises are designed to give travellers the ultimate luxury experience; from gourmet cuisine on board to highly curated, culturally sensitive offshore excursions. What makes Oceania Riviera special is their attention to detail; every aspect of the cruise experience, from the luxury in-room amenities to fine dining, is designed with the curious, intrepid traveller in mind. Oceania literally blows all other cruise companies out of the water (excuse the pun) – take one trip with Oceania, and you'll never want to travel with any other cruise operator.
We were lucky to experience a trip on their Riviera boat – it's one of their most popular liners, with a focus on delicious food and hospitality on board. Riviera is all about classic and contemporary sailing; the experience on board is modern, elegant and of the moment. Step on board and you'll be greeted by opulence; from the sparkling Lalique Grand Staircase to the stunning Owner's Suites, it's all about the Instagram-worthy designer touches here.
One hallmark of distinction for Oceania are their small cruise ships – they are much smaller than competitor brands, giving the cruise a more personal feel. I love this aspect of Oceania Cruises; sail around the globe on their small, luxurious ships, and the staff really make the cruises feel like you're at home.
Service is everything on a cruise, as you're spending so much time on board. The service was exceptional on board – I was greeted with a smile by all the staff and crew at every juncture; and that attention to 5* service makes the cruise feel even more special.
One of the things that really sets Oceania Riviera – and the Oceania Cruises brand as a whole – apart, is the focus on quality dining. The dining offering ranges from informal and casual, like burgers by the pool, to fancy and dressy, like the Polo Grill.
Let's be honest, cruise ships normally have average-at-best food, but the food on board Riviera was really something special. What I loved was the variety; Riviera offers guests multiple dining venues, of which six are open-seating gourmet restaurants with no extra charge. There's a whole host of specialty restaurants, including fancy gourmet food at the Grand Dining Room, classic French fare at Jacques, vibrant Asian cuisine at Red Ginger and steakhouse favourites at Polo Grill. I really loved the variety on board – our personal favourites were the sushi at Red Ginger and fresh pasta at La Toscana.
They also have a real good in-room dining offering, and we enjoyed ordering breakfast to our room every morning to enjoy on the balcony. If you're a buffet lover, you can enjoy dinner at the Terrace Cafe – in the evening, this restaurant has a sophisticated flair, with lobster tails, chops and fresh fish prepared to order, and freshly made hand-cut sushi and sashimi.
Daily afternoon tea at at Horizons is a real treat too – served every day at 4pm, with a live string quartet, you can enjoy a selection of fresh pastries, sandwiches, cakes and teas. Afternoon tea with a view of the ocean? What could be more elegant.
From theatre performances in the ship lounge, to wine tasting, casinos, cooking classes at The Culinary Center and nightly live entertainment, there's something to keep you busy every hour of the day. Music is a real focus on Oceania; they have an array of entertainers on board, such as pianists, classical string quartets and dynamic vocalists. In the evenings, themed bands take over the various bars for live performances.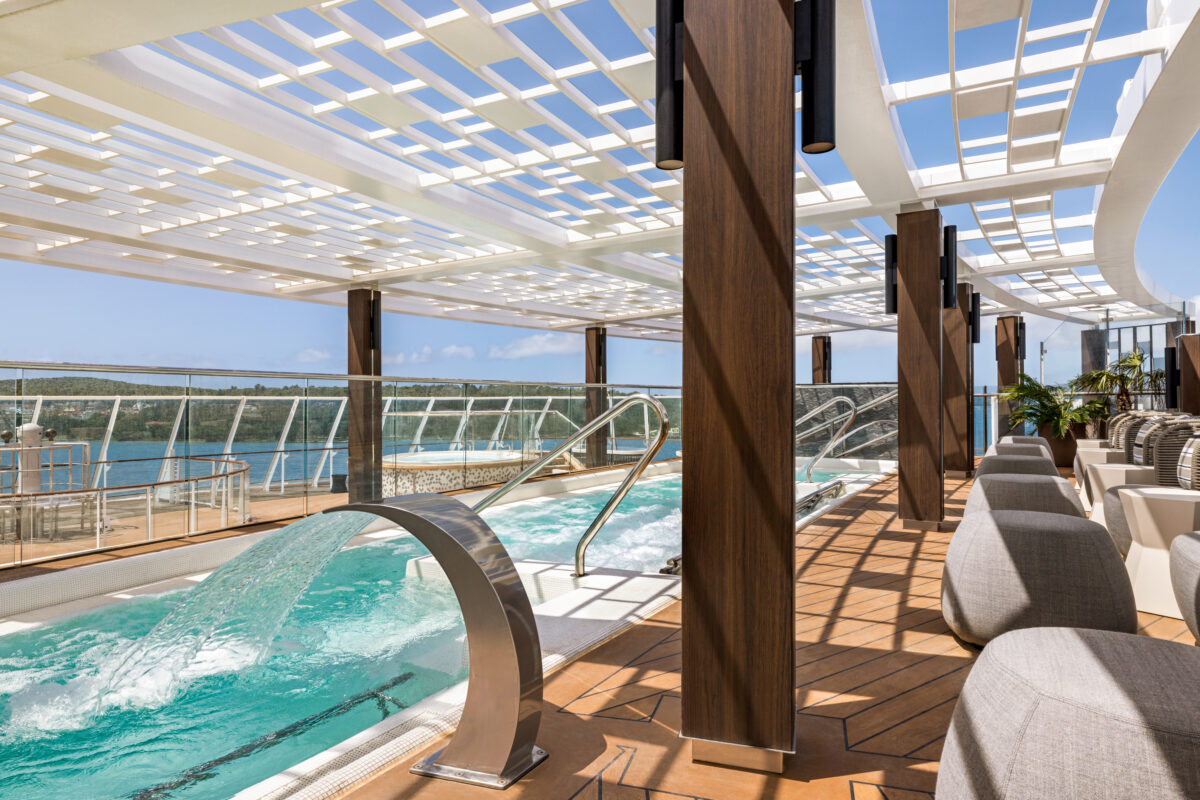 There's daily cooking classes at state-of-the-art The Culinary Center; spend a delightful day at sea learning how to make fresh pasta, art of cooking seafood or secrets of traditional French cuisine. If you want something rejuvenating, there's also an array holistic programs and treatments available at Aquamar Spa + Vitality Center, including facials, massages, nutrition consultations and daily free fitness classes. There's also a library, running track, sports deck and boutiques for browsing. And of course, if you just want to relax, there's sun beds and two jacuzzis to enjoy on the Pool Deck. You can read more about life on board here.