OBLU Select Hotel: Wellness and Activities Review, The MaldivesBy Tom Stevenson
Last week I reviewed OBLU Select from Atmosphere Hotels in The Maldives (you can see it here). Next in this three-part review series is my review of the wellness experiences and activities at this hotel. Here's how I got on:
The Maldives has a reputation for being for the beautiful people and those who felt like beautiful people on their recent wedding day and have somehow cobbled together enough marital donations to afford the trip of a lifetime. But why should this beauty be only for the delectation of the beautiful, the newly-wed and the Olympic swimmers? And Atmosphere Hotels with their latest resort Oblu Select said "It shouldn't. It shall be for all those that afford a pretty spenny holiday, but not that bad that it decimates your savings account."
However, that pretty spenny holiday will be the trip of a lifetime. You won't fly and flop. You won't just cling to your barstool. You won't just marginally increase the pigmentation of your skin for two weeks to solicit fleeting compliments from your Facebook friends. You will re-learn what it is like to not have a care in the world. 
We'll delve into the all-inclusive food and drink in a sister article coming soon to an online luxury lifestyle magazine near you, but Oblu Select are broadening the meaning of all-inclusive to include activities. All-inclusive is usually a recipe for disaster with Brits involved. Combing two of our favourite past times – getting our money's worth and day drinking and that's a resort you wanna stay away from. However, if you throw in premium complimentary watersport activities, it confuses the wild holidaying Brit. When getting value for money also includes snorkelling and sunset fishing trips, a transformation occurs into the lesser-spotted moderate drinking Brit abroad – a creature only visible in regions of high watersport activity and impossibly beautiful coral reef density. Truly staggering. 
We were led on the snorkelling expedition by a young boy from Atlantis. He claimed to be a human, but the way he moved in the water gave away his species and origin. He led a slipshod school of lifejacketed tourists to the cliff of the coral reef. Of course, fishboy needed no buoyancy device himself. He dived headfirst to the ocean floor to greet a passing reef shark, equalizing the pressure in his ears with consummate ease. He held his breath for what seemed like an age, then turned towards the surface before he gyrated and body-rolled to the surface. I turned to the school of tourists and all of them with their heads in the sea and bums in the air had missed the main attraction. I could have sworn he summoned the ripples of the waves to whisper in my ears "I am Aquaman".
The hotel offers a beautiful sunset fishing cruise. There were more lifejackets, lots of free Fanta and some very friendly staff. They gave us a filet of fish to place on the hooks at the end of our lines. It was so big that I would have had it for dinner and I was dead sure that a big fish at the bottom of the ocean wouldn't be able to resist its allure. We let our fishing lines out probably 100m without exaggeration. It turns out the sea is really deep. Time passed. More time passed. And then a man at the end of the boat got one! He reeled in a barracuda and everyone cheered whilst he posed for photos with it. He was asked whether he wanted to keep it or throw it back in the ocean. After much deliberation, we all applauded when he chose to save the fish's life, but the clapping slowed when we realised he'd taken a little too long over his decision and the fish lay immobile on its side bobbing off into the horizon. 
The TGI Scuba centre on Sangeli with SSI and PADI courses available to do on the island. I didn't know this but actually, you don't have to be PADI certified to go scuba diving. I thought that it was a massive upfront investment and training before you get to you to the ocean floor, but in fact, the Scuba Centre allows for a taster session. It's $145 per person for a 2-hour private session with an instructor. The scariest bit is actually signing a form saying that you take full responsibility if you die down there and it's no one else's fault other than yourself. After that, it's plain sailing. We were taken to the pool to try out some breathing exercises. You learn how to clean your goggles underwater and how to use the breathing apparatus and before you know it there's two guys carrying your heavy oxygen tanks from the pool to the shore and it's time to go under. 
Good luck getting back up again if you don't understand the hand signals because you make a circle with your finger and your thumb if you're all good, but "thumbs up" means that you have a problem and you need to go to the surface. The mask will hide your facial expressions so don't rely on your enthusiastic grinning to indicate you're having a whale of a time when you're having a panic attack.
We had little inflatable pockets strapped to our waist which allowed the instructor to control us like puppets inflating and deflating the airbags to bring us up to see a whiskered lobster in a cave and down to see tiny blue fish swarming around a bright orange coral as if it were a miniature underwater fireworks display. 
Literally toothless blacktip reef sharks patrol the ocean floor whilst pulsing live coral looks like an underwater speaker system. Time goes fast and you move slow. It's an unforgettable experience and one certainly worth leaving the bar for.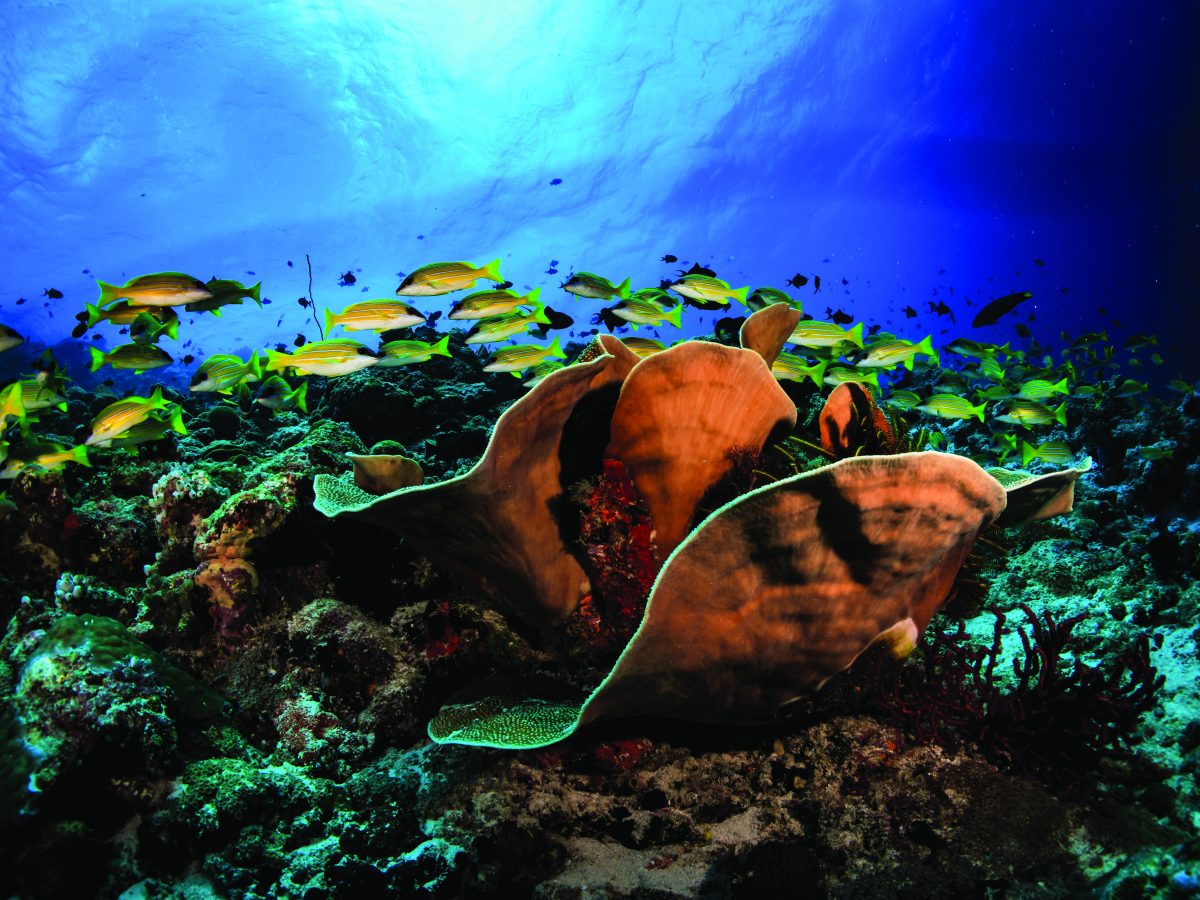 Other all-inclusive watersports include paddleboarding and kayaks taking you underneath the watervilllas in the jetty that connects the two islands, where you pass families descending their ladders from the back door of their villas into the sea with blow-up turtles praying they catch a glimpse of the real thing.
A daily bulletin arrives at the door of guests' villas every morning. The bulletin provides basic information on the weather forecast and the evening cuisine theme but also urges guests to add some structure to their day by opting for one or two of the possibilities on the island. Guests can say to themselves, "I don't want to do too much today. But maybe that gym class to work up an appetite before lunch or maybe some sunset yoga before dinner." The overwater gym has fantastic air conditioning and an even better view of the famous Maldivian blue seas. Running on a treadmill in there was like running on the water. 
The Garden Spa & Wellness Complex has tiny streams and stepping stones with lush vegetation. The beautiful entrance area, cold towels and welcome drinks relax guests completely. The relaxation area before prior to the massage staring at the turquoise sea and honeymoon villa row. The combination of the sounds, smells, touches and tastes, in the absence of sight is such a powerful sensual experience.
The absence of any cooking time or any travel time means that all life's stressors are removed and guests are free to enjoy the array of wonderful activities Oblu Select at Sangeli has to offer. 
Find out more about OBLU Select Hotel here. Email : reservations@oblu-sangeli.com, Phone : (+960) 400 4500.