Normandy Road-Trip Part I: Les Manoirs des Portes de DeauvilleBy Claudine Levy
Normandy Road Trip: Deauville & Trouville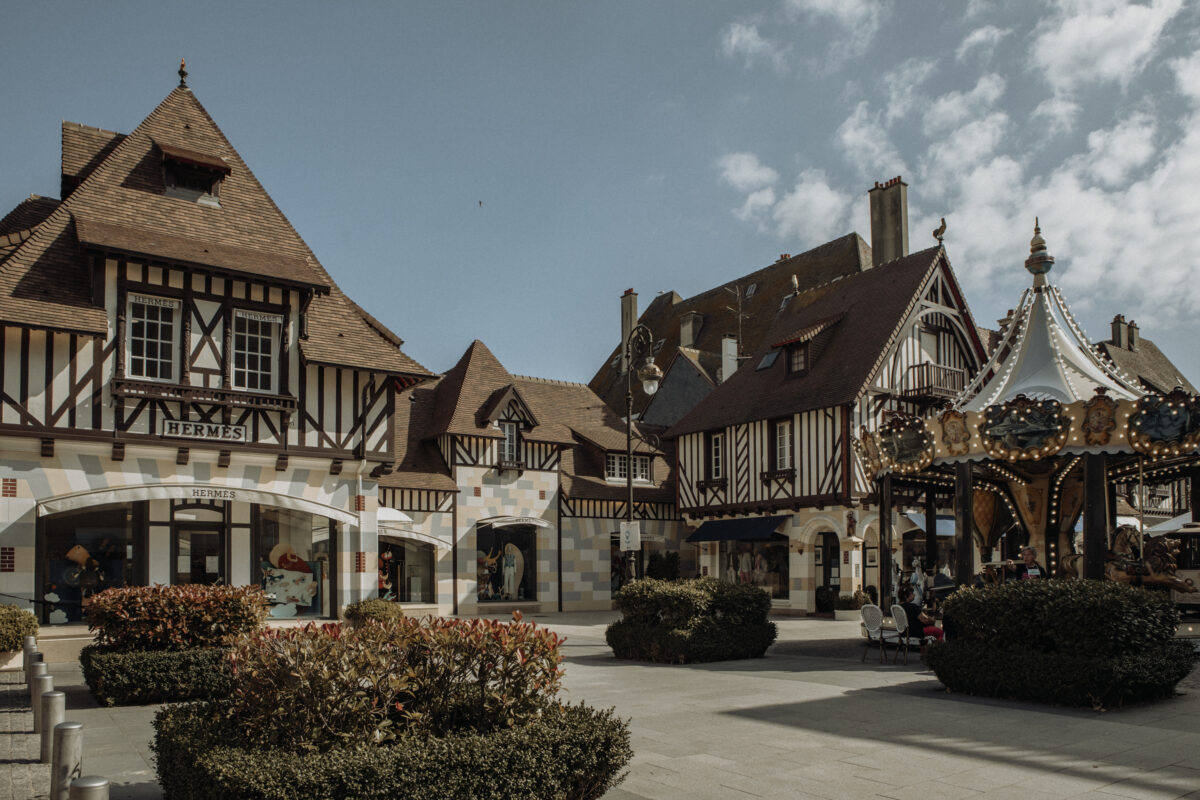 The first stop on your Normandy road-trip should be Deauville – a charming coastal town known for its quaint village-feel, elegant architecture, beautiful beaches and vibrant cultural scene.
The town is quintessentially Norman – with half-timbered houses flanked by Belle Epoque villas. There's also a famous Casino – which is a major landmark with views out to the waterfront. Even if blackjack isn't your scene, it's worth a stroll past for the majestic building alone.
We were struck by the class and elegance of Deauville –   which offers a blend of high-end boutiques, local delis and bakeries. A brief walk over the bridge will also take you to the neighbouring town on Trouville-sur-Mer – an equally charming fishing port, renowned for its fish market, winding lanes and characterful 19th-century architecture.
Normandy Road Trip: The Food
Both Deauville and Trouville – of course being coastal towns – offer seafood which is out of this world. We recommend Bistrot Le Vivier – a beautiful restaurant on the seafront – with views of the sandy beach and endless ocean served alongside some of the best seafood we've tasted.
We can't recommend the Plateau de Fruits de Mer highly enough. If you do one thing before leaving: make sure you try the little pink shrimp – which are the sweetest morsels you'll ever put in your mouth. Back in Deuville, and for something more elegant and refined, we visited  La Belle Epoque, housed in the magnificent Hôtel Le Normandy. If you can – ask to sit at the back inside the Summerhouse, for beautiful views out to the illuminated manicured gardens.
Normandy Road Trip: The quint Norman hotel
And where should you rest your weary head after your busy days exploring these gorgeous coastal gems? We loved the recently opened Les Manoirs des Portes de Deauville – a luxury spa and hotel located in Canapville, just a 10 min. drive from the two towns. The main hotel itself is housed in an enchanted 16th-century manor – rumoured to have been a prison and a school in past lives. This charming place centres around a warm and inviting living room – complete with chic sofas and roaring fire – where you eat your breakfast and can have a light dinner of wine and cheese of an evening.
Le Manoirs offers a mix of 27 rooms and 9 self-contained cottages; all offering a simple and unfussy aesthetic. The facilities in the hotel itself are impressive: with an outdoor heated pool set amidst 3 hectares of beautiful gardens, as well as an indoor spa area which offers jacuzzi and sauna, as well as treatment rooms for massages. The hotel also offers electric bikes – which is the most exhilarating way to explore the surrounding rolling hills of Normandy countryside. We simply cannot fault this hotel – just writing about it fills me with longing to return.
Read on for Part II of our Normandy road trip…