There's nothing tea and cake can't solve. For a taste of something wonderful, here's where to find the best cupcakes around the world – from Red Velvet to Toberlone cupcakes, we can merrily say these are the world's best cupcakes. Happy National Cupcake Week, all!
The Story: Primrose Bakery, founded in October 2004, is an unstoppable force in the London cupcake scene. With two shops in Primrose Hill and Covent Garden, with a third opening in Kensington this September, plus four cookbooks and an App, it's much more than a bakery.
The Secret: The focus here is on simple old fashioned cooking, using good quality, seasonal and well-sourced ingredients, to create the ultimate baked goods. The cupcakes are baked fresh every day, using free range eggs and organic products, in small batches to ensure quality and freshness.
Order: Come here for the best Red Velvet, salted caramel and classic chocolate cupcakes as well as their daily-changing specials, with quirky flavours such as coffee and walnut, apple crumble and Toberlone. Their gluten-free vanilla cupcake is a revelation – everyone can have their cake and eat it here.
The Story: Billy's Bakery might be the best place for cupcakes in all of New York City. It all began with two friends from business school, a sweet tooth, and a dream. In 2003, Billy's Bakery was founded with the goal of providing our customers with classic American baked goods in a warm, friendly atmosphere.
The Secret: By baking all their products on-site, they fill our 1940s-style stores with the delicious smells of fresh cakes and pies to bring back that delightful, warm feeling of Grandma's kitchen. Each day, they bake everything from scratch using the finest ingredients. From apple pie to Red Velvet cupcakes, their treats are meant to bring you back to a time when a bite of something sweet could make the world a little brighter.
Order: The Yellow Daisy Cupcake, which is a classic yellow butter cake flavoured with pure vanilla extract, and topped with classic buttercream frosting. It tastes like the best childhood memory anyone has ever had. Billy's cakes are perfectly moist, and its frosting is the gold standard for which all buttercream frostings should strive.
Photo Credit: The New York Mom
The Story: Sweden's first cupcake shop, Cupcake STHLM aims to bring a taste of America to Stockholm. The founders picked up tricks from their time in the US, along with two grandmothers ancient recipes, to create an extraordinary experience.
The Secret: The vision is to create a genuine American cupcake, where they let old Swedish traditions weave into the interior design and above all, taste. The best produce, quirky flavours and just a touch of Swedish magic.
Order: The Ninja Turtle – a chocolate brownie cupcake with pear and marshmallow and the Grandmother, a cupcake made with carrot and walnuts topped with orange, vanilla and lemon cream.
Photo Credit: Linneas Skafferi
4. Van Ness Cupcakes, Amsterdam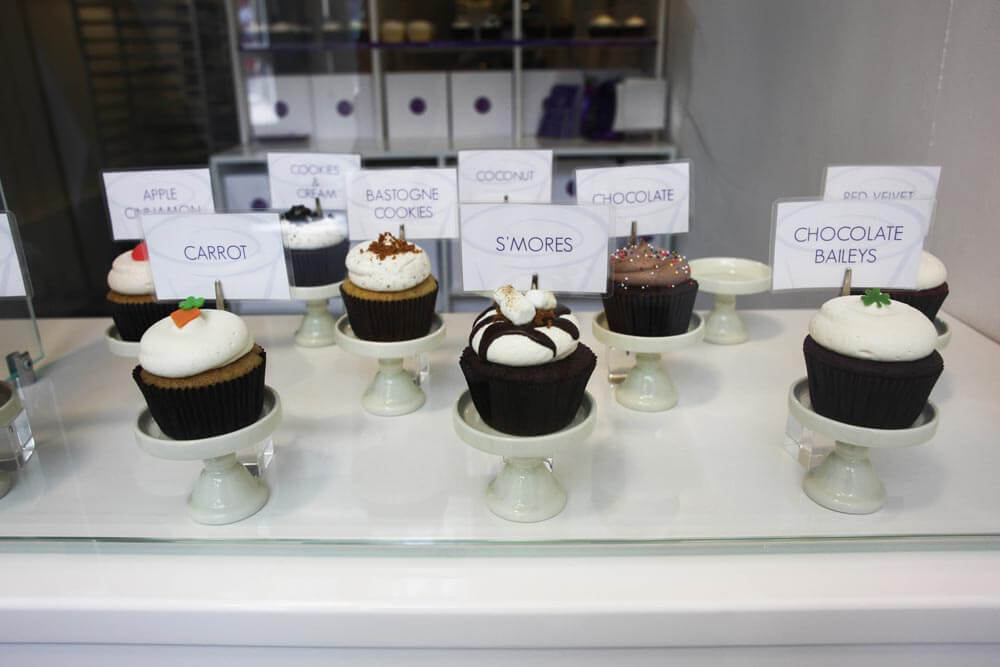 The Story: It was her mother's baking that inspired, owner, founder and chief cupcake designer, Vanessa Vos, to become an avid baker. After years of baking for family, friends and colleagues, Vanessa looked for an opportunity to follow her passion for cakes in a cup and opened Van Ness Cupcake in 2012.
The Secret: From the classic Vanilla to the exclusive Caribbean Cashew Nut, the cupcakes are perfect treats to share with anyone, anytime. To create unique flavours for you, Van Ness Cupcake uses only the finest ingredients and never uses artificial flavours or preservatives.
Order: The seasonal specials. In September, you can expect peanut butter cookies and cream, Dulce de Leche and carrot cake, which are all divine.
Photo Credit: The Avant Guardian
5. Cups and Cakes Bakery, San Fransisco
The Story: Cups and Cakes Bakery opened its first retail location in SoMa in November 2009. They specialise in scratch-baked, homemade cupcakes in over 60 flavours – the specialty is Rich Red Velvet, but they love exploring crazy cupcake flavours like Root Beer Float, Pancake Breakfast, and Thai Tea.
The Secret: Cups and Cakes started in Jennifer's kitchen in the summer of 2007. She loved baking cupcakes for friends, but ran out of cake mix. She decided for the first time to bake some cupcakes from scratch. Her friends' reactions were incredible and they convinced her to go into the cupcake business and the rest, as they say, is history. They use the best ingredients they can find, including local and organic ingredients.
Order: The Killer Carrot – a nut-free, raisin-free spice cake, made with freshly shredded organic carrots, the cupcake is topped with signature tangy cream cheese frosting, and a sprinkling of crispy-sweet candied carrots.
The Story: Everyone's heard of Hummingbird Bakery. The American-style bakery was founded in 2004 to bring the authentic taste of American home baking to London; the company opened its first branch in Notting Hill and has since launched a further six branches across London in South Kensington, Soho, Spitalfields, Islington and Richmond.
The Secret: With queues around the corner and cookbooks which have sold well in excess of 1.5 million copies, they are doing something right. Come here for flavour genius – try the American Brunch cupcake, which is inspired by stacks of fluffy American pancakes, with a soaked vanilla sponge with smoked bacon pieces, filled with salted caramel, topped with maple syrup cream cheese frosting.
Order: For a more classic flavour, they make some of the best Red Velvet around. The Red Velvet cupcake is spongy, light and topped with a generous layer of decadent cream cheese icing – a great texture, flavour and always hits the spot.
The Story: Kyra's Bake Shop specializes in gluten-free cupcakes, and man do they do them well. Founder Kyra Bussanich was diagnosed with an auto-immune disorder when she was 20 years old. After being disappointed in the gluten-free products that were available on the market, Kyra thought she could do things better. She attended the prestigious Le Cordon Bleu patisserie program, which gave her a solid foundation of knowledge about classical French baking techniques, which she was able to apply toward baking gluten-free.
The Secret: Is in the blend. She experimented with dozens of gluten-free flours and finally found one that tastes better and lighter than traditional cupcakes. Kyra and her incredible team of bakers continue to expand their offerings, not just with gluten-free, but with Grain Free, Low Carb and Paleo treats as well..
Order: Flavours range from Mocha Latte to Snickerdoodle to Peanut Butter and Jelly. There's such a sensational range of flavours, you'll find it hard to choose – don't miss the New York cheesecake flavour – a vanilla cake with ginger cookie crust and raspberry jam , topped with cream cheese frosting.
The Story: Karla Goodwin is the talented baker behind Bluebells Cakery. She perfected her craft while living in London where she worked in one of the UK's most prestigious cupcake bakeries, Primrose Bakery. Since returning to New Zealand in 2011, Karla set up Bluebells Cakery and began by selling cupcakes and other baked goods at Auckland's boutique French market, La Cigale. Now Karla bakes and sells from her vintage-styled Hillsborough Rd shop.
The Secret: Everything in the shop is made with a commitment to traditional recipes, good quality ingredients and home-style baking methods. Her delightful, traditional recipes and eye for beautiful cake styling and decoration have earned her a reputation amongst Auckland foodies; they only use premium quality ingredients like vanilla bean extract, Dutch cocoa and real fruit flavourings.
Order: Everything. Every Bluebells cupcake is lovingly hand iced with  signature buttercream swirl and decorated uniquely each day with different colours and toppings. Try the banana and salted caramel for a taste of heaven.
The Story: In 1996, Magnolia Bakery opened its first location on a quiet street corner in the heart of New York City's West Village. From its inception, Magnolia Bakery has been cherished for its classic American baked goods, vintage decor and warm, inviting atmosphere. In 2007, Magnolia Bakery's original owner passed her oven mitts to Steve and Tyra Abrams. Together, the Abrams' have thoughtfully expanded the bakery from its first West Village shop to locations in Mexico City, Tokyo, Moscow City, Dubai and so many more.
The Secret: No one knows the secret, that's why they are so damn good.
Order: PB&J – peanut butter cake with jelly filling and peanut butter. It's beyond amazing.
10. Prohibition Bakery, New York
The Story: If you're looking for cupcakes with a boozy hit, Prohibition Bakery is the place to go. A two-woman cupcake operation on the Lower East Side, Prohibition Bakery churns out some of the most fun cupcakes in the city – each one flavoured with alcohol.
The Secret: Quality through experience, my friends. Brooke Siem is a classically trained chef who has worked in some of the most highly regarded kitchens in New York City. Leslie Feinberg is a lifelong baker and long-time bartender who has gotten many highly regarded New Yorkers extremely drunk. Together, they make something rather magical.
Order: If you only try one cupcake from Prohibition, the Pretzels and Beer is the one: it's made with pale ale, Nutella, pretzel and white truffle. The cupcakes are small enough, however, that you should probably just enjoy a few. Dark and Stormy or Margarita, anyone?
If you can't travel…
The Story: For a taste of the bespoke, head to Kingly Court for the awesome Crumbs & Doilies. Every day, Crumbs & Doilies make and deliver amazing cakes and cupcakes throughout London. Every cupcake uses the finest available ingredients, including organic free range eggs, organic Doves Farm flour and Callebaut chocolate and cocoa.
The Secret: The cupcakes are baked fresh to order in small batches by their team; each one is hand-decorated by a same small gang of cake-obsessed individuals. The cake are made with no additives or preservatives, for an utterly delectable creative treat.
Order: From Jamaican Ginger to caramel pretzel, you simply can't go wrong here. For delivery, you can pick from quirky flavours such as blueberry cheesecake, raspberry coconut and spiced pumpkin (£28 for 12). If you can get your hands on one, the PB & Jelly cupcake is the absolute dream.
Where: 1 Kingly Court, Carnaby, London W1B 5PW, United Kingdom
The Story: For perfect bakes with a Middle Eastern touch, look no further than Ottolenghi. Yotam Ottolenghi's chain of sexy, cool eateries and delis have received critical acclaim since opening their first shop back in 2002; now operating four outlets across London, the Ottolenghi delis concentrate on seasonal food, great breakfasts and incredible cakes.
Order: For a sweet treat, their cupcakes are fantastic. From the simple and beautiful strawberry and vanilla cupcakes to lemon and blueberry (£3) – the secret here is great quality ingredients, that let the flavours do the talking. It would be criminal to go home without a piece of their famous cheesecake – the salted caramel and Macadamia nut cheesecake will blow your mind.
Where: Throughout London
The Story: Award-winning bakery Peggy Porschen is a personal favourite of Kate Middleton, and we can see why. It's every little girl's dream; the pastel pink bespoke bakery in Belgravia simply oozes femininity, charm and warmth – no wonder it's the site of many a marriage proposal.
The Secret: Come here and get lost amongst the cupcakes – you'll be spoilt for choice, with everything from coconut and pineapple cake to refined strawberry and champagne (£3.50 each). Try the Banoffee cupcake (£3.50) which is a rich blend of chocolate chips, fresh banana and has a secret layer of toffee sauce running through it.
Order: For a taste of their award-winning bakes, take home a box of their chocolate salted caramel cupcakes (£22.80 for a box of 6) – a rich gooey chocolate cake filled with hand made salted caramel filling topped with a caramel cream cheese frosting and chunks of handmade English toffee with toasted hazelnuts.
Where: 116 Ebury St, London, SW1W 9QQ